If you're a big fan of pork chops, like I am, I have an easy recipe for you.
One of the reasons I love this recipe is because you can put together a meal that's worthy of a big Sunday dinner for the whole family, or you can whip it up on a busy weeknight.
It's going to have a lot of garlic, some beautiful olive oil, prosciutto, cheese and some really nice Marsala wine.
This is also a gluten-free recipe. So… if you're on a gluten free diet or a keto diet, this recipe is a great option.
As you have probably seen, a lot of pork chop recipes call for flour or breadcrumbs. But these methods aren't necessarily the best way to make delicious pork chops.
Right off the bat, when you hear me tell you these are gluten free pork chops, you are probably thinking…"Here we go. Another boring recipe."
No way! These gluten free pork chops are a great recipe for someone on a gluten free diet or someone who has no problem eating a pound of pasta.
Let's start cooking. I guarantee this one makes it into your family recipe rotation.
Easy Stuffed Pork Chop Recipe: What you need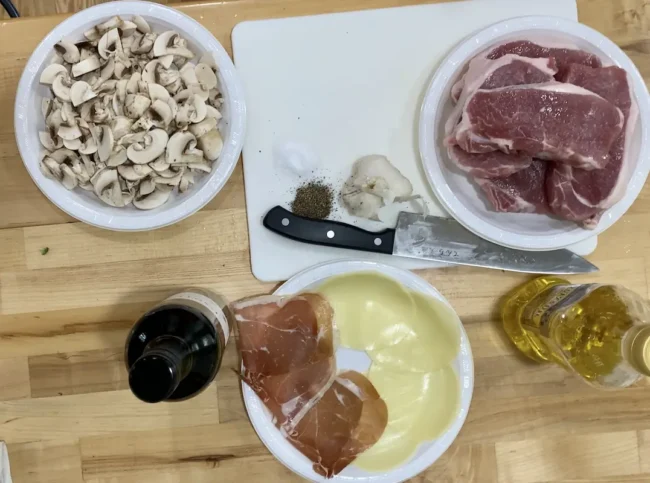 Everything you're going to need for this recipe you should be able to find at your local grocery store. You'll also need to take a trip to the liquor store.
Pork Chops: You have a couple of options. You can get boneless pork chops or bone-in pork chops. You want them to be at least 1-inch thick. If you can find pork loins, that will also work for this recipe.
I like thick pork chops for this recipe because they are easier to stuff and they will be juicier. You can get thin cut pork chops, but they will be harder to work with and may be a little drier after you cook them.
Cheese: Get yourself some nice cheese. I like using Fontina for this recipe, but you could also use Provolone or a low moisture mozzarella. The most important thing is that it tastes good and melts well.
Prosciutto: Buy a good quality prosciutto and make sure it's sliced thin. The prosciutto will add a ton of flavor to this recipe.
Olive Oil: I always suggest using a good extra virgin olive oil. It doesn't have to be the most expensive olive oil in the store, but it should be good quality.
Mushrooms: You have some options when it comes to the mushrooms. You can use white mushrooms, cremini mushrooms or slice portobello mushrooms. You could also use a mix. The recipe ingredients are flexible when it comes to mushrooms.
Marsala Wine: Marsala wine is a fortified wine from Sicily. It is great for making delicious sauces or just sipping.
This is one ingredient that you want to get right. It's important that you don't use cheap cooking wine that they sell in the supermarket. Get your Marsala wine in a liquor store and make sure it is good enough to sip on its own.
Seasonings: The only seasonings that I would go with are Kosher salt, black pepper, garlic powder and dried basil. If you want to leave out the garlic powder and dried basil you can.
Butter: I always suggest using unsalted butter so you have more control over the taste and you can add salt as needed.
How To Make This Easy Stuffed Pork Chop Recipe
Now it's time to start cooking.
You want to make sure that your pork chops are at room temperature. It's always better to let your meat come to room temperature before you start cooking.
Also, take some paper towels and pat the pork chops dry before you season them. Sprinkle a good amount of salt, pepper and garlic salt on all sides of the pork.
Take the point of a chef's knife and insert it into the sides of the pork chops. Cut a slit in the side of the pork chop and spread it open with your fingers. It's important to use a sharp knife.
Take a slice of prosciutto and slice of cheese and stuff them into the slit of each pork chop.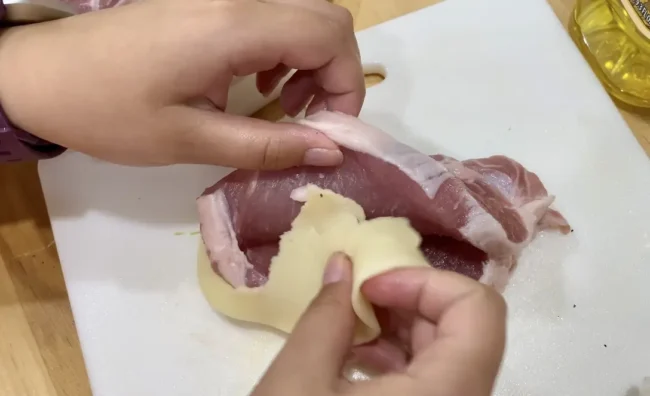 Get a large skillet or large cast iron pan and heat up some olive oil on medium-high heat. When the oil is hot, add the pork chops to the pan. Do them in batches if you have to so you don't crowd the pan.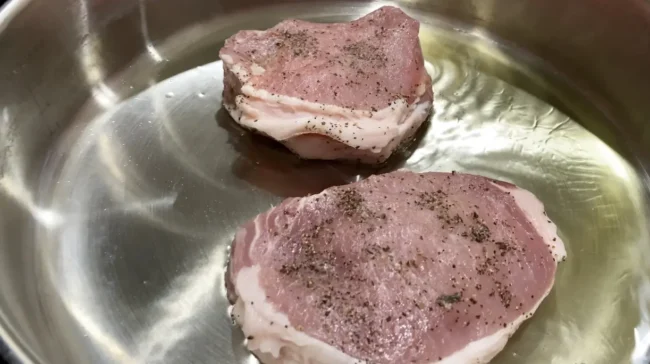 Sear the pork chops in the pan for about 3-4 minutes. Flip the pork chops over after the first side gets golden brown. After you sear all of the pork chops on both sides, set them aside in a large plate or baking sheet.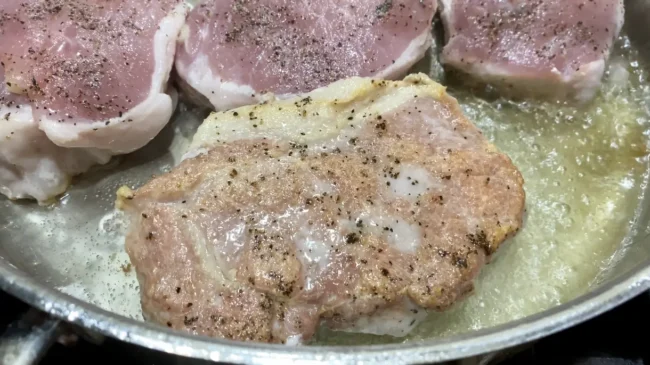 Turn the stove down to medium heat. Add some minced garlic to the pan and let it toast. You can put a little more olive oil in the pan if you need it.
Now add some sliced mushrooms to the pan and allow them to saute. When the mushrooms become soft from cooking, which should take about 3 minutes, add the Marsala wine to the pan.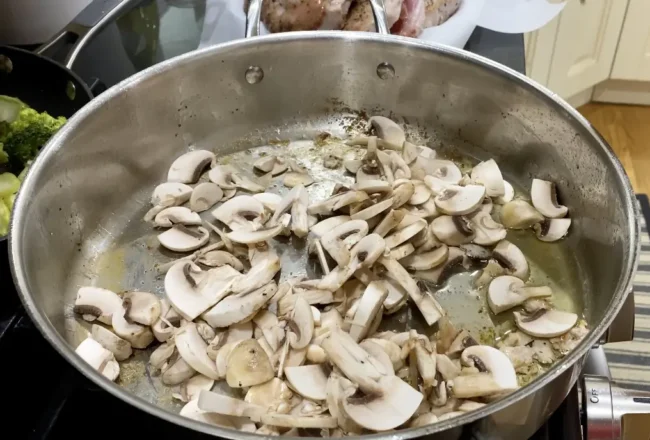 Take a wooden spoon and scrape the bottom of the pan to get up all of the brown bits. There's a lot of flavor in those brown bits.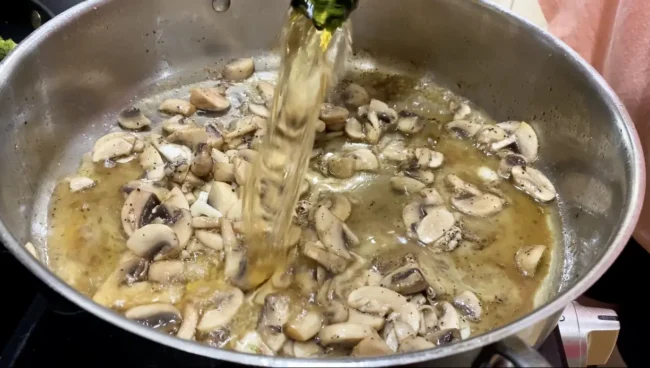 Add the stuffed pork chops back into the pan with the Marsala wine and mushrooms. Turn the heat up to high and let it come to a low boil. When it starts to boil, turn it down to medium high heat and allow it to simmer.
Toss in the butter and stir it around with the wooden spoon. The butter will make it nice and silky.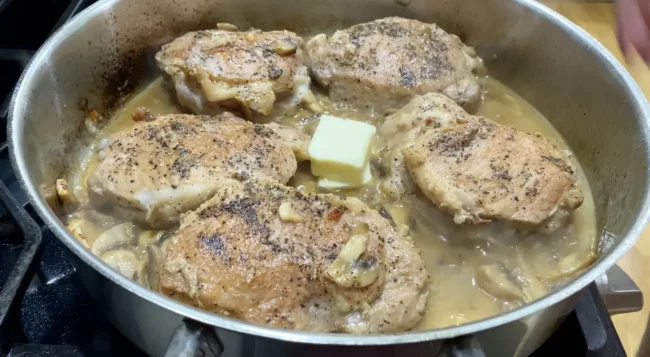 The Marsala wine will start to reduce and thicken up. It should reduce to about half of the original amount of wine. You'll know it's ready when the Marsala wine is thick enough to coat the back of a spoon.
The end result should be juicy pork chops in a sweet and earthy Marsala and mushroom sauce.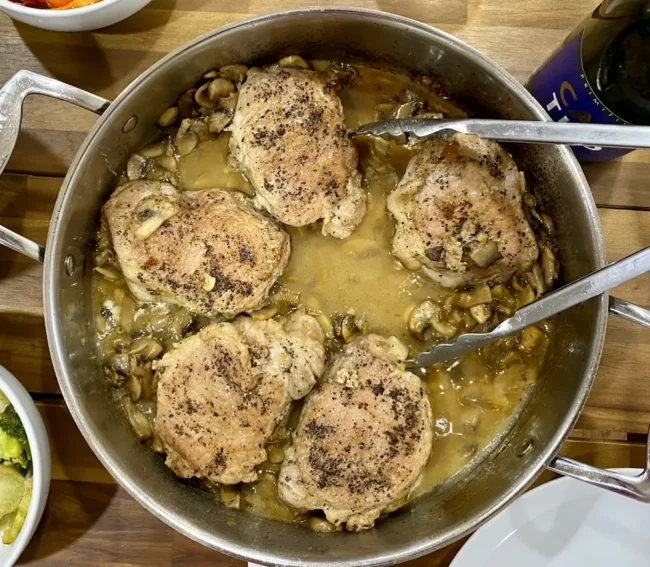 FAQs
Q: Does this recipe also work with chicken?
A: Absolutely. Even though this recipe calls for pork chops, you could use chicken breast instead. Use the chicken and pretend it's a boneless pork chop recipe.
Q: What is the best way to keep the pork chops juicy?
A: You want to make sure you don't overcook the pork chops. The easiest way to do this is to use a meat thermometer. The internal temperature of the pork chop should be around 145 degrees Fahrenheit if you want it to be juicy. The cooking times will vary depending on the thickness of the pork chops.
Q: What if I can't find thick pork chops?
A: If you can't find thick pork chops, you could make this recipe with pork cutlets. Take a meat mallet, pound them out nice and thin and make an involtini. Instead of stuffing the pork, layer the prosciutto and cheese on top of the cutlet and roll them up nice and tight.

What to serve with this Stuffed Pork Chop Recipe
Appetizer: A simple green salad with thinly sliced onion, pears and candied walnuts tossed in a Balsamic vinaigrette is a perfect way to start this delicious dinner.
Wine: Pair this dish with a light red wine such as Pinot Noir. A white wine like a Chardonnay would also work well.

Side Dish: There are so many good side dishes to choose from that will go great with this pork chop Marsala recipe. We're going for comfort food. Try garlic mashed potatoes with lots of parmesan cheese. You can also toss some green beans in garlic and olive oil and roast them in the oven.
Print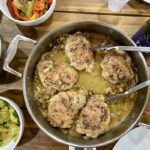 Easy Marsala Pork Chop Recipe [Gluten Free]
---
Author:

Total Time:

25 minutes

Yield:

5

1

x
4–6 pork chops, bone-in or boneless (about 1 inch thick)
4–6 slices of prosciutto
4–6 slices of fontina cheese
2 cups of sliced mushrooms
4 garlic cloves, minced
1 liter of Marsala wine
1/4 stick of butter
Salt and pepper to taste
---
Make a slit in pork chops using the sharp point of a chef's knife.
Insert a slice of cheese and a slice of prosciutto into each pork chop.
Pat pork chops dry with a paper towel.
Season each pork chop with salt and pepper.
Heat olive oil in a frying pan on medium-high heat.
Sear pork chops on both sides and set aside. It should take 3-4 minutes on both sides.
Add mushrooms and garlic to the pan and allow mushrooms to soften and brown.
Add Marsala wine to the pan and scrape up any brown bits off of the bottom of the pan.
Turn up the heat to high and bring it to a boil.
Turn heat down to medium and add butter.
Stir in butter and let everything simmer until Marsala reduces by half.
When the sauce is thick enough to coat the back of a spoon the sauce is done.
Enjoy!
Prep Time:

5

Cook Time:

20

Category:

Meat