Lasagna is the perfect choice for any meal of the week. But every great food needs a great pairing. So what are the best lasagna side dishes around? Here's my personal list.
It's no secret that everyone at Mortadella Head loves lasagna in any shape and form. We serve it, we ship it, we adore it. With its creamy dressing and its superb taste, it's really one of the best pasta dishes in the world.
And it's so versatile!
Not only there are countless versions of it (from vegetarian lasagna to our beloved Sunday Sauce special) – it can also be paired with a lot of delicious foods. Florentine crepes, buffalo wings, meat skewers, chicken wings…
But if you're not making it for a special occasion, you probably don't want to make other pasta or meat dishes.
Let's say you just want an easy dinner to eat on the couch, and you ordered some lasagna online. What do you pair with it? Sometimes it's best to keep it simple: a good side dish can be more than enough. You don't need to make a Thanksgiving dinner every day, am I right?
So here is a selection of easy and delicious side dishes for lasagna to give you some inspiration. They are perfect for when you're eating alone, but you can also serve them on special occasions. They'll be great anyways.
What goes well with lasagna?
I normally make lasagna for Sunday lunches, and if you ask me what menu I would serve with it, I would say:
meat skewers
red and white wine
roasted potatoes or a salad
However, lasagna can be eaten any day of the week, and you don't need to cook all these things to make a complete meal.
On the contrary, a vegetable side dish would be enough to counterbalance the heaviness of the lasagna, which is already full of carbohydrates and protein.
However, if you don't overdo the main course, you can add some bread and cheese and make a comfort dinner to enjoy on the couch with a glass of wine.
Here's a list of easy sides that may work for you!
The perfect side dishes for lasagna
Although I would usually serve them as an appetizer, garlic breadsticks are also a good side dish for lasagna. Enjoy them with some béchamel (or your favorite sauce) and a fresh salad aside. I also like to eat them with ricotta cheese, finely chopped parsley leaves, and red chili pepper flakes.
They're also great with garlic butter, of course. Might not be the best choice if you're having a date over for dinner, though.
Speaking of garlic, here's another easy way to complete your dinner. Toast your garlic bread (or any bread of your choice) until it's crispy, then spread some pesto over it and enjoy. If you want some extra crunchiness, add some pine nuts and parmesan flakes. These ingredients are already in the pesto, but a few more will do no harm.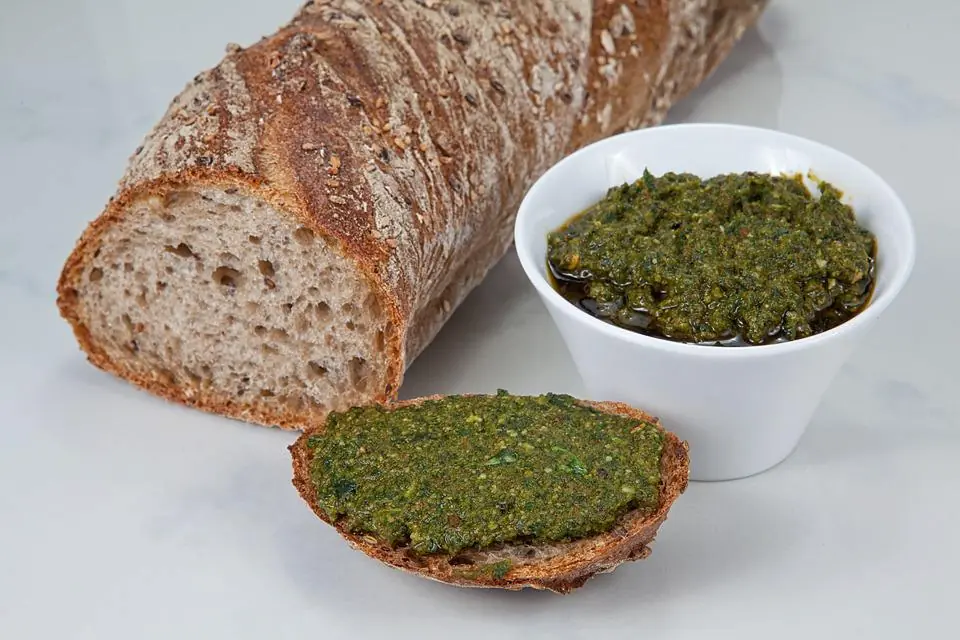 This is a very simple and delicious side dish for lasagna, and pesto is so fun and easy to make at home! If you never did it, try our recipe for pesto without pine nuts.
This simple side dish was once a method used by the poor to use stale bread without wasting it. Now it's a beloved classic Italian dish. And for a good reason. You just need to take 2 or 3 juicy tomatoes, dice them, and spread them over some slices of toasted bread with fresh basil leaves and some olive oil – and there you go. Simple and delicious!
You can use it either as a side dish or as an appetizer. It's the perfect solution for when you have guests coming over and want to make a quick entree so you can focus on other courses. And it's also a great snack to finish off your mid-week lasagna dinner.
Try out Chuck's bruschetta with mozzarella recipe!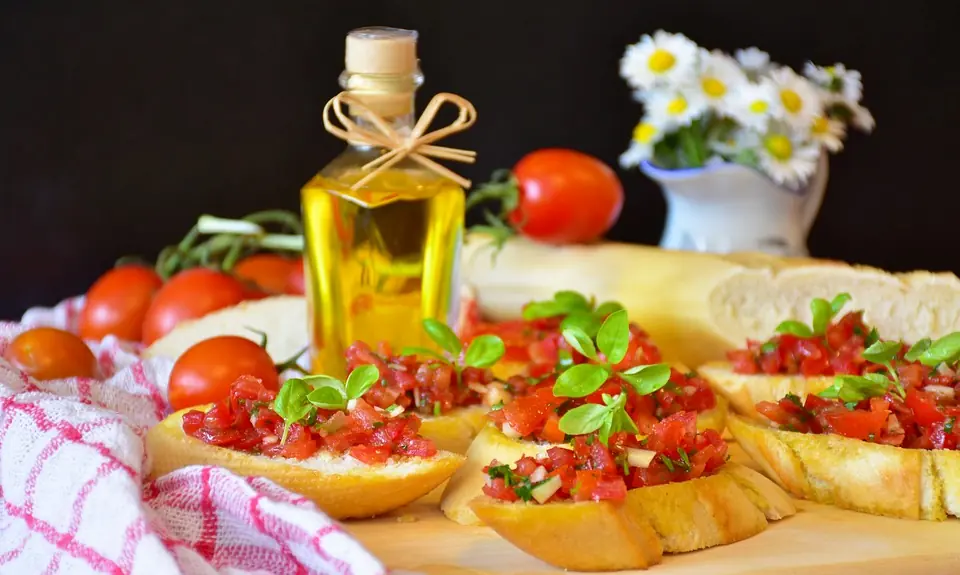 I know, I know. For many people, brussels sprouts taste like childhood trauma. But if they're cooked properly, they can become a delicious dish. If you're still biased against them, here's a variation that might change your mind.
Instead of roasting in the oven, let them caramelize with oil in a skillet, then spice them up with black pepper and salt, and stir them until they're golden brown. Finally, drop in some balsamic vinegar and let it evaporate for a few minutes before serving.
Easy and healthy!
In Italy, this is a classic summer dish. Preparation requires a little patience, but the result is truly delicious.
Get some roma or plum tomatoes and cut off the wider end. Empty them of their contents, and stir fry the pulp for 20 minutes along with garlic and olive oil. Meanwhile, cook some rice in a small pot.
After that, take your favorite fresh herbs, chop them, and toss them in the tomato sauce. Combine with the rice and add some parmesan or pecorino romano cheese, then use the result to stuff the tomatoes and enjoy.
Many people bake the tomatoes before serving, but I think they're a great thing even when raw.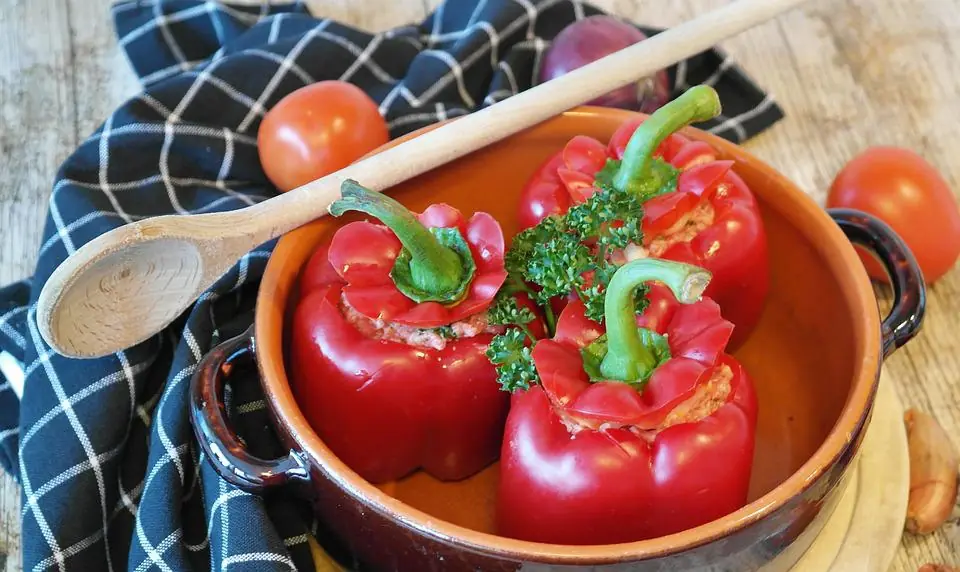 Sometimes you just need a simple salad to make a complete meal. Try mixing fresh arugula leaves with some parmesan cheese flakes, olive oil, and a sprinkle of lemon zest. Easy and delicious!
If you prefer lettuce over arugula, you could try making a green salad with:
lettuce
a diced onion
3 San Marzano tomatoes (or any plum tomatoes that you can find at your local grocery store)
pine nuts to taste
1 sliced red bell pepper
It's a very healthy side dish for lasagna. And if you like cheese, you can also add some grated parmesan or pecorino.


Chicken salad with red chili pepper flakes
Take some grilled or boiled chicken breast, cut it into pieces, and mix it with iceberg lettuce, sliced onion, lots of red pepper flakes, and a little olive oil, then enjoy along with 2 or 3 slices of toast bread.
Choose this if you want a classic Italian side dish that tastes like summer.
I know, I recommend Caprese salad a lot. But it's such a simple recipe, and it's so good! The freshness of the mozzarella cheese mixed with basil leaves and diced plum tomatoes is the perfect addition to a hot, yummy lasagna.
As the name suggests, this salad originated on the island of Capri and is typically made with buffalo mozzarella and San Marzano tomatoes.
Here in Italy, both these ingredients are easy to find locally and don't cost too much, but I see that their prices are a little higher in the US, so feel free to use any of their equivalents from your local grocery store. Just take 2 good plum tomatoes and a medium-sized mozzarella ball, dice them and mix them together with basil leaves and olive oil.
It's a delicious salad, and if you eat it with some bread it can be a complete dinner by itself.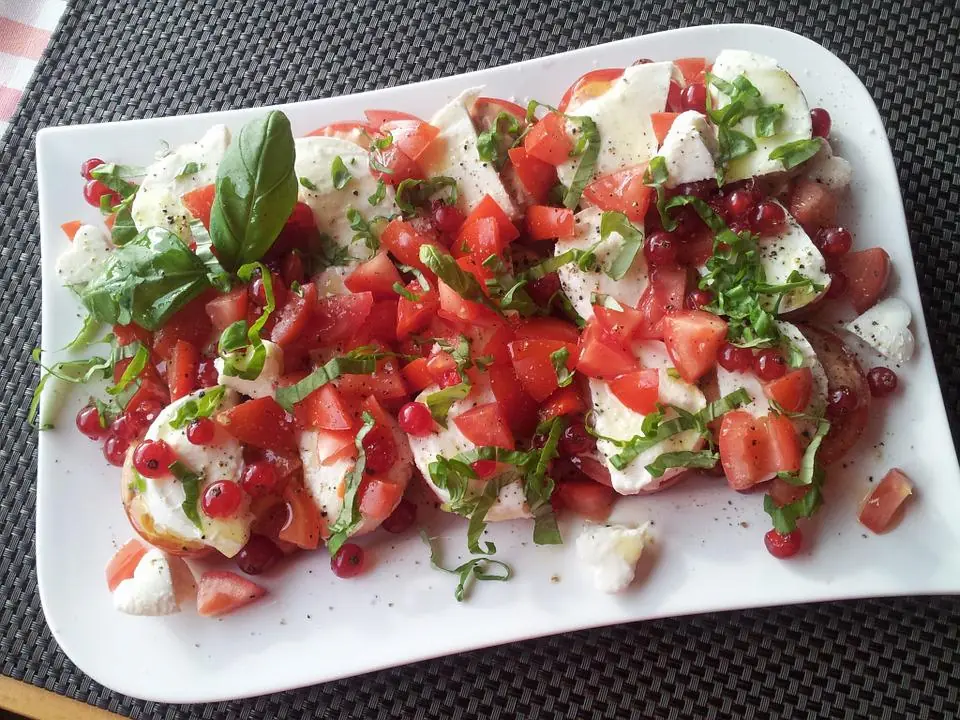 Another great side dish for lasagna. Legend has it that it was created in Tijuana by chef Cesare Cardini, who had moved to America after WWI to open an Italian restaurant. It was originally made with romaine lettuce, parmesan cheese, bread cubes, and worce… I mean worcheshi… Worcestershire sauce! (hope I spelled it right…) 🤞
Now the ingredients have changed a little, and you can add other ingredients like garlic, stir-fried pancetta, or chicken breast. Pair it with your favorite type of lasagna to make a complete meal.
If your lasagna didn't have enough cheese on it, you could pair it with a classic wedge salad.
The simplest version of this salad requires just 2 cherry tomatoes, 1 chopped red onion, 3 oz of bacon, a wedge of iceberg lettuce, and blue cheese dressing to taste.
However, you can customize it with any ingredient you like. Some people like to add avocado and cucumber, others toss in a couple of hard-boiled eggs and olives, and some people even eat it together with fried onion rings. Also, you can easily find many vegan alternatives made with mushrooms, tempeh, veg mayo, and chickpeas.
Not the healthiest choice, but a delicious choice nonetheless.
This is one of my favorite side dishes EVER. I firmly believe that feta cheese can make everything better. And in this case, it adds a salty note that is the perfect way to finish your dinner after enjoying a good homemade lasagna.
To make this, you need:
2 pints of cherry tomatoes
1 diced red onion
1 cup of diced feta cheese
2 tbsp balsamic vinegar
3 tbsp olive oil
Just mix the ingredients and you're ready to go. And if you add 2 cucumbers and 1/2 pint of black pitted olives, it will turn into an amazing greek salad. I also like to add some thinly sliced lettuce leaves for extra freshness as well.
Best salad ever!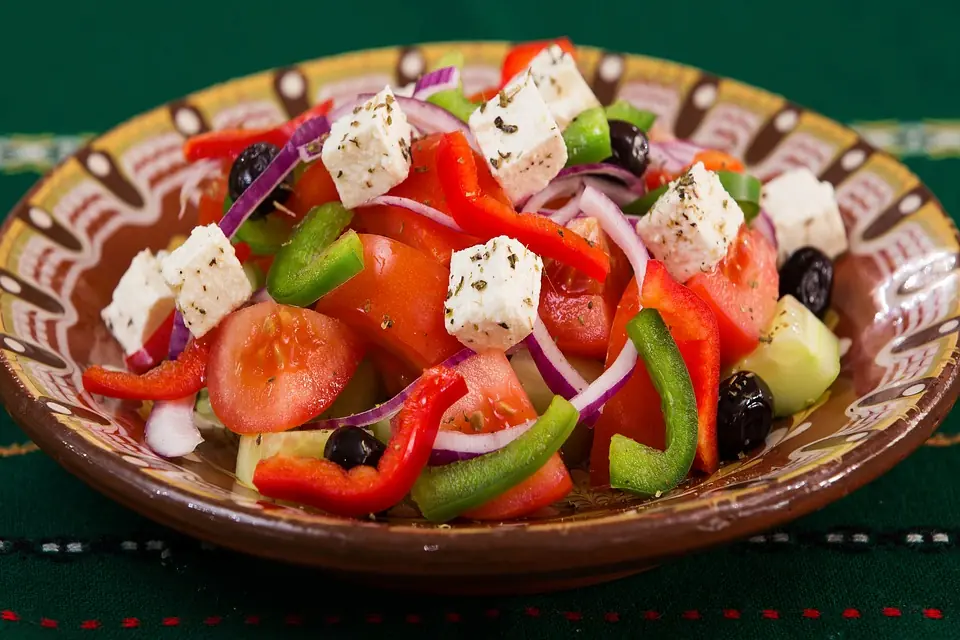 Enough with salads. There are so many other things that go well with lasagna – and one of them is roasted potatoes.
It might not be the quickest side dish for lasagna, but it's very easy to make and it tastes great – so it's a great choice if you're having guests. And to be fair, I could eat lots of it even if I were alone.
It takes some patience – but you can just let it bake in the oven and do other things while you wait. I normally use that time to clean the rest of the kitchen so that I can chill after dinner, or to focus on more important courses when I'm cooking for others.
Most of the dishes listed until now complement lasagna's succulent taste with freshness and lightness. Now, what about something that counterbalances it with some bitterness?
Also known as rapini or friarelli, broccoli rabe is a quick and easy side dish that you can do in less than 25 minutes with zero effort. Chuck makes them every day at Mortadella Head's place, and he's recently shared his personal recipe. Go read that!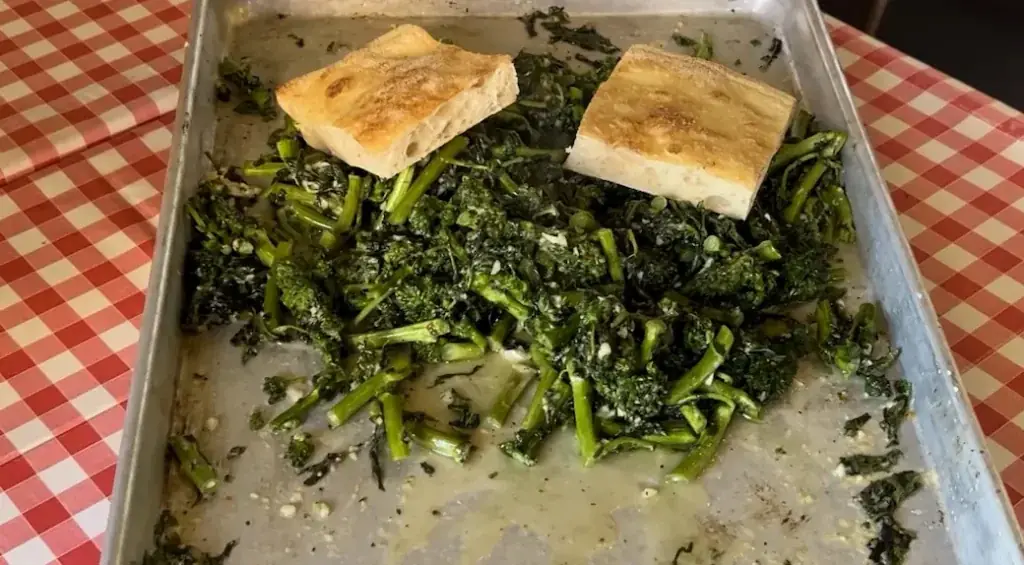 If you like butternut squash, here is another great side dish for lasagna.
It works exactly like roasted potatoes: dice your favorite type of squash, toss everything in a baking dish with a couple cloves of garlic and 2 tablespoons of olive oil, and keep in the oven at 400° F degrees for 40 minutes.
So these were my favorite easy side dishes for lasagna. I hope I gave you some inspiration for your next dinner. And if I missed your favorite one, let me know in the comments. I want to know what you would recommend!
If you like to make lasagna by yourself, don't forget to check all our recipes. Each of them is special in its own way, and we have some more coming over the next few weeks, so remember to come back to our blog!
Here they are:
Let me know which is your favorite!