What is it with Americans and buffalo chicken? It seems like there's this weird cult following where everyone's obsessed. Buffalo wings, Buffalo chicken dip, Buffalo mac and cheese—everything has been Buffaloed.
I'm totally knocking on myself when I say all that, because I've fallen into the trap.
Ordering subs? Buffalo chicken.
Apps with friends? Buffalo wings.
Binge eating at 1 am? Trader Joe's Buffalo chicken dip in the dark.
It won't come as a surprise when I tell you that I was shocked to find out that Buffalo chicken lasagna exists. And that we figured out the perfect way to master it.
Wait... you're combining them???
Trust me, I had that same thought. When I think of lasagna, I never think of adding gorgonzola or blue cheese, or even just making it spicy. But I promise you, it works.
I think my favorite part of it is the way the spicy and tangy Buffalo chicken compliments the rich and creamy ricotta cheese.
Try it this way once, and you'll be hooked.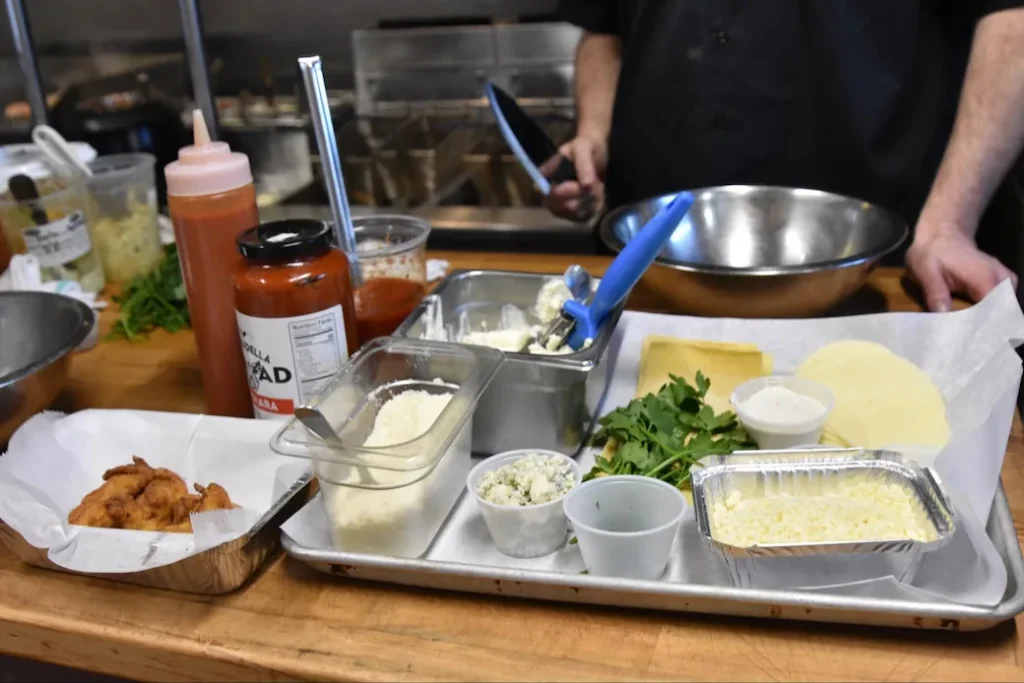 Ingredients for an Awesome Buffalo Chicken Lasagna
Lasagna sheets: Try to use fresh if you can get them.
Marinara sauce: Making your own tomato sauce is really easy and that's what I suggest. But if you decide to use a store bought sauce, use a good one.
Chicken: Make some crispy chicken cutlets fried in a good olive oil.
Buffalo sauce: There are a lot of Buffalo sauces on the shelves at the supermarket. You can't go wrong with Franks..
Ricotta cheese: This is important. Try to find a really good N.Y. style ricotta cheese.
Provolone cheese: Get some sliced Provolone cheese from the deli counter.
Mozzarella: For this recipe you want a whole milk, low moisture mozzarella. You know, the kind you use for a pizza.
Gorgonzola: This is basically an Italian blue cheese. You can buy it crumbled or by the chunk. If you can't find Gorgonzola, blue cheese works just fine.
Romano cheese: Buy a block and grate it yourself for the best results.
Basil: Get your hands on some fresh basil, there's nothing like it.
Parsley: Fresh is better, but dried parsley will work if that's all you have.
How to make Buffalo Chicken Lasagna
Drop lasagna sheets into a pot of boiling water.
While they're boiling, begin to prepare your ricotta cheese. Mix it around with some pecorino Romano, salt, pepper, parsley, and warm marinara sauce, until the ricotta turns into a light pink color.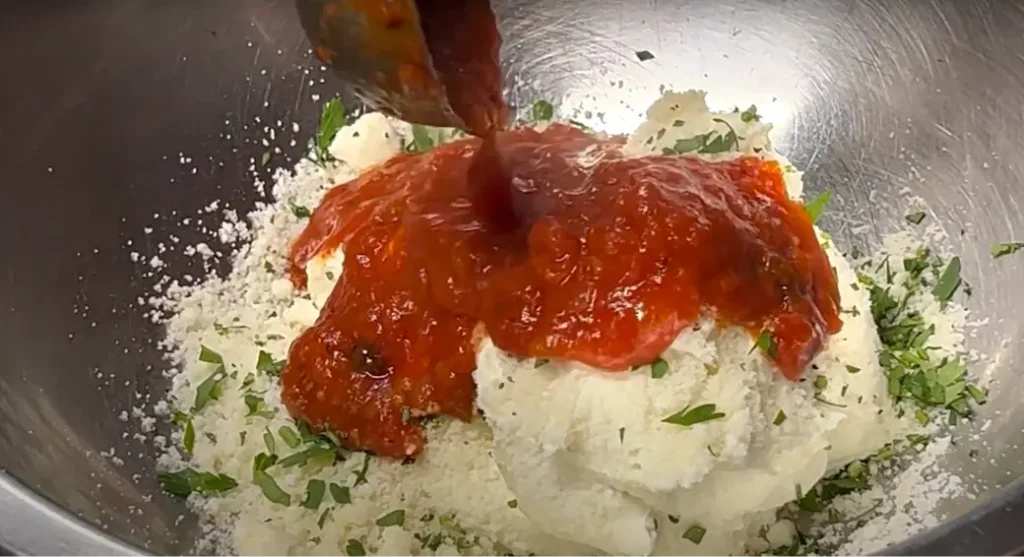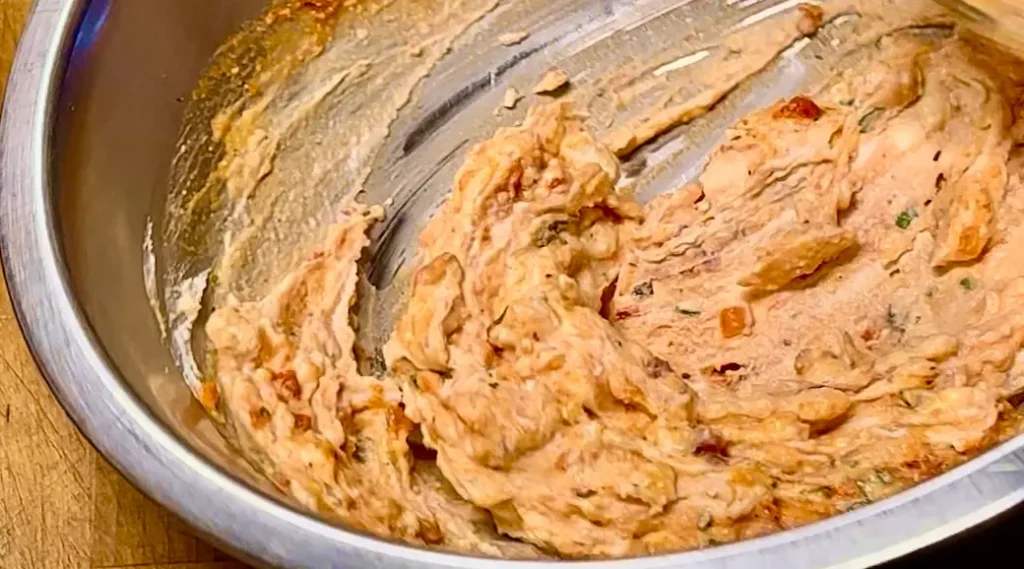 Cut up your chicken cutlets and toss them around in the Buffalo sauce. Use as much or as little as you prefer.
Take your lasagna sheets out, and drizzle them with a bit of olive oil so they don't stick together.
Now it's time to build this guy! At the bottom of a pan, put down a thin layer of marinara sauce. On top of the sauce, place down your first lasagna sheet. Top it with two dollops of ricotta.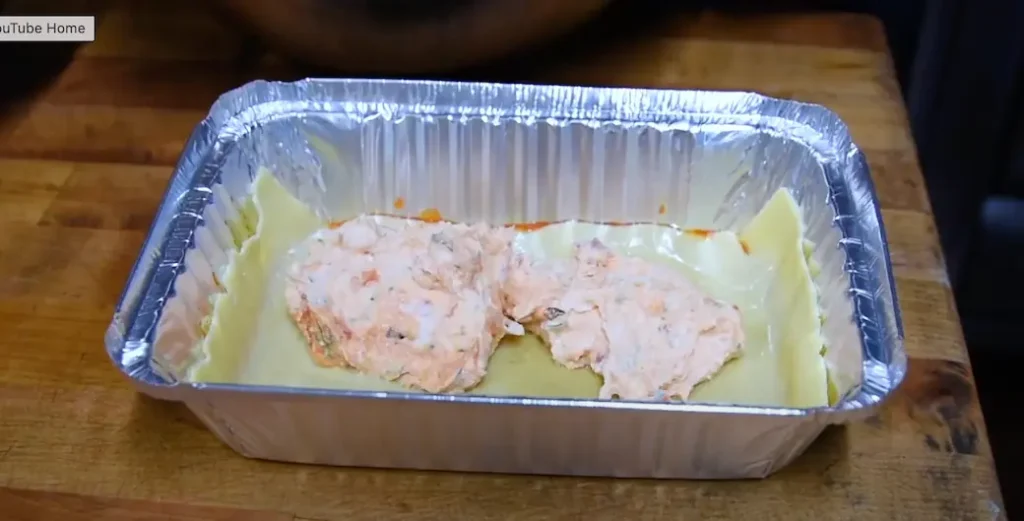 Place two slices of provolone cheese on top of the ricotta. Spread some more marinara over everything, sprinkle some grated Romano over the sauce, and repeat!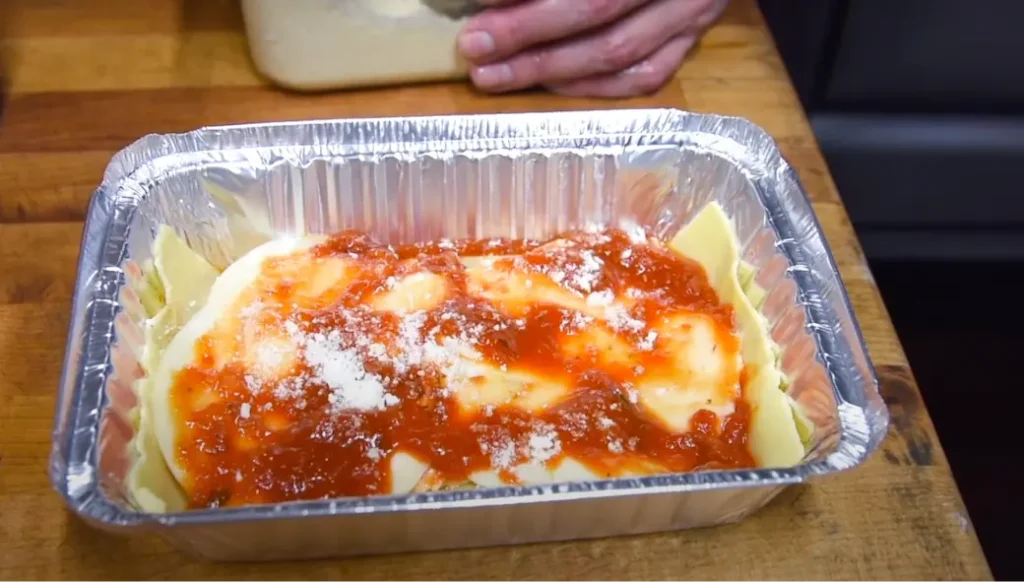 Once you get to the third layer, evenly spread all of your Buffalo chicken and gorgonzola cheese on top. Less is more when it comes to Gorgonzola. It has a pretty good kick.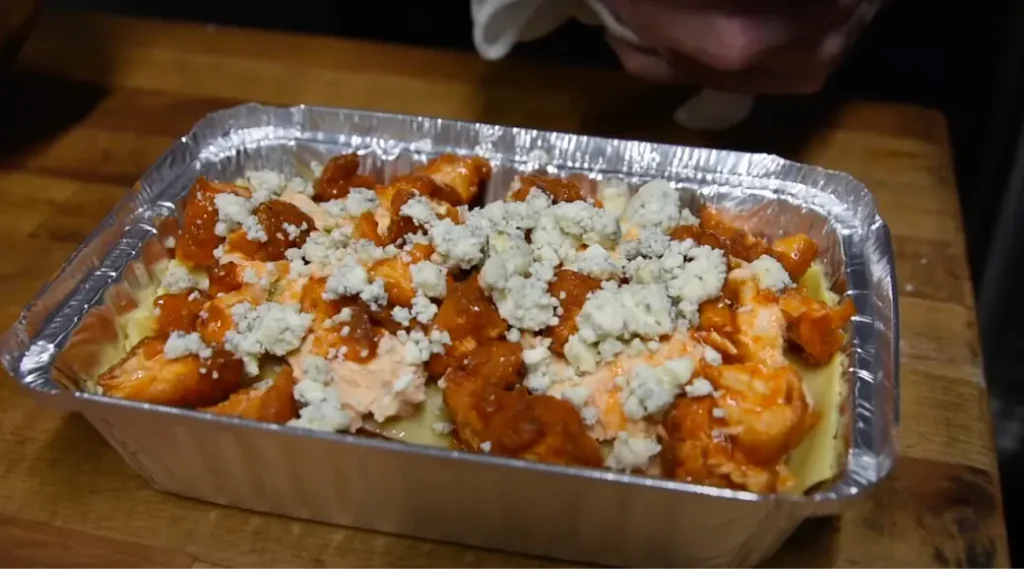 Layer with a lasagna sheet. Top with sauce, mozzarella, basil, and pecorino romano.
Bake it in the oven at 375° for 30-35 minutes, top with extra basil, and add a drizzle of creamy Gorgonzola dressing and extra Buffalo sauce if you like. Enjoy the most delicious spinoff on lasagna you will ever eat.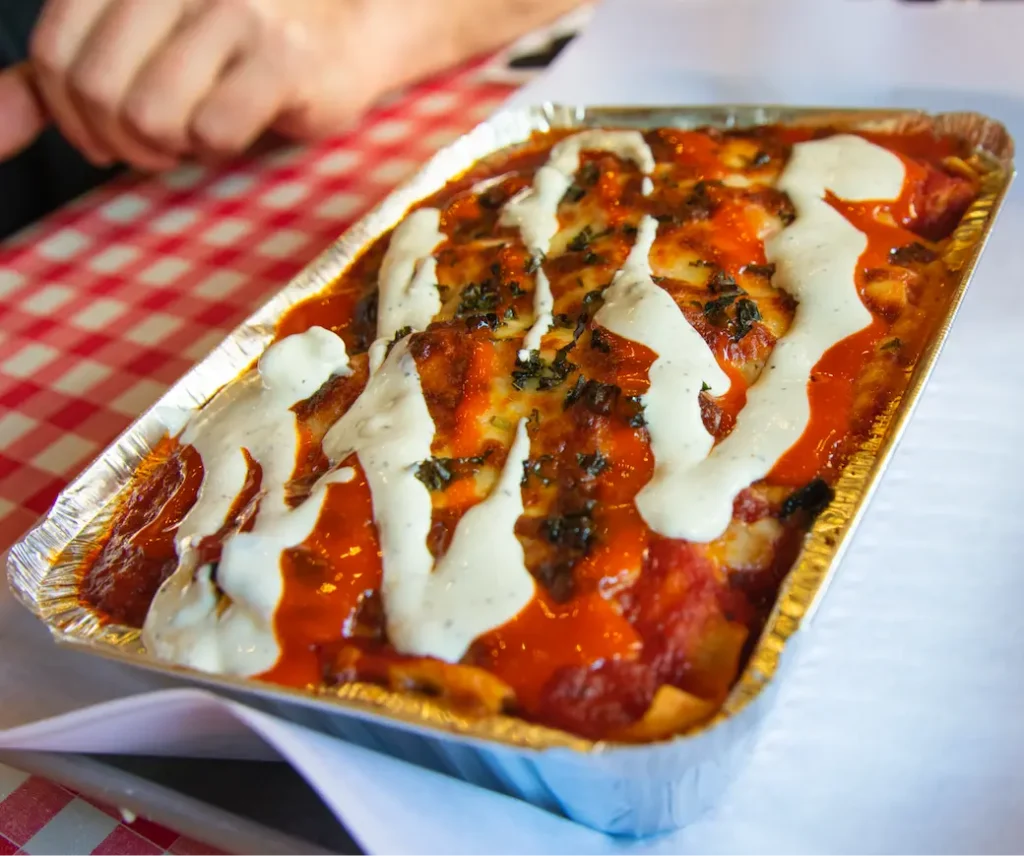 Q: What if I can't find Gorgonzola cheese?
A: If you can't find Gorgonzola, use Blue Cheese. If you're not into moldy cheese for some reason…try feta!
Q: What if I don't have fresh pasta sheets!?
A: If you can't get your hands on fresh pasta sheets, get a good quality lasagna sheet at the supermarket. The flat ones are the best in my opinion.
Q: Can I freeze my Buffalo Chicken Lasagna??
A: Yes. Make a bunch and freeze some for later. We make and freeze our lasagna all of the time. We even ship our frozen lasagna to people in the mail and they love it!
What to serve with Buffalo Chicken Lasagna
Print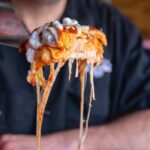 Buffalo Chicken Lasagna
---
Author:

Total Time:

1 hour

Yield:

1

1

x
Description
Yes, today we're mixing things up. Our rich, creamy lasagna meets the spicy taste of our favorite Buffalo chickens. Here's how you can make this at home!
---
4

lasagna sheets

2

cups

marinara sauce

2

chicken cutlets

1/2

cup

Buffalo sauce

3

cups

ricotta cheese

1/4

lb

provolone cheese

1/2

cup

shredded low moisture mozzarella

1/4

cup

gorgonzola crumbles

2 tbsp

grated Romano cheese
Salt & pepper to taste
Basil to taste

1 tbsp

parsley
Creamy Gorgonzola or Blue Cheese dressing (optional)
---
Preheat oven to 375°.

Boil lasagna sheets, drizzling them with olive oil when finished.

Mix ricotta cheese with pecorino Romano, warm marinara sauce, salt, pepper, and parsley into a bowl until ricotta turns pink.

Cut up chicken cutlets and toss them into a bowl with buffalo sauce.

Build first two layers of lasagna in this order:

Sauce

Lasagna sheet

2 dollops ricotta

2 slices provolone

Sauce

Grated Romano

At the beginning of the third layer, sprinkle on gorgonzola and Buffalo chicken. Use all of the chicken you have to cover the entire layer.

Top with lasagna sheet, marinara sauce, mozzarella pizza cheese, pecorino Romano, and basil.

Bake for 30-35 minutes.

Top with extra hot sauce and creamy gorgonzola dressing (optional).

Enjoy!
Prep Time:

25

Cook Time:

35

Category:

Baked Pasta

Method:

Baking

Cuisine:

Italian American
Keywords: buffalo chicken lasagna