You worked your butt off in the kitchen making lasagna because you have company coming over. You want to serve the right wine, but you have no clue what to buy.  Don't worry about it.  I have you covered.
Wine and Italian food are made for each other. But most people are not sure what type of wine they should drink with certain dishes. If the dinner is lasagna that makes the decision even more confusing. 
Lasagna is made up of layers of various ingredients and flavors. It can be meaty, saucy, cheesy and creamy all at the same time.  It's enough to make your head spin.
What are the best wine pairings for the lasagna you're serving?
There are so many different Italian wines you can choose from. I want to make picking a wine to go with your lasagna easy, so I decided to make a quick and easy guide.
Lasagna and Wine Pairing Suggestions
Here is a list of popular lasagna types that you will find in most Italian-American restaurants and most Italian-American kitchens. It's the sauce and lasagna filling that is going to determine which wine to choose. 
You'll need to be familiar with each lasagna, like any other Italian dish, in order to make your wine pairing a breeze.  
I've included a wine to go along with each type of lasagna.

Quattro Formaggi Lasagna
This is a 4 cheese lasagna with Marinara sauce.  Because it's a cheesy lasagna and has a simple tomato sauce it will pair well with most Italian red wine. Most tomato-based pasta dishes go well with a medium-bodied wine. Get a bottle of Barbera or Merlot. They are both smooth wines with low tannins that will pair well with a cheese lasagna.

Vegetable Lasagna
This is a vegetable lasagna made with a red sauce. It has a simple tomato sauce and usually sauteed or roasted vegetables such as eggplant, zucchini and peppers. A Chianti could be the perfect wine for this lasagna.

Lasagna Bolognese
A Bolognese sauce is very common in Italian cuisine. It's a tomato sauce that is cooked low and slow with ground beef, pork, onion, carrot and celery. It comes from the city of Bologna. This rich meat sauce is a perfect match for a full-bodied red wine. Serve it with a Barolo which is made with Nebbiolo grapes and aged in oak barrels.

Neapolitan Lasagna
This is a meat lasagna common in Southern Italy. It is known as Lasagna al Forno. It is made with ricotta cheese, tomato sauce, meatballs, pork and sausages. The flavors in this dish pair well with a Nero d'Avola or a Brunello di Montalcino.
Lasagna Made with Vodka Sauce
There are tomato-based sauces and cream based-sauces. This is both! This style of lasagna has a Vodka sauce which is a creamy sauce that also has tomato sauce in it. It also has layers of pasta, ricotta, provolone and grated Pecorino Romano. It's an Italian-American favorite. You can go with a white or a red wine. Try a Pinot Bianco or a Sangiovese.

Mushroom Lasagna
This mushroom-based vegetarian lasagna is usually made with a white sauce made with garlic, cream and grated cheese. This white lasagna with cream and cheese goes well with the earthy mushrooms. This is an example of a dish where you could choose a white wine or a red wine. Try a Chardonnay or a Pinot Noir.

Chicken Cutlet and Broccoli Rabe Lasagna
This lasagna is a big hit at Mortadella Head.  When we first started making it we had so many people tell us it was their favorite lasagna.
It has a garlic cream sauce that is similar to an Alfredo sauce.  This is a simple sauce made with butter, garlic, parmesan cheese and cream. The legend is that it was invented in Rome by a guy named Alfredo DiLelio.  
It also has crispy fried chicken cutlets and roasted broccoli rabe.  It's not a classic lasagna, but the flavors go so well together. Sip on a Pinot Grigio or Sauvignon Blanc while digging into this innovative lasagna dish..

Pesto Lasagna
A simple basil pesto is made with fresh basil, garlic, olive oil, pine nuts and parmesan cheese. This sauce requires no cooking. Pasta pesto is a classic Italian dish, but you don't see pesto lasagna too often.  The pesto is a great match for a white cream sauce. Serve it with a Pinot Grigio.

Buffalo Chicken Lasagna
This is definitely not something you see everyday.  We make it at Mortadella Head and people go crazy for it.  It is a lasagna made with a red sauce.  It also has fried chicken tossed in a spicy Buffalo sauce, layers of cheese and fresh pasta. sheets.  Serve it with a sweet wine like Riesling or a sparkling wine.
Quick Wine Guide
With all of these different types of lasagna to choose from, it can be overwhelming picking the right wine. The important thing is to order a wine that brings out the flavors of the dish.  
There are specific wines that pair well with creamy sauces and cheese-based sauces. There are also certain wines that go well with tomato sauces.  
Here is some Italian wine you should know about. 
Chianti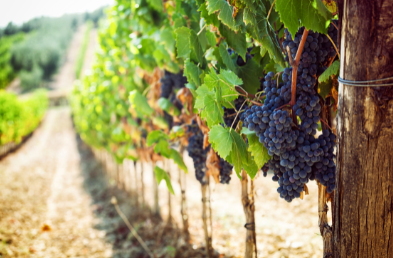 This is a favorite of Italian red wine lovers. Chianti is a red wine produced in the Chianti region of Tuscany. It is made mostly with Sangiovese grapes. Chianti Classico are premium versions of the Chianti wine and have a high tannin content as well as high acidity. A Chianti is a good match for a rich tomato ragu like a Bolognese made with ground beef. 
Cabernet Sauvignon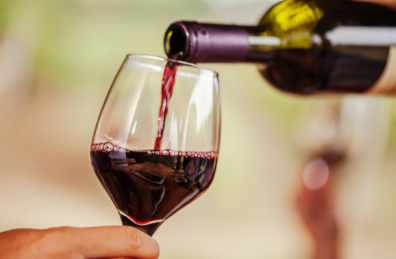 Cabernet Sauvignon is a red grape that is grown in many parts of the world. It has flavors similar to black currant and black cherry. This wine is good with rich red tomato sauces and cream sauces.
Montepulciano d'Abruzzo
This variety of grape is grown in the Abruzzo region. It is a great wine to have with many Italian dishes due to its soft tannins and dryness. Try it with a Bolognese sauce or a pasta all'Amatriciana.
Merlot
A merlot is a red wine that can be paired with several types of food. You can enjoy a glass with a meaty lasagna or a sausage cacciatore. This is one of the best red wines to buy when you aren't really sure what to get. The flavor profile allows you to drink it with dishes that would also go with Cabernet Sauvignon or Pinot Noir. A fully-bodied Merlot has hints of plum and blackberry with moderate tannins. 
Cabernet Franc
Cabernet Franc is a red wine that is often blended with Cabernet Sauvignon. It has a hint of berries and medium to high acidity. It pairs well with meatballs in tomato sauce.
Pinot Noir
This is a red wine with medium acidity. It is a light bodied wine and is sometimes said to have a hint of mushrooms. It's actually a very good wine to pair with sauces made with Marsala wine and mushrooms. 
Nero d'Avola
This red wine is a big deal in Sicily and is becoming pretty popular in the United States. It's a great choice if you usually order Cabernet Sauvignon and want to try something new. It has some fruity flavors like black cherry and plum. It has medium to high tannins and acidity.  
Drink it with something meaty and rich like a big steak with a side of spaghetti pomodoro. 
Pinot Bianco
Pinot Bianco is also called Pinot Blanc in France. This is a white wine normally found in Northern Italy. It is a full-bodied white wine that can be dry or sweet. It pairs well with pasta dishes that are creamy and cheesy. It's also the best choice for pasta pesto.
Pinot Grigio
This is also known as Pinot Gris in France. It is a white wine that is very common in the United States. It is high in acidity and is said to have notes of citrus and green apples. It is a good choice when pairing with seafood pasta and risotto dishes. Drink it with your spaghetti alle vongole or shrimp scampi.
Chardonnay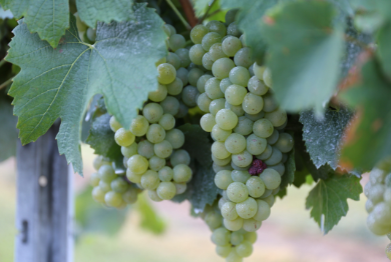 Chardonnay is a white wine that is very versatile. A light chardonnay is a white wine that can taste like tropical fruit or have notes of pear and green apple. There is also oaked Chardonnay which can have the flavor and aroma of cinnamon and vanilla. Chardonnay goes well with a mushroom pasta or a cream-based pasta sauce.
Petit Verdot
This is a red wine that has aromas of blueberry, blackberry and light cherry. It can also have floral notes with hints of lilac and lavender. It is known to be a good wine with grilled meats and BBQ. Try it with sausage-based sauces and meaty lasagnas.
The truth of the matter is that there is no wrong kind of wine to drink with your meal. You should try all different kinds and figure out what you like. That's the fun part.  
Order your favorite wine and don't be ashamed. It doesn't have to be a fancy wine and it doesn't have to be expensive.  
Drinking wine is about having a good time with your friends and family. Cheers!
If you love lasagna and don't feel like doing the work to make it, you can get it shipped right to your door.  Just store it in your freezer until you're ready to heat it up.  Our customers say it's better than any homemade lasagna they've ever had.