I was really craving some shrimp last week.
And not shrimp cocktail or shrimp tacos.
Nope, I was craving the classic, good old Italian shrimp scampi. The foolproof Italian shrimp recipe never does me wrong.
Now, ever since I started making the commitment of cooking every day, I'll admit I get a bit carried away with some of my recipes. I'll add too much of an ingredient that could've been used as a side dish, or not at all. I'll try a new seasoning that sometimes won't work.
But that wasn't the case with this easy recipe.
This came out perfectly. It was so good that my fiancé begged me for weeks to make it again, it was one of his favorite dinners.
And so I did, and it became even more delicious.
The best part? It was so incredibly easy. I promise you the hardest part of this recipe was cooking the shrimp, and even shrimp cooks incredibly quickly.
This easy shrimp scampi pasta recipe will be your family's new favorite thing! Let's make it together.
You'll Need: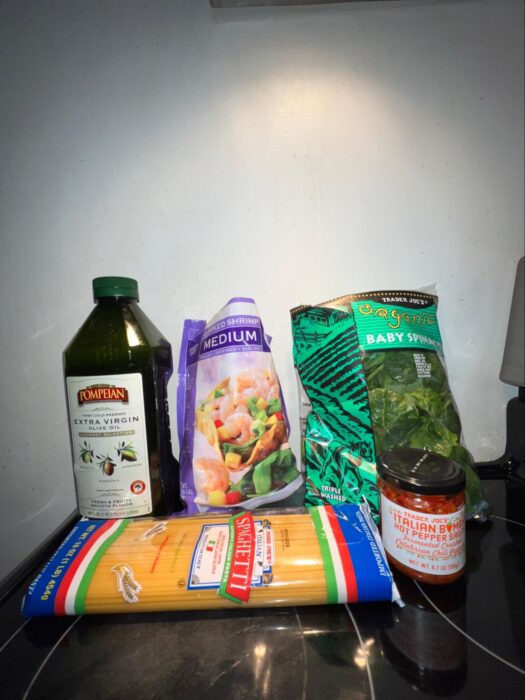 Trader Joe's Bomba Sauce: Or any other calabrian chili based sauce. You could even make your own if you want, by adding some crushed red pepper flakes to the pan with some tomato paste.
Fettuccine: I'd say use fettuccine over spaghetti, unless you're using fresh spaghetti noodles. It's one of the best tasting pastas there is. The only reason I used spaghetti on this particular trial run is because that's all we had in the cabinet. Any kind of fettuccine is fair game here. You can get this from the imported foods section of your local grocery store.
Olive Oil: Make sure to use your favorite!
Shrimp: Fresh shrimp or frozen shrimp, it doesn't matter. Just make sure that it is peeled and deveined. One pound of shrimp should do the trick.
Spinach: While this is totally optional, this'll add a whole new dimension to your dish that you weren't expecting. It's also a great way to get some veggies in.
Garlic: I'd say use two garlic cloves, but honestly use as much as you like. It's all about personal preference. Personally, I love garlic, and the last time I made this I probably used around four cloves. It elevates the taste and brings you a whole new layer of flavor that you never would have imagined existed.
Parmesan Cheese or Grated Romano Cheese: This will be the star of the show at the end of the recipe!
Directions:
Bring a large bowl of water to a boil. Salt the boiling water generously, and add your fettuccine to the boiling water. Cook until al dente or according to package directions.
While the water is boiling, begin to prepare the shrimp. Heat some extra virgin olive oil in a skillet or heavy-bottomed pan with some chopped garlic over medium heat.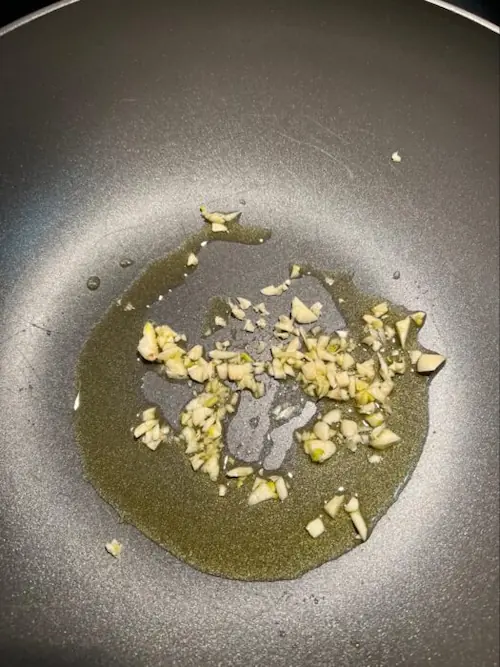 Once the garlic is fragrant, add the shrimp. Season with salt, pepper, italian seasoning, and a dash of paprika, and lemon zest (optional). Cook until just pink on both sides, and remove from the pan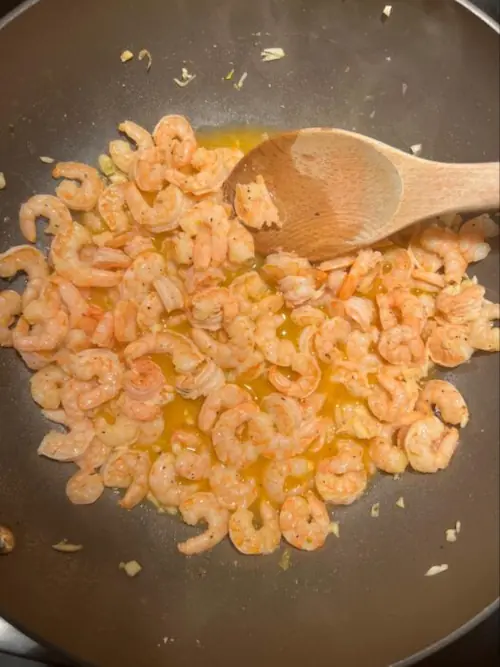 Add some more olive oil and begin to saute your spinach. Cook it however you like, I always like mine dark green.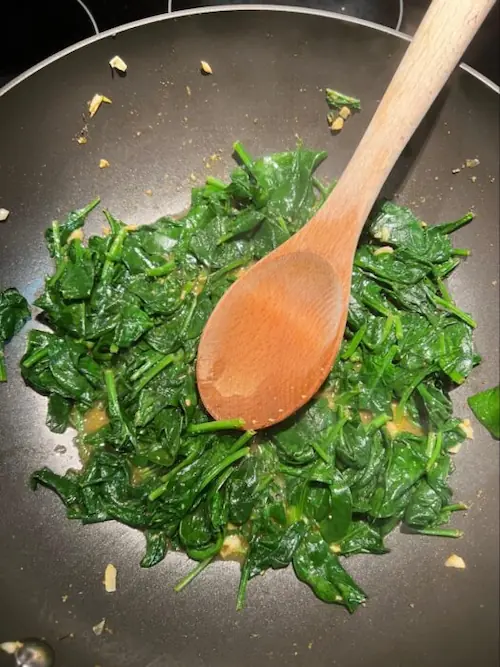 Add the shrimp back to the pain along with 2 tbsp of grated Romano cheese and a half scoop of Bomba sauce. This will be the shrimp scampi sauce. Add the fettuccine to the pan, and mix everything together thoroughly.
Serve as is!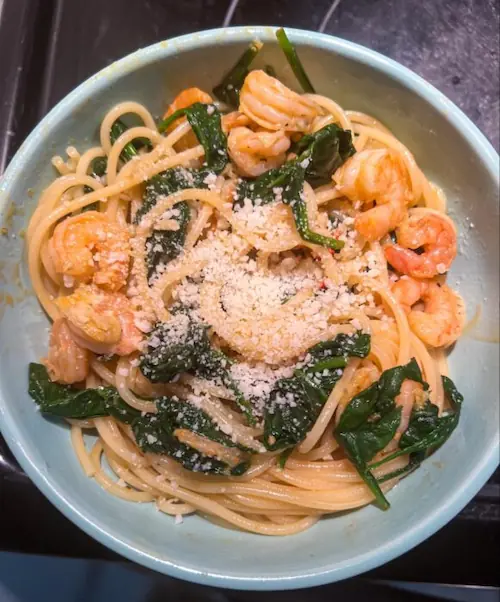 Fettuccine Bomba Shrimp Scampi Expert Tips
Here are some expert tips to make your next Fettuccine Bomba Shrimp Scampi even more fabulous. Trust me, your family's gonna love you for this. 🍤
Fettuccine
Pasta Picks: Fettuccine is the way to go here, folks. But if you've only got spaghetti in your pantry like I did on my trial run, it works in a pinch.
High-End vs. Budget: Trust me, splurge a bit on a quality fettuccine if you can. It'll elevate your dish, and you'll thank me later.
Olive Oil
Personal Favorites: Go ahead and use your fave olive oil. The better the quality, the richer your sauce will taste.
Shrimp
Fresh or Frozen: It doesn't really matter. Just make sure they are peeled and deveined.
Cooking Perfect Shrimp: Pat 'em dry for that perfect sear and don't crowd your pan. More on that in the technique section!
Spinach
Optional but Awesome: Adding spinach isn't just for health nuts; it adds an extra layer of complexity to your dish.
Garlic
To Each Their Own: Love garlic? Don't hold back. I used four cloves last time, and it was a hit!
Cheese
Last-Minute Star: Whether it's Parmesan or Romano, grate it fresh for that final, magical touch.
Cooking Fettuccine
Salt is Your Friend: Seriously, be generous with salting your pasta water; it's crucial for flavor.
Cooking Shrimp
It's Quick: The hardest part is cooking the shrimp, and that's saying something because they cook super quickly. Just don't overcook them; nobody likes rubbery shrimp.
Creating the Sauce
Customize: If you're not into spicy, swap the Bomba for some tomato paste and a splash of cream for a milder yet creamy sauce.
Cheesy Garlic Butter: Want a garlic butter sauce? Melt some butter in your pan first, toss in garlic, and throw in some extra Romano or Parmesan to make it creamy.
Assembling
Mix It Up: Add your cooked fettuccine to the pan with the shrimp and sauce, and give it a good stir to coat everything.
Veggie Power-Up: Wanna go the extra mile? Throw in some sundried tomatoes or maybe even some sautéed broccoli for a veggie boost.
FAQs:
Q: What else could I add to this other than the bomba sauce if I don't like spice?
This would be great with just a dash of tomato paste and then a splash of half and half or heavy cream, to make the whole dish a bit creamier. I bet you'll love it!
Q: How would I make a garlic butter sauce to go along with this recipe?
Nice and simple! Just add some butter to the pan instead of olive oil at first, and you're good to go. I also recommend adding some extra Romano or parmesan cheese to it, that way you'll get the consistency of a creamy parmesan sauce.
Q: Are there any other vegetables that I could add to this?
If you really wanted to kick this fettuccine shrimp scampi up a notch, I'd add some sundried tomatoes to the mix. Chop them up into 1/4s, and add them to the pan when you'd add the shrimp. If you're going this route, I just recommend using a little less olive oil, as the tomatoes will have enough in them as is.
Q: I don't like shrimp. What other kind of meat would go well with this?
I recommend adding some chicken thighs. Even if you do like shrimp, this could be delicious with the dark meat of the chicken in the dish. Let me know what you think of the chicken shrimp combo if you go this route!
Q: Can I make this dish ahead of time?
Make the shrimp and sauce ahead, but hold off on the pasta. Pasta is like a party—it's better fresh. When you're ready to eat, cook the pasta and combine everything. Voila, you've got yourself a meal faster than you can say "mangia!"
Q: What if I'm gluten-free?
Swap out the fettuccine for your fave gluten-free noodles, and make sure the Bomba sauce and any other add-ins are gluten-free too. Life's too short to miss out on good pasta, right?
Q: I don't have Bomba sauce; what else can I use for a kick?
If you don't have Bomba sauce, a mix of red pepper flakes, a dollop of tomato paste, and a splash of vinegar could give you that zing! If you have some Sriracha or sambal oelek in the fridge, those could work wonders too.
Q: How can I make this dish vegan?
Swap out the shrimp for some hearty portobello mushrooms or tofu, and use a vegan Parmesan or nutritional yeast for that cheesy goodness. For a creamy sauce, try cashew cream. You might just invent a new fave!
Q: Can I freeze the leftovers?
While pasta dishes can get a bit mushy when frozen and reheated, you can definitely freeze the shrimp and sauce separately. When you're ready to defrost, do it overnight in the fridge and reheat gently so the shrimp doesn't turn rubbery.
Q: What's the best way to cook shrimp so it's not rubbery?
The secret is quick cooking over medium-high heat. Too low and they'll get rubbery; too high and they'll dry out. Aim for a Goldilocks "just right" by cooking until they're pink and slightly curled. Trust me, your taste buds will thank you!
What To Serve With This:
Your Fettuccine Bomba Shrimp Scampi is bubbling away, and you can almost taste it. But hold on a second—what are you serving alongside this dish to make it a full-on feast?
Wine
It's a right of passage to enjoy shrimp scampi with a nice glass of white wine. Some chardonnay would be delicious with it.
Widen the Horizon: While Chardonnay is the tried-and-true pairing, don't shy away from exploring other whites like Pinot Grigio or Sauvignon Blanc, especially if you're looking to lighten the meal a bit.
Red Wine, Dare I Say?: If you're a red wine enthusiast, aim for something light-bodied like a Pinot Noir. It won't overpower the delicate flavors of the shrimp.
Appetizer
If you really want to go all out on the crustacean aspect of this seafood dish, I highly recommend trying out these stuffed mushrooms with crab meat and gouda.
More Seafood: If you're all about that seafood life, consider serving up some oysters Rockefeller as a luxurious opener.
Italian Flair: How about a Caprese salad? Fresh mozzarella, basil, and tomatoes drizzled with a balsamic glaze—it'll set the Italian mood just right.
Side
I love my veggies, so I would make more of them as a side dish. Sauteed broccoli with garlic is always a wonderful option.
Greens and More: Besides the sautéed broccoli, think about some roasted asparagus or green beans almondine. Both pair exceptionally well with seafood.
Carb Loading: If your family is big on carbs, consider a side of garlic bread or some rosemary focaccia. A crunchy crust will contrast perfectly with the creamy pasta.
Salads Galore: A fresh, crisp Caesar salad or even a simple garden salad with a light vinaigrette can work wonders as a counterbalance to the richness of the shrimp scampi.
Dessert
For dessert, try out the Italian version of an icebox cake, or "La Mattonella." It's light, airy, and the perfect way to end your meal.
Mouth-Watering Options: Apart from the delicious "La Mattonella," you could go with Tiramisu if you're sticking to the Italian theme.
Fruity Finish: If you want something on the lighter side, a fruit sorbet or even a homemade lemon granita could be the perfect palate cleanser.
Coffee Companion: Espresso and biscotti, anyone? They can be a divine way to end an Italian meal.
Chocolate Elegance: If you're a chocoholic, a couple of chocolate-dipped strawberries could be an elegant and luscious end to your culinary masterpiece.
Recipe Card:
Print
Fettuccine Bomba Scampi | A Fettuccine Shrimp Scampi Recipe
---
Author:

Total Time:

20 minutes

Yield:

4

1

x
Description
Serves 2-4 People | Time: 15-20 Minutes
---
Ingredients:
1

bag of frozen or fresh raw shrimp, peeled and deveined

1

lb of fettuccine

1 tbsp

Trader Joe's Bomba Sauce (or crushed red pepper and tomato paste)

1

package of spinach, washed

2

–

4

cloves of garlic, minced

2 tbsp

of olive oil, add more if necessary

2 tbsp

grated Romano cheese

1.5 tbsp

salt

1 tsp

black pepper

1 tsp

paprika

1 tsp

Italian seasoning
---
Boil a pot of water. Once boiling, add half of the salt and pasta and let cook until al dente or according to package instructions.

While the pasta cooks, add the shrimp and minced garlic to a large skillet. or heavy bottomed pan

Season shrimp with salt, pepper, paprika, and Italian seasoning, and cook over medium-high heat until just pink.

Remove the shrimp from the pan. Add more olive oil if necessary, and add the spinach. Sauté on medium-low heat to your liking.

Add the shrimp back in, along with the bomba sauce and grated Romano. Add the pasta to the pan with the garlicky sauce, and thoroughly mix.

Serve as is, topping with fresh parsley and crusty bread as a side if you have any.
Prep Time:

5

Cook Time:

15

Category:

Shrimp