Let's talk about lasagna! I always get really excited about it. For me, making lasagna is a labor of love. There's something really satisfying about filling those layers of flat noodles with such good ingredients.
At Mortadella Head, I spend a lot of time making lasagna and thinking about the next version of lasagna I want to make.
We have a great traditional lasagna recipe, and we also get creative with things like our Buffalo chicken lasagna.
There are so many great recipes out there. I love a lasagna with a good tomato sauce and lots of layers of pasta. I also love lasagna with a white sauce made with garlic, cream and Parmigiano-Reggiano cheese… check out my chicken cutlet and broccoli rabe lasagna!
There are many great Italian lasagna recipes. Today I want to talk about one that is popular in Southern Italy. This is a lasagna that you'll probably find in Naples and the surrounding area.
It's different from the lasagna that you'll get in Northern Italy. In Northern Italy, particularly in the Emilia Romagna region, lasagna is a pasta dish that's layered with bechamel and Bolognese sauce.
Bechamel sauce is a white sauce made with butter, flour and milk.
Bolognese is a slow cooked meat sauce made with ground beef, carrot, onion and celery and a little tomato. A Bolognese sauce is one of those classic Italian recipes that everyone loves. It's cooked low and slow so the ground meat and diced vegetables create a really rich and hearty sauce.
Southern Italian lasagna, on the other hand, is made with a different cheese mix and much more meat. This classic Italian lasagna recipe has sausages, meatballs, pork all layered with tomato sauce, mozzarella cheese, ricotta cheese, and fresh pasta.
Now, let's make what I think might be the best lasagna recipe out there. 


The main ingredients for your Southern Lasagna
This is actually an easy lasagna recipe, but you will have to do some prep work. What did you expect? We're making homemade lasagna!
You want a nice rich meat sauce for this recipe. Get some tomato puree, olive oil, garlic, onions, carrots and celery. You'll also need fresh basil. For the meat, I like using Italian sausage, pork butt or pork ribs and meatballs.
I like using ground beef with 20 percent fat for my meatballs. You'll also need eggs, parsley, garlic, salt, pepper, and grated Romano cheese and bread. We use our homemade Roman-style pizza bianca, but you can use any white bread or sourdough bread.
Use a good ricotta. We want the lasagna to be really creamy and cheesy. I like New York style ricotta. I mix it with grated parm, fresh herbs like parsley, salt, pepper, and a little tomato sauce.
Get some provolone and aged mozzarella, too. I like these cheeses because they melt well and they have good flavor. If you like fresh fresh mozzarella, use it. It has more moisture and doesn't melt as well as aged mozzarella.
Finally, get a block of pecorino Romano or parmesan cheese and grate it yourself. Both of these aged cheeses have a pungent flavor that is really important to a good lasagna.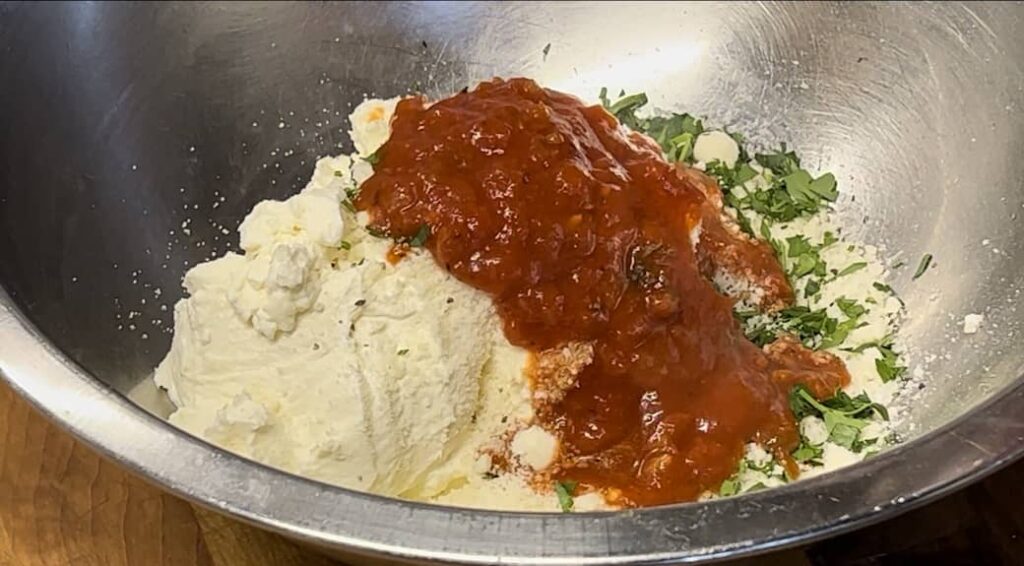 If you have an old school butcher or store that specializes in Italian food near you, you should be able to find good sausages. Most supermarkets carry Italian sausage too. I suggest using a pork sausage, because that's where you'll get the most flavor.
For this dish we want to cook the pork low and slow in a tomato sauce. It's important that the meat pulls apart easily so we can layer it in the lasagna. Use a pork butt, pork shoulder, or pork ribs and cook until the meat falls off the bone.
Pasta is pasta, right? Wrong. In my opinion fresh pasta sheets are the best for making homemade lasagna. Go to an Italian specialty store and ask for lasagna pasta sheets. You should also ask how long they recommend you boil them.
Regular lasagna noodles are fine if you can't find fresh lasagna sheets. Head to the dried pasta aisle in the grocery store and get the lasagna sheets that you don't have to boil. For dry noodles, they actually work really well in a pinch.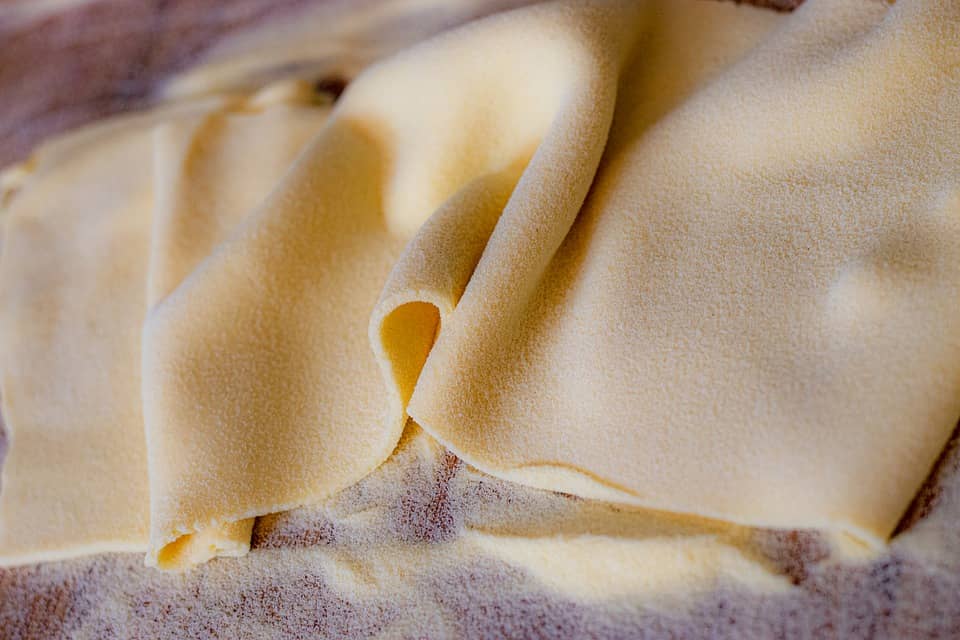 How to make Southern Italian Lasagna
Let's start by getting the sauce going. If you have your own recipe, feel free to use it. If not, you can try this recipe.
In a large pot, heat up some good olive oil. Add some diced onion and garlic and let it saute. Season it with salt and pepper. Then, add your sausages and pork and allow them to brown. When the onions become translucent, add some crushed tomatoes or tomato puree and a little water. Bring it to a boil and then lower the heat. Leave it on low heat and stir it with a wooden spoon every once in a while so the bottom doesn't burn. Add some fresh chopped basil at the end of the cooking process.
To make your meatballs, soak the bread in some water and ring most of the water out. In a large bowl, mix all of your ingredients thoroughly. Form your meatballs by hand. Little meatballs are great for a Southern Italian lasagna. To fry the meatballs, heat up some olive oil on medium-high heat. Use a large skillet so you don't crown the meatballs.
Let the meatballs get a good sear all around and drop them right in the tomato sauce. They will finish cooking in the sauce and add lots of flavor.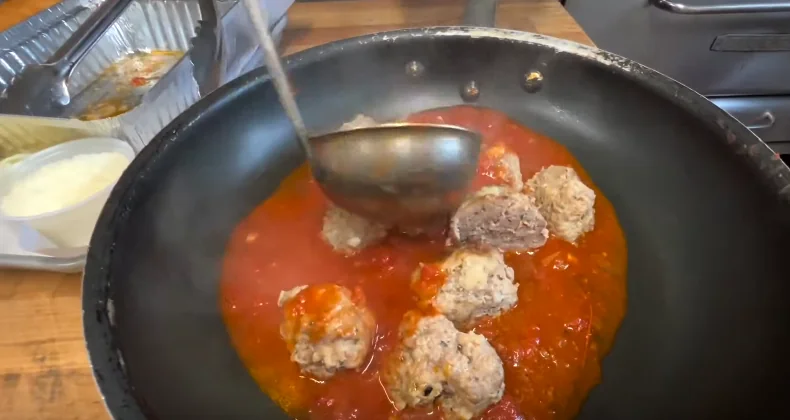 Now you can make your cheese mixture. Take the ricotta, grated cheese and some chopped parsley and mix it all together. Add a little of the tomato sauce to loosen it up and make it easier to spread.
Bring some cold water to a boil and add a lot of salt.
Cook your pasta if you need to boil noodles. If you have the lasagna sheets that you don't need to boil, follow the directions on the box.
Al dente pasta is the best so make sure you don't overcook it. If it's fresh, it doesn't need a lot of time. Boil some water and drop the lasagna sheets in the hot water. Take them out and drain them.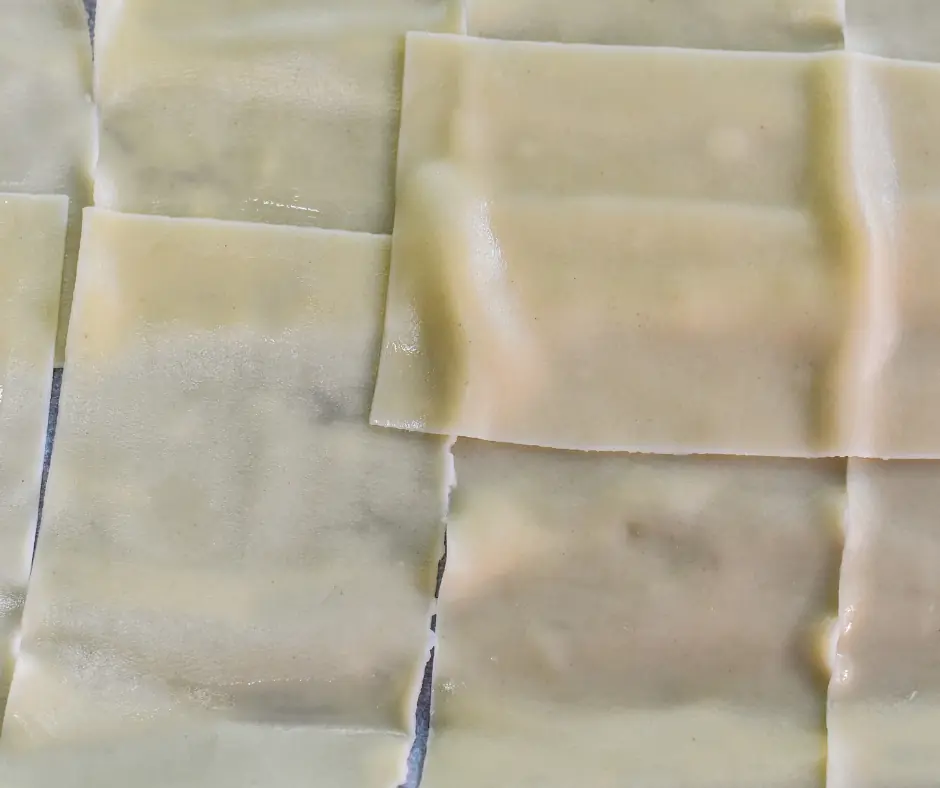 Take the meat out of the sauce. Break up the sausages so they can be added to the lasagna. Break apart the pork with a couple of forks, just like you'd do with pulled pork.
Now it's time to build the lasagna. Get a baking dish and spread some tomato sauce. We want bottom of pan full coverage.
Add a layer of pasta on top of the sauce. Now spread on the ricotta cheese mixture. Add a layer of provolone and a sprinkle of your grated cheese.
Add more tomato sauce and start a new layer. Put on a sheet of pasta, then the ricotta mixture, more cheese, more sauce. Carefully arrange some sausages, meatballs and pork. Repeat this process.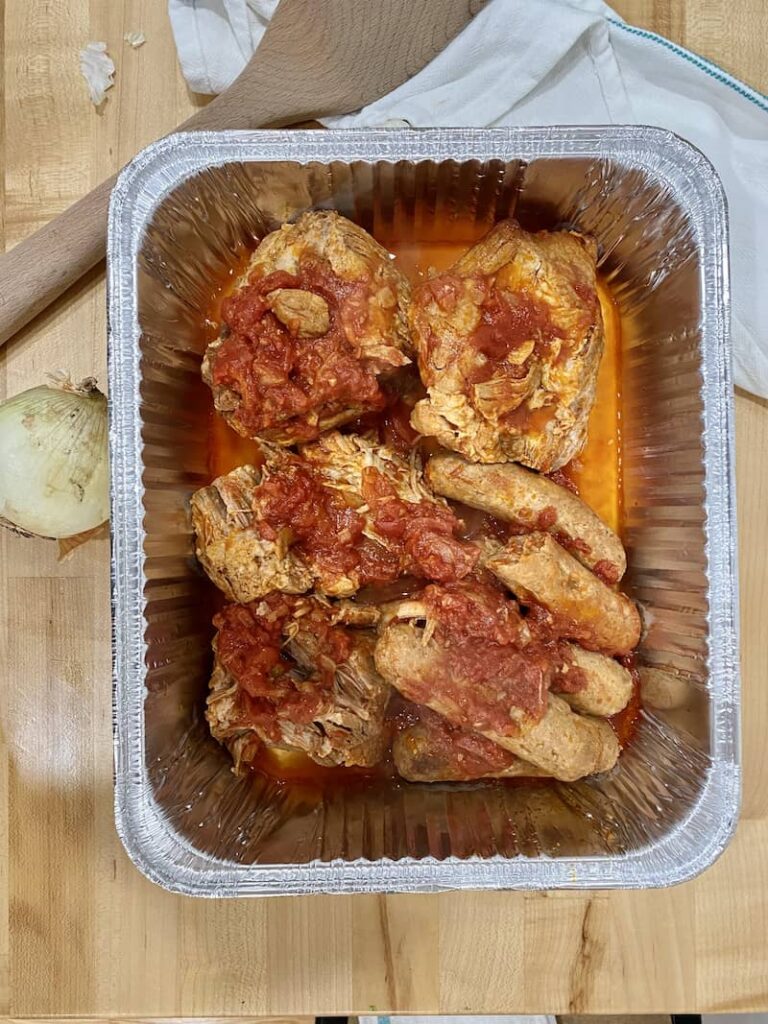 Do this until you reach the top of the baking dish.
The last steps are to add a layer of tomato sauce and some more grated cheese to the top of the lasagna.
Bake it in a 400-degree oven for about 45 minutes. Let it rest for another 20 minutes and eat!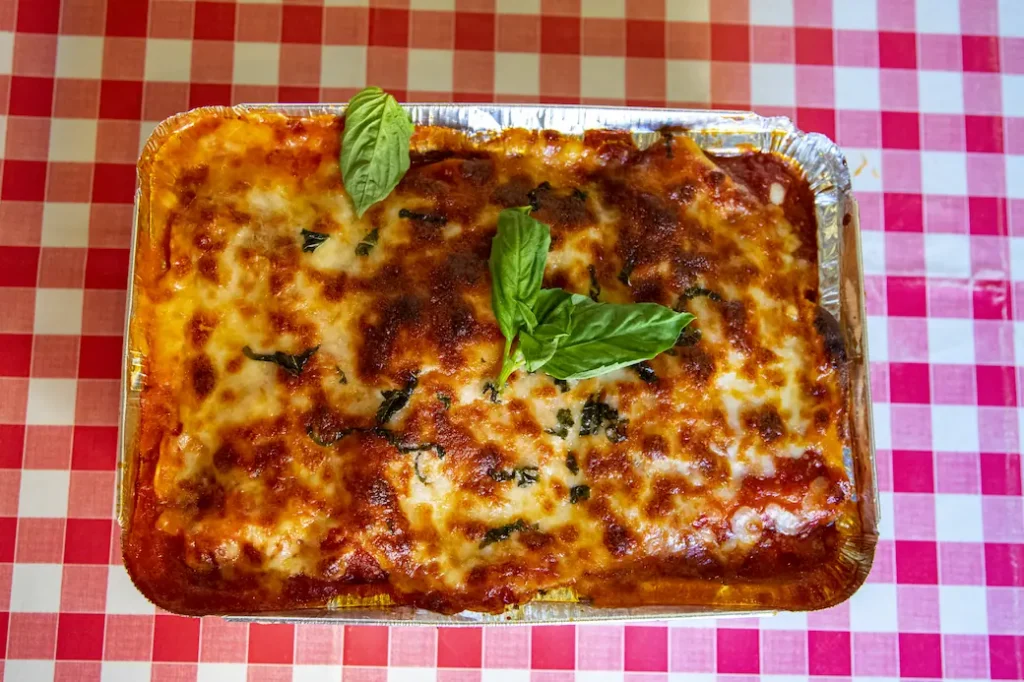 Southern Italian Lasagna FAQs
Q: What if I can't find ricotta cheese?
A: You should be able to find some kind of ricotta cheese in your supermarket. However, if you can't find it, I've heard that cottage cheese can be used as a supplement. I've never tried it myself, but I think it will work.
Q: Why don't you use tomato paste in your sauce?
A: I find that tomato paste is not necessary. While adding a couple cans of tomato paste isn't the wrong thing to do, I prefer a fresher and brighter flavored sauce. I do use tomato paste when I want a deep, rich flavor in something like a pot roast.
Q: How much sauce should I use to make an authentic lasagna?
A: That is totally up to you. I prefer my lasagna a little saucier, so I make sure to add a good amount to each layer. If you like things less saucy, add less. You can always add more tomato sauce over the top of the lasagna when you eat.
What to serve with a Southern Italian Lasagna?
Wine: If you're having wine with your Southern Italian authentic lasagna, go with something red. A good red wine like Chianti or Montepulciano is great with a rich tomato sauce.
Salad: A simple mixed greens salad dressed with olive oil and red wine vinegar is great with a Southern Italian Lasagna.
Side Dish: I like slow-cooked greens with a hearty dish like this Southern Italian Lasagna. Saute some escarole in garlic and olive oil and serve it at room temperature.
No Tasty Recipe created yet. Click 'Edit Recipe' in the widget controls to create one.
Print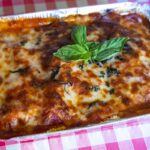 Southern Italian Lasagna
---
Author:

Total Time:

1 hour 30 minutes

Yield:

4

1

x
2 cans of tomato puree (28 oz.)
1 diced onion
2 cloves of garlic
1 lb fresh meatballs
1 lb sausage
1 lb pork butt
3 cups ricotta cheese
1/4 lb provolone cheese
1 cup mozzarella cheese (shredded, low moisture)
2 tbsp grated Romano cheese
1 lb. lasagna sheets
Salt & pepper to taste
Basil to taste
1 tbsp parsley
---
Heat oven to 400.
In the meantime, make some tomato sauce. Sauté the garlic cloves and diced onion in a saucepan, then add the sausages and pork and allow them to brown.
Add the tomato puree, bring it to a boil and then lower the heat.
Sear the meatballs with olive oil in another saucepan, then add them to the sauce and let them simmer for another 10 minutes, stirring occasionally.
Set aside the tomato sauce.
Combine ricotta cheese, pecorino Romano, part of the tomato sauce, salt, pepper, and parsley in a large bowl.  Mix with a spoon until ingredients are thoroughly incorporated.
Break up meatballs, pork and sausages into bite sized pieces.
Boil lasagna sheets until al dente, drizzling olive oil between each cooked lasagna noodle.
Spread tomato sauce on the bottom of a baking sheet
Cover sauce with lasagna sheets.
Add ricotta mixture and spread evenly
Add provolone slices to fully cover the ricotta mixture
Add pork, sausages and meatballs pieces and distribute evenly.
Add more sauce and grated cheese.
Repeat this process until your layers reach the top of the pan.
Top layer should be lasagna sheets, tomato sauce, mozzarella, pecorino Romano, and basil.
Bake for 40-50 minutes. The cheese on top is melted, bubbling, and golden brown.
Remove from the oven and let it rest for about 15 minutes before cutting into it.
Enjoy!
Prep Time:

40

Cook Time:

50

Category:

Lasagna

Method:

Baking

Cuisine:

Italian