It's pizza night.  You're someone who likes making homemade pizza.   You need a new easy recipe in your arsenal.  This creamy pizza sauce is for you!
Your family is probably used to your red sauce, which I'm sure is great.  But if you ever want to mix it up a bit and stray from the tomato sauce, try making a white pie.
A white sauce pizza can be a great choice if you make it right.  All it takes are a few simple ingredients to make a delicious creamy white sauce. 
Here's a white pizza sauce recipe for your next pizza party. 
Here's What You Need for the White Pizza Sauce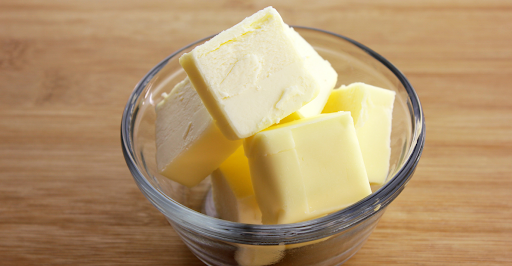 Butter
I like using unsalted butter so I have more control over the flavors and seasoning.
Cream
You need a good quality heavy cream for this white pizza sauce recipe.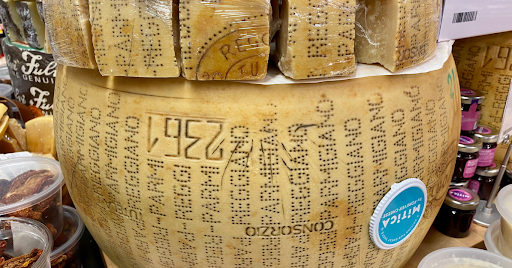 Cheese
You have a choice between parmesan cheese and pecorino Romano.  I like to buy it by the chunk and grate it myself.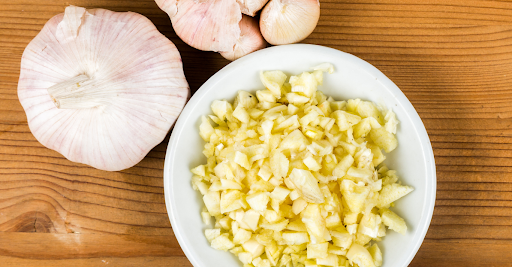 Garlic
For this recipe you need fresh garlic.  Get some garlic and chop it up really fine. 
Seasoning
I recommend using sea salt or Kosher salt and freshly ground black pepper.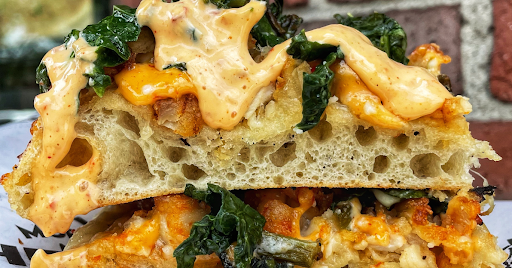 How to Make White Garlic Pizza Sauce
Take a small saucepan and put it on the stovetop at medium-low heat.  Depending on your stove you may want to melt butter on low heat to avoid burning. 
Add butter to the saucepan.  When the butter melts add the chopped garlic to the pan.  Let the garlic cook slowly until it becomes fragrant.  This should take about 2-3 minutes.  If the butter starts to burn, turn the heat down to low.  
When you heat butter, it's important to let it cook slowly so it doesn't burn.  Burnt butter will create a bitter taste in your dish. 
When the garlic is getting toasty, add the cream and grated cheese.  Turn the heat up to a boil and whisk in the grated cheese vigorously until it is completely melted.  
Season it with salt and pepper and turn the heat down to low.  Let it simmer slowly for 5 minutes and remove it from the heat.
Pro Tip:  Store your white garlic cream sauce in an airtight container in the refrigerator.  But before you make a pizza, let it sit out for a few minutes.  It spreads onto the pizza much easier when it's at room temperature. 
How to Use Your White Garlic Sauce
There are so many great pizza recipes you can make with this sauce.  You can make round pizza or Roman style pizza bianca.  Use your favorite pizza dough and favorite pizza toppings.  It's a blank canvas so you can make something beautiful.
Here are a few ideas.  Make enough because nobody will be able to have just one slice of pizza. 
Make a pizza with fresh arugula, prosciutto, pears and a balsamic drizzle.  This prosciutto pizza is one of our most popular at Mortadella head.
Try making a pizza with chicken cutlets, broccoli rabe and hot honey. The creamy white pizza sauce and the broccoli rabe are the perfect match. 
I like a pizza with white garlic pizza sauce, potatoes, caramelized onions and roasted peppers.  Roasted red peppers are my favorite. Sprinkle a little fresh basil, rosemary and olive oil on top before it goes in the oven.  

What else can I do with this white garlic cream sauce?
You can use it as a pasta sauce.  Create pasta dishes like you would with Alfredo sauce.  Chicken broccoli and ziti is an easy recipe to make with this sauce. Just toss the pasta with sauteed chicken, broccoli florets and this delicious sauce.   
This combination also makes a delicious pizza.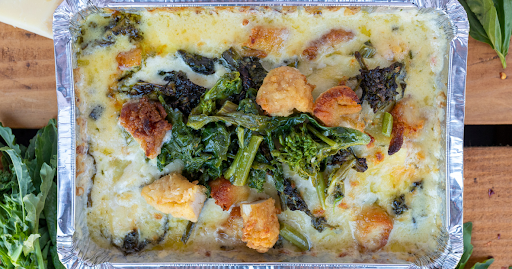 Make a white lasagna with chicken cutlets and broccoli rabe.  The creamy garlic sauce and cheese melts together to create a really delicious experience.
Make a homemade mac and cheese with this white sauce.  Add some cheddar, asiago and mozzarella and melt it all together with seasoned breadcrumbs on top. 
Spread some of this sauce on a loaf of crusty French bread and top it with mozzarella cheese, tomatoes and fresh basil.  Bake it in the oven and make a cheesy garlic bread.
This garlic cream sauce is really versatile and can be used in many different recipes.
Print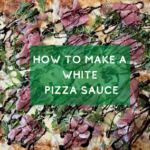 White Pizza Sauce Recipe (The Best Garlic Cream Sauce)
---
Author:

Total Time:

15 minutes
1 quart of heavy cream

1 stick of butter

2 cups of grated parmesan cheese

1 teaspoon salt

1 teaspoons pepper

1 tablespoon of finely chopped garlic
---
Add butter to sauce pan and turn on medium-low heat

Add garlic when butter starts to foam and saute for 2 minutes

Add cream and bring to a simmer

Add grated parmesan and stir with whisk until cheese is incorporated. 

Season with salt and pepper to taste.

Turn heat to low and let simmer for 5 minutes

Remove from heat

Allow it to cool and store in an airtight container
Prep Time:

5 minutes

Cook Time:

10 minutes
And for appetizers, here are 37 Appetizers and Sides to Serve with Pizza.
Enjoy!