There are two things that I love for just about any meal I make: garlic bread and my air fryer. 
Seriously, garlic bread is a super easy side for any meal and the air fryer is a super easy way to cook just about any meal! 
It feels like a no-brainer to combine the two for a cheesy, lightly crispy garlic bread that is ready in about five minutes. 
How to Make Garlic Bread in the Air Fryer
There are many different ways to make garlic bread, but the easy way is in an air fryer. With just a few minutes and some simple ingredients, you can have an easy side dish that is delicious. 
To make garlic bread in the air fryer, all you have to do is place prepared garlic bread in a single layer in the basket of an air fryer. Cook the bread at 350°F for 3-6 minutes, until it is golden brown and your desired crispiness.
Read on for a fantastic garlic bread recipe!

Ingredients Needed
Crusty bread: I like a rustic Italian loaf, though a french baguette or a loaf of sourdough are also delicious.
Butter: Butter softened at room temperature makes the best creamy garlic bread spread.
Fresh garlic: Loads of freshly minced garlic cloves are what gives this bread the ultimate garlic flavor.
Italian seasoning: We will use Italian seasoning for simplicity and lots of flavorful herbs in one spoonful.
Red pepper flakes: A bit of pepper flakes adds a little spice to this easy garlic bread recipe.
Parmesan cheese: Parmesan brings saltiness and savoriness to the bread that is hard to beat! Use freshly grated for the best possible bread.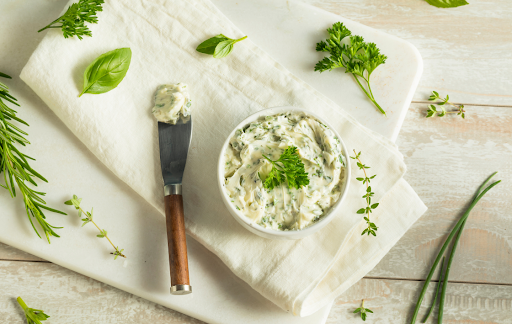 What to Serve with Garlic Bread
Garlic bread is the perfect side dish because it goes with just about everything! Here are a few ideas:
Pasta dishes: Pair this bread with any of your favorite pasta dishes, like spaghetti alla nerano or Italian chicken broccoli ziti.
Soup: Garlic toast is essential for any soup meal! I love it especially with tomato soup, minestrone, or pasta e fagioli. 
Salad: Add a bit of carbs on the side of a big salad.
Appetizer: Dip this garlic bread in warm marinara sauce or alfredo sauce for a super easy appetizer before any meal.
Frequently Asked Questions
How long do you cook homemade garlic bread in the air fryer?
The cooking time for air fryer garlic toast depends on how crispy you like it. For softer garlic bread, cook at 350°F for 2-3 minutes. For a crispy texture, the cook time can be as much as 5-6 minutes. I recommend checking your bread after 3 minutes and determining if you would like it crispier, then add a minute or two at a time. 
How do I make vegan air fryer garlic bread?
To make this recipe vegan, simply substitute olive oil or vegan butter for the butter. For the parmesan cheese, you can use a vegan substitute, nutritional yeast, or omit the cheese altogether.
Do I have to use fresh garlic?
Fresh garlic cloves yield the best results, but you can use garlic salt or garlic powder if you can't use fresh. If you use garlic salt, use unsalted butter or be careful with how much you add. Garlic salt can make a dish very salty if you aren't careful.
Can I add more cheese?
Yes! If you like super cheesy bread, sprinkle a bit of mozzarella cheese on top of each bread slice before placing them into the air fryer. You may want to line the bottom of your air fryer basket with aluminum foil for easy cleanup if any cheese falls off.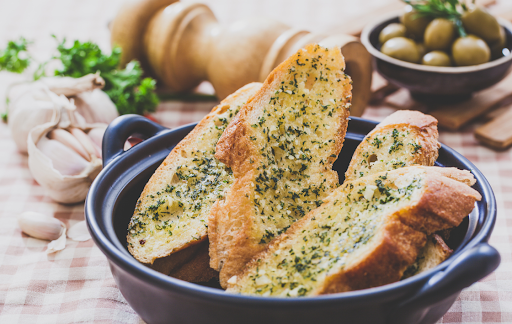 More Easy Air Fryer Recipes
Make your whole meal in the air fryer! Try more of our easy, delicious air fryer recipes.
Print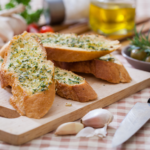 Super Easy Air Fryer Garlic Toast | 5-Minute Side
---
1 loaf of Italian bread

1 stick butter

5 cloves fresh garlic

1 tablespoon Italian seasoning

1 teaspoon red pepper flakes

¼ cup grated parmesan cheese

Salt and pepper to taste

Fresh herbs to garnish (parsley or basil)
---
In a small bowl, combine all of the ingredients and stir well to combine.

Slice bread into thick slices, then spread garlic butter mixture onto each slice with a butter knife.

Arrange bread slices in a single layer in the air fryer basket. Cook them at 350°F for 3 minutes, then check your garlic toast to see if it's crispy and golden brown. Cook an additional 1-3 minutes to suit your personal preferences. 

Garnish with minced parsley or basil and serve immediately for best results.