Creamy, savory mac and cheese has to be one of the best things on Earth. You wouldn't believe that you can make it even better by adding bacon, breading it, and cooking it into crispy, melty balls of mac and cheese.
These bacon mac and cheese bites do just that for an absolutely delicious appetizer or snack. 
Best of all, they are super easy to make! The use of the air fryer prevents the hassle, expense, and mess of deep frying while making a crispy, melty treat. If you love mozzarella sticks, you have to try these bacon mac and cheese bites.
Why You'll Love This Recipe
Perfect for hosting: Mac and cheese bites are an easy party appetizer that is sure to be a crowd-pleaser. Everyone loves mac and cheese, after all!
Kid-friendly: This recipe is great for the whole family. Kids love these mac and cheese bites because they are easy to hold and eat, yet offer the classic taste of mac and cheese.
Easy to make: These mac and cheese bites don't take long at all to make or cook! With the use of an air fryer, the cooking process is very easy.
Waste-free: I love recipes that use leftovers from another meal to make a completely unique dish! While you can make your mac and cheese specifically for this easy recipe, it is a great way to use mac and cheese leftovers should you have some on hand.
Why Use an Air Fryer?
Air fryers have become a popular choice for cooking a variety of hot dishes because they have a variety of benefits over traditional cooking methods.
For one, air fryers are a healthier option for fried foods versus deep frying. They use much less added oil while still making crispy, golden-brown fried food.
Air fryers are also much easier to use than deep fryers and conventional ovens. They are preheated quickly and allow for very simple clean-up. Air frying food generally takes around 10 minutes while using less energy than conventional ovens. 
​Air fryers are not essential to make delicious mac and cheese bites, but they certainly help make the process faster and easier.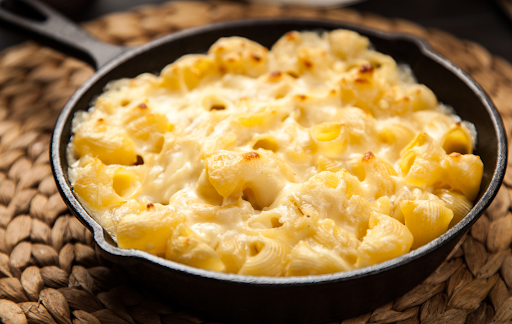 Ingredients
Macaroni and cheese: You can make a dish of mac and cheese just for this recipe or use up leftovers in these yummy mac and cheese bites! I usually make them with leftovers of the Mortadella Head mac and cheese. The kind of mac and cheese doesn't matter, as long as you like it! You can even use boxed mac and cheese if you want.
Bacon: Crispy bits of bacon add loads of flavor to these cheesy bites. You can fry up bacon from scratch or use pre-cooked and crisp it in the microwave.
Breading: We will be breading the balls of mac and cheese with the classic combination of flour, eggs, and panko bread crumbs.
Seasoning: The best breaded snacks have herbs and spices added to the bread crumbs. We will mix in a combination of garlic powder, onion powder, salt, paprika, and chili powder.

Variations
There are so many delicious add-ins for these bacon mac and cheese balls to add extra flavor! Mixing a small amount with the mac and cheese before chilling is the easiest, or you can add it to the cold mac and cheese before forming it into balls.
Chives or green onions

Minced broccoli

Diced ham

Chopped pickled jalapenos

Grated pecorino romano or parmesan cheese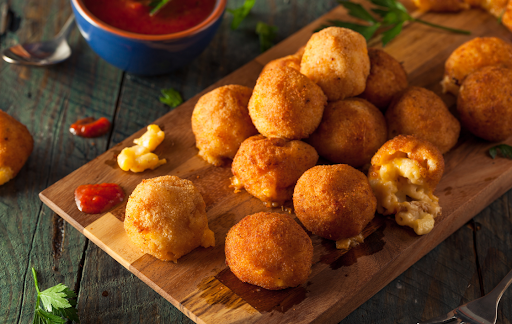 How to Serve
Mac and cheese bites are quite tasty on their own, but they are the best when served with dipping sauce. Much like mozzarella sticks, they can only get better with a tasty sauce to add flavor and moisture. Try them with your favorite dipping sauce or some of these delicious recommendations:
Ranch Dressing

Hot Sauce or buffalo sauce

BBQ sauce

Marinara sauce

Honey mustard
Expert Tips
Lightly mist your mac and cheese bites with cooking spray before cooking them for extra crispy, golden brown bites.

The better your mac and cheese, the better the mac and cheese bites! Use your favorite mac and cheese recipe for best results.

Use cold mac and cheese, not fresh from the oven. Macaroni and cheese that has been refrigerated is more moldable than hot mac and cheese.
How to Cook Frozen Mac and Cheese Balls in the Air Fryer
Making homemade mac and cheese bites is a fun and tasty way to use up leftover mac and cheese. If you want a quicker option, however, mac and cheese bites are available in the frozen foods section at the grocery store. The most common choices are Stouffer's brand or Trader Joe's. Here's how to cook your frozen mac and cheese bites in the air fryer:
Preheat your air fryer to 350°F.

Place frozen mac and cheese balls in the air fryer basket in a single layer.

Cook in the air fryer for 8-10 minutes, flipping halfway through.

Once your mac bites are thoroughly heated and golden brown on the outside, remove them from the air fryer and enjoy with dipping sauce.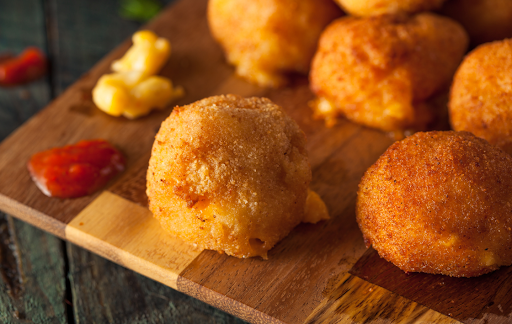 More Amazing Air Fryer Recipes
Print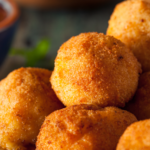 Homemade Bacon Mac and Cheese Bites | Air Fryer Recipe
---
4 cups cold mac and cheese

½ cup bacon, cooked crispy and crumbled

1 cup flour

3 eggs, beaten

1.5 cups panko breadcrumbs

1 teaspoon garlic powder

½ teaspoon onion powder

½ teaspoon salt

½ teaspoon paprika

½ teaspoon chili powder
---
If your macaroni and cheese has been made fresh, chill in the refrigerator for a few hours before use. Stir the bacon in before chilling. If using leftovers, remove them from the fridge and gently stir in bacon.

Using a cookie scoop or small ice cream scoop, form 1 ½ inch balls out of the macaroni and cheese.

Prepare your breading station: place flour in a shallow dish and eggs in a separate dish. Combine bread crumbs, garlic powder, onion powder, salt, paprika, and chili powder in a separate dish and stir well. 

Begin breading the mac and cheese balls. Dredge the ball in flour, then roll it in the egg. Once the ball is completely coated in egg, do the same with the panko mixture, pressing down as necessary to make the breadcrumbs stick.

Once all of the macaroni balls are breaded, place them on a baking tray and transfer them to the freezer for 30 minutes.

Preheat air fryer to 350°F.

Once the mac and cheese balls are finished freezing, lay them in a single layer in the air fryer basket. 

Cook in the preheated air fryer for 5 minutes, then flip. Continue air frying for another 5 minutes or until golden brown and crispy.

Remove from the air fryer and enjoy with your favorite dipping sauce.