Last week one of my recipes went viral on TikTok. Right now it has over 4.5 m views!
If you aren't familiar with Tiktok, it's a short-form video app where you can post just about anything you want.
We were in the restaurant kitchen, making some fun short videos to post on Instagram and Tiktok, when all of a sudden our content creator, Gianna, said, "Let's make a mozzarella stick video."
I'll be honest, I didn't think anything would come out of this Tiktok video and I certainly didn't think it would turn into a viral Tiktok video.
I mean, it's a great recipe, but why this one? What makes a Tiktok user want to share it with others? Why does a recipe become a viral Tiktok recipe? I don't have the answer.
I also just tried to make the biggest mozzarella stick of all time and made a video out of that. I breaded and fried a whole block of cheese. It was a 5lb mozzarella stick! Will that end up on the list of Tiktok's viral recipes?
I don't have the answers to those questions, but I do have a mac and cheese recipe that should become a viral video.
This mac and cheese dish is made for real cheese lovers. It's made with lots of real cheese and it's so easy. This one-pot mac and cheese is a great recipe for easy dinners during the week, or as a side dish for your Thanksgiving dinner.
If you're someone that likes how easy it is to make Kraft macaroni and cheese you should give this recipe a try. It's all real cheesy goodness. You won't find any cheese powder in this recipe.
Here's the full recipe below. Give it a shot and let me know if you think it should be a viral Tiktok mac n cheese.
Here's What You Need for This TikTok Mac and Cheese Recipe
You only need a handful of simple ingredients for this recipe. You should be able to find them all in the grocery store.
Macaroni
Whether you call it pasta, maccheroni, macaroni or noodles, you're going to need the "mac" in the mac and cheese.
Use dry pasta for this recipe. I suggest using good old fashioned elbow macaroni for this one. The shape of the elbows will help hold in all of the cheese!
Cheese
You're going to need a lot of cheese. This shouldn't be a problem since I can't think of anyone who doesn't appreciate extra cheese.
You can use your favorite cheese. I like to use low-moisture mozzarella cheese. If you use fresh mozzarella, it won't melt the way you want it to.
I also like to use cheddar. You have a few choices. You can use a sharp cheddar cheese if you like strong flavors. You can also use a mild cheddar if that's your thing.
And you can choose between white cheddar or yellow. They both taste the same, however yellow cheddar will add a little color to your dish.
I always like to include American cheese in my mac and cheese recipe. When it melts it makes the entire dish smooth and creamy.
When you buy the cheese you can buy it by the block and grate it yourself or buy shredded cheese. My suggestion is to do the work and grate it yourself. The results will be much better.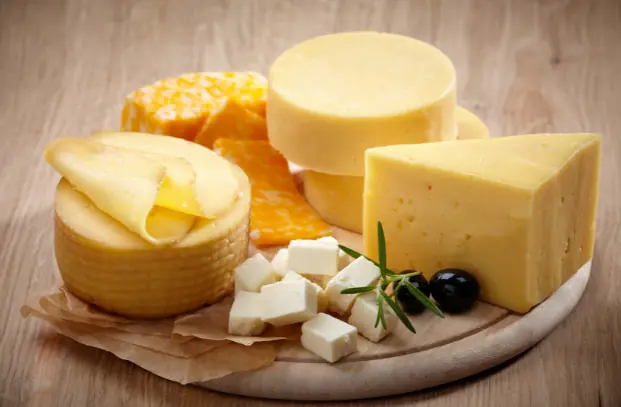 Butter
You need butter for this recipe. Get some unsalted butter so you will have better control of the seasonings.
Evaporated Milk
Yes. I said evaporated milk. This is the stuff that comes in the can.
Don't confuse evaporated milk with condensed milk. Condensed milk is sweet and we don't want that.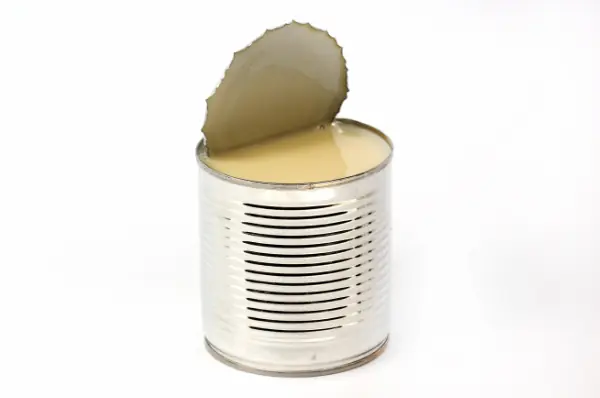 Cornstarch
We are going to use this as a thickener. In most recipes you'll see flour being used. The problem with flour is that it can get lumpy and grainy during the reheating process.
Cornstarch makes the mac and cheese smooth and silky. That's what we want.
Eggs
We'll need a few eggs. If you can get local eggs, that's great. If you can't, the recipe will still come out great.
Seasoning
We need some ground mustard, Kosher salt and black pepper.
Some recipes call for garlic powder or onion powder. We aren't going to use it here.
What we are going to use is a little hot sauce. Tabasco is a good choice.
How to Make the TikTok Mac and Cheese Recipe
Step 1: Cook Your Pasta
The first thing you should do is start cooking the pasta.
When you cook pasta you should always season the water with salt. You want enough salt to make it taste like the ocean.
Bring your water to a rolling boil and toss in the elbow macaroni. Stir it around so it doesn't stick.
Cook it according to the box instructions. I always suggest taking it out one minute earlier than it says on the side of the box. It should get you the perfect al dente pasta.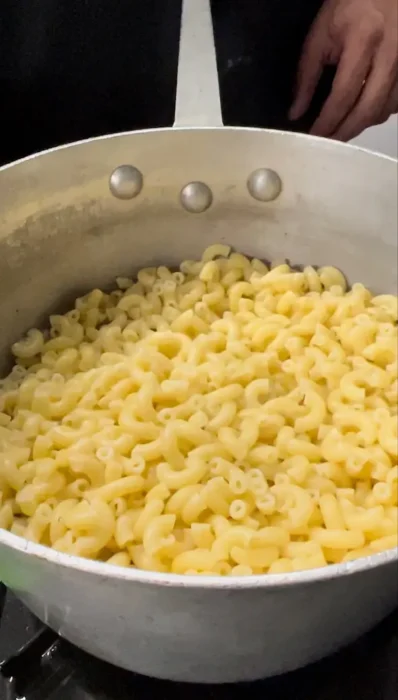 Step 2: Make Your Wet Mixture
Get a big bowl and put in the eggs, evaporated milk, salt, pepper, dry mustard, and hot sauce.
Whisk everything together until it is thoroughly mixed.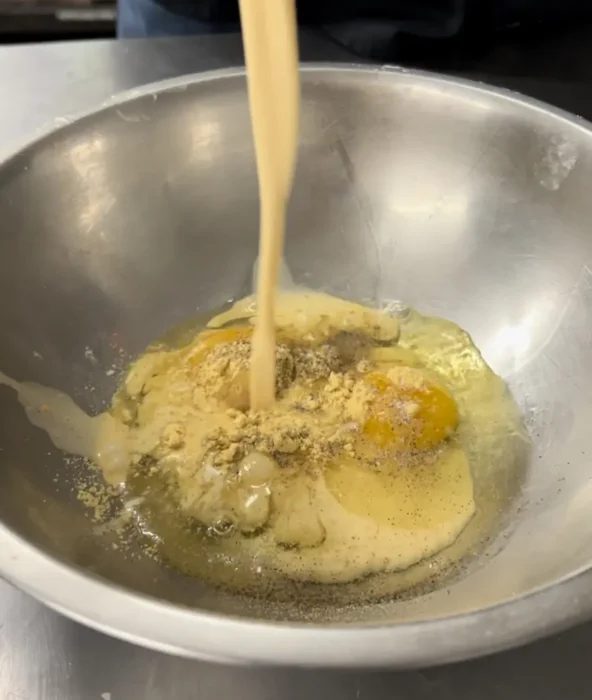 Step 3: Make Your Dry Mixture
Grate all of your cheese if you bought it by the block. Put it in a separate bowl and add the cornstarch. Toss it all together so the cheese is completely coated in cornstarch.
Step 4: Drain Your Pasta
When your pasta is cooked, drain it in a colander, add the drained pasta back into the pot and put the pot back on the stove.
Step 5: Mix Everything Together
Turn the heat on the stove down to low medium heat. Add the butter to the pasta and stir until it is completely melted.
Turn the stove to low heat and add the egg mixture and the cheese. Stir slowly until the cheese is completely melted and the mixture is smooth and creamy.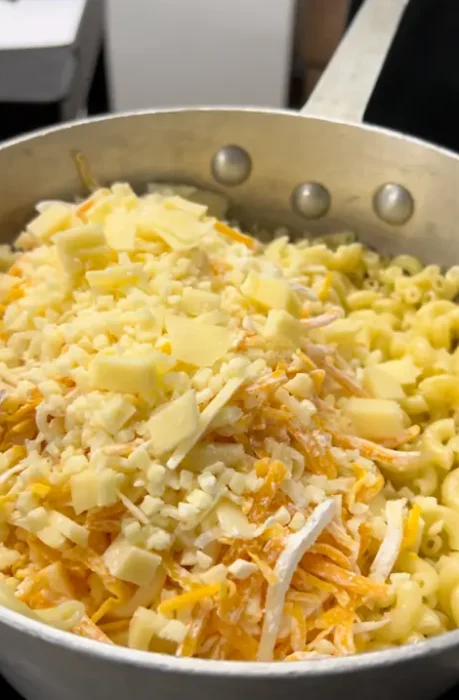 Your end result should be a delicious one-pot mac and cheese that is quick and easy to make.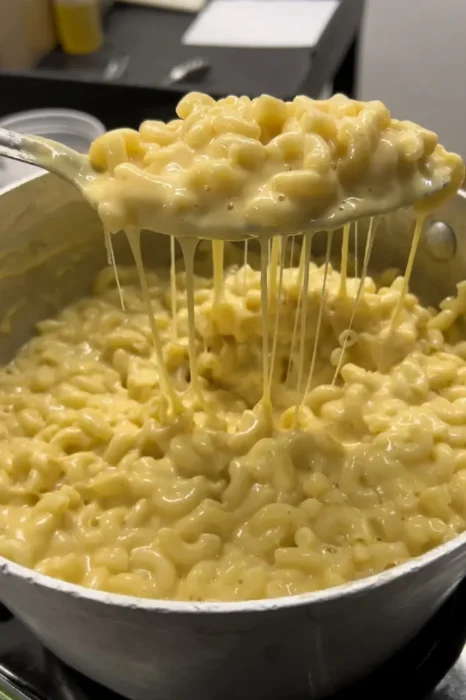 TikTok Mac and Cheese Recipe FAQs
Q: Can this TikTok Mac and Cheese Recipe Be Baked in the Oven?
A: Yes. If you are someone who likes a crispy crust on their mac and cheese, here's what you can do. Add the finished mac and cheese to a baking dish and top it with panko bread crumbs and more grated cheese. Put it in the oven at 375 for about 20 minutes or until the top is brown and crispy.
Q: What else can I add to this TikTok Mac and Cheese to make it a full meal?
A: There are so many things you can do to make this recipe a complete meal. Here are some ideas:
Cook some ground beef, onions and peppers. Season it with chili powder and make a chili mac and cheese.
Get a rotisserie chicken and remove the meat. Shred the meat and add bbq sauce. Make a BBQ chicken mac and cheese.
Saute some fresh tomatoes, garlic, broccoli and peppers. Add it to the bowl of creamy pasta for a delicious vegetarian mac and cheese.
Grill some chicken, onion and peppers in fajita seasoning. Put it on top of your mac and cheese with some avocado slices, salsa and sour cream.
Add chicken cutlets, marinara and more cheese to make a Chicken Parm mac and cheese!
Q: Can this mac and cheese be frozen?
A: Yes. This recipe is made to be frozen and reheated. It won't become lumpy like some other mac and cheese when it's reheated. We actually make ours, freeze it and ship it all over the country.
I know you'll love this recipe. Hopefully, this will become a viral mac and cheese on Tik Tok just like our mozzarella stick.
Recipe Card
Print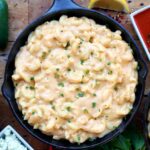 Our Tiktok Mac and Cheese Recipe
---
Author:

Total Time:

18 minutes

Yield:

4

1

x
1 lb Elbow pasta
1 tbsp Kosher salt
16 oz Evaporated Milk
2 Eggs
1 tsp Ground Mustard
1/2 lb grated Cheddar Cheese
1/2 lb cubed American Cheese
1/2 lb grated Mozzarella Cheese
1 tablespoon Cornstarch
1 sticks Butter
1 tablespoon Hot Sauce
1/2 teaspoon Black Pepper
---
Fill stockpot with water and add salt. Bring water to boil and add macaroni. Cook macaroni to al dente (about 8 min) while stirring often so it doesn't stick.
Meanwhile, in a separate bowl whisk together evaporated milk, eggs, hot sauce, and ground mustard, salt and pepper until homogeneous.
Toss the cheeses in a separate large bowl with cornstarch until thoroughly combined.
When pasta is cooked, drain it and return it to the same stock pot. Place over low heat, add the butter and stir until butter is melted.
Add the egg & milk mixture and cheese to the stockpot on low heat, and stir until the cheese is melted and mixture is hot and creamy.
Enjoy!
Prep Time:

10

Cook Time:

8

Category:

Pasta

Cuisine:

Italian American