I'm about to let you in on a secret that I've been holding onto for a long time. A while back, Boston Burger Company had its famous Mac Attack Burger featured on Guy Fieri's Diners, Drive-Ins and Dives.
This burger is a big, fat, cheesy burger loaded with cheese, bacon, and homemade macaroni and cheese. It's pretty awesome and I think it has to do with our macaroni and cheese recipe.
Our macaroni and cheese recipe is great. It's really creamy, cheesy and it reheats well.
Macaroni and cheese is really the ultimate comfort food. As kids we were happy with Kraft macaroni and cheese with the orange cheese powder. Now that we're older and smarter we expect more.
This mac n cheese isn't made with your usual cheese sauce. There is no need to make a bechamel sauce. It's creamy, but it doesn't have regular milk, heavy cream, whipping cream or sour cream.
It's definitely not a dairy-free mac and cheese, so cheese lovers don't need to worry. We're not going to talk about almond milk, soy milk, coconut milk or anything you'd need if you were on a vegan diet. It's the real thing.
I promise this is going to be one of your favorite go-to easy recipes. It's great for a main dish or a side dish. You can make it in advance and freeze it if you want.
Let's make the best macaroni and cheese recipe ever!
The Main Ingredients for Macaroni and Cheese without Milk
Macaroni: There are only a few pasta shapes that I think you should make macaroni and cheese with. The little pieces of pasta need to trap the gooey cheese so you get a great pasta to cheese ratio with every bite. The kind of macaroni I suggest is elbow macaroni. If you want to use something else you can try small shells or cavatappi. They will both be a good substitute.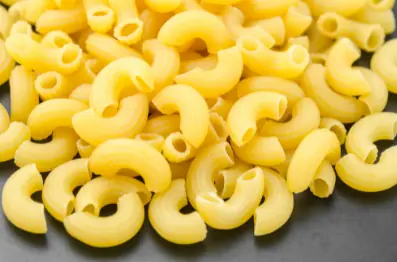 Cheese: There are so many types of cheese to choose from. You want cheese with a creamy consistency. A blend of mild cheeses and strong cheeses is good. My favorite cheeses are whole milk mozzarella cheese, sharp cheddar cheese and gruyere. I also add a little parmesan cheese to the top before I bake it in the oven.
Whatever cheese you decide to use, buy it by the block and grate it yourself. If you buy shredded cheese in the bag, you'll be fine, but grating it yourself will give you a nicer creamy consistency. Nothing beats fresh grated cheese.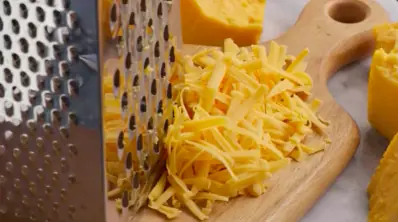 Butter: I like to use unsalted butter so I can control the flavor of the macaroni and cheese by adding salt that I see fit. But if you already have a stick of butter in the fridge and it's salted, feel free to use it. This recipe will still give you a delicious mac and cheese.
Eggs: Get some fresh local eggs.
Evaporated Milk: This is the ingredient that most people don't know about. I like using canned evaporated milk. It's really perfect for macaroni and cheese because most of the water is taken out of the fresh milk during the processing. The result is a creamy and delicious mac and cheese. It comes in a can, it's shelf stable and you can keep a few cans in your pantry for when you need it. This is one of the best substitutes for regular milk when you make macaroni and cheese.
Ground Mustard: I like using ground mustard, but in the past when I didn't have it I used some dijon mustard right out of the jar. To be honest, nobody could tell the difference.
Corn Starch: The cornstarch helps to thicken the macaroni and cheese and gives it a nice smooth texture. I find that flour can make mac and cheese lumpy and gritty at times. Cornstarch eliminates any of that.
Hot Sauce: This gives the macaroni and cheese a little zing. Use Tabasco or Frank's Red Hot.
How To Make The Best Macaroni And Cheese without Milk
The first step is to take a big pot of salted water and bring it to a boil on medium-high heat. Cook your macaroni according to the package directions. I always like to cook them a minute less than what it says on the package instructions so it is al dente.
Now get a big bowl and add your eggs, evaporated milk, mustard and hot sauce. Whisk it up until it's mixed well. The desired consistency should be creamy and silky. This is what's going to give you a creamy mac and cheese.
Now we are going to make a dry cheese mixture. Take all of your cheese and grate it. Put it in a big bowl and add the cornstarch. Mix it together so the cornstarch coats all of the cheese shreds.
When the pasta is ready, drain it and put right back in the same pot you boiled it in. Put it over low heat and add the butter. Stir it around until it is completely melted.
Pour in your egg and evaporated milk mixture and then add the cheese mixture.
Cook it slowly while stirring it until all of the cheese is melted and everything is evenly combined.
At this point you can put it in a bowl and eat it if you want. I suggest spreading it in a casserole dish and adding some additional cheese to the top. You can also add a mixture of breadcrumbs and grated parmesan cheese to the top.
Pop it in the oven until it gets nice and crispy on top.
Mac & Cheese Without Milk FAQs
Q: What are some other cheeses that will be good with this recipe?
A: I think American cheese melts great for macaroni and cheese. I also like Fontina, and Swiss cheese in a macaroni and cheese dish. There really are no limits to the type of cheese you can use. You could even add a strong blue cheese or Gorgonzola if you want something with strong flavor.
Q: What are some good variations to a typical macaroni and cheese?
A: Macaroni and cheese is such a good canvas for so many other foods. At Mortadella Head we make a delicious Chicken Parm Mac and Cheese. At Boston Burger Company we make Buffalo Chicken Mac and Cheese and BBQ Pulled Pork Mac and Cheese. Get crazy and try something new!
Q: Can this Macaroni and Cheese recipe be frozen?
A: Yes. This is actually the best recipe for freezing. The fact that we use evaporated milk and cornstarch instead of regular milk and flour means it won't get lumpy and gritty. Often times, macaroni and cheese won't reheat well because the moisture from the milk gets absorbed into the gluten of the flour. When it's reheated it gets dried out and that causes the lumps. This recipe takes care of that and you get a really creamy macaroni and cheese even after it's frozen and reheated.
Wine: I like a big, bold red wine with my macaroni and cheese. Get a bottle of Zinfandel or Cabernet and let it breathe for a few minutes before you take a sip.
Appetizer: Since my mind is on a steak house dinner, I'd suggest some nice cold shrimp cocktail before you dig into dinner. Squeeze on some lemon and get a cocktail sauce with lots of horseradish.
Salad: Whenever I go to a nice steak house I get a Wedge Salad. I also get a side of macaroni and cheese with my steak. I think a good Wedge salad with bacon, red onion and a great blue cheese dressing is the perfect salad to go with your macaroni and cheese.
Main Course: Ok. Assuming this macaroni and cheese is going to be a side dish, throw a nice big rib eye steak in a cast iron frying pan. Make sure it's medium rare!
What Else Can I Do with My Macaroni and Cheese Made without Milk?
There are so many things you can do with this macaroni and cheese besides just eat it with a fork! At Boston Burger Company and Mortadella Head we like to get creative with our macaroni and cheese. Feel free to take some of these ideas and try making them at home.
Mini Macancini Balls: These are a play on the Sicilian rice balls called Arancini. We take our macaroni and cheese, roll it up into little balls, roll them in breadcrumbs and deep fry them. They are so good! Try dipping them in a creamy, tomato basil sauce.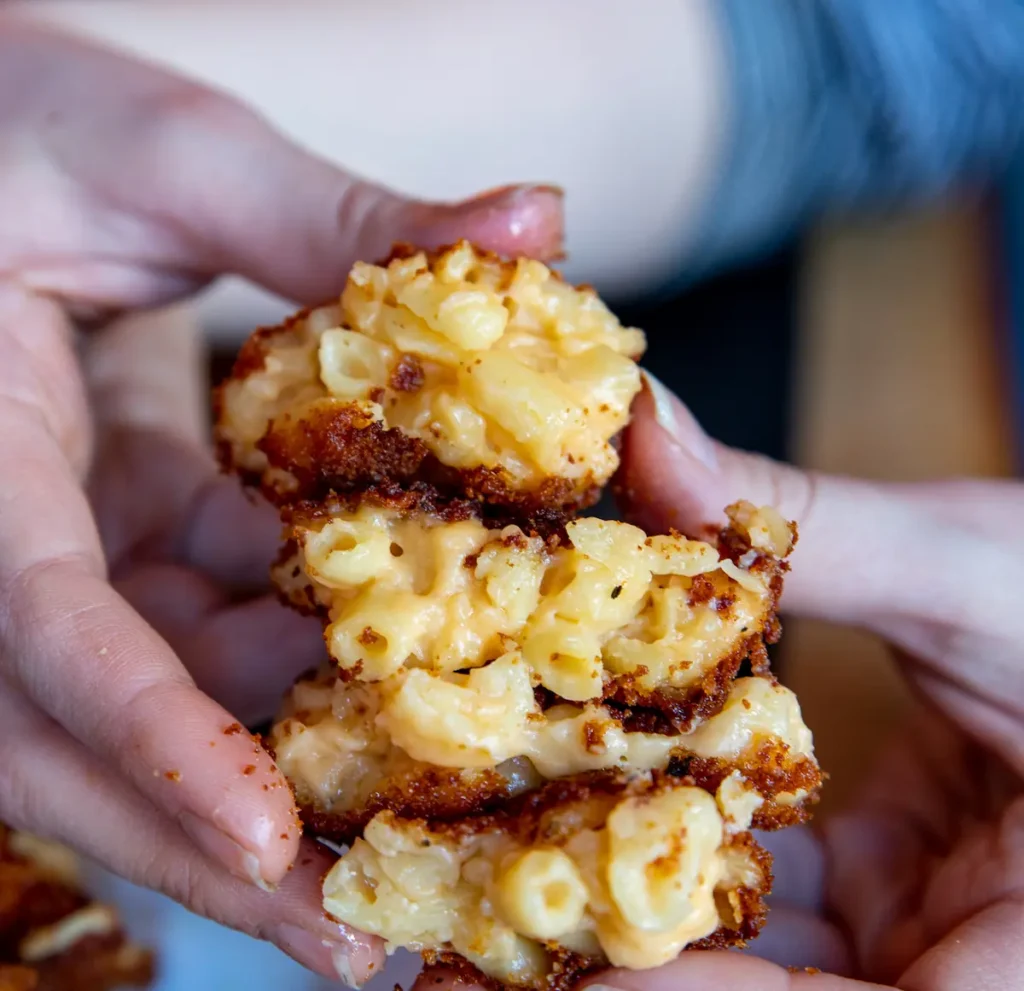 Pulled Pork Mac and Cheese Eggrolls: For this menu item we take our homemade BBQ pulled pork, macaroni and cheese, BBQ sauce and extra cheese…we roll it up nice and tight in an eggroll wrapper and deep fry it. We serve it will BBQ Ranch dressing and people love it!
Mac Attack Burger: We take a half pound burger and smother it in macaroni and cheese and bacon. Add pickles, pulled pork and an onion ring to make out WTF Burger! Don't forget the homemade BBQ sauce.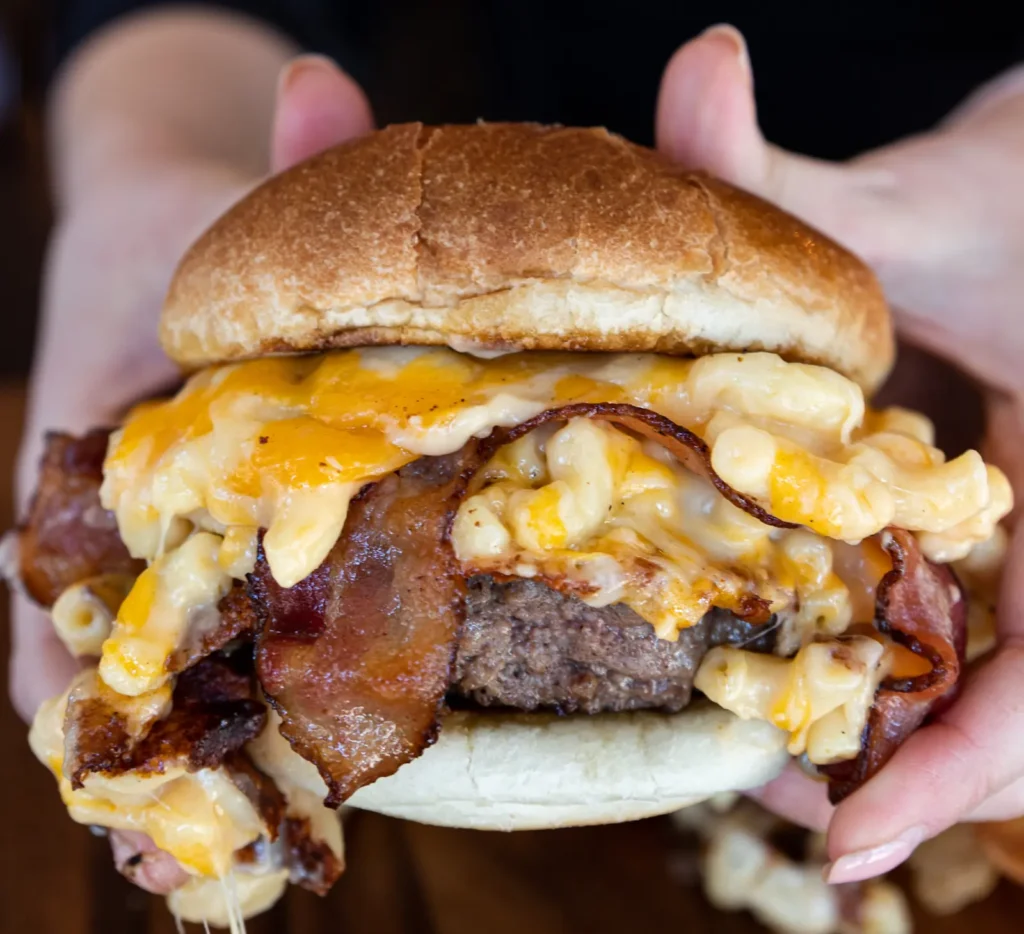 Make It Ahead and Freeze It: We make a lot of macaroni and cheese to freeze. We put it in 2 ¼ pound containers and ship it all over the United States. You can do the same thing at your house. It's great to have it in the freezer when you need a quick meal and you don't have time to cook. Just pop it in the oven while it's still frozen and it will come out like you just cooked it fresh. It's really unbelievable.