If a restaurant has garlic parmesan fries, there is a 100% chance that I will order them. 
Regular french fries are great, but they pale in comparison to the pop of flavor you get with garlic and shredded parmesan cheese on your fries. Garlic parm fries are the best fries, in my opinion.
I used to think that garlic parmesan fries were a specialty reserved only for restaurants, but boy was I wrong. These homemade garlic parmesan fries are even better than a lot of fries I've had at restaurants!
Best of all, they are made in an air fryer. 
This is a great recipe for a quick and easy side dish. French fries go with just about anything, after all!
Benefits of Using an Air Fryer for Homemade French Fries
Air fryer fries are a healthier option because they use far less oil than a home deep fryer or a regular oven.

You can get crispy french fries, just like deep-fried, without the use of a deep fryer.

Air fryers allow you to cook warm dishes without heating your oven. This makes them perfect for saving energy or keeping your house cooler in the summer.

The cook time is a lot less than it is with a conventional oven. These fries only take 15-20 minutes to cook!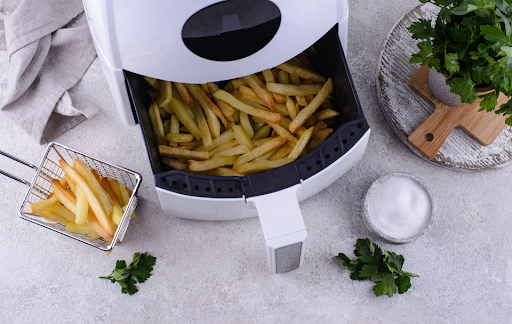 Ingredients
Russet potatoes: Aim for medium or large potatoes for best results. You can peel the potatoes or leave the skin on, depending on your preferences.
Extra virgin olive oil: A healthy option for crispy fries. Feel free to use avocado oil or vegetable oil instead.
Freshly grated parmesan: I recommend grating it at home rather than buying pre-grated. Fresh-grated has the best texture and melts better.
Garlic powder: We are using garlic powder instead of fresh garlic so the fries can be well-coated in garlic flavor.
Fresh parsley: A sprinkle of minced parsley once these fries are out of the air fryer adds color and flavor.
Sea salt: I like to add a little salt before frying and a sprinkle of flakey salt after.

Tips for Making Air Fryer French Fries
Keep fries warm by placing them on a baking sheet and keeping them in the oven at 200° if you need to cook multiple batches.

Make a great sauce for dipping. ​Garlic parmesan fries taste best in flavored aioli, such as garlic or lemon. They are also great with ranch dressing, ketchup, or any of your favorite sauces.

Dry the potatoes very well after soaking so they are perfectly crispy.

Adjust your cooking time as needed. Every air fryer is different, so check your fries regularly to get a perfect golden brown color.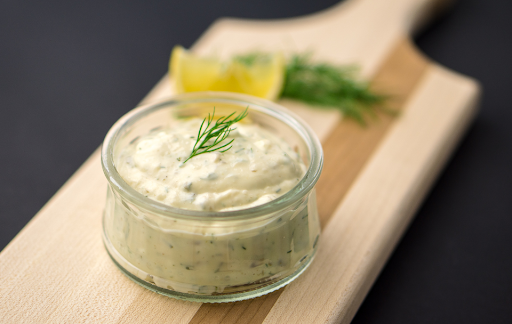 Variations
Use a little bit of truffle oil on the fries to add a savory, unique flavor.

Add fresh rosemary to the fries. Rosemary tastes delicious with garlic and parmesan!

Make the fries extra flavorful by adding a little onion powder with the garlic powder.

Use sweet potatoes instead of russet. The flavor will be very different but delicious in its own way.
Best Dishes To Serve with Garlic Fries
Pulled Pork: Make some pulled pork with our award-winning sauce and have pulled pork sandwiches with your fries.
Burgers: Learn how to grill the perfect frozen burger to pair with this easy side.
Submarine Sandwiches: We have all of our best chicken sub recipes in a blog post here. Try them all!
Paninis: Grilled Italian sandwiches need a great side! Make one of our favorite panini sandwich recipes to serve up with your garlic fries.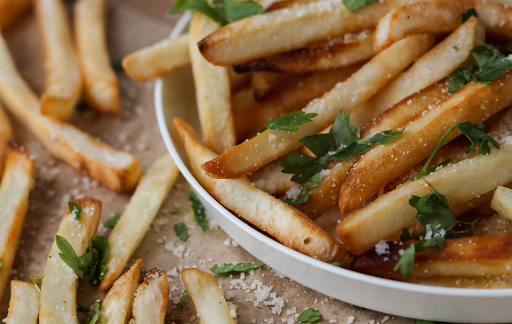 Frequently Asked Questions
Can I use another type of potato?
Russet potatoes are the best potatoes for french fries because they have the flavor and texture we are used to. Yukon gold potatoes work well too, though the flavor will be slightly different. 
Do I have to soak the potatoes?
Soaking your potatoes is optional, but recommended. Soaking the potatoes before frying them removes excess starch and makes for a crispier French fry.
Why aren't my potatoes crispy?
If you didn't dry the excess moisture off of your potatoes well before popping them in the air fryer, they will not be as crispy. Try cooking them a little longer to get the fries as crispy as possible.
Print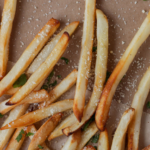 Easy Garlic Parmesan Fries | Air Fryer Recipe
---
3 large russet ​potatoes

2 tablespoons ​extra virgin olive oil

1 tablespoon garlic powder

¼ cup parmesan cheese

1 tablespoon fresh parsley, minced

sea salt and black pepper to taste
---
Preheat the air fryer to 400° F.

Peel and cut your fries. To get the fry shape, slice the potatoes lengthwise into ¼ inch thick pieces then chop the slices into ¼ inch strips. I recommend a mandoline for this, but it isn't required.

Soak your potatoes in cold water for an hour, then drain and pat dry with paper towels.

Toss the fries in olive oil and sprinkle them with about half of the garlic powder, salt, and pepper.

Place potatoes in the basket of an air fryer in a single layer. Don't stack them or overcrowd the air fryer. You may have to cook your fries in multiple batches.

Cook the fries in the air fryer for 15-20 minutes, until golden brown and crispy.

Remove from the air fryer basket and transfer to a large bowl. Toss with the rest of the garlic powder, parmesan cheese, and parsley. Sprinkle flakey salt on top before serving.