Frozen burgers are summertime staples here in America.
They're quick, easy, and perfect for feeding a crowd.
Especially if you choose high quality hamburger patties, when cooked the right way, you'll be turning these frozen patties into the juiciest grilled burgers.
You can typically find frozen hamburger patties at your local grocery store.
They're also sold in bulk at places like Costco, BJs, and Sam's Club, so check them out if you're looking for something easy to feed some guests at your next cookout.
They're the perfect option year round for a restaurant quality meal, right at home.
When would I cook frozen hamburgers?
Frozen ground beef patties can be perfect for any occasion.
My mom loves to make these for our summertime cookouts, as they're often sold in bulk and easy to store.
Personally, I will always bring frozen hamburgers along when I'm camping. I find they're so incredibly easy to cook over a charcoal grill, and they make for great leftovers the next day (and taste amazing when served on top of campfire nachos!).
Frozen hamburgers are also a great choice for an easy weeknight dinner.
No matter when you decide to cook them, this is the best way to quickly serve the most perfect burgers.
How long do I cook frozen burgers on the grill?
If you follow these simple steps, they will take about 15 minutes to evenly cook through (medium rare).
This is such an easy way to cook any frozen burger patty. It's the next best thing to fresh burgers, and they are the best choice for feeding your family or a crowd in a pinch.
This cooking method will work on a charcoal grill, gas grill, electric grill, or even a pellet grill.
Heat your grill to medium heat (about 375° F). This is the perfect temperature to ensure that the burger is cooked thoroughly.
Make sure your grill is cleaned by using a grill brush to scrape any leftover food off of the cooking grates. Whatever you do, do not use a grill brush with wire bristles. They can get stuck in the hamburgers and cause serious injury.
Once the grill is heated and cleaned to your liking, place your frozen patty(s) onto the hot grill grates. Make sure they have ample breathing space of about 2-3 inches between each patty.
Now, shut the lid of the grill and don't come back for 5 minutes.
I'm being serious, I know you want to peak. But don't. This will disrupt the grilling time and set the patties up to cook unevenly. A bite of ice mixed with a firm, well done edge? Sounds disgusting.
Once the five minutes have passed, flip the burger over, and begin to season the patty.
I love to season my own with salt, pepper, garlic powder, and Montreal steak seasoning. Trust me, it's a game changer.
Close the grill for another 5 minutes, and then come back to flip it with a metal spatula after the time has passed. Once the burger is flipped, season the other side of the patty.
Keep flipping the burgers until they are cooked to your liking. You can use a meat thermometer to gauge the meat to make sure the patties have reached a safe internal temperature, but in case you don't have one, here's best practice.
At 375°, the cooking time for frozen meat patties is as follows:
10 minutes to grill a frozen burger to rare
About 15 minutes to grill a frozen burger to medium rare/medium
20+ minutes to grill a frozen burger until well done
Once the delicious burgers are done, transfer them to a plate and let them sit for about 2 minutes for best results before serving.
Toss them between some hamburger buns, add whatever toppings you like, and enjoy!
What toppings should I use?
There are so many different ways to transform a classic burger into your very own unique and original creation. Here are some of our favorites:
The Classic – Lettuce, tomato, pickles, mayo
Bacon burger – Lettuce, tomato, cheddar cheese, bacon
Meat lover's burger – Lettuce, tomato, cheddar cheese, bacon, pulled pork, barbecue sauce
Barbecue burger – Lettuce, tomato, pickles, American cheese, barbecue sauce
Mac n' Cheese burger – Mac n' Cheese, BBQ sauce
Southwest burger – Lettuce, pickles, pico de gallo, guacamole
Buffalo burger – Lettuce, tomato, blue cheese dressing, feta cheese, buffalo sauce
The Beehive – Lettuce, tomato, BBQ sauce, a stack onion rings
Kitchen Sink – Lettuce, tomato, cheddar cheese, caramelized onions, sauteed mushrooms, ham, guacamole, fried egg
What should I serve with my burger?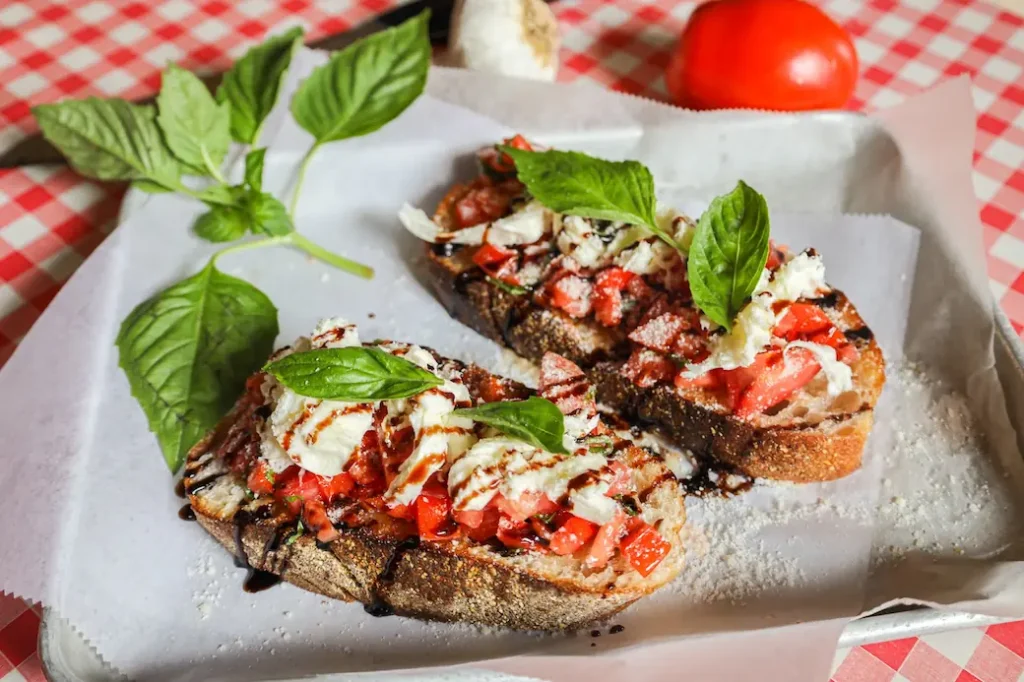 I love starting off my burger with some bruschetta skewers. Toss tomatoes, sliced basil, and mini mozzarella pearls in a bowl with olive oil, balsamic glaze, salt, and pepper. Put everything on a skewer, and serve.
If you don't want to go through the hassle of putting the bruschetta ingredients on skewers, you can also make regular bruschetta.
Another great appetizer to serve before frozen burgers is mozzarella sticks. You can heat up frozen mozz sticks right in your air fryer, and they'll taste like they just came out of the fryalater.
You can also toss some mixed greens, goat cheese, olive oil, and balsamic vinegar in a bowl with some salt and pepper to make a delicious mixed greens salad.
The most obvious answer to this is a burger's best friend: french fries. You can never go wrong with a side of french fries for your burger. You can heat these up in the air fryer too, just as you did with the mozzarella sticks.
Another one of my favorite choices for sides with a burger is potato salad. Buy some from the grocery store or make your own, just use a good one.
You can also make a pasta salad by tossing some elbow macaroni in a bowl with chopped veggies, feta cheese, olive oil, vinegar, salt, and pepper.
A juicy burger always goes great with beer!
Try buying a 6 pack from your local brewery. I'm a huge fan of Flyaway IPA from Shoveltown Brewery in Easton, MA.
If you're not a big drinker, make some iced tea. The sweetness of the tea will contrast nicely with the savory of the burger.
Grilled Frozen Burgers Recipe Card
Print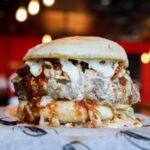 Grilled Frozen Burgers
---
Author:

Total Time:

8 minute
Frozen burger patties
Salt
Pepper
Garlic powder/onion powder (optional)
Montreal steak seasoning (optional)
---
Clean your grill with a high quality grill brush.

Heat your grill to about 375°, the best temperature for cooking frozen burgers.

Once the grill is hot, toss your patty(s) onto the grill grate.

Cover and don't look for 5-6 minutes.

Flip the burger over, and season the first side. Close the grill and let sit for 5-6 minutes, seasoning again once the other side is cooked.

Repeat the process using the following guide as a kay:

10 minutes for rare

15 minutes for medium rare/medium

20 minutes for well done

Serve with your favorite toppings and sides, and enjoy!