This past summer, we had an idea.
We're big into visiting Italy as you probably already know. Whenever we go, we love getting beautiful pieces of meat and cheese in between some nice light, fluffy, and airy pieces of beautiful Italian bread.
That's when we took a look at our Roman pizza bianca, and realized that we could make it into the exact sandwich bread we were missing.
But it wasn't simply enough to have regular cold cut sandwiches on this beautiful bread.
We had to go above and beyond.
And thus, our series of Italian paninis was born.
Using our beautiful Roman pizza bianca, we made three amazing sandwiches that were huge hits all over our social media pages.
And the best part is, you can make these panini sandwiches all from home, using nothing but some fresh bread, meat, and a panini press.
That's right, these easy recipes make for just as easy dinners, and are guaranteed to leave everyone full and happy.
View this post on Instagram
What is a panini?
The answer might be more broad than you might think.
A panini is a sandwich made with Italian bread that's usually toasted.
Oftentimes, a panini will be pressed in a specific panini press, and be served with deep grill marks, but it doesn't always have to be like that.
Ever eat a grilled cheese sandwich?
By definition, if it's on Italian bread, it would be considered a panini.
Mind=blown.
So with that being said, allow me to give you the recipes for some of the best Italian paninis that we have made in our very own kitchen over the last few months.
Buffalo Chicken Panini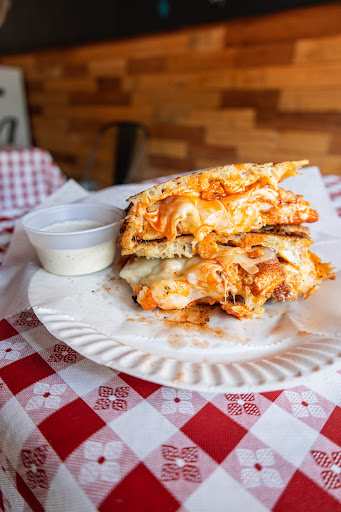 Perhaps the most popular panini we have made in the last few months is this delicious buffalo chicken panini.
You guys loved it, we loved it, and we would make it again in a heartbeat.
Take some chicken cutlets, fried chicken wings, or any other kind of chicken that you have on hand, chop them up, and toss them around with some garlic herb butter and Frank's Red Hot sauce. 
If you would like, spread some garlic butter over the bottom of the bread.
After that, take a slice of provolone cheese, cut it in half, and place half of the provolone over the garlic butter. Pile the buffalo chicken on top, and top with the remaining provolone and fresh mozzarella cheese.
Press the sandwich in a panini maker, or get a heavy skillet, melt in mayo, and grill the sandwich old school style.
Dip the final product in ranch dressing, blue cheese dressing, or extra buffalo sauce.
And thank me later for this recipe.
Chicken Parmesan Panini
View this post on Instagram

If you were looking for the perfect Italian chicken panini recipe, you're in luck.
Oftentimes, when people think of chicken parm, they think of pasta or chicken parmesan subs. But ever since I tried a chicken parm panini for the first time, I have never looked back.
To make this, all you need is some sliced sourdough bread (or any other bread you prefer), fried chicken cutlets, one of your favorite tomato sauces, provolone, mozzarella, and pesto sauce, for an optional drizzle at the end.
Place a slice of provolone cheese over the bottom half of the bread, and top with the chicken cutlets. Cover the chicken cutlets with tomato sauce, and sprinkle on some fresh mozzarella cheese. Drizzle with a dollop of pesto, if you'd like, and grill in a heavy pan over medium heat or in a press.
Note: If you really wanted to spice things up, replace the chicken with some meatballs from our Meatball Parm Tray. To see how we made this particular panini, check out our video!
Italian Cold Cut Panini
View this post on Instagram

What I love about this Italian panini recipe is that you can use whatever deli meats you want to make it.
To make this one, we used our Roman pizza dough, but you can use any crusty bread that you'd like.
For our deli meat, we lay down provolone, and topped it with capicola (can use hot capicola to make a spicy Italian panini), genoa salami, ham, and mortadella.
After that, for our veggies, we used juicy tomatoes, banana peppers, pickles, roasted red peppers (made from red bell peppers), and thinly sliced red onions.
At the end, we seasoned the Italian-style panini with salt, pepper, oregano, and fresh basil leaves, and drizzled it with olive oil. In addition to this, you can use a homemade Italian dressing, if you'd like.
Finally, we pressed everything together, and fried it over the griddle just as we would with a grilled cheese sandwich.
Italian Panini FAQs:
What kind of bread is best for an Italian panini?
When it comes to choosing the best bread loaf for your panini, you have many options.
Oftentimes, people will opt for sourdough bread, French bread, or any crusty Italian bread they can find.
We love to use our Roman pizza bianca, which is made over the course of 72 hours. Give it a try for your own Italian panini sandwiches!
What are some good cheeses to use on an Italian panini?
It depends on what you're in the mood for! A lot of the time, I'm craving more salty cheeses—that's where provolone comes in. But other times, you may opt for a creamy ricotta cheese to be mixed into your ingredients. You could also be craving a milkier flavor, and opt for fresh mozzarella instead.
What are the differences between Italian and American paninis?
Believe it or not, not all Italian paninis come toasted, and if you want everything melted together when you're at a sandwich shop in Italy, you should probably make a specific request.
In America, if you're ordering a panini, it's pretty much guaranteed that it'll always come toasted, it's how things are done here (unless the kitchen staff really doesn't know what they're doing).
If in Italy, be mindful when ordering your sandwiches to double check to see if they come toasted.