These quick air fryer veggie tots are the perfect side dish that the whole family will enjoy. The best part: they only take 20 minutes to cook without any prep work! 
Veggie tots are crispy and delicious, yet loaded with vegetables. If you're looking for healthy alternatives to tater tots and french fries, these veggie tots will become your new go-to. They are great as a side in any meal or as a tasty snack.
What are Veggie Tots?
Veggie tots are bite-sized croquettes made with various shredded veggies, including cauliflower, broccoli, sweet potato, and zucchini. They are a healthier take on the classic tater tot, which is made of shredded white potatoes. Tots can be deep-fried, baked, or air fried.
Veggie tots are a fun appetizer or side to get a serving of vegetables in your meals. They can be homemade or found in the freezer aisle of most grocery stores. In this recipe, we will be using frozen tots. I have personally found a lot of great options from the Green Giant brand, but you can use a different brand depending on what's available in your area. 
Why Use an Air Fryer?
The air fryer has become a popular appliance in recent years for a number of reasons. Air fryers allow home cooks to make crispy food without a deep fryer and without the large amount of oil that is usually required with other cooking methods. This is appealing to anyone trying to eat low-calorie, low-fat, or generally healthy meals. 
Air fryers are also amazingly convenient. They cook food quickly, take very little time to preheat, and allow for minimal cleanup. 
Air frying veggie tots saves time compared to a conventional oven. It also makes for much healthier tots than a deep fryer. Overall, air fryer tots are more crispy, healthy, and easier to make than tots using any other cooking method.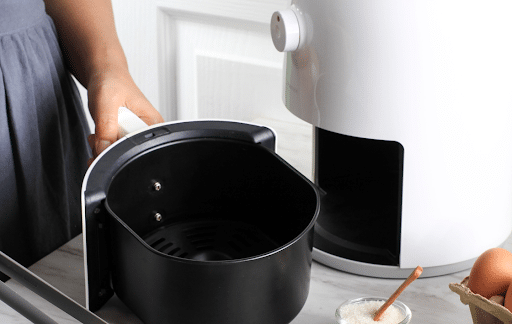 Different Flavors of Veggie Tots
The variety of veggies that are made into tots is quite impressive. Many brands have even combined vegetables and added different flavors, such as parmesan cheese or sour cream and onion. The veggie tots available in the freezer aisle of the supermarket include but are not limited to:
Sweet potato tots

Zucchini tots

Cauliflower tots

Broccoli tots

What to Eat with Veggie Tots
Veggie tots are an easy, healthy side dish to pair with different meat dishes and barbeque entrees. Here are my recommendations to make a meal using tots:
Entrees: Burgers, ribs, hot dogs, brisket, and veggie burgers are all made better with a side of veggie tots.
Other Vegetables: Add an assortment of veggie sides for a fun, flavorful meal. Try grilled sweet potatoes or Brussels sprouts.
More Air Fryer Snacks: The air fryer is perfect for quick and healthy sides! Make some garlic parmesan fries or air fryer pizza rolls.
Best Dipping Sauce for Veggie Tots
You can get pretty creative with your dipping sauce for veggie tots! Everything you enjoy dipping traditional tater tots in should taste great with veggie tots. Try them with your favorite dipping sauce or one of these simple ideas: 
Ketchup or mustard

Ranch dressing

Sour cream and chives dip

Barbeque sauce

Honey mustard

Garlic aoli
Tips for Making Air Fryer Veggie Tots
Do not overcrowd:

Be sure to spread the tots in a single layer only to ensure they get proper airflow and they are adequately crispy. Depending on the size of your air fryer, you may need to cook them in batches.
Spray with cooking oil:

For extra crispy tots, give them a light spray of cooking oil before starting the air fryer.

Do not thaw:

Place frozen tots directly into the preheated air fryer basket and cook immediately.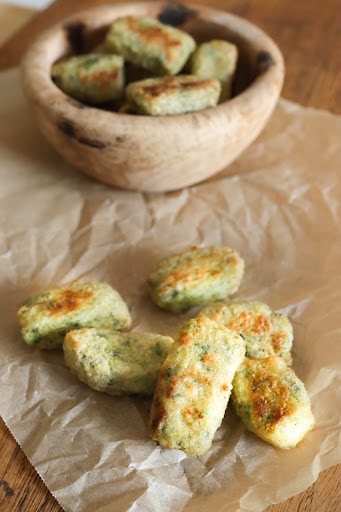 Frequently Asked Questions
How do I store leftover veggie tots?
Veggie tots can be kept in an airtight container in the fridge for up to 5 days. Reheat them in the air fryer until crispy.
How do I bake veggie tots in a conventional oven?
Preheat your oven to 450°F. 

Spread your veggie tots in a single layer onto a baking tray lined with parchment paper. 

Bake in the preheated oven for 10 minutes, then flip the tots. 

Bake for another 10 minutes and check that they are heated throughout and crispy on the outside. Bake longer as needed.
How long should I cook veggie tots in the air fryer?
The time needed to cook frozen tots in the air fryer will vary depending on which brand of tots you're using and the specific model of air fryer you have. Generally speaking, veggie tots will take around 10 minutes in an air fryer preheated to 400°F. It's a good idea to check on the tots frequently to ensure they do not burn.
What temperature is best for air fryer veggie tots?
Veggie tots should be cooked in the air fryer at 400°F for best results. That is the ideal temperature to get hot and crispy tots without burning them or making them soggy.

Print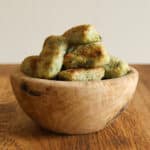 How to Make Crispy Veggie Tots in an Air Fryer
---
12 ounces frozen veggie tots
---
Preheat your air fryer to 400°F for about 5 minutes.

Spread frozen veggie tots in the air fryer basket in a single layer. Optionally, spray with olive oil cooking spray for extra crispy tots.

Cook the tots in the preheated air fryer for 8-10 minutes, shaking the basket of the air fryer at the halfway point to flip the tots.

Check the tots and return them to the air fryer for another 2-5 minutes as needed to make them golden brown and crispy.