I'm always looking for an easy dinner idea to have a homemade meal without spending too long cooking. During the summer months, an easy dinner usually means grilling.
Whether it's frozen burgers, hot dogs, or even a pizza, every good grilled meal needs a delicious and healthy side dish.
Baked sweet potatoes are one of my favorite side dishes for just about any meal! I love making them on the grill because it's so simple and the flavor is amazing.
If you want to try your hand at a delicious baked sweet potato made right on the grill, I've got you covered! This is my favorite sweet potato recipe and, fortunately, it's also the easiest.
Can You Grill Sweet Potatoes?
Grilling sweet potatoes is just as easy as baking them and you don't have to make your house hotter by preheating the oven! Sweet potatoes can be cut into slices or wedges and put directly on the grill to cook them quickly. In this recipe, however, we will be wrapping the potatoes in foil for a slow, hands-off cooking process.
Why You'll Love This Recipe
It's Easy: I love a meal that requires only one cooking method! You can cook your burgers, sweet potatoes, and other veggies all in the same place without running back and forth between the grill and the kitchen. Not only that, but this recipe offers super easy clean-up! All you have to do is toss the foil after you finish cooking this easy side dish.
It's Customizable: There are many, many fantastic options for topping your sweet potatoes. Everyone is sure to find something they love! Find lots of topping inspiration below.
It's Healthy: Sweet potatoes are a great source of complex carbs, fiber, and antioxidants. Many people prefer sweet potatoes to white potatoes because they are more nutritious and they have a low glycemic index.
It's Versatile: Sweet potatoes go with a wide variety of main dishes! Pair them with burgers, steak, pork chops, portobello mushroom burgers, and more.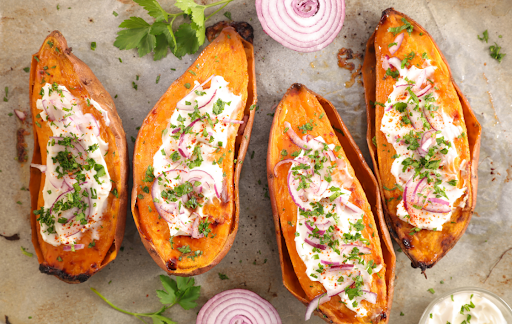 What You Need to Make Grill-Cooked Sweet Potatoes
Sweet potatoes: Of course! You can use any size, but you may need to adjust the cooking time if your sweet potatoes are unusually large or small.
Oil: I used extra virgin olive oil, but avocado oil is also a great choice. If you're in a rush, cooking spray can work as well.
Seasoning: The seasoning can be as simple as salt or as complicated as you'd like to make it! Read on for some of the different ways you can season your potatoes.
Aluminum foil: I recommend using heavy-duty foil so you don't have to worry as much about it tearing. You can cook sweet potatoes on the grill without foil, but I find that the texture is better and the skin is more moist with foil.
A grill: It doesn't matter if it's a gas grill or a charcoal grill, either one will work. 

Optional Seasoning for Sweet Potatoes
Sometimes just plain salt isn't enough. If you want to get creative with your seasoning, you can toss your sweet potatoes in all kinds of herbs and spices before wrapping them in foil and baking them! Try one of these delicious options:
Garlic powder and onion powder

Smoked paprika and chili powder

Steak rub

Cajun seasoning

Lemon pepper

Seasoned salt

Herb salt
Best Toppings for Sweet Potatoes
There is no limit to the delicious toppings you can load up on a sweet potato. Because of the sweetness of the sweet potato, you can go sweet or savory with this versatile vegetable! Here are just a few great options:
Butter, kosher salt, and black pepper

​Maple syrup or brown sugar with cinnamon

Sour cream and chives

Fresh herbs such as basil, parsley, cilantro, or rosemary

Bleu cheese, feta cheese, or ricotta cheese

Lemon juice or lime juice

Nuts such as pistachios, walnuts, or toasted almonds

Homemade sauces such as

pesto

, chimichurri, or tzatziki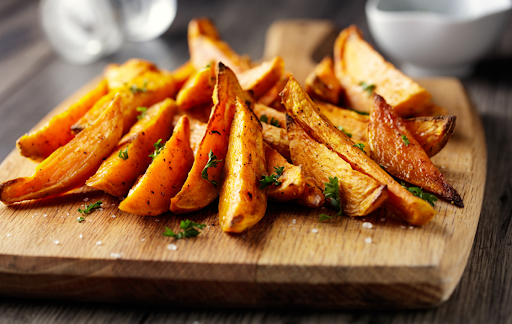 How to Make Sweet Potato Fries on the Grill
If you prefer your sweet potatoes in french fry form, you can make sweet potato wedges on the grill too. Simply chop your sweet potatoes into thick wedges (sweet potato slices are also great) before tossing them with oil and salt. Wrap the fries in foil and grill them following the same method below. The fries should be finished cooking in closer to 30 minutes, so be sure to start checking them earlier than you would whole potatoes.
Want more easy recipes you can make for grilling season?
Check out our chicken bacon ranch pasta salad, 4-ingredient chicken marinade, or peach sangria.

Print
Grilled Sweet Potatoes | Easy Barbeque Side Dish
---
Author:

Yield:

4

Servings

1

x
4 sweet potatoes

2 tablespoons extra virgin olive oil

1 teaspoon sea salt
---
Preheat your grill on medium heat.

Prepare your sweet potatoes by scrubbing the dirt off under hot water and drying them. Poke a few holes in each sweet potato using a fork.

Place each sweet potato onto a piece of aluminum foil and drizzle with a little bit of olive oil. Sprinkle on a pinch of salt and gently coat the potato with the oil and salt using your hands. Fold foil around the sweet potatoes and seal the edges by pinching down around the seams.

Once the grill is heated to about 400° F, place potatoes wrapped in foil onto the hot grill grates over indirect heat.

Close the lid and grill for 45-60 minutes, until fork tender. Flip the potatoes halfway through the cooking time.

Remove from the grill and serve with your choice of toppings.