I don't know about you, but as soon as the warm weather hits, the grill comes out.
I live in an apartment, and I don't even own a proper grill.
But when there's a will, there's a way.
We have a portable grill that we bring camping, so using that outside is just as good as anything.
We also own a cast iron grill, which is the perfect cooking method for grilling on the stovetop, or those chilly nights where you just can't be bothered to go outside.
As long as you're using a good marinade, you're in business.
​Personally, my favorite marinade is the one I'm about to tell you about.
And no matter where we decide to cook chicken using this marinade, it comes out perfect every time.
In fact, dare I say that this is the one of the only chicken marinades that you should be using this summer.
It blows all of the other easy chicken marinade recipes out of the water.
What Makes This So Great?
Most marinades that you find are soy sauce based, with brown sugar, some type of acid (citrus juice, fresh lemon juice, etc), and other seasonings that make a really flavorful chicken.
Which is fine, but we were looking for something else.
So when Chuck crafted this marinade in the Mortadella Head test kitchen, I knew that this would be the perfect summertime recipe.
It just makes the best grilled chicken.
Best of all, this is a 4-ingredient chicken marinade, so you really know what you're eating.
It's seriously my favorite chicken marinade.
What's In This Marinade?
Olive oil: And lots of it. It's one of the best things about this recipe.
Balsamic vinegar: About a cup of balsamic vinegar will give this marinade the acidic delicious taste that you're looking for, without using lemon juice or lime juice.
Honey: Every marinade needs a binding agent. A lot of people might opt to use dijon mustard during this step, but for us, honey is the way to go. It's sweet and compliments the balsamic vinegar nicely.
Fresh garlic: As a general rule of thumb, whenever I'm making a salad dressing, marinade, or anything of the sorts, I always opt for fresh garlic vs garlic powder. It gives the recipe a whole new dimension of flavor, so long as it's finely chopped.
How Do I Make This?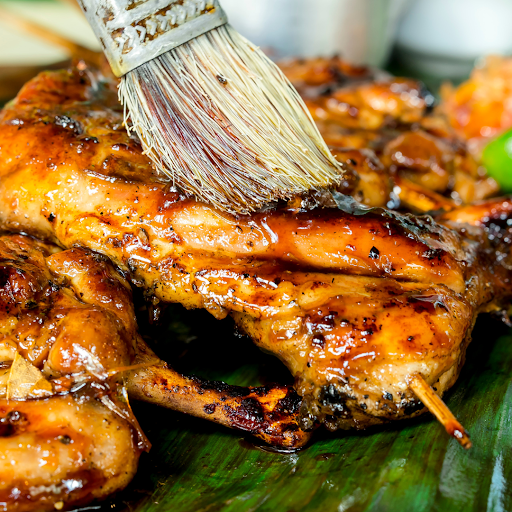 All you have to do is combine the ingredients along with some salt, black pepper, oregano, and other fresh herbs, and emulsify them together.
You can use an immersion blender, regular blender, whisk, or even your hands.
Yep, that's right, this marinade can be shaken up with just a little bit of elbow grease if your kitchen doesn't have the proper tools for emulsification.
Add this to your raw chicken or pork and let it rest in the fridge.
Ideally, you'd let this rest overnight.
But let's be honest, most of you visiting this recipe are probably making this marinade at 3PM for your 6PM dinner.
That's totally fine too.
Even if you only have a half hour to spare, it'll still taste great.
The last time I made this, I let it all marinate in a ziploc bag for five hours, and it turned out perfectly.
It seriously is the best chicken marinade recipe that I've ever tried.
After your chicken marinates, you can do whatever with it.
You can make a big batch of chicken in advance, and set it aside as meal prep.
You can serve it as is, or add it to some skewers with peppers and onions.
I chose the latter option, and served it alongside some rice pilaf and a big Greek salad.
It was delicious!
4 Ingredient Chicken Marinade FAQs: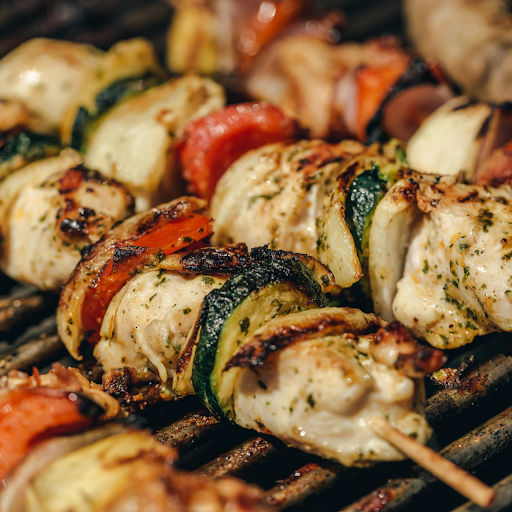 Q: What kind of chicken should I use with this?
A: I love using chicken thighs when making this easy marinade. I find that other cuts of chicken give you, well, boring chicken. Thighs are the best way to give you that juicy, tender, chicken taste you're looking for. My second choice for chicken meat, though, would be chicken legs.
Q: I don't like balsamic vinegar. What can I replace it with?
A: As stated before, a lot of people choose to make their marinades with soy sauce. While I love this idea, I find that coconut aminos taste so much better than soy sauce. Opt to use this instead, it'll taste great with all of the other simple ingredients! You could also try using some apple cider vinegar or red wine vinegar, it could taste great with those, too.
Q: Can I substitute the olive oil for a different kind of oil?
A: I don't recommend doing this. But if you must, try it with avocado oil.
Q: How much of the marinade should I use per pound of chicken?
A: That's a great question. A great way to measure it is by using this analogy: one serving of this marinade for 1 pound of chicken. If you're working with 2 pounds of chicken, double the marinade, and so on and so forth.
Q: Should I discard the marinade after use or can I use it as sauce?
A: Anything that has touched the raw meat should be immediately thrown out. But if you want to cook veggies with the sauce, it's so easy to recreate in your pan. They'll have just as much flavor when prepared this way, too.
Q: Should I pat the chicken dry before cooking after I take it out of the marinade?
A: Absolutely not. You want the chicken to stay in all of its delicious flavor.

Some Chicken Recipes And Other Things To Make With This Marinade:
Grilled chicken skewers

Balsamic chicken medallions

Balsamic grilled chicken

Stir fried vegetables

Balsamic Grilled Pork Medallions
Print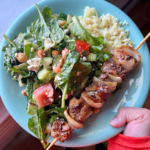 4 Ingredient Chicken Marinade: The Best Easy Recipe
---
Author:

Total Time:

5 Minutes
1 cup

balsamic vinegar

1/4 cup

honey

1 1/2 cup

extra virgin olive oil

1

clove garlic, minced

Salt, pepper, oregano to taste
---
Combine everything into a jar

Blend or shake everything together

Add to chicken and let marinate overnight, or store in the fridge for up to two weeks