Do you have too much garlic and want to preserve it long-term? While garlic will store well in unpeeled, whole garlic bulbs, this isn't always ideal.
Whether you grew your own, bought it in bulk, or peeled more garlic cloves than you need, there are a lot of times when preserving garlic is necessary to prevent waste.
Preserving garlic in olive oil is one method of storing garlic that lasts up to a week and creates delicious garlic-infused oil.
It just makes sense to combine two of the best staple Italian ingredients and preserve your garlic while at it!
However, there are some things you need to know to prevent food-borne illness in this preservation method. Let's dive into what you need to know as well as some alternative methods for preserving garlic.
How to Preserve Garlic in Olive Oil
Preserving garlic in olive oil is very easy and it preserves the garlic well while making the oil even tastier. Here's how to do it:
Fill a clean, dry mason jar with peeled cloves of garlic.

Pour extra virgin olive oil into the jar, ensuring that the cloves of garlic are completely submerged under the oil.

Tighten the lid onto the jar and label it with the date.

Store the jar in the fridge for up to 7 days.

Do not store the garlic and olive oil mixture at room temperature.

Don't throw away that oil! This process makes a delicious infused garlic oil that is perfect for salad dressing, garlic bread, and pasta.

Is It Safe to Store Garlic in Olive Oil?
Storing garlic in olive oil can be safe, but it must be done correctly. 
Because garlic is a low-acid vegetable, when you put it in an anaerobic environment such as oil, it creates the perfect conditions for the botulism toxin to develop. Botulism is very rare, but it can cause serious illness or death. 
To store garlic in olive oil without the risk of foodborne illness, be sure to:
Keep your garlic and olive oil in the fridge, not at room temperature

Only store the garlic in olive oil in the fridge for 7 days. If you need to keep it longer, I recommend freezing it.
There are many different ways to preserve garlic besides olive oil. If you prefer to try something different or need your garlic to store longer than a week, try one of the other methods below.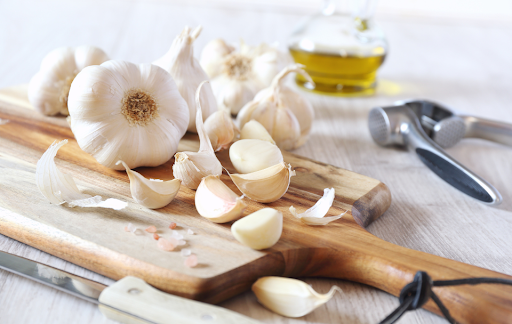 How to Store Garlic in Vinegar
Storing garlic in vinegar is a safer option for preserving it as the acidic pH of the vinegar eliminates the risk of botulism. You can use any of your favorite kinds of vinegar – I like white wine vinegar – and submerge the garlic cloves in it as you would with oil. Store it in the fridge for a year or more.
Preserving garlic in vinegar will give the garlic a different taste as it essentially pickles the garlic. The flavor is tasty, but don't expect it to be what you're used to. You can also add herbs and spices, such as basil or red pepper flakes, to add even more flavor to the pickled garlic.
You may also notice your garlic has turned a blue or green color. This won't always happen, but if it does there is no need to panic. This is completely normal and safe to consume; it is merely a reaction to the vinegar.
How to Freeze Garlic
Freezing garlic is a safe and effective way to preserve garlic. Frozen garlic has the same flavor and most of the same nutritional value as fresh garlic. You can store garlic in the freezer for a year or more. There are a few ways in which you can freeze garlic:
1. In Oil
Follow the instructions above for storing garlic in oil, but freeze the jars instead of keeping them in the fridge. I recommend using small jars so you can thaw one at a time and use it up quickly. 
If you freeze your garlic and oil in jars, be sure to leave a couple of inches of headspace at the top of the jar so it does not break when the oil freezes.
You may also freeze the garlic and olive oil in muffin tins, then remove the single portions and keep them in a freezer bag. 
2. Chopped or Minced
You can chop or mince your garlic and freeze it in a thin sheet so it is ready to go when you need minced garlic. I think this is the best way to preserve garlic as it makes cooking easier and maintains all of the flavors of the garlic. 
To freeze chopped or minced garlic, fill a freezer bag about ¼ full with the prepared garlic. Zip the bag shut without any air inside, then press down on the garlic until it has filled out the bag in a thin sheet. Freeze it flat to maintain this shape. 
When you need to use the frozen garlic, break off a small piece of the frozen sheet. 
Alternatively, freeze the minced garlic in ice cube trays for single serving sizes. Once the garlic is frozen, pop it out of the ice cube trays and transfer the garlic cubes to a bag. Store them in the freezer and grab a cube of garlic as needed.
3. Roasted Garlic
Roasted garlic freezes well and you will have a delicious addition to meals ready to go. 
Make roasted garlic and squeeze it out of the skin. Once the roasted garlic has cooled, freeze it in a ziplock bag or ice cube tray as you would minced garlic. Find our simple recipe for roasted garlic here.
4. Whole Cloves of Garlic
You can freeze peeled garlic cloves whole in plastic bags instead of mincing them first.
To do this, flash-freeze the cloves in a single layer on a baking sheet. Once they have frozen for a couple of hours, transfer them to a zip-top bag for long-term storage. Flash freezing prevents the cloves from sticking together, making it easy for you to grab a single clove as needed.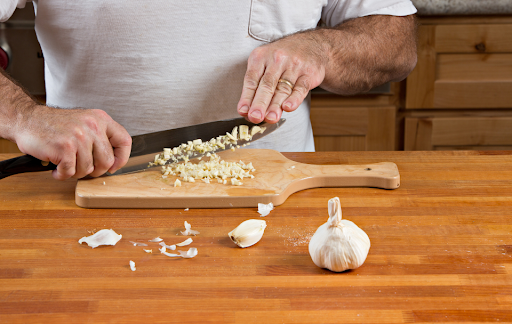 More Methods to Preserve Garlic
Drying
You can preserve garlic by drying it into garlic powder or minced, dried garlic. This is best done with a dehydrator, but an oven will also work. 
To dry garlic in an oven, peel your cloves and slice them very thinly. A mandoline can be helpful for getting very thin slices. 
Lay them out on a parchment paper-lined baking sheet and dry them in the oven on the lowest setting (usually around 150° F). 
Check on your garlic every 20-30 minutes and stir it. Once the garlic is completely dry and crumbles easily, remove it from the oven (this will take around 90 minutes). Be careful not to burn it. 
Dried garlic can be stored in an airtight container for many months. You can use the broken-up pieces in your cooking or grind them up in a food processor or blender to make homemade garlic powder.
Whole, Unpeeled Bulbs
Whole, unpeeled heads of garlic will store on their own for a long time in the right conditions. Garlic storage in root cellars was common for decades, but few people have access to a root cellar these days. 
The ideal environment for storing garlic is between 35° and 55° F at 40-60% humidity. If you have a basement, garage, or air-conditioned home, you should be able to store garlic for several months. 
Ensure the garlic is in a container that allows air to flow through it, such as a mesh bag, open paper bag, or a wire basket. Store it away from direct sunlight; the darker the better.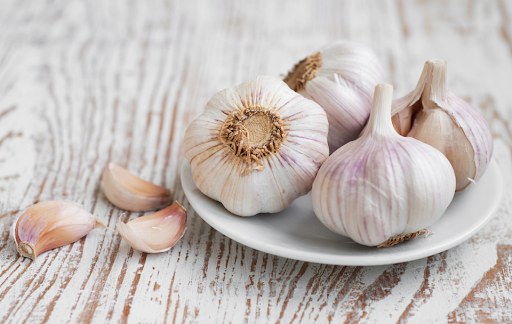 Frequently Asked Questions
Do I have to use olive oil?
Any vegetable-based oil will work for preserving garlic. I recommend avocado oil if you don't like olive oil.
Is store-bought garlic in olive oil safe to eat?
When you purchase garlic in olive oil at the store, they have added an acidifier to prevent botulism. Because of this, store-bought garlic in oil is completely safe to eat. 
What's the best way to preserve fresh garlic?
Freezing is the best way to preserve fresh garlic because it is safe, easy, and maintains the flavor and nutrients in the garlic. 
Is sprouted garlic safe to eat?
If your garlic has started to grow a green sprout out of the center, it is still perfectly safe to eat. The flavor may differ slightly from garlic that has not sprouted, but it will still have that delicious garlicky flavor we all know and love. 
Best Recipes with Garlic
We are big-time garlic lovers, so naturally, many of the Mortadella Head recipes have lots of garlic! Here are a couple of recipes to use up that preserved garlic:
Print
How to Store Garlic in Olive Oil
---
Fresh garlic cloves, peeled

Extra virgin olive oil
---
Fill a clean, dry mason jar with peeled garlic cloves.

Pour olive oil into the jar to completely submerge the garlic cloves in oil.

Secure a lid onto the jar and label it with the date.

Store the jar in the fridge for up to seven days.

Do not store garlic in olive oil at room temperature.

If you are unable to use the garlic within seven days, freeze it in the olive oil for long-term storage.