Have you ever had a white pizza with olive oil instead of tomato sauce?
It was a Friday night, also known as pizza night at my house, and I was making some homemade pizzas. 
I rolled out the dough and went to the pantry for a jar of pizza sauce. I quickly realized I was out. 
Of course, I could have made my own, but I had a different idea.
I decided to use olive oil and garlic instead.
I've had white pizza with olive oil many times before at restaurants, but I often forget it's even an option when I'm making my own pizza.
Of course, it was absolutely delicious. I decided I have to share this easy recipe with you!
Let's talk about what white pizza is, how to make pizza with olive oil instead of tomato sauce, and some great toppings for an olive oil pizza.

What is White Pizza?
White pizza is a type of pizza that is made without the traditional red tomato sauce. 
It's a common misconception that white pizza is made with Alfredo sauce. In actuality, the definition is broader than that. White pizza refers to any pizza that doesn't have red sauce. Alfredo sauce is one option for white pizza sauce.
Other great white pizza sauces are olive oil, garlic cream white sauce, ricotta cheese, or pesto. 
Because it doesn't have traditional pizza sauce, white pizza has a milder and more subtle flavor than traditional pizza. The toppings on a white pizza pop more because they aren't competing with the flavor of the tomato sauce. 
White pizza is a great option to add variety to your pizzas and bring a different flavor into the mix!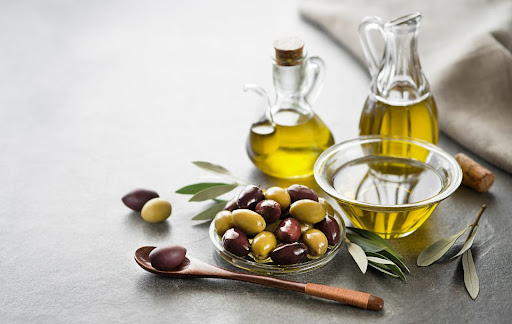 Ingredients for Olive Oil Pizza
Pizza Dough: Store-bought dough works well or try our 72-hour homemade pizza dough recipe.
Extra Virgin Olive Oil: For the best flavor, opt for a good olive oil. The higher quality, the better it tastes.
Shallots: Finely minced shallots add a lot of depth to this pizza. You can substitute white onion if needed.
Garlic: Fresh garlic cloves are going to bring a great flavor to this pizza! You can't go wrong with garlic.
Shredded Cheese: We will use mozzarella and parmesan for this delicious white pizza. Freshly grated is ideal for the best texture.
Ricotta Cheese: Small dollops of ricotta on this white pizza add the most delicious creaminess. 
Dried Herbs and Spices: Olive oil pizza is certainly not flavorless! We will be adding a medley of herbs and spices for all kinds of variety.
Basil: Is there anything more delicious than basil? We will be using fresh basil leaves in this recipe. I like to add some on top of the pizza after baking for an extra dose of basil flavor.
How to Make Olive Oil Pizza
Mince your garlic and shallot using a chopping knife or a food processor.

Combine the minced garlic and shallots with the herbs and spices. Add the extra virgin olive oil and stir well.

Prepare your pizza dough and roll it out.

Using the back of a spoon, spread the olive oil mixture onto the top of the dough. 

Add your toppings, then cover the pizza with a generous sprinkle of shredded mozzarella cheese and parmesan cheese.

Bake the pizza on a pizza pan. If you don't have one, a baking sheet will also work.

When the dough is thoroughly cooked and the cheese is melted and lightly golden brown, remove it from the oven. Top with fresh basil.

Slice and enjoy!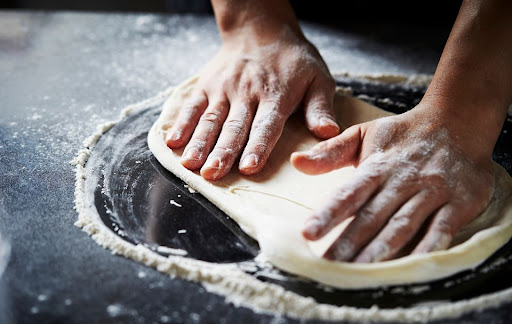 Best White Pizza Toppings
You can use any pizza toppings you wish on this olive oil pizza. My favorite combination so far is onion, sun-dried tomato, mushrooms, and spinach with the recipe below.
White Cheeses: Fresh mozzarella, ricotta, pecorino romano, and parmesan cheese are the best. 
Fresh Veggies: Red onions, tomato slices, mushrooms, zucchini, or spinach are great options.
Canned Veggies: Roasted red peppers, olives, artichoke hearts, and sun-dried tomatoes will add a lot of flavor to your pizza.
Meat: Italian sausage, bacon, and chicken go particularly well with white pizza.
Spices: Red pepper flakes are a must! You can also add garlic powder for a little bit of extra garlic.
Fresh Herbs: Fresh rosemary and basil (or pesto) are my go-to herbs. Oregano, thyme, and parsley are also great options. Dried herbs will work if you don't have fresh herbs available.
If you want to make your pizza a little fancier and more flavorful, I can't recommend cold toppings enough. Add these delicious ingredients to your pizza after baking, right before cutting and serving it. 
Fresh arugula

Balsamic reduction

Prosciutto 

Freshly grated parmesan cheese
Tips for Making Olive Oil Pizza
If you have the time, making your olive oil pizza sauce ahead of time will allow the flavor of the ingredients to infuse the oil. You can make the sauce up to 24 hours in advance. 

For an even tastier pizza, use pre-infused olive oil, such as garlic olive oil or hot chili olive oil.

For best results, be generous with your olive oil and cheese. Just because your pizza is made without traditional sauce does not mean it has to be dry.

Be adventurous with your toppings! Olive oil pizza is the best pizza for trying unique toppings. It's very versatile and allows for more flexibility with your ingredients.

Pair it with a delicious wine. I prefer

white wine

with my olive oil pizza because it's cold and crisp.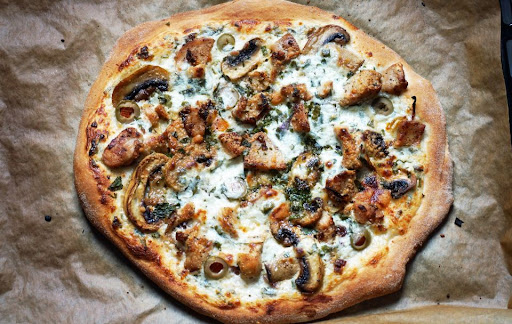 More Must-Try Pizza Recipes
We are all about pizza at Mortadella Head. Don't miss our other delicious recipes:
Print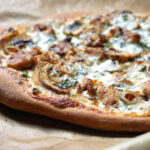 Best Olive Oil Pizza with Garlic and Basil (White Pizza)
---
One serving of pizza dough, homemade or store-bought

¼ cup olive oil

2 tablespoons minced shallots

1 tablespoon minced garlic

2 teaspoons red pepper flakes

1 tablespoon Italian seasoning

¼ teaspoon sea salt

1–2 cups of pizza toppings of your choice

¾ cup whole milk ricotta cheese

2 cups shredded mozzarella cheese

½ cup shredded parmesan cheese

¼ cup fresh basil leaves, chopped
---
Preheat oven to 450°.

Make your olive oil sauce by combining olive oil, minced shallots, minced garlic, red pepper flakes, Italian seasoning, and sea salt in a small bowl. Stir well.

Spread the olive oil sauce onto the pizza dough with the back of a spoon.

Disperse toppings evenly across the pizza dough.

Using a spoon, drop small scoops of ricotta cheese onto the pizza, dispersed evenly.

Top with shredded cheese and place your pizza in the oven on a pizza pan or baking sheet.

Bake for 10-15 minutes or until the dough is thoroughly cooked and the cheese is melty and golden brown.

Remove from the oven and top with fresh basil and other cold toppings, as desired.