One of the most debated topics of all time is pizza toppings.
Do pickles belong on pizza? (Obviously)
How about pineapple? (Debatable)
Hamburg or sweet Italian sausage? (Hamburg or DIE)
My fiancé and I would always debate over something a bit more specific, though.
He swears by fried chicken on a regular old cheese pizza, making it a "chicken parm pizza."
To me, that is nothing more than fried chicken on top of pizza.
Don't get me wrong, I love fried chicken.
And I love pizza.
But if you're going to combine the two, you need to be doing more with it. You need to spice it up.
That's why this buffalo fried chicken pizza recipe will always and forever be my favorite.
It has all of the best things about a chicken parmesan pizza that everyone loves:
Red sauce.

Yummy cheese.

Fried chicken.
But we complete it by coating the chicken with buffalo sauce, and topping with feta and blue cheese dressing.
If it sounds perfect, it's because it is.
Here's What You Need to Make It:
Pizza dough: Any kind of pizza dough will work with this. If you want to take a stab at making your own 72 hour pizza dough, we have the homemade pizza crust recipe you're looking for!
Tomato sauce: You can use any regular old pizza sauce with this, but what we like to do is take a regular can of crushed tomatoes and let it simmer on the stove for 2 hours, stirring frequently. All you need to add is a pinch of salt, pinch of black pepper, and a tiny bit of oregano. That's it.
Crispy fried chicken: You can make your own, use leftover fried chicken, or buy some chicken tenders from the store. If you want to try making Italian chicken cutlets, check out our tutorial!
Buffalo hot sauce: I will always be partial to Frank's Red Hot. Always.
Feta cheese: I know, I know, it's different, but hear me out. It's creamier and less robust than blue cheese, and gives your pizza a nice even flavor you weren't expecting.
Blue cheese dressing: We use a homemade creamy gorgonzola cheese dressing for maximum flavor, but if you can only get your hands on a blue cheese dressing, that'll work just as well!
Mozzarella cheese: No pizza is complete without mozzarella cheese. This is just a fact of life.
Grated cheese: Romano cheese or parmesan!
How to Make This:
Spread a thin layer of pizza sauce over your crust. Top with mozzarella pizza cheese.

Take your fried chicken, dice it into little chicken pieces, and toss it in a large bowl with some hot sauce so everything is coated.

Spread the seasoned chicken all over the base of the pizza crust. Top with the crumbled feta and a dash of grated cheese.

Bake in the oven for 15-20 minutes or until the cheese is melted and golden brown.

Take out of the oven and drizzle with the creamy dressing and more buffalo sauce if you'd like
Fried Chicken Pizza FAQs: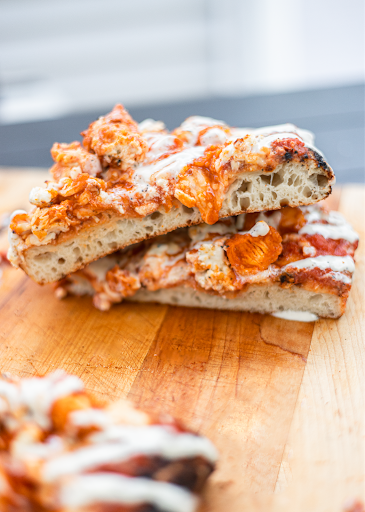 Q: Could I make this into a low carb pizza?
A: Sure you could! With the right prep, this could be one of the best low carb recipes you've ever eaten. Forego the breading on the chicken and substitute the regular crust with a cauliflower pre-made dough, and it'll be delicious!
Q: I hate buffalo. What other sauce could I use?
A: If you hate hot chicken, try making this into a BBQ chicken pizza. Use BBQ sauce instead, nix the feta, and replace it with thin sliced red onion. It'll be great.
Q: How would I store this?
A: This will be good for up to four days in the fridge in an airtight container. You could also seal it with plastic wrap and keep it in the freezer for as long as six months.
What to Serve with a Fried Chicken Pizza: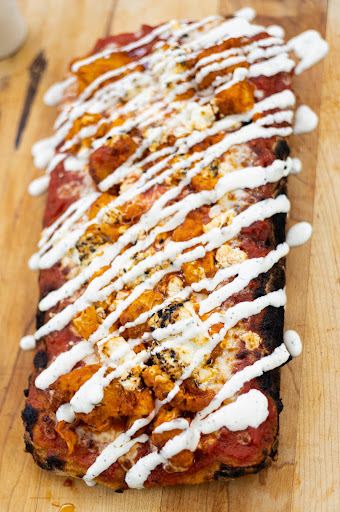 Drink: No better combo than pizza and beer! Go support your local brewery and pick up a cold 6 pack.
Appetizer: Nothing better to enjoy with your pizza than a nice antipasto platter!
Side dish: We've been heavily into broccoli rabe lately. We're obviously gonna tell you to make it.
Print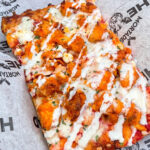 Fried Chicken Pizza Recipe
---
Author:

Total Time:

25-40 Minutes
1

package pizza dough, homemade or pre-made crust

1 cup

tomato sauce

½

lb

crispy fried chicken

1 cup

hot sauce

½ cup

feta cheese

1 cup

mozzarella cheese

½ cup

blue cheese dressing

¼ cup

grated Romano or parmesan cheese
---
Preheat oven to 450°

Spread tomato sauce and mozzarella cheese over pizza dough

Toss fried chicken in hot sauce in a medium bowl, and spread that, feta cheese, and Romano cheese over the dough

Bake for 15-20 minutes in a pizza pan or on a pizza stone or pizza peel, or until the cheese is melted and golden brown

Drizzle with blue cheese dressing and more hot sauce if you'd like
Prep Time:

10-20 Minutes

Cook Time:

15-20 Minutes