The other day I got a message on my phone telling me I was almost out of storage space. I'm not surprised. My phone is loaded with photos and videos of pizza, subs and burgers. Way too many.
So I decided to spend some time deleting old videos and pictures that I probably don't need anymore. While I was doing this, I came across some beauties that I just couldn't delete.
There were a bunch of photos and videos of Sebby making this awesome Greek inspired gyro pizza!
First of all, a good gyro is one of my all time favorite things. I always love a traditional gyro sandwich. Those Mediterranean flavors, the fresh toppings, the juicy meat, the hot pita bread…they are so good!
So when Sebby decided to try making this gyro pizza recipe, I was all about it. I wasn't exactly sure what he had in mind for his Greek style pizza.
Was he just going to take one of our Greek salads from the restaurant and dump it on a pizza crust? Not at all.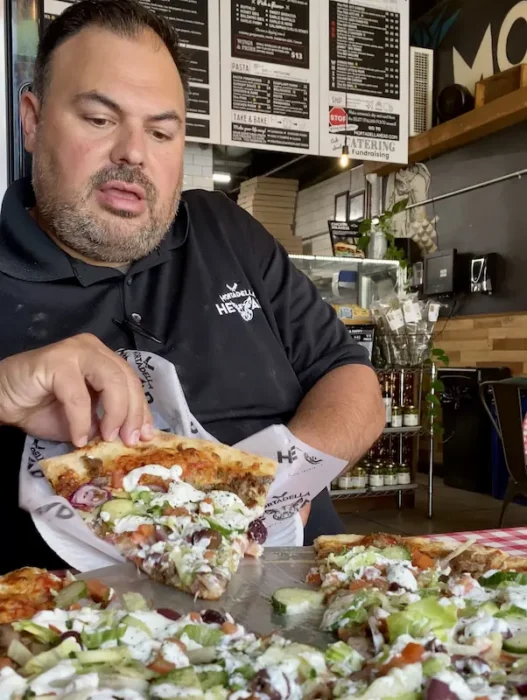 He had big things planned for this Greek pizza recipe. He went to visit a couple of his Greek buddies who own a restaurant in the area. And he came back with some real deal Greek toppings. The gyro meat and tzatziki were out of this world.
He started off with an awesome cheese pizza on our homemade pizza dough and the rest is history. It was the first time I ever had a gyro pizza. It was probably one of the best pizzas I've ever eaten.
If you ever decide to try something different and fun for the whole family, do a pizza night. Make some homemade pizza.
If you're into Greek food, you really have to try this!
The Ingredients You Need For the Gyro Pizza Recipe
This is an easy list of ingredients. Just about everything you need should be at your local grocery stores.
Pizza Dough
Since we're making pizza, you're going to need some dough. You can make your own pizza dough if you're up for it. It's really easy and I'll share a link at the end of this article showing you how we make our awesome Roman pizza dough.
If you want to spend a little less time on your gyro pizza, feel free to use store-bought pizza dough.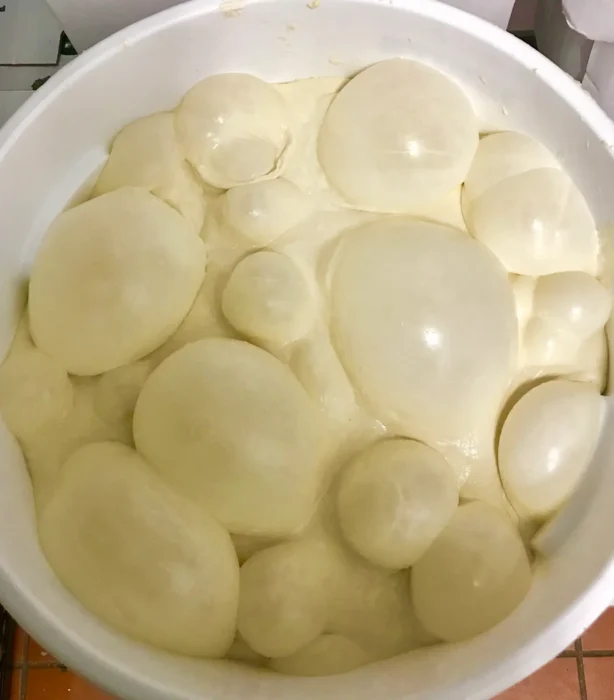 Pizza Sauce
We are going to make our gyro pizza with a red sauce base. You have a few options.
You can make a simple pizza sauce if you want. Just get a can of crushed tomatoes, add some salt, a little water and let it simmer on the stove for about 30 minutes. I think cooking the tomatoes for a little while brings out the sweetness.
You can also use the crushed tomatoes right out of the can without cooking them. This is done all the time and your pizza will come out great.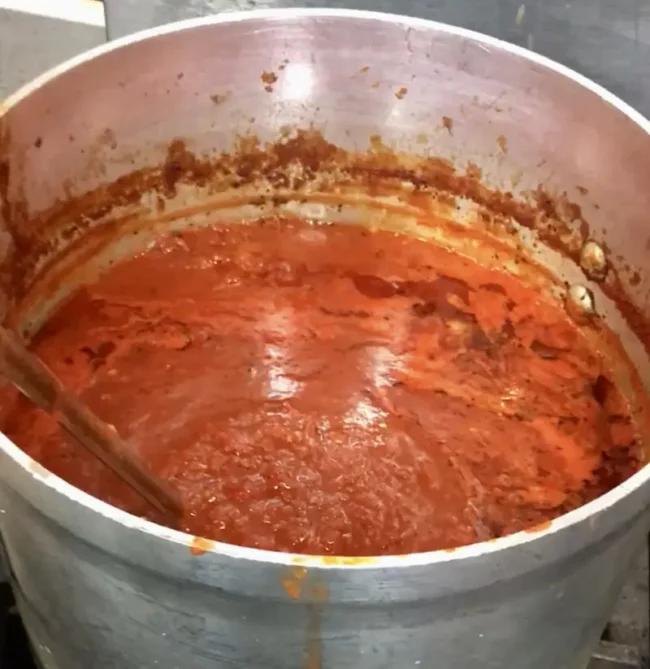 Cheese
For this pizza, you're going to need a good low-moisture mozzarella cheese. This is the cheese of choice for most pizzas. You can find it made with whole milk or low-fat milk. I prefer the one made with whole milk.
Avoid the fresh mozzarella for this pizza. It has a lot of water in it and doesn't melt as well on a pizza.
You're also going to need a good feta cheese. Buy it by the block and crumble it yourself. If you want, you can get reduced-fat feta cheese.
Gyro Meat
The gyro meat that you use on this pizza is very important. You probably don't have one of those gyro spinners in your house, so you have to improvise.
You can either buy the meat already done or make it yourself with the correct seasonings. It's really not as hard as you think.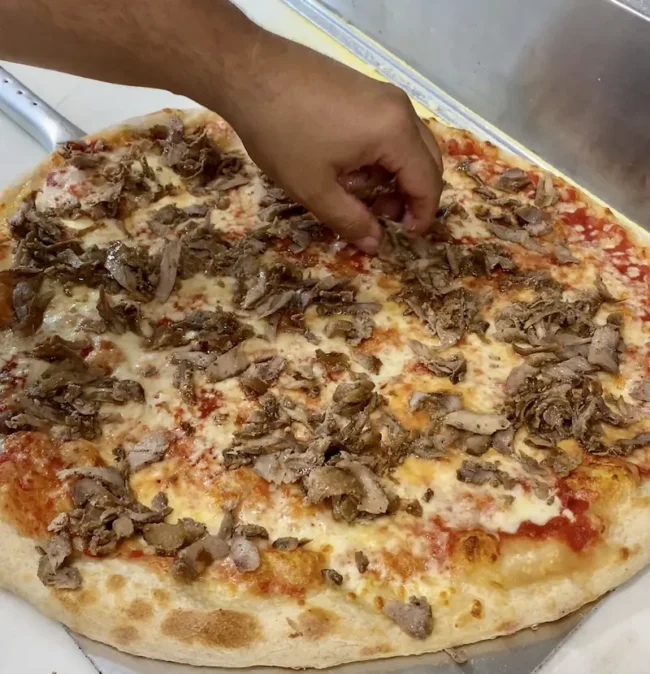 Tzatziki Sauce
You can make this yourself. A homemade tzatziki sauce is really good. There are only a few ingredients in it and it's easy. You'll need greek yogurt, garlic, cucumbers, and lemon juice. Make sure to buy plain yogurt.
The Vegetables
You are going to want the type of vegetables that you usually see on really good Greek salads. Things like red onions, cucumbers, roasted red peppers, Kalamata olives, and cherry tomatoes. A little shredded iceberg lettuce at the end for the crunch is also a nice touch.
Seasoning
We're going to keep it simple. Make sure you have some salt, pepper, and oregano. I suggest Kosher salt or sea salt. I also like fresh cracked pepper.
And if you're going to use oregano, buy the dried oregano leaves that come on the stems. It's a world of difference when comparing it to supermarket oregano.

How To Make Gyro Meat at Home
Take some boneless pork chops or lamb tenderloins and cut them into small strips. You want them small enough to put on a pizza. Marinate them with olive oil, garlic, red wine vinegar, oregano, thyme, lemon juice, salt, pepper, and a little honey. Massage all of the ingredients into the pork with your hands. Let the meat marinate for at least 2 hours.
Take a frying pan and put it on medium-high heat. Cook the meat in a frying pan for about 4-5 minutes. Don't overcook it because it's going to be cooked again in the oven when you top the pizza.
How to make Tzatziki at Home
Grate a cucumber on a box grater and squeeze out all of the water. Take a small bowl and add the grated cucumber, plain greek yogurt, olive oil, a minced garlic clove, fresh dill, salt and lemon juice. Mix it all together. You can also add a little sour cream to your tzatziki.
You're done with the tzatziki.
How To Make The Gyro Pizza
When Sebby made his pizza at the restaurant, he made one of our thin-crust, round pizzas. Since this article is probably going to be used by people making pizza at home, I'm going to convert it to a square pizza that can be made in your home oven.
If you like a round pizza, and you have a pizza stone and pizza peel at home, go ahead. Bang out a round pie.
Preheat the oven to 400 degrees Fahrenheit.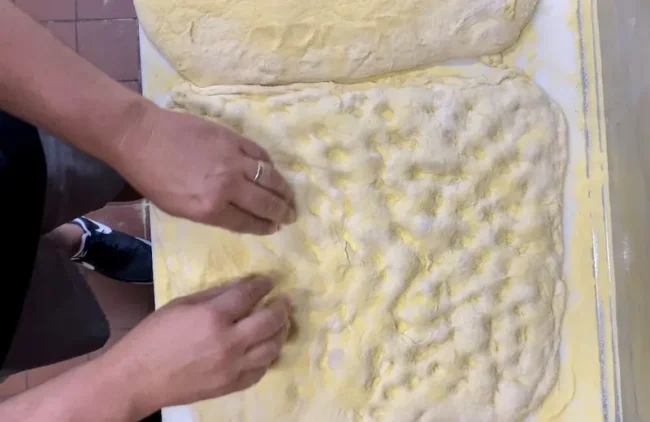 Stretch Your Dough
So, assuming your pizza dough is ready to go, get a baking sheet and rub some olive oil all over the bottom of it.
If your dough was in the fridge, take it out and let it come to room temperature. When you stretch pizza dough, it's always easier when it's at room temperature.
You want your dough to cover the entire sheet pan. You can use a rolling pin to stretch it out if that's easier for you.
If your dough is easy enough to handle you can stretch it out by hand. Just lightly press the dough with your fingertips to the edge of the pizza pan on all sides.
Spread Your Sauce
Get a big spoon or ladle and spread your tomato sauce all over the dough. Bring the sauce right to the edge of the pan.
If your dough starts to come away from the edge of the pan after you add the sauce, using your fingertips, just press it back into the edge of the pan.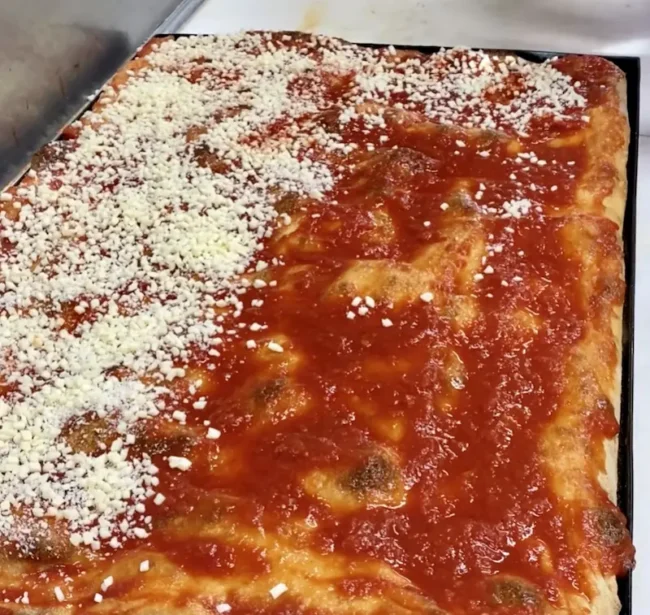 Add the topping and cook
Now, the final steps.
Add The Cheese: Get your mozzarella cheese and sprinkle it over the sauce.
Add the Rest of the Toppings: When you finish adding the mozzarella, top cheese with the gyro meat, thin sliced onions, and olives.
Cook the Pizza: Place your sheet pan on top of the oven rack and let it cook for about 20 minutes. Rotate the pan after about 10 minutes.
Finish the Pizza: When the pizza is done and the cheese is melted, remove the pizza from the oven. Now it's time to add some cold ingredients. Add the shredded lettuce, diced tomatoes, cucumbers, and a nice drizzle of tzatziki.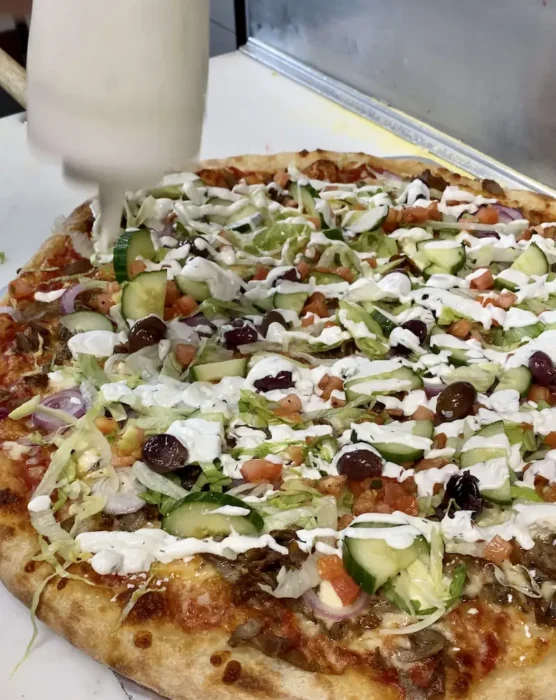 Gyro Pizza Recipe FAQs
Q: What other types of meat can you use?
A: Gyro is usually made with high-fat meat like pork, beef or lamb. If you want to use lean meat, you could follow these instructions and use chicken or turkey. I've had chicken gyros before and they are really good. I'm sure a chicken gyro pizza would be great too.
Q: What other topping can you put on a gyro pizza?
A: As long as you stick to a Mediterranean or Greek theme, there are lots of things you can use. Try artichoke hearts, banana peppers or eggplant. What about French fries?! They work in a gyro sandwich. They'd be awesome on this pizza too.
Q: Does a gyro pizza have to have tomato sauce?
A: A gyro pizza could be red or white. If you want a white pizza, try using a garlic cream sauce as a base.
Here are some quick links to other recipes on our blog that will help you make your awesome gyro pizza: