There's nothing better than a refreshing drink on a warm summer day. Especially if that drink is a peach sangria.
Sangria is one of my all-time favorite drinks and this time of year, it's the perfect way to enjoy a relaxing happy hour.
If you love flavorful, fruity beverages, this is your drink. This peach sangria is lightly sweet and packed with delicious peach flavor.
If you've ever had it at the popular restaurant chain, you know that this Olive Garden peach sangria recipe is one you'll want to make on repeat.
Ingredients
Peach liqueur: Peach schnapps will work here or any of your favorite peach liqueurs.
Fresh peaches: Peaches at the peak of their season are always the best. There's nothing like a sweet, juicy, ripe peach! You can use frozen if it's not a good time of the year for fresh peaches.
White wine: I recommend a crisp, dry wine for this so you don't have an overly sweet sangria. If you need help choosing wine, check out our guide to Italian white wines.
Simple syrup: We will be using a classic simple syrup to sweeten this sangria, which you can learn how to make below. If you prefer, you can use honey simple syrup or maple syrup instead.
Lemons and limes: These citrus fruits add a delightful garnish and a slight tang to this great recipe.
Soda water: If you like a less strong, more bubbly sangria, you can add soda water. I've left this as an optional ingredient so each person can make their drink how they prefer it.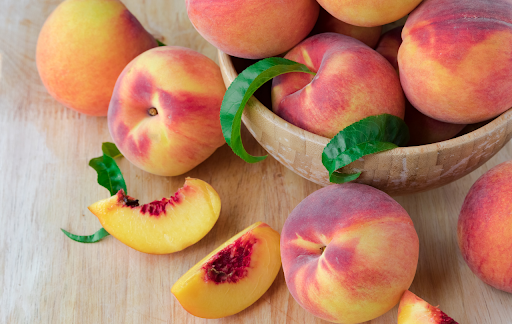 Variations
If you want to get creative in this kitchen, this peach sangria is a great drink for that! Try one of these fun variations to mix it up.
Add more fruit: The fresh fruit is my favorite part of sangria, so adding more can only make it better! Try adding fresh strawberries, raspberries, apple slices, oranges in addition to the fruit in the recipe.
Try red wine: Mix it up by substituting red wine for white wine. This will give it a beautiful deep red color and a richer flavor.
Make it bubbly: Use sparkling white wine to make this sangria even more refreshing.
Try a flavored syrup: Instead of plain syrup, try infusing your simple syrup with a unique flavor or purchasing a flavored syrup. 
Add juice: Add some extra flavor with peach juice, orange juice, or another delicious fruit juice. Be sure to adjust the simple syrup accordingly so you don't make it too sweet!

How to Make Simple Syrup
There's no need to buy simple syrup for this flavorful sangria; you can make your own in no time! Here's how to make homemade simple syrup:
Ingredients
1 cup white sugar

1 cup water
Instructions
Combine sugar and water in a small saucepan and warm on medium heat.

Stir regularly and continue to heat the mixture until the sugar has completely dissolved.

Remove from heat and allow to cool to room temperature.

Store in an airtight container in the refrigerator for up to a month.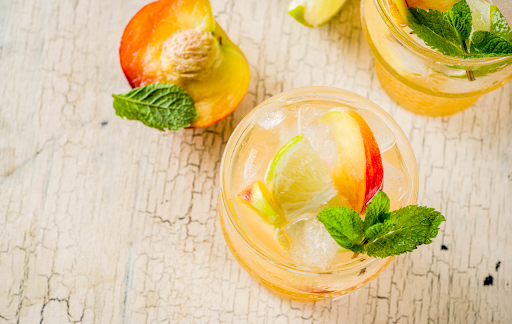 Frequently Asked Questions
Should I peel the fruit before putting it in the sangria?
Peeling the fruit is not necessary, but I do recommend washing it well to remove any dirt, germs, or pesticides that may be on the skin.
How far in advance should you make sangria?
Sangria is best made 12 hours before so the flavors have time to develop and the beverage is nice and cold. If you are in a rush, 30 minutes will work, though the flavor will be different.
How can I make my sangria sweeter?
There are a number of ways to make your sangria sweeter. You can add more simple syrup, use a sweeter wine, or add sweet soda such as ginger ale or lemon-lime soda. Take it slow as you're making your sangria sweeter; it's a lot harder to make it less sweet if you add too much.

Print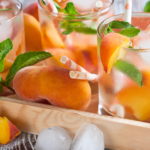 Refreshing Peach Sangria | Better Than Olive Garden
---
Author:

Yield:

4

drinks

1

x
1 pound yellow peaches, pitted and sliced

2 tablespoons white sugar

1 cup peach liqueur 

1 750 mL bottle of dry white wine

¼ cup simple syrup (or to taste)

2 lemons, sliced

3 limes, sliced

Sparkling water (optional)
---
In a large pitcher, combine your peach slices and 2 tablespoons of sugar.

Add the peach liqueur and allow the mixture to sit for around 30 minutes while the peaches absorb some of the liqueur.

Add the simple syrup, white wine, and citrus slices to the pitcher and cover.

Chill the mixture in the fridge overnight.

Serve over ice with extra fruit to garnish. If you want to add sparkling water, fill each glass ¾ of the way full and top them off with club soda.