One of my favorite memories as a child was going to my grandparents house and eating.
And eating.
And eating some more.
My grandparents had the best recipes ever, especially for anything involving tomatoes and pasta.
Look, I know what you're thinking.
"Not a lot goes into cooking a tomato based dish."
Because when you think about it, there really isn't all that much that goes into heating up a can of tomatoes with some tomato paste.
But when it comes to Italians, there's just a labor of love that goes into it all.
And that labor of love will make all the difference in taking that can of tomatoes from good to great.
Which is why my great grandmother, my Nonna, has the best minestrone soup recipe ever.
This recipe is so delicious, it doesn't even require meat.
Of course, if you prefer meat, you can always add it in after the fact.
But I'm telling you, it doesn't even need it.
Nonna's minestrone soup is just that good.
Spice this up with all of the seasonal vegetables that you have, throw everything into a large pot, and there you have it! A soup that's great year round, not only in just the winter months.
This is one of my go-tos, and with some fresh herbs, the addition of pasta, and a little bit of love, it'll be your favorite, too.
Minestrone Soup FAQs: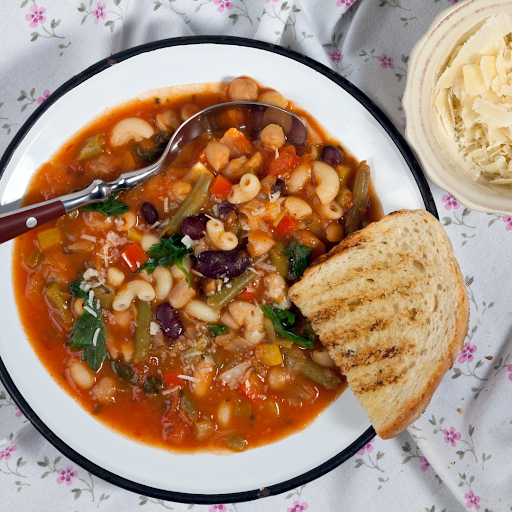 Q: I hate onions. Is there any way that I can omit or substitute this?
If you don't like onions, try opting for a shallot. It's typically sweeter and blends in really nicely with this soup recipe. You'll hardly be able to taste it.
On the contrary, you could say that the same effect remains true for onions. Unless you have an allergy, I highly recommend you keep the onion present in this dish, it's key when making a traditional minestrone soup recipe!
And if all else fails, you can always add in an extra garlic clove or two.
Q: How long does it take to prepare this soup from start to finish?
All in all, I'd say 45 minutes to one hour is a safe bet. It's a lot of chopping, but once everything is simmering, it's super easy.
Q: Can I make this soup in advance and reheat it later?
Absolutely. In fact, this is one of my favorite soup recipes for meal prep.
It's incredibly easy to double or triple the recipe as needed, so you can even make a big batch for the whole family and reheat it later if you'd like.
Q: What is the serving size of this soup recipe?
This particular recipe yields about four servings. But, again, you can always reduce it or multiply it as you wish.
Q: Can I freeze this soup for later consumption?
For sure. Freezing soup is so easy, and one of my favorite things to do.
If you're going this route, though, I recommend cooking the pasta separately. I find that pasta itself doesn't reheat too well after being frozen for a while.
Q: Is this soup recipe vegan or vegetarian?
It absolutely can be!
I personally like to use chicken broth with all of my Italian soups, as I think it has more flavor.
But vegetable broth is perfectly fine in this, too.
In fact, many people prefer to use this instead.
Q: Can I add any additional spices or herbs to enhance the flavor of the soup?
For sure, that's the beauty of this delicious recipe!
I like adding a lot of the Green Goddess seasoning from Trader Joe's into this classic Italian soup. If you don't have any of that, some Italian seasoning would work fine with this as well.
Minestrone Soup Recipe Card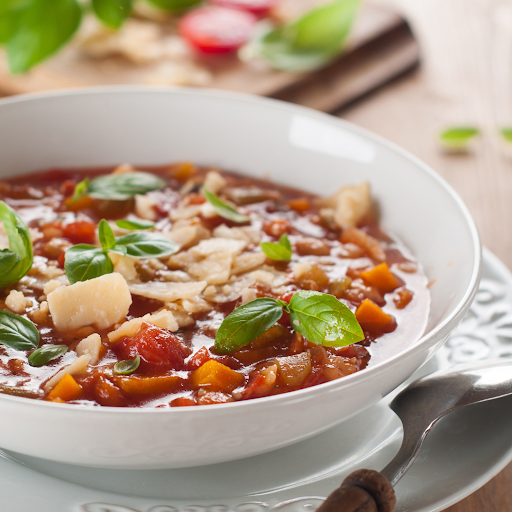 Print
Minestrone Soup Recipe
---
2 tablespoons

of extra virgin olive oil

1

medium onion chopped

3

cloves of garlic minced

1

large celery stalk diced

2

medium carrots diced

1

medium zucchini diced

1

small leek sliced

1

can of diced tomatoes

1

can of cannellini beans drained and rinsed (can substitute for chickpeas, red kidney beans, or pinto beans)

4 cups

of vegetable or chicken stock (or

4 tablespoons

of Better than Bouillon to 4 cups of hot water)

1/2 teaspoon

of dried thyme

1/2 teaspoon

of dried basil

1/2 teaspoon

of dried oregano

1/2 teaspoon

of salt

1/4 teaspoon

of black pepper

2 cups

of chopped kale, Swiss chard, or baby spinach

1 cup

of small ditalini pasta

1/4 cup

of grated parmesan cheese

2 tablespoons

of chopped fresh parsley

2

bay leaves
---
Heat olive oil in a large saucepan over medium heat. Add the onion and garlic and cook until tender and lightly browned.

Add the celery, carrots, zucchini, and leek. Cook for 5-7 minutes until the vegetables have softened.

Stir in the diced tomatoes and cannellini beans and cook for 2-3 minutes.

Pour in the stock and add the thyme, basil, oregano, bay leaves, salt, and black pepper. Bring to a boil and then reduce the heat to a simmer. Cover and cook for 30 minutes.

Add the kale and pasta to the pot and cook until al dente, about 10 minutes.

Serve the minestrone soup with grated parmesan cheese, a pinch of salt, and chopped parsley on top. For best results, I always serve it with a side of crusty bread.