If you're Italian American like me, I guarantee you've grown up eating multiple kinds of pasta e fagioli recipes.
Pasta e fagioli, or "pasta fazool" as some Americans call it, is a simple Italian dish made with pasta and beans.
The traditional pasta based soup translates directly to "pasta and beans."
But depending on what region of Italy you're from, or how your family grew up making it, there's a chance that your version of this traditional "peasant dish" is quite different from the next.
For example, some regions may opt to cook this in chicken stock with ground Italian sausage, or bits of chicken.
Not to cite Olive Garden as experts in Italian cooking, but they also make a particularly salty version of this popular Italian dish using chicken stock, tomato paste, ground beef, and tons of vegetables.
And while it's good, it doesn't even compare to my grandma's authentic pasta e fagioli.
You see, my grandma's pasta e fagioli recipe comes to us in the United States directly from Ferentino, Italy.
It was passed down by her mother in law, who learned the recipe from her own grandmother.
So if you really want to get technical, this incredibly simple recipe has been passed down through six generations.
And since it's so easy to follow, there's little room for error.
All you need is a few simple ingredients, a big soup pot, and a hungry stomach, and you'll have the ultimate comfort food waiting for you at the stove.
Trust me, once you make this recipe for yourself, you'll be wondering why you never have before.

Here's What You Need: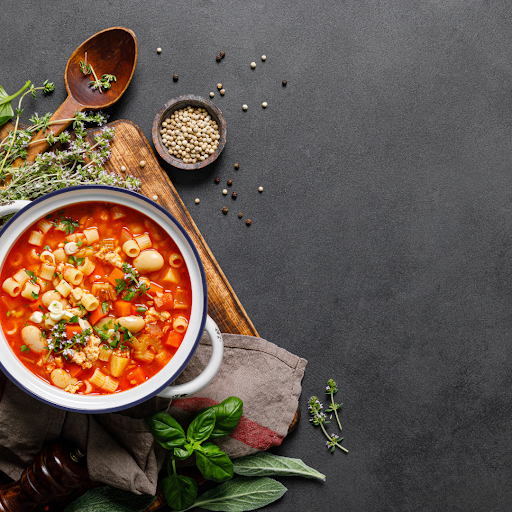 Ham bone: Here's a little secret: authentic Italian pasta e fagioli is made with a whole boiled ham bone, not chicken stock. It provides your soup with a rich vessel of flavor, one that simply cannot be replicated with regular store bought stock.
Celery stalk: This pairs nicely in the boiling stage with your ham bone, giving your soup all of the flavor that it needs.
Onion: No recipe would be complete without the aromatics. They add a whole new dimension of flavor to your soup, one that takes it from great to amazing.
Yellow eye beans: These are the holy grail for pasta e fagioli, in my opinion. If I don't have any of these beans, I typically use great northern or cannellini beans. It's super important to make sure they soak in cold water overnight before being added to the soup.
Ditalini pasta: This is my favorite kind of any of the small pasta shapes to use with this dish. I've seen people make pasta e fagioli soup with other shapes like small shells or elbow macaroni, but they simply don't compare to ditalini.
Tomato sauce: Use 4-6 oz of tomato sauce with this recipe. I personally prefer using Hunts. Less is more when it comes to this recipe!
Directions: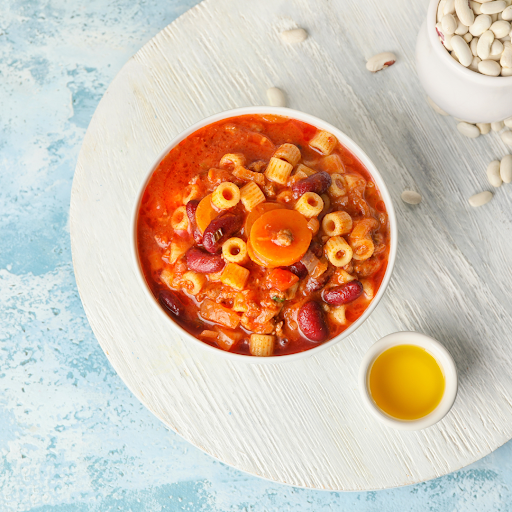 The night before you plan on cooking the soup, cover your yellow eye beans with water and soak in the fridge overnight. If you forget, you can soak these all day too. The longer you soak them, the quicker they will cook in the broth.
Place your hambone, salt, pepper, the celery stock, and the onion in a large stockpot. Cover your hambone in water until fully submerged. Bring to a rolling boil, skimming off any bubbles on the top, and turn the stove to medium low. Cook for at least one hour.
After an hour, add your beans into the pot, and cook for at least another hour, or until the beans are tender (could also be up to two hours).
Once beans are tender, remove the hambone, add the tomato sauce into the pot, and cook for 30 minutes to an hour, stirring occasionally.
Trim any chunks or pieces of ham from the outside of the bone, until you have around 3 cups. Put back into the soup toward the end of the 30 minute mark, and let simmer.
Bring a large pot of salted water to a rolling boil, and cook ditalini until al dente. Toss with regular olive oil (not extra virgin olive oil).
Serve all together.
Pasta e Fagioli FAQs: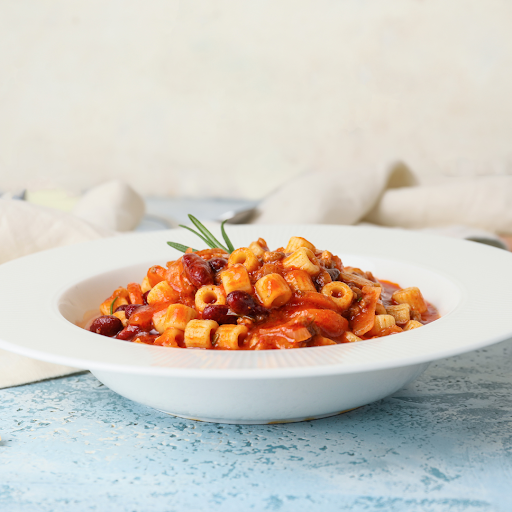 Q: Can I freeze this classic Italian soup?
A: Absolutely! While I don't recommend freezing the pasta noodles, the broth and base of this soup is a wonderful option to freeze in an airtight container and enjoy at a later time.
Q: What other kinds of beans can I use with this soup?
A: If you don't have yellow eye beans, try using cannellini beans or great northern beans with this hearty soup. They won't provide you with the same flavor, but they'll still taste just as good.
Q: Can I use canned beans with this pasta dish?
A: You can certainly use these. They won't give you the same flavor as regular beans, but they'll still taste great. Just add these when you add the tomato sauce.
Q: How could I make a vegetarian version of this dish?
A: Boil the beans for 2-3 hours with double the amount of celery and onion, while maybe adding in a garlic clove or two. You also can try doubling the beans to make up for the missing ham.
What To Serve With Pasta e Fagioli: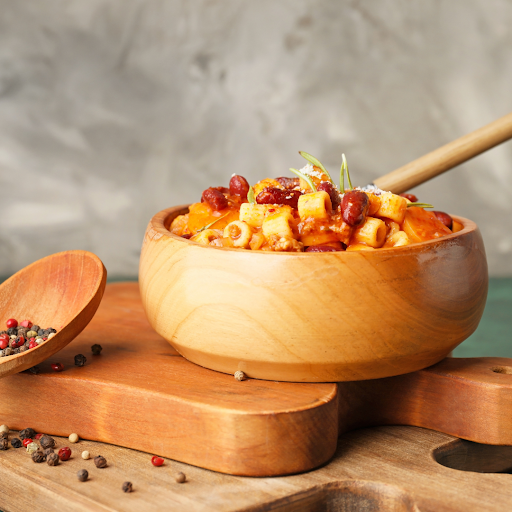 Appetizer: I love making my pasta fagioli with an easy caprese salad on top of crusty bread. It's light, delicious, and contrasts with the warm soup nicely.
Side dish: Since this soup recipe doesn't include any veggies, you might want to make a large pan of roasted broccoli or brussels sprouts. Toss them with olive oil, salt, pepper, garlic powder, onion powder, paprika, and grated parmesan cheese, and you'll be in business.
Dessert: Homemade blueberry gelato, anyone? Try out our brand new recipe!
Print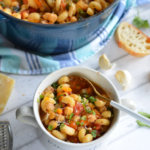 Grandma's Pasta e Fagioli | Italian Soup Recipe
---
1

hambone, with some of the meat still in tact (about

3 cups

)

1

–

2

celery stalks

1

medium onion

1

16 oz bag of dry yellow-eye beans

1

lb of ditalini pasta

4

–

6

oz tomato sauce

2 tsp

of salt

1 tsp

of black pepper

1 tsp

crushed red pepper flakes

1

bay leaf

Parmigiano Reggiano rind (optional)
---
Rinse the yellow-eye beans and soak them overnight in enough water to cover them by two inches.

Add the hambone, celery stalk, large onion, salt, pepper, and red pepper flakes to a large stockpot or dutch oven. Submerge the hambone in water until covered. Bring to a boil, reduce the heat to medium low, and simmer for at least one hour.

At the hour mark, drain the beans and transfer them to the pot. Cook on medium low heat for 1-2 hours, or until the beans are soft.

Remove the hambone and add the tomato sauce to the pot. Cook for another 30 minutes, stirring occasionally.

While the sauce is cooking, trim the meat from the ham bone, about 3 cups. Add the ham meat back into the pot, discarding the bone, and removing the parmesan rind and bay leaf from the pot. Simmer for a little bit longer.

Bring a large pot of salted water to a rolling boil, and add ditalini pasta. Cook until al dente, and toss with plain olive oil (not extra-virgin olive oil).

Serve the soup over ditalini, hot off the stove.