The short answer is that a lasagna can be cooked in a 425 degree oven for 30-45 minutes if not frozen and 55-65 minutes if frozen. However, this depends on a lot of varying factors.  
As an expert lasagna maker I've made it in all types of ovens and at many different temperatures.  All of the photos in this article are lasagnas that I made in our kitchen at Mortadella Head.
In a perfect world, I like to bake my lasagna at an oven temperature of 400 degrees. But, we don't always live in a perfect world.  So 425 degrees is fine.  Pay attention so you don't burn your lasagna.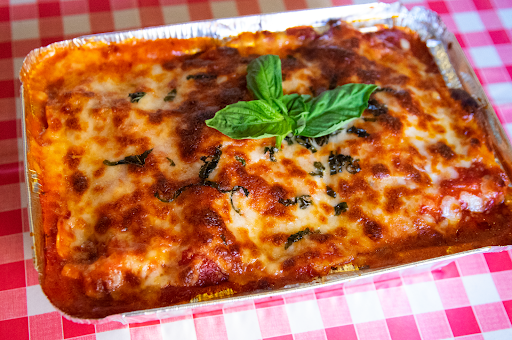 When you cook a lasagna there are a few important goals. 
Cook it all the way through.  You don't want a lasagna that's cold in the middle.

Don't dry it out.  You want every layer to be saucy and moist. The ricotta mixture needs to be creamy.
Get the top of the lasagna golden brown.  You want that mozzarella cheese to be a little crispy but not burnt.
For the most part, I like Southern Italian lasagna recipes with a rich tomato sauce, pork and Italian sausage. But I also like lasagna with no meat.  It just needs a cheese mixture that is spot on. You need creamy ricotta and sharp parmesan cheese or pecorino.  
Meat or no meat, you cook the lasagna the same way.
If you follow a few simple steps you can make the best lasagna you ever had. I am going to teach you how to make a perfect lasagna and bake it at 425 degrees.

The Right Pasta for Lasagna
Since I opened Mortadella Head I have made a lot of lasagna. I tried different types of pasta. I made homemade lasagne and bought some fresh pasta at the Italian specialty store. Sometimes I boil noodles to make the lasagna and other times I use oven ready noodles. These are the uncooked noodles that you just layer into the lasagna without boiling them.
If you make homemade pasta and boil lasagna noodles, you should brush them with olive oil after you drain them. This will prevent them from sticking together.  Make your lasagna with al dente pasta.  It will finish cooking in the oven.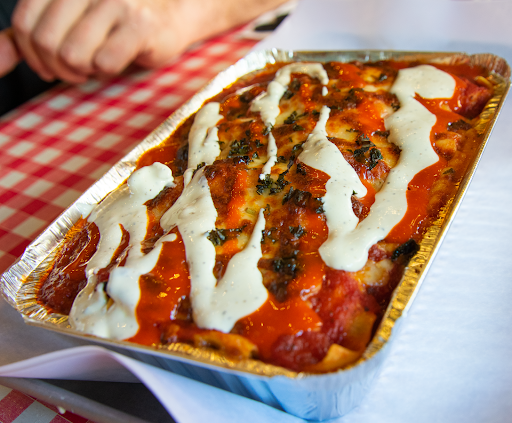 Get Creative with Your Lasagna
I have figured out the secrets involved in making great lasagna and I'm sharing them with you.
Once you know these simple, but important steps involved in making lasagna, the sky's the limit when it comes to lasagna.  You can have fun and experiment with different ingredients and flavors. 
I actually figured out how to make a Buffalo Chicken Lasagna that people go crazy about. It might not be authentic, but it's great.
I also experimented with vegetable lasagna.  It was so easy and so good. I just diced up some red and yellow bell peppers, a yellow onion, eggplant, zucchini and yellow squash.  I toss the vegetables in olive oil, Kosher salt and black pepper.  Then I bake vegetables on a sheet pan for about 20 minutes at 425 degrees f.  It's kind of like a ratatouille.
When I build the lasagna I basically make our Quattro Formaggi lasagna but I spread half of the roasted vegetables on the bottom of the baking dish with the tomato sauce and the other half in the middle layers.  It's good for vegetarians and meat eaters!
Another lasagna I make that people love is a Chicken Cutlet and Broccoli Rabe Lasagna.  It has a creamy white sauce and it's so good.  This is definitely a lasagna you should try to make.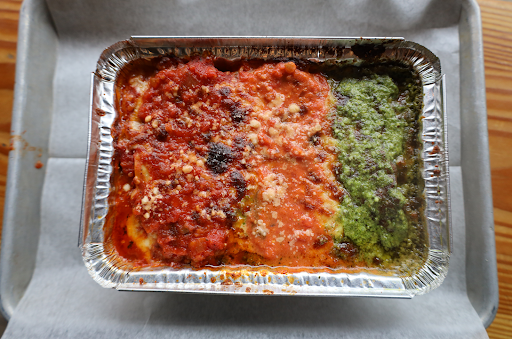 I  also made a lasagna with 3 sauces.  I used Marinara sauce, pesto and Vodka sauce.  This lasagna was really good.
The Secrets to Great Lasagna
If you can get these things down, you will be able to make great lasagna too.
The Sauce
When you make lasagna you need a great sauce. It could be a simple fresh tomato sauce.  All you need is some tomato puree, fresh basil and a couple garlic cloves. A quick Marinara sauce is really easy to make.  You can also buy a good jar of sauce at the grocery store.
The Cheese
A good lasagna needs the right types of cheese. I have developed a cheese mixture that is perfect for lasagna. It works with every type of lasagna that I make.  
I make sure I have cheese that is moist and creamy. That's why I use the best ricotta I can find. It's also important to season your ricotta mixture with salt, pepper and herbs. I like using parsley.
I make sure I have a good, flavorful melty cheese like mozzarella and provolone. 
I also like to have dry aged cheese in my lasagna, such as Parmigiano Reggiano or Pecorino Romano. I take a block of the cheese and grate it myself.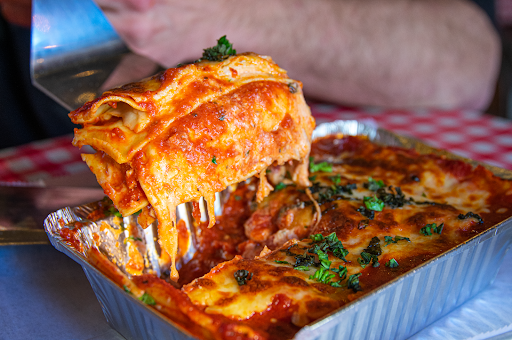 Layering
After a lot of tests, I found that the number of layers in the lasagna is the most important factor. When you carefully layer the lasagna you are adding moisture and flavor at every step. 
Many thin layers in a lasagna give the best results. It's important to put a little sauce in between every layer of noodles.
Take the time to distribute all of the ingredients among multiple layers, rather than make just a few really thick layers. The finished product will be so much better.  Layering flavors is always the key to great cooking. 
How Long Should You Bake Your Lasagna at 425 degrees
The cooking instructions that I'm giving you are for lasagna that has not yet gone through the baking process. It's for lasagna that has been put together in layers with the pasta, sauce, cheese and possibly cooked vegetables or meat, such as ground beef. It is constructed in a baking dish, casserole dish or disposable aluminum tray like we use to ship our lasagna.  Use a deep dish that will allow you to make lots of layers.
These step-by-step instructions are not to be used when reheating leftover lasagna that has already gone through the cooking process. It could cause it to overcook and become dried out.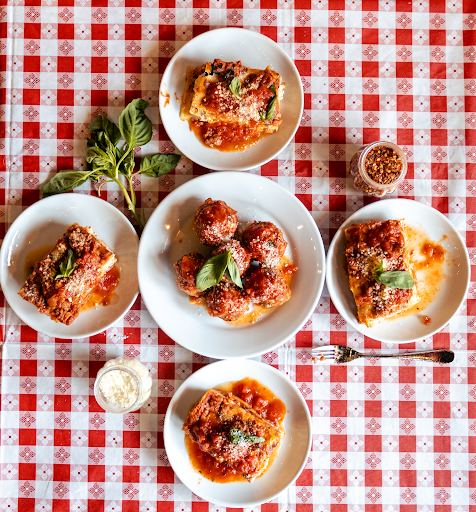 My Research on Baking Lasagna at 425 degrees
To come up with the best cooking time and best temperature for cooking lasagna I did some research. 
I checked out some frozen lasagna sold in the supermarket. I took them home to test them out. They each had different ways to cook their lasagna with different temperatures and cook time.
I cooked each one according to the instructions on the box. I tasted each of them and took notes. I recorded the time, temperature, taste and texture for each lasagna I tested.
I used that information and cooked my own lasagna. Each test had a different temperature and baking time. 
I tested them frozen and completely thawed. The reason I decided to do it both ways is because when I sell my lasagna I ship it frozen. When people receive it they may put it in the fridge where it will thaw out.
Also, this also allows people who are making their own homemade lasagna to cook it frozen or unfrozen.  
The cooking process is basically the same. The thawed lasagna just requires less time in the oven.
I would also like to point out that the cooking instructions that I am sharing are based on tests using a lasagna that weighs approximately 2 to 2 ¼ pounds and is in a pan that is ​​8.75 inches long by 6.25 inches wide by 1.75 inches deep.
If the size of lasagna you are cooking is different, the minutes of cooking required may vary. 
Instructions for Thawed
Preheat your oven to 425 degrees Fahrenheit.

Remove any plastic wrap from the lasagna.

Remove the lid from the lasagna.

Place the lasagna pan on a baking sheet or piece of aluminum foil in the preheated oven.

Now bake lasagna for 30-45 minutes.

Remove the lasagna from the oven when the top layer of cheese is bubbly and golden brown. 
Instructions for Frozen
If your lasagna is frozen you don't need to set your oven at a higher temperature. You can keep the oven at 425 degrees Fahrenheit. It's the bake time that will increase.
Preheat your oven to 425 degrees Fahrenheit.

Remove any plastic wrap from the lasagna.

Remove the lid from the lasagna.

Cover lasagna with aluminum foil.

Place the lasagna pan on a baking sheet or piece of aluminum foil in the preheated oven. 

Now bake the lasagna for 55-65 minutes.

Remove aluminum foil for the last 10 minutes.

Take the lasagna out of the oven when the top layer of cheese is bubbly and golden brown.
How to Test
Whether you are baking a lasagna from frozen or not, it's a good idea to make sure it's completely cooked through. The center of lasagna should be fully cooked. You don't want to serve a lasagna that is cold or even frozen in the middle.
You know the lasagna is fully cooked when the internal temperature is 165 degrees Fahrenheit. Sticking a meat thermometer in the center of the dish is a great way to check it out.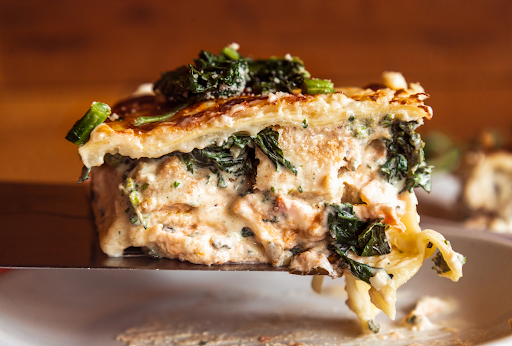 Resting
It's really important to let your lasagna rest for a little while after you take it out of the oven. The last thing you want is to cut into your delicious lasagna and have all of the cheese come pouring out of the layers like lava.
A general rule of thumb for me is to let the lasagna rest for about 15 minutes. That is enough time to let the cheese and sauce set up and it will still be hot when you serve it.  After it rests you can cut it into individual slices and serve it.
If you're in a hurry, you can probably get away with 5-10 minutes of resting.
How Long to Bake Lasagna at 425 FAQs
Can unbaked lasagna be frozen?
Yes.  Freezing lasagna before baking is the best way to do it in my opinion.  When you cook an unbaked freezer lasagna it will cook evenly and the ricotta cheese will not get dried out.  I believe that cooking a lasagna twice at a high temperature risks overcooking the ricotta. 
Do you have to use ricotta cheese to make lasagna?
No.  Ricotta cheese is common in a lasagna when you are in Southern Italy.  In the North you will see bechamel sauce in a Lasagna Bolognese.  I've also discovered that in some parts of the United States people make lasagna with a cottage cheese mixture.  
I like lasagna with ricotta cheese the most because it adds a lot of extra moisture to the lasagna.  Adding a little extra sauce to your cheese mixture is also a great way to add flavor and extra moisture.
What are the best lasagna noodles to use? 
I like using fresh pasta.  If you can't find fresh pasta I think the next best thing is the oven-ready noodles. You can usually find them at any grocery store as they've become more popular.  As the lasagna cooks, the pasta will soften in between all of the cheesy layers and sauce.