Picture this. The waiter comes over to the table and asks you what you'd like to drink. You want a glass of wine, but you have no clue what to order.
Wine and Italian food go hand in hand. But, believe it or not, most people are in the same situation when they go out to dinner. They don't know what wine to order.
If you're eating in an Italian restaurant, wine is pretty much a necessity. Especially if you're having pasta. But what is the best wine pairing for the pasta you ordered?
There are so many different pasta dishes you can choose from. I want to make picking a wine easy for you so I decided to make a quick and easy guide.
Pasta and Wine Pairing Suggestions
Here is a list of popular pasta dishes that you will find in most Italian-American restaurants. It's the sauce that is going to determine which wine to choose.
You'll need to be familiar with each Italian dish in order to make your wine and pasta pairings a breeze. I've included a wine to go along with each pasta dish.
Marinara Sauce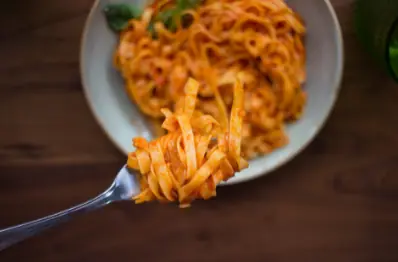 Marinara sauce is a simple tomato sauce. Most tomato-based pasta dishes in restaurants start out with a marinara sauce and then other ingredients are added. When you order chicken parmesan or eggplant parmesan you are usually getting marinara sauce. This is probably the most popular out of all the tomato-based sauces. Order a glass of Barbera.
Arrabbiata Sauce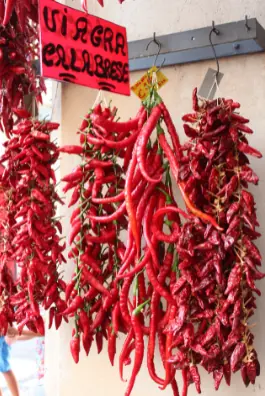 This is a red sauce for people who are into spicy flavors. It's a simple tomato sauce with hot chili peppers added for heat. It can contain fresh chili peppers or dried chili peppers. You might find some capers in an arrabbiata sauce. Get some Chianti.
→ Check our penne all'arrabbiata recipe!
Bolognese Sauce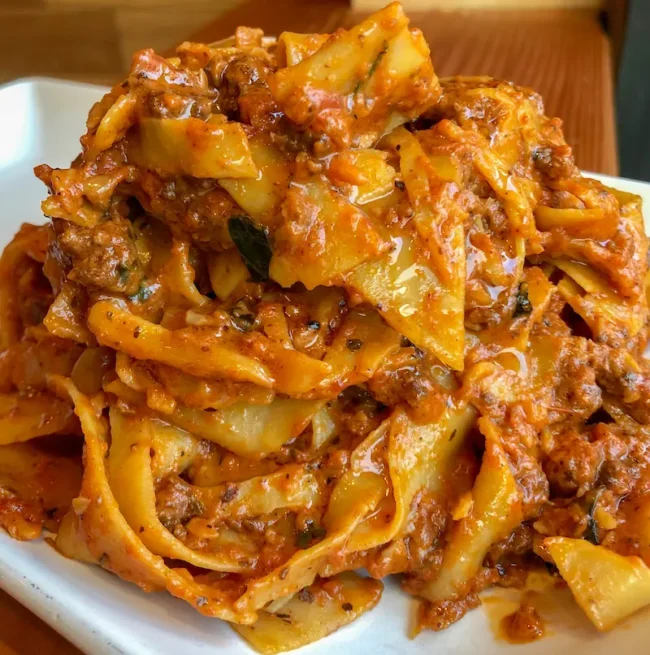 A Bolognese sauce is very common in Italian cuisine. It's a tomato sauce that is cooked low and slow with ground beef, pork, onion, carrot and celery. It comes from the city of Bologna. It's usually served with tagliatelle or another long and flat noodle. Serve it with a Barolo which is made with Nebbiolo grapes.
Puttanesca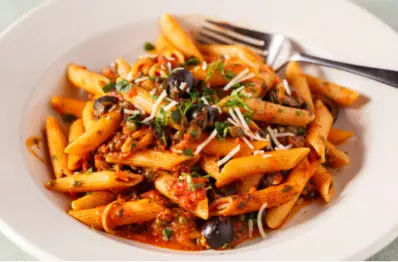 This is a sauce made with tomatoes, olives and capers. It usually has some anchovy in it for added flavor. The flavors in this dish pair well with a Nero d'Avola.
Vodka Sauce
There are tomato-based sauces and cream based-sauces. This is both! Vodka sauce is a creamy sauce that also has tomato sauce in it. It's an Italian-American favorite. You can go with a white or a red wine. Try a Pinot Bianco or a Sangiovese.
Carbonara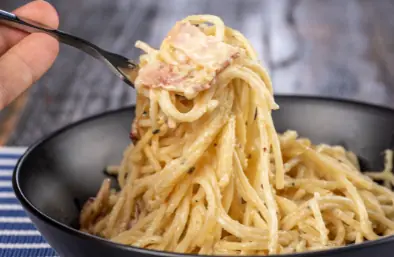 Spaghetti Carbonara is a famous dish that originated in Rome. It's a creamy sauce made with eggs, grated cheese and guanciale or pancetta. There are no tomatoes in this dish. Go with a Frascati from Lazio if you can find it.
Marsala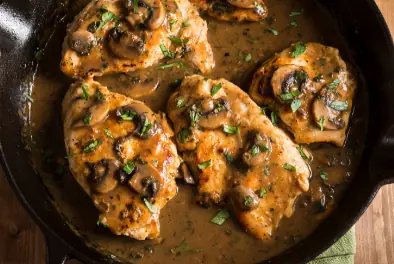 This is a mushroom-based pasta dish made with reduced Marsala wine. As the Marsala wine reduces it becomes sweet. It's commonly made with chicken or veal in Italian-American restaurants. It also usually has mushrooms in the sauce. This is another example of a dish where you could choose a white wine or a red wine. Try a Chardonnay or a Pinot Noir.
Aglio e Olio
This is a simple sauce made with garlic and olive oil. You can add some crushed red pepper and parsley. It's a nice vegetarian pasta dish. It's quick and easy to make. I like topping it off with freshly grated Parmigiano Reggiano. Serve it with a Lambrusco which is a sparkling wine made from red grapes.
Alfredo Sauce
This is a simple sauce made with butter, garlic, parmesan cheese and cream. It's usually tossed with fettuccine. The legend is that it was invented in Rome by a guy named Alfredo DiLelio. Sip on a Pinot Grigio or Sauvignon Blanc while diving into a big bowl of Fettuccine Alfredo.
Pesto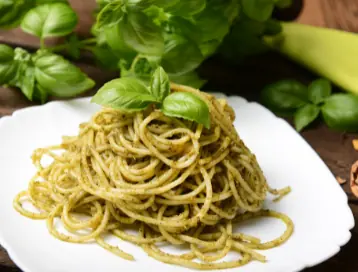 A simple basil pesto is made with fresh basil, garlic, olive oil, pine nuts and parmesan cheese. This sauce requires no cooking. Just toss it with some fresh pasta. Serve it with a Pinot Grigio.
Quick Wine Guide
With all of these pasta sauces to choose from, it can be overwhelming picking the right wine. The important thing is to order a wine that brings out the flavors of the dish.
There are specific wines that pair well with creamy sauces and cheese-based sauces. There are also certain wines that go well with tomato sauces.
Here is some Italian wine you should know about.
Chianti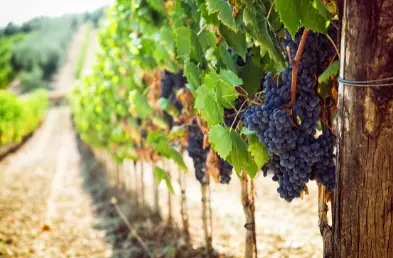 Chianti is a red wine produced in the Chianti region of Tuscany. It is made mostly with Sangiovese grapes. Chianti Classico are premium versions of the Chianti wine and have a high tannin content as well as high acidity. A Chianti is a good match for a rich tomato ragu like a Bolognese made with ground beef.
Cabernet Sauvignon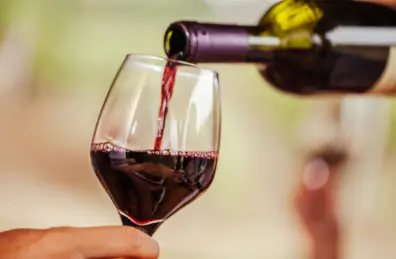 Cabernet Sauvignon is a red grape that is grown in many parts of the world. It has flavors similar to black currant and black cherry. This wine is good with rich red tomato sauces and cream sauces.
Montepulciano d'Abruzzo
This variety of grape is grown in the Abruzzo region. It is a great wine to have with many Italian dishes due to its soft tannins and dryness. Try it with a Bolognese sauce or a pasta all'Amatriciana.
Merlot
A merlot is a red wine that can be paired with several types of food. You can enjoy a glass with a meaty lasagna or a sausage cacciatore. This is one of the best red wines to buy when you aren't really sure what to get. The flavor profile allows you to drink it with dishes that would also go with Cabernet Sauvignon or Pinot Noir. A fully-bodied Merlot has hints of plum and blackberry with moderate tannins.
Cabernet Franc
Cabernet Franc is a red wine that is often blended with Cabernet Sauvignon. It has a hint of berries and medium to high acidity. It pairs well with meatballs in tomato sauce.
Pinot Noir
This is a red wine with medium acidity. It is a light bodied wine and is sometimes said to have a hint of mushrooms. It's actually a very good wine to pair with sauces made with Marsala wine and mushrooms.
Nero d'Avola
This red wine is a big deal in Sicily and is becoming pretty popular in the United States. It's a great choice if you usually order Cabernet Sauvignon and want to try something new. It has some fruity flavors like black cherry and plum. It has medium to high tannins and acidity.
Drink it with something meaty and rich like a big steak with a side of spaghetti pomodoro.
Pinot Bianco
Pinot Bianco is also called Pinot Blanc in France. This is a white wine normally found in Northern Italy. It is a full-bodied white wine that can be dry or sweet. It pairs well with pasta dishes that are creamy and cheesy. It's also the best choice for pasta pesto.
Pinot Grigio
This is also known as pinot gris in France. It is a white wine that is very common in the United States. It is high in acidity and is said to have notes of citrus and green apples. It is a good choice when pairing with seafood pasta and risotto dishes. Drink it with your spaghetti alle vongole or shrimp scampi.
Chardonnay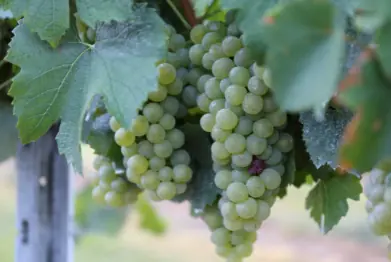 Chardonnay is a white wine that is very versatile. A light chardonnay is a white wine that can taste like tropical fruit or have notes of pear and green apple. There is also oaked Chardonnay which can have the flavor and aroma of cinnamon and vanilla. Chardonnay goes well with a mushroom pasta or a cream-based pasta sauce.
Petit Verdot
This is a red wine that has aromas of blueberry, blackberry and light cherry. It can also have floral notes with hints of lilac and lavender. It is known to be a good wine with grilled meats and BBQ. Try it with sausage-based sauces and meaty lasagnas.
The truth of the matter is that there is no wrong kind of wine to drink with your meal. You should try all different kinds and figure out what you like. That's the fun part.
Order your favorite wine and don't be ashamed. It doesn't have to be a fancy wine and it doesn't have to be expensive.
Drinking wine is about having a good time with your friends and family. Cheers!