If you've been reading this blog, you may have noticed that I shared a few ricotta pasta recipes over the summer. This article sums them all up.
Pasta and ricotta is a winning combination. You could just combine them with some parmesan shavings, and you'd already have a perfect dish.
When I was a kid and went to my grandmother's house after school, this was actually one of my favorite lunch meals. My Nonna made it at least once a week because she only had to boil the pasta in a pot, and she could do other tasks in the meantime. Then, all she had to do was add the ricotta and cheese straight out of the fridge, mix, and voila. A quick simple salad aside, and lunch was ready.
Of course, this is not the only way to use pasta and ricotta together.
Ricotta can become a very versatile dressing. You can add it to your favorite vegetables, or combine it with some tomato sauce, or even use it to tone down the acidity of some meat sauces. It also has good nutritional values, and is compatible with many diets (without exaggerating).
Below are my 7 favorite ways to use ricotta with pasta, plus a bonus meal that I'm sure you'll enjoy.
For convenience, I have divided the recipes into two groups. The first contains the simpler, quicker and healthier ones. The second, on the other hand, features the slightly more elaborate ones, which with a little patience will allow you to make some delicious meals without too much effort.
Easiest & quickest ricotta pasta recipes
Let's start with the basics. The 3 recipes below are all simple, inexpensive and ready in less than 20 minutes. And on top of that, they are also made with healthy ingredients and have good nutritional values.
They're the ones you want to know about looking for an easy weeknight meal or making lunch for the next day. They are also perfect for kids, as they are both good and healthy, and contain veggies that you can "hide" with a food processor if needed.
Pasta with Ricotta & Zucchini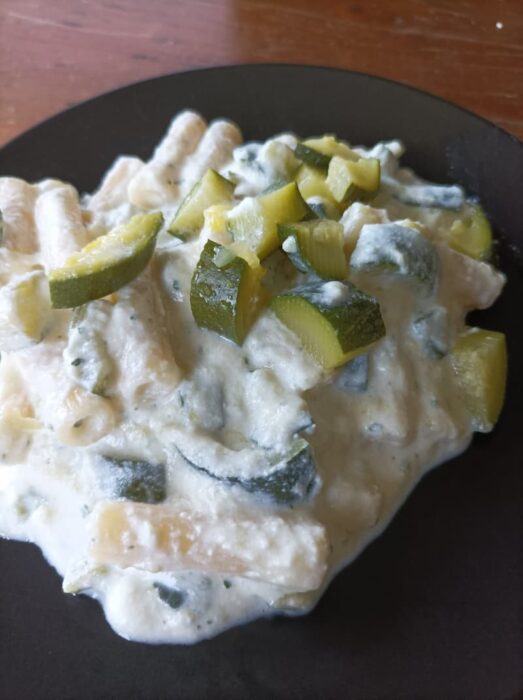 An easy and simple pasta recipe that you can use to make a tasty meal, while doing the bare minimum. Most of the sauce ingredients are already in the title.
You'll just need to cook some zucchini on medium heat with extra virgin olive oil, and boil your favorite type of pasta al dente according to the package directions. Then, in a large bowl, mix some fresh ricotta with herbs of your choice and a ladle of pasta cooking water to make a smooth cream. After that, add the pasta and zucchini, mix well, and you're ready to go.
If you want to add some extra flavor, you can add some lemon zest. And if you'd like it to be more colorful, try cooking some red peppers along with the zucchini.
Spinach & Ricotta Spaghetti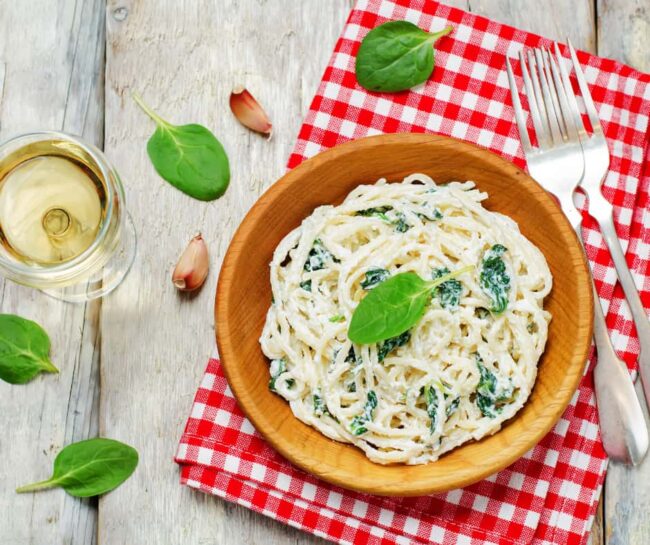 If you like long pasta shapes, here's an easy weeknight dinner for you.
Take some fresh spinach leaves, wash them, and boil them in a large pot of salted water. In the meantime mix the ricotta with a chopped garlic clove, olive oil, ground black pepper, grated parmesan cheese, and a combination of lemon zest and juice. After a few minutes, take the spinach leaves out of the pot with a slotted spoon, and let them dry on a kitchen cloth. Cook the pasta in the same water, then mix everything in a bowl and dinner is served!
If you like spicy food, add some red chili flakes. You'll love it.
Creamy Lemon Ricotta Pasta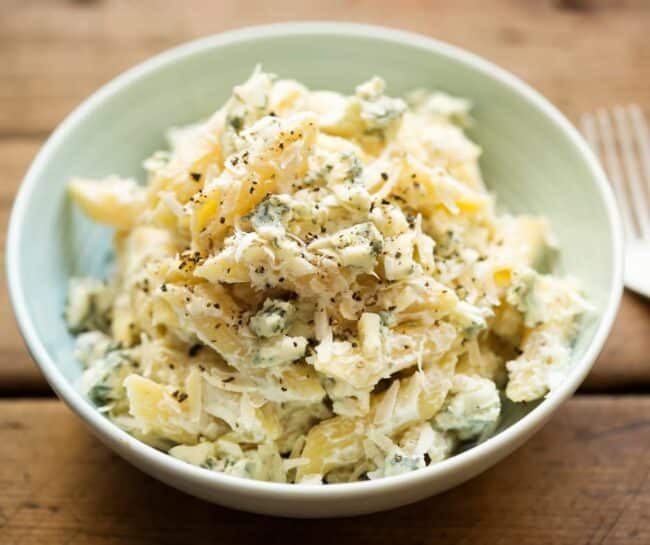 My favorite recipe among these 3. It's quick, and super refreshing! And as the name suggests, it's dressed with a creamy sauce that is simply delicious.
Bring a medium or large pot of water to a boil. Then salt it, and add some penne pasta and cook it according to the package instructions until it's al dente. After that, drain the penne, but make sure to save about 1/8 cup of the pasta water. You'll need it to make a mixture along with whole milk ricotta, parmesan cheese, and fresh lemon zest. You can add some lemon juice as well, if you wish. The starch in the pasta water will bond with the dairy parts and act as a thickening agent.
Add the sauce to the pasta, and stir well over low heat for one or two more minutes. Then let everything rest away from the stove for 5 minutes, add some fresh herbs and enjoy.

Easy ricotta pasta recipes for when you have guests coming over
These recipes might take a few minutes longer than the ones you saw above, but they are really delicious! Use them when you need to reward yourself with comfort food, or when you have guests coming over and want to impress them with minimal effort.
Ravioli Burro e Salvia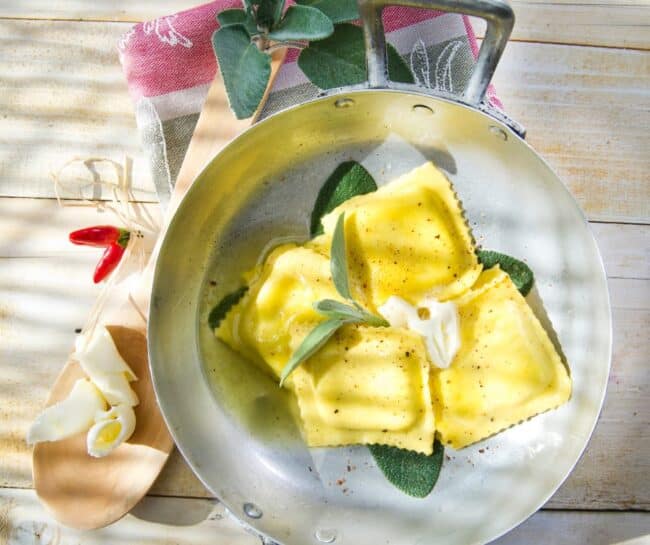 In this recipe, the ricotta is not in dressing, but in the pasta itself.
Ravioli can have different types of filling. Depending on local traditions, they can be stuffed with meat, fish or dairy. My favorite filling is made with ricotta and spinach. I've also shared a recipe for it.
Use it to make some homemade ravioli, then dress them with a mixture of butter and sage leaves. Easy and delicious!
Baked Cannelloni with Meat Sauce & Ricotta Filling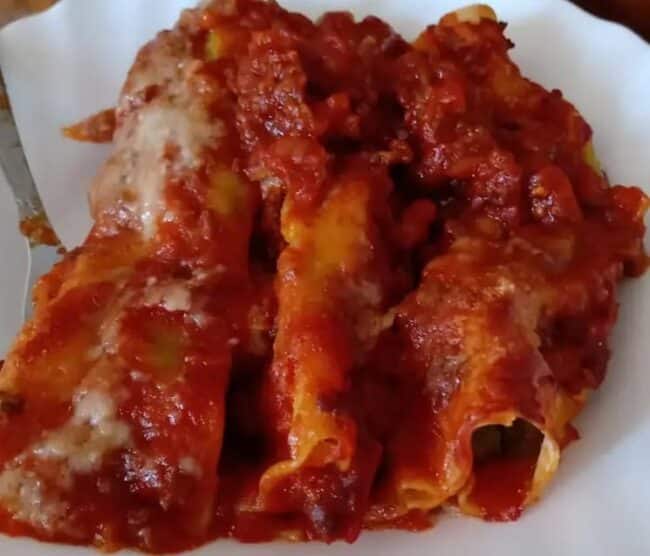 An easy comfort food made with ricotta and meat sauce.
You'll need the same ricotta filling I mentioned in the recipe above. Roll it up in some pasta sheets, dress the rolls with Bolognese Sauce, and bake in the oven for about 40 minutes. The pasta rolls will become a little crispy on their extremities, which will create a nice contrast with the creamy soul of the dressing.
Baked Ziti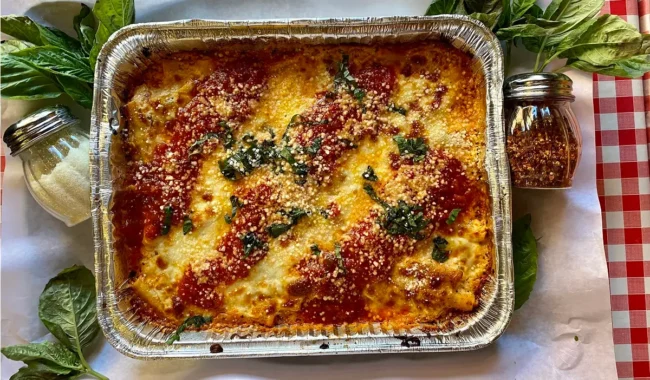 One of our most common recommendations. Baked ziti is perfect for both weeknight dinners and Sunday meals. It's one of the many recipes that has a tubular type of pasta baked in the oven in a mixture of ricotta, tomato sauce, and other ingredients. There are many similar dishes here in Italy. This one became particularly famous worldwide thanks to Italian-American immigrants, and you should definitely add it to your personal recipes.
Like baked cannelloni, it's very easy to make, but it requires about an hour to make, so make sure you have enough time for that.
Paccheri with 'Nduja & Ricotta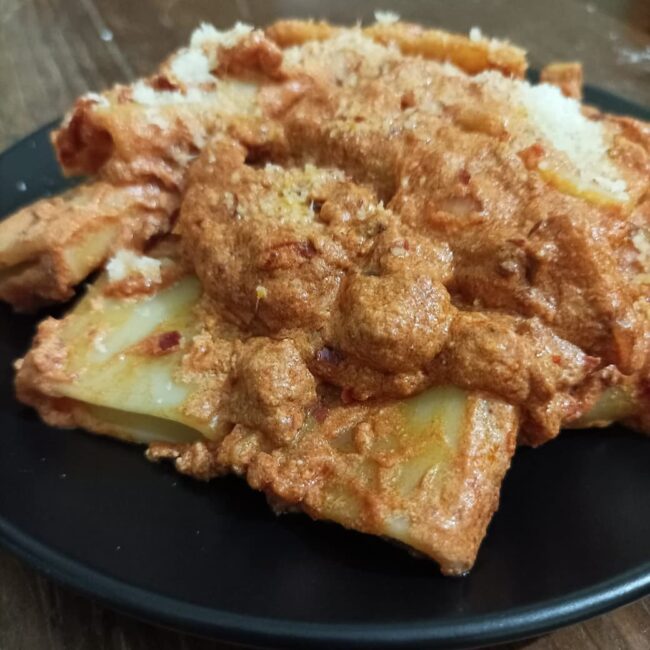 Of all the recipes in this post, this one is my favorite. It's made with paccheri (a big, thick type of pasta), a tomato & ricotta mixture, and (most importantly) 'nduja and caciocavallo cheese.
These are both typical products of Calabria. 'Nduja is a spicy sausage made with the fattest parts of pork and red pepper flakes. I often use it interchangeably with ventricina to give an extra kick to my meat sauces. Caciocavallo, on the other hand, is a local type of salty cheese.
Together, they make this dish unique. They're not always easy to find (I had to tour a couple of grocery stores to find them in my place), but if you can get your hands on them, try this recipe. It doesn't take much time to make, and it will fill your mouth with its creamy, delicious flavor and its mild spiciness. For me, it's the best possible combination.
Bonus: Homemade Ricotta Gnocchi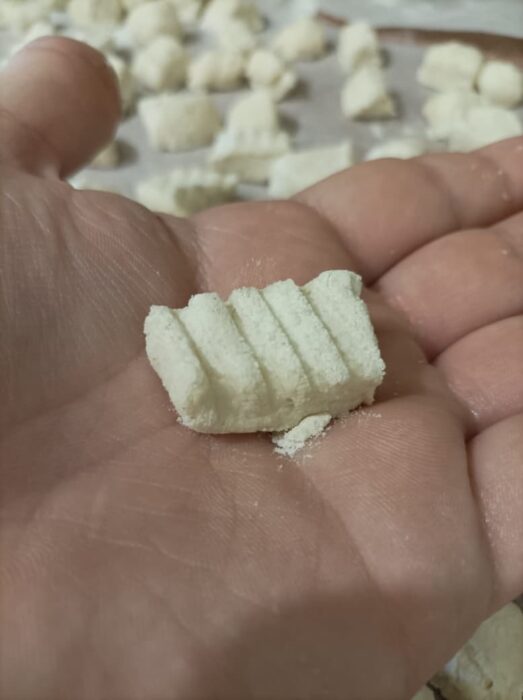 Technically, gnocchi are not really a type of pasta, but they are treated as such, so I thought I would still include this dish among my favorite ricotta pasta recipes.
This recipe is special because ricotta is not used for the dressing, but to make the gnocchi themselves.
Conclusion
With this list, you have at least on option for every type of meal. Weeknight meals, quick lunches, Sunday gatherings with your family. If you're making the first 3 recipes, you can also leave your pasta in the fridge overnight and bring it to work in an airtight container. Ricotta pasta tastes delicious even when cold, and I've made many office lunches that way.
If you didn't find enough inspiration, we also have some recipes that you can add ricotta to. Go check our Spicy Vodka Rigatoni, or our Italian Pink Sauce Recipe. I'm sure you'll love them.