If you are making meatballs and are wondering how long you need to cook them, you came to the right place. After all of the Italian meatballs I've been making lately, I consider myself a meatball expert.
A good rule of thumb is to bake meatballs for 25-30 minutes at 350 degrees fahrenheit. Every oven is different so the cooking time will not be the same for everyone. You will know the meatballs are ready when the internal temperature of the meatballs is 165 degrees. You can test the temperature of the meatballs by sticking an instant-read thermometer into the center of the meatball. 
There are many different ways to cook meatballs. Here are a some methods that you can try:
Bake meatballs in the oven

Fry meatballs on the stove

Deep fry meatballs in a deep fryer

Cook raw meatballs directly in a pot of tomato sauce
Since you came here today wondering how to bake meatballs in the oven, that's what we are going to talk about.
I'm not saying it's the best way to cook meatballs or even that 350 degrees is the best temperature for cooking meatballs. But if you want to make some homemade meatballs, this is a great way to put together a quick meal that everyone will enjoy. 
I am going to share a recipe with you so you can make some really delicious meatballs. I might be a little biased, but I think they are the best-baked meatballs around.
You'll probably get about 2 dozen meatballs from this recipe. It's really simple and only takes about 20 minutes of actual prep time. While the meatballs are cooking, pour yourself a glass of red wine, sit back and enjoy the aroma.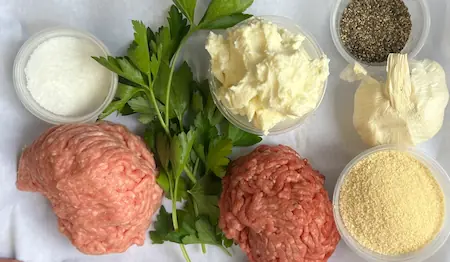 The Main Ingredients for Meatballs Baked at 350 degrees
Making great meatballs only requires a handful of simple ingredients. Here are all of the ingredients you are going to need.
Meat: I am suggesting a meat mixture made of ground beef and ground pork. You can make just beef meatballs if you prefer, but the pork adds a lot of flavor.
Garlic: Get some fresh garlic cloves and chop them up really fine. 
Parsley: You'll need fresh parsley. I like using flat-leaf Italian parsley chopped really small. 
Grated Cheese: You want a good grated cheese for your meatballs recipe. Pecorino Romano or parmesan cheese will work. Just make sure it's a good quality cheese. I suggest buying a big chunk and grating it yourself.
Breadcrumbs: I recommend using bread crumbs for this recipe because they are quick and easy to use. 
However, if you have the time, I suggest using some 72 hour fermented pizza bianca in your meatballs. Cut the pizza bianca into cubes and soak it in a little bit of milk. This is the best way to add some extra flavor to your meatballs. 
Eggs: You need some fresh eggs that will add as a binder for your meatballs.
Seasoning: All you really need is Kosher salt and black pepper. If you really love Italian seasoning, you can use it, but I normally don't. 

How to Make Your Meatballs 
The first step is to get your oven temperature ready. A preheated oven set at 350 degrees fahrenheit is important so you can start cooking as soon as your meatballs are formed. 
Now get a large bowl and add all of the ingredients. A large mixing bowl is important because it will give you enough room to really work all of the ingredients together. 
Start mixing everything together so all of the ingredients are evenly distributed throughout the ground meat. For the best results, use your hands to do the mixing.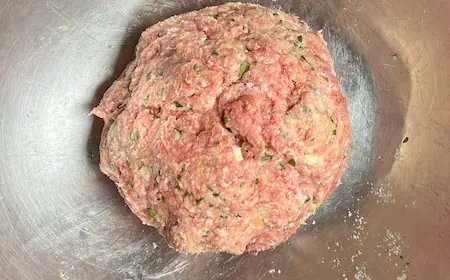 When everything is mixed together it's time to form your meatballs. 
The size of meatballs you make is up to you, but I think the perfect meatballs are the size of a golf ball. When I make meatballs I use a 2 ounce cookie scoop. You will end up with a 2 inch meatball. 
Get a large baking sheet and line it with parchment paper or aluminum foil. For the best results, if you use aluminum foil, spread some olive oil on it so the meatballs don't stick while they cook.
In a single layer, place the meatballs on the sheet pan giving them plenty of space. By not crowding them on the pan they will cook evenly on the outside giving them a nice crust. You want golden brown meatballs. The caramelization from the heat of the oven will create an extra dimension of flavors.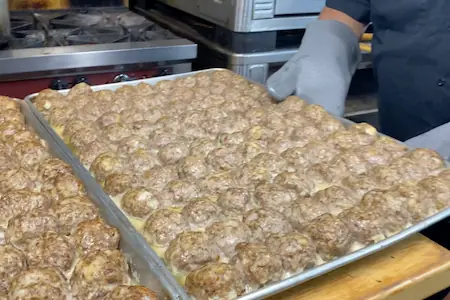 Place the sheet pan with the meatballs into the 350 degree f oven for 25-30 minutes. 
Remove the baking sheet from the oven. Check the meatballs with a meat thermometer to make sure they are 165 degrees in the middle. 
Meatballs Baked at 350 degrees FAQs
Can I freeze the meatballs after they are cooked?
Yes. I love leftover meatballs. If you make a large batch of meatballs you can freeze them. Let your cooked meatballs cool and store them in an airtight container or ziploc bag and store in your freezer. Frozen meatballs are great to have on hand when you need a quick meal. 
Can I freeze my meatballs in sauce?
Yes. You can prepare meatball parmesan in advance. Take an oven safe baking dish and add tomato sauce to the bottom. Place your meatballs in a single layer and cover with more spaghetti sauce and mozzarella cheese. Cover the meatballs with aluminum foil and place the prepared baking dish in the freezer. When you are ready to eat the meatballs just take them out of the freezer and cook them in the oven.
Do I have to serve the meatballs with pasta?
No. You can serve the meatballs as a main course with vegetables on the side. They go great with sauteed broccoli rabe or green beans. This is a great low carb option if you are trying to lose weight.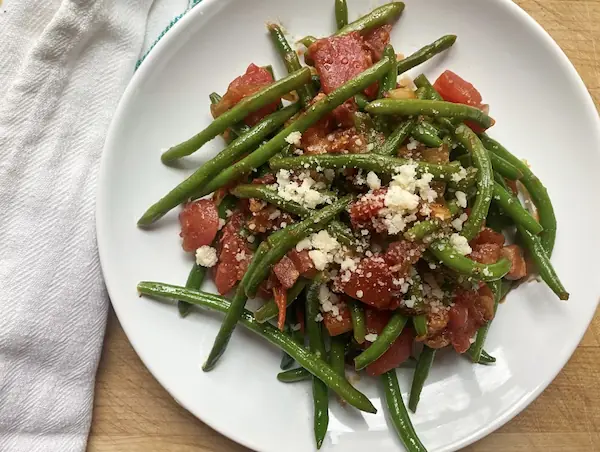 Do I have to cook my meatballs at 350 degrees?
No. The oven temperature will vary depending on the length you want to bake the meatballs and the size of your meatballs. If you want to bake them for a longer period of time you should set your oven at a low heat. If you set your oven at higher temperatures they will take less time to cook. Smaller meatballs will also take less time to cook than larger meatballs. 
Can I make meatballs with different types of meat?
Yes. This recipe will work with ground turkey and ground chicken. Chicken meatballs and turkey meatballs are a healthy option if you are looking for something with less fat. 
There are quite a few meat substitutes on the market that will allow you to make vegetarian meatballs. If you decide to try one of these products, I suggest using all of the ingredients in the recipe I have provided, except the meat of course, but cook the vegetarian meatballs according to the instructions on the package. 
Can I substitute garlic powder for fresh garlic?
Yes. If you would like to use garlic powder remember that you should use about ⅛ of a teaspoon for every fresh garlic clove. 
How many meatballs should I make per person?
Most of my research shows that you should prepare an average of 2-3 two (2) ounce meatballs per person if serving with pasta. That aligns with most catering companies who say that you should estimate 4-6 ounces of meat per person when planning a meal with sides.