I take a lot of pride in the mozzarella sticks we make at Mortadella Head.  We don't serve our customers the frozen mozzarella sticks that a lot of other pizza shops and restaurants use. 
We make big, homemade mozzarella sticks that people go crazy about.  They have a beautiful golden brown exterior that holds in a lot of delicious, hot, gooey cheese.
The best thing about our mozzarella sticks that they are so easy to make.  Anyone can do it at home.  You don't need a deep fryer or any special equipment.  All you need to do is follow a simple cooking process and you'll end up with hot, fresh mozzarella sticks. 
You can make a big batch of them and store them in the freezer.  The leftover mozzarella sticks are really easy to reheat.  I think the best way to reheat our homemade mozz sticks is in regular ovens that everyone has at home.
I am about to teach you how to make delicious mozzarella sticks from scratch.  You will learn how to bread them, fry them and freeze them for later.  I'm giving you a full step-by-step recipe. 
I'm also going to teach you how to reheat those fried mozzarella sticks at a later date so they are just as good as the day you made them. 
How to Make Homemade Mozzarella Sticks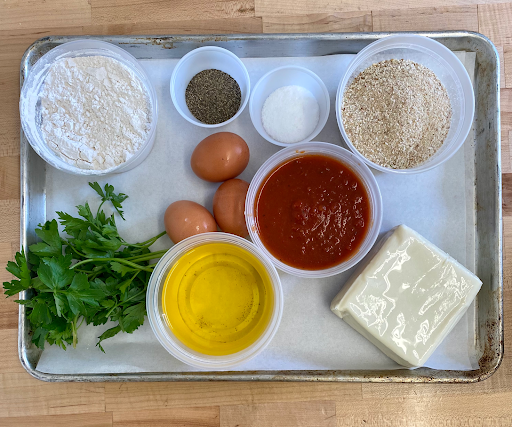 The main ingredients for homemade mozzarella sticks
You will be able to find everything you need at your local grocery store.
Cheese.  Use a good low moisture, whole milk mozzarella. It comes in a block.  Don't use a fresh mozzarella because it's too wet and you won't get that nice cheese pull you're looking for.
Eggs.  Use some good local eggs.
Flour.  All purpose flour is fine.  If you have something fancy like 00, that's fine too.  You don't really need the flour, but I find that with the flour you get the best results.
Bread crumbs.  I like using regular old breadcrumbs and seasoning them myself.  I add salt, pepper and parsley. You can also add garlic powder if you want.
Olive Oil.  Get a decent olive oil to fry with.  You don't need the most expensive olive oil on the shelf.  But I do think frying in olive oil adds better flavor to the mozzarella sticks.
Marinara Sauce.  Use a good tomato sauce.  Make it homemade or buy a good jar of sauce.
How to fry your mozzarella sticks
This is going to be easy breaded mozzarella sticks.  It doesn't involve any deep frying but you will still get the crispy coating you want.
After making these once, you'll probably never order the little frozen ones again.
Take your block of mozzarella and cut it into logs about 5 inches long and one inch thick.
This part is important because you want them thick enough to give you a nice cheese pull for the Instagram pictures but not too think so they don't cook all the way through.
Set up a simple breading station with flour,  beaten eggs and breadcrumbs.  Make sure you season everything well.  We want lots of flavor!
This is the fun part.  
Dredge the naked cheese sticks in flour making sure they get completely coated.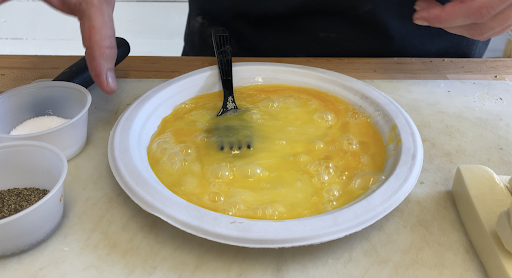 Then give them a dip in the egg mixture.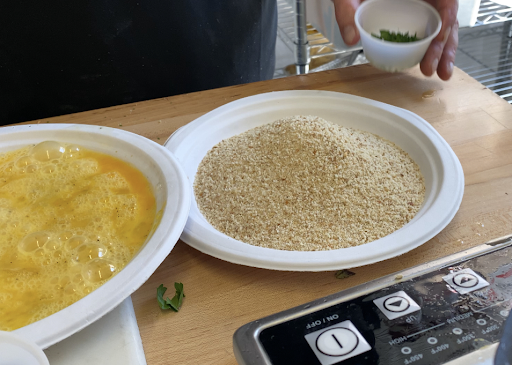 Finally roll them around in the breadcrumbs making sure you cover them well.
And repeat. Doing this twice will give you a crust strong enough to hold in all of the lava like cheese when you fry them.
Set the breaded mozzarella sticks aside and heat up some olive oil.  Put your frying pan on medium heat.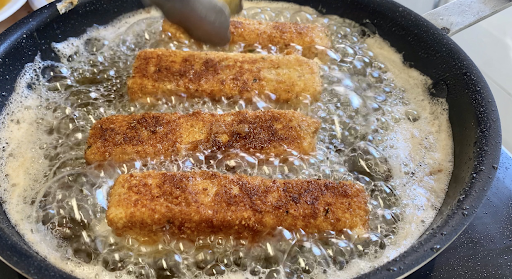 In a single layer, place your breaded mozzarella sticks in the hot oil. Fry the mozzarella sticks in the hot oil making sure they get crispy on every side.  It will take 1-2 minutes on each side.
Don't crowd the frying pan.  You want enough room so that each mozzarella stick has a chance to get the love it deserves.
When they are cooked, place them on a paper towel lined plate or wire rack to drain the excess oil.   Let them rest for a few minutes.

How to Freeze Your Homemade Mozzarella Sticks
If you have leftover mozzarella sticks you can freeze them for later.  It's really easy.
In a single layer, place them on a baking sheet giving space in between each mozzarella stick.

Place the baking sheet in the freezer for about 4 hours.

When the mozzarella sticks are completely frozen, put them in a freezer safe, airtight container.  You can stack 2 layers on top of each other if you separate the layers with wax paper.

Store the container in the freezer until you are ready to reheat them.
How to Reheat Your Fried Mozzarella Sticks
When you are ready to reheat your mozzarella sticks here's what you need to do.
Remove them from the freezer

Preheat your oven to 400 degrees

Put a layer of tomato sauce on the bottom of a baking dish

Place the frozen, pre-cooked mozzarella sticks on the sauce.

Put another layer of tomato sauce on top of the mozzarella sticks.

Add some grated parmesan cheese.

Bake the mozzarella sticks in the oven for 35-45 minutes

Enjoy!
Best Way to Reheat Mozzarella Sticks FAQs
Can I reheat store bought frozen mozzarella cheese sticks this way?
If you have store bought mozzarella sticks I suggest reheating them according to the instructions on the package.
Do I have to reheat them with tomato sauce?
No.  If you prefer, you can reheat them according to the my instructions, just leaving out the tomato sauce.
What are some good ways to use the leftover cheese sticks?
You can use the leftover cheese sticks as an appetizer, a side dish or a party snack. You can also put them in a meatball sub!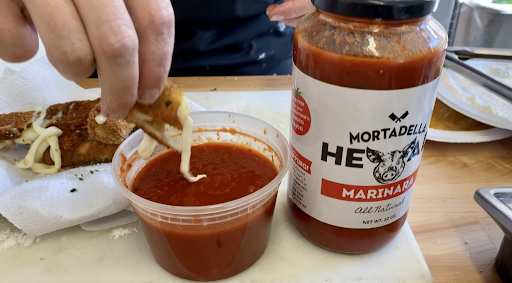 What are some good sauces to serve with mozzarella sticks?
You can always serve them with your favorite marinara sauce.  You already know that.  If you want to try something different, serve them with ranch dressing, Buffalo sauce or honey mustard sauce.  Make them for a quick snack when the kids get home from school.
Print
Mozzarella Sticks Recipe Card
---
1 lb. block of whole milk low moisture mozzarella
2 cups all purpose flour
2 cups plain bread crumbs
4 eggs
2 cups olive oil
3 teaspoons garlic powder
3 teaspoons dried parsley
3 teaspoons salt
3 teaspoons black pepper
---
Cut your cheese into sticks that are about 1 inch square and 5 inches long

Beat your eggs.

Set up a breading station putting flour, eggs and bread crumbs in separate plates.

Distribute garlic powder, salt, pepper and parsley evenly among flour, eggs and bread crumbs and mix well.

Perform the bread process on each cheese stick. Dredge in flour, then egg and finally breadcrumbs.

Do this twice for a crunchier crust.

Heat olive oil in a large skillet on medium high heat.

Fry the mozzarella sticks in the hot oil on all sides until golden.  It's about 1 minute per side.

Place the fried mozzarella sticks on a paper towel lined plate to remove excess oil.  

Freeze Mozzarella sticks according to the instructions above.