The Cheesecake Factory is a popular choice for a relaxing dinner, but what if you could make your favorite dish at home and make it even better?
The tomato basil penne at Cheesecake Factory is a beloved classic dish. It is made with three amazing Italian ingredients, after all. How could you not love a dish that marries tomatoes, basil, and mozzarella in a warm, garlicky pasta dinner?
You don't have to go out and spend a lot of money to enjoy the tomato basil penne. Make a homemade version in your own kitchen with this simple, delicious Cheesecake Factory copycat recipe! 
You can even whip up some different dinner options, restaurant-style, with this Cheesecake Factory Chicken Piccata recipe.

Tomato Basil Pasta Ingredients
Pasta: This recipe calls for penne, just like the Cheesecake Factory dish. You can always substitute your favorite noodle shape instead.
Chicken: Pan-seared chicken breast adds lots of protein and flavor to this simple pasta dish.
Canned Tomatoes: We are going to use both diced and crushed tomatoes in this recipe for a sauce that coats the pasta while also having chunks of tomato for a burst of flavor.
Fresh Basil: Fresh herbs elevate any meal. We will be adding some fresh basil to the sauce and drizzling the dish with pesto, which can be homemade or from a jar.
Garlic: I think what makes this dish so delicious is the garlicky tomato sauce, so definitely don't skimp on the fresh garlic. You can substitute garlic powder in a pinch, but I don't recommend it.
Mozzarella Pearls: I love how this dish uses mozzarella pearls instead of shreds so you get big, melty bites of cheese.
Variations
Try a different noodle shape:

We went with penne for this recipe because that's how Cheesecake Factory does it, but why not mix it up with a different type of pasta? I think this dish would taste great with cavatappi, farfalle, or even spaghetti.

Add some veggies:

This pasta dish is very simple, but you can always make it extra zesty and healthier with more veggies! I think sauteed onions or mushrooms would taste delicious and roasted broccoli or fresh cherry tomatoes would be perfect on top.

Make it spicy

: Add a little kick to your pasta with red pepper flakes. I personally think pepper flakes make every pasta dish better and this one is no exception!

Make it creamy:

Give your pasta a rich flavor and some extra creaminess by adding a splash of milk or some ricotta cheese to your tomato sauce.
What to Serve with Tomato Basil Pasta
The possibilities are endless when it comes to great side dishes for this tomato basil pasta!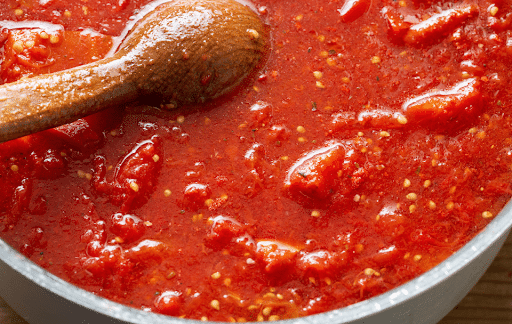 Frequently Asked Questions
Can I make this dish gluten-free?
You can make this dish gluten-free very easily by substituting the penne for your favorite gluten-free pasta.
How do I store and reheat leftovers?
This tomato basil penne is a great meal for leftovers or meal prep. To store leftovers, keep them in an airtight container in the fridge for up to a week. Reheat them in the microwave or in a skillet on the stove.
What can I use instead of mozzarella pearls?
If you can't find the pearls at your grocery store, try a ball of fresh mozzarella. You can cut the cheese into small pieces instead.
Can I use leftover grilled chicken?
Yes! In fact, cooking your chicken in advance is a great way to make this meal even faster to whip up. Just cut your grilled chicken into bite-sized pieces and warm it up in your tomato sauce for a few minutes.
Print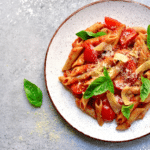 Tomato Basil Pasta
---
16 ounces

penne pasta

16 ounces

boneless, skinless chicken breasts

5

garlic cloves, minced

1

14.5-ounce can of diced tomatoes, including the juice

1

14.5-ounce can of crushed tomatoes

1 cup

fresh basil leaves, chopped

8 ounces

mozzarella pearls

Olive oil for cooking

½ cup

basil pesto

Freshly grated parmesan cheese

Salt and pepper to taste
---
Bring a large pot of salted water to a boil and add your pasta.

Cook the pasta al dente according to the package instructions.

While the pasta cooks, heat some olive oil in a large skillet. Sprinkle your chicken breasts with salt and pepper, then add them to the pan of hot oil. 

Cook the chicken for 5-7 minutes on each side, until the internal temperature reaches 165° F. Set your cooked chicken aside, covered.

In the same pan, add your garlic and saute until fragrant (1-2 minutes).

Add both cans of tomatoes and the fresh basil leaves to the pan and bring the mixture to a simmer.

Allow the sauce to simmer for 5-10 minutes, until the sauce has thickened a bit and the basil has cooked down. Add salt and pepper to taste.

While the sauce cooks, cut your chicken breasts up into bite-sized pieces.

Add the chicken, mozzarella, and cooked pasta to your tomato mixture and stir to combine. Continue cooking for a few minutes, until the mozzarella pearls get melty.

Top with parmesan cheese and a drizzle of basil pesto before serving.