Ri-cot-ta? Ra-got?
No matter how you pronounce it, one thing's for sure: if you've been in an Italian house before, you've heard of ricotta.
Probably from some old grandmother yelling about it, or a parent telling their fat little kid to stop eating so much of it.
Maybe you've even tried it.
It's typically found in a lasagna (unless you're in the midwest, they substitute it with cottage cheese), or in dishes like eggplant involtini.
But aside from it being used in common lunches and dinners, you can also find ricotta in many, many Italian desserts.
I know the words "cheese" and "dessert" sound like polar opposites, but hear me out on this one.
Ricotta is very creamy and sweet and adds the most perfect consistency to so many of your favorite desserts. Because of the consistency, it can really be used in anything.
Think Italian cookies, Italian ice cream, cheesecake, and pudding.
Today, I'm going to show you how to make a few of these easy recipes filled with simple ingredients to satisfy your sweet tooth. I promise, these are all so easy and make for the most delicious desserts.
Here are our favorite ricotta cheese dessert recipes!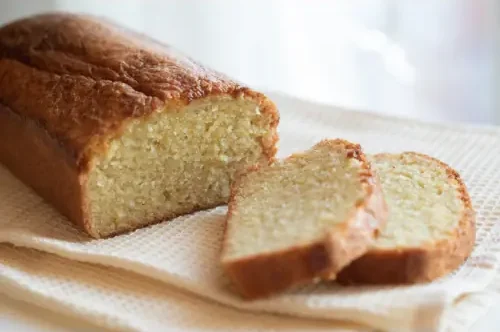 Prep Time: 20 min
Cooking Time: 60 min
Yield: 12
This is such a delicious ricotta dessert recipe, and one that's been a staple in Italian culture for ages.
It's so light and fluffy, and makes for the perfect sweet treat. It's so light, that you can even eat some leftovers for breakfast. Serve it as a dessert at a party, eat it all yourself—whatever works. It's so delicious, it'll be gone in minutes.
Ingredients:
1.5 cups of ricotta cheese
1.5 cups of sugar
1 stick of butter at room temperature
1.5 cups of cake flour
1 teaspoon of kosher salt
2.5 teaspoons of baking powder
3 eggs
Lemon zest from one lemon
1/2 teaspoon vanilla extract
3 tablespoons fresh lemon juice
Step by step instructions:
Preheat oven to 350°
Grease or butter a 9×5 inch loaf pan
Start off by adding most of your dry ingredients (flour, baking powder, salt, lemon zest) into a bowl and whisking them together
Add butter, sugar and ricotta cheese to a mixing bowl, mixing with a hand mixer for 3 minutes or until light and fluffy
Add the eggs, one by one, making sure each egg is fully incorporated before moving on
Mix in the vanilla, and lemon juice, again making sure everything is fully incorporated before moving on
Add the dry ingredients to the mixture gradually and mix by hand until just combined
Pour batter into pan and bake from 40-50 minutes, or until a toothpick comes out clean
Serve with powdered sugar
Wrap your lemon ricotta cake in plastic wrap and store up to a week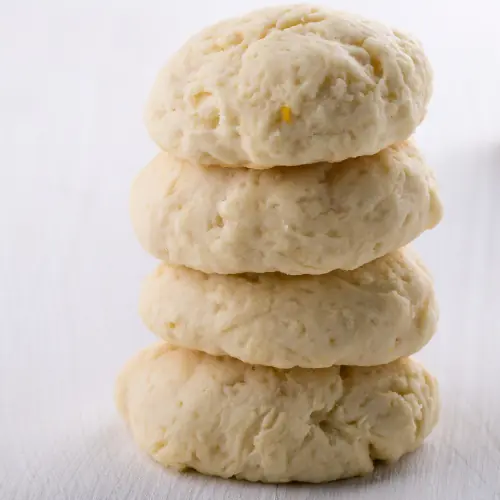 Prep Time: 20 min
Cooking Time: 60 min
Yield: 6 dozen
These cookies just remind me of the holiday season.
Every single Christmas and Thanksgiving, my aunt will have these out as soon as dinner ends. And every single Christmas and Thanksgiving, I always say I will only have two but end up eating six or seven. They're just that good!
Your kids will love these just as much as you do, and they won't even be able to tell that there's cheese in them. Make these once, and they'll become a new favorite in your house.
2 sticks of softened butter

2 eggs
15 oz (about one container) of whole milk ricotta cheese
4 cups of all purpose flour
1.75 cups of granulated sugar
1 teaspoon baking soda
Lemon zest or lemon extract (very small amount)
2 teaspoons of salt
1 tablespoon of vanilla extract
Ingredients for the icing:
1/4 cup of milk

1/2 cup of confectioners sugar
1 teaspoon of vanilla extract
Sprinkles (optional)
Method:
Preheat oven to 350°

Start off by combining flour, baking powder, baking soda and salt together and setting off to the side
In a large bowl, cream together butter, sugar and lemon zest
Add eggs one at a time to the ricotta cheese mixture, mixing until fully incorporated
Once eggs are folded in, add the ricotta and mix until thoroughly incorporated
Slowly add the flour mixture in, stirring until just combined. It's important not to over mix
Roll dough into tablespoon sized balls, and placed on an UNGREASED cookie sheet an inch or two apart
Bake for about 10 minutes or until fragrant
Whisk together icing ingredients and drizzle over the top of the cookies; top with sprinkles if you'd like
Store in an airtight container
Italian Cheesecake Recipe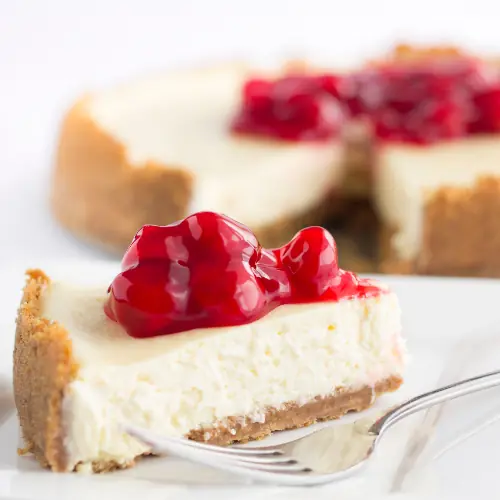 Prep Time: 20 min
Cooking Time: 50 min
Time in fridge: 8 hrs
Yield: 12
This is the kind of cheesecake you hope to get when ordering dessert out.Whenever I make this for my family and friends, they always think I bought it from a pastry shop window.
It's a beautiful, elegant dessert, and tastes just as good as it looks.
What I love about this Italian Cheesecake Recipe is that you can do just about anything with it. Substitute the springform pan for a cake pan, and cut up the final product into Italian Cheesecake Bars. They'll taste delicious! No matter how you decide to serve these, this tasty dessert will always be a massive hit.
Ingredients for the crust:
2 cups of graham cracker crumbs
1/3 cup of granulated sugar
1 stick of melted butter, room temperature
Ingredients for the cheesecake:
1 package of Philadelphia cream cheese, room temperature
4 cups of whole milk Ricotta cheese
3 brown eggs, farm fresh if at all possible
1 teaspoon of almond extract (can substitute pure vanilla extract)
1 teaspoon of salt
3/4 cup of sugar
1-2 teaspoons of lemon zest (can also use orange zest)
Dash of rum
Topping ideas: 
Fresh berries (or any kind of fresh fruit)
Chocolate chips
A simple dusting of powdered sugar
Directions:
Preheat oven to 325°
Spray and flour a springform pan
Combine crust ingredients into a large bowl, mixing thoroughly 
Line the springform pan with tin foil, and pat the mixture into the pan. Bake for ten minutes, taking out of the oven and letting cool while you prepare the rest of the cheesecake
Using a clean food processor or handheld mixer, beat ricotta cheese and cream cheese until completely smooth
Add in sugar, salt, and extract of your choice, again, beating thoroughly
Begin to add eggs slowly and one at a time
Finally, add your rum and lemon zest
Pour filling into the crust
Place cheesecake into the preheated oven and bake for about 50 minutes
Once finished, let cool on a wire rack. CAREFULLY remove the springform pan, making sure crust isn't sticking to the sides
Cover loosely in plastic wrap and place in fridge for 8 hours
Add desired toppings and serve