Did anyone else think that Cheesecake Factory was the epitome of fine dining growing up?
I know I did.
I went there every single year on my birthday, because to me, it had a Michelin star.
To be honest, that mid 2000s Tuscan style of decor must've had a chokehold on me.
And what kid doesn't want a massive plate of food, yielding them 3 full days of lunch and dinner?
To me, the Cheesecake Factory was an investment of sorts.
And I always got the same thing:
The chicken madeira.
Every year, without fail. Until my parents forced me to try new things.
And that's when I discovered the chicken piccata.
And it was good, don't get me wrong.
Who doesn't love floured pieces of juicy chicken, bathed in a lemony, white wine butter sauce?
But it was missing something.
Call me crazy, but it's just so evident when a dish is made just to be made, versus made as a labor of love.
I just knew that I could do a little bit better than the Cheesecake Factory chicken piccata recipe.
Because let's be honest, when you take it upon yourself to cook food; whether it's for your family, for yourself, for nourishment, for enjoyment, or just for plain survival, that's done for the sole purpose and intention of underlying love for yourself and for others.
Not to get super deep on this chicken piccata recipe, I'm just telling you why my own take on the traditional Italian dish is better than the Cheesecake Factory's.
Because, once you'll try it, trust me: you'll see for yourself that it is.
Here's my recipe for chicken piccata, one of my favorite dishes of all time, and the king of easy chicken recipes.
What You'll Need:
Chicken: Here's a hot take for ya: use thighs instead of breasts. Yep, you heard me right—chicken thighs are juicier and complement the dish better. Plus, they're less likely to dry out as they cook in the sauce with the rest of the dish. Use as much chicken as you like (I like to use a half pound) dice them up and dredge in seasoned flour.
Capers: My mom hates these. Personally, I think they add to the savoriness of this dish and compliment the lemons nicely. The recipe calls for two tablespoons of capers, but as long as you drain them, you can use three or even four tablespoons if you love them.
Fresh lemons: The heart and soul of this dish. Fresh lemon juice is ALWAYS the way to go when making chicken piccata. You'll want to use a few lemons here; some lemon slices will simmer in the dish at the end, and you may even opt to add some lemon zest into the dish for some flavor as well.
Butter: Use real butter. The good stuff. Kerrygold even. If there's something I will always splurge on, it's my butter.
White Wine: If you absolutely need to substitute this with anything, sub it with chicken broth and toss a few more lemon slices into your chicken piccata sauce. Your wine doesn't have to be the best wine on the market, most of the time I just use whatever Trader Joe's has on sale for that week (the last time I tried this, it was sauvignon blanc, but I've used pinot Grigio before too). Just don't use cooking wine.
Pasta of choice: You might even opt to toss this over mashed potatoes, or eat it on its own. But I couldn't ever eat this without pasta. Many will tell you the best pasta to eat with this is linguine, but any kind will do. Just trust me on this one.
Directions

: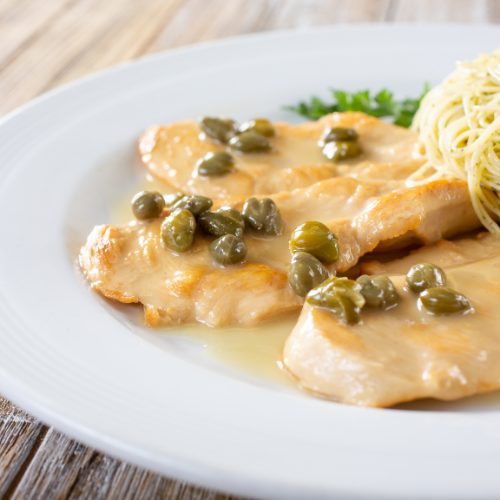 Cook your pasta as you begin frying the chicken in the pan. I'm not kidding you, that's how little time it takes for this dish to come together.
Dredge your diced chicken in some flour, seasoned with salt and pepper. Place them in a hot skillet over medium-high heat, with 1-2 tablespoons of olive oil. Cook them until they are golden brown on every side.
Remove the chicken from the skillet, and add two and a half tablespoons of butter, a cup of white wine, the juice from one lemon (or two tablespoons of lemon juice), lemon slices, and your capers. Season with salt and pepper.
Let the creamy sauce simmer for 2 minutes, to really allow the sauce to come together.
Add your cooked pasta and chicken back into the white wine sauce, along with a generous amount of pecorino Romano cheese, and stir to coat. If the sauce is too thick, you may opt to add a bit of pasta water.
Serve immediately with some shaved Romano cheese, extra capers, and extra lemon slices.
Chicken Piccata FAQ: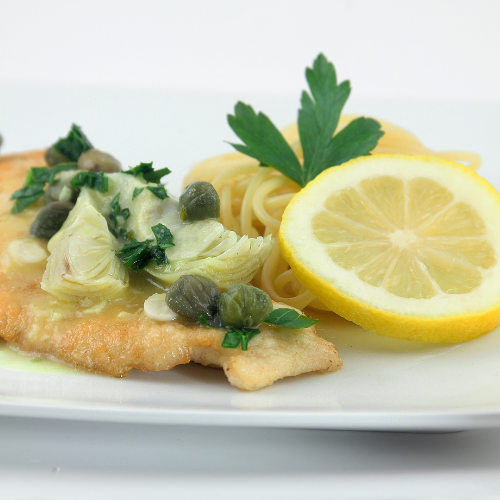 Q: I don't have any white wine on hand. What should I use?
A: Chicken broth! It's foolproof, you just need to add a little more lemon juice when you go this route. You may opt to add a teaspoon of lemon zest to the butter sauce as well, to really give this dish the tangy aromas you're looking for.
Whatever you do, don't use champagne. I made this mistake a few weeks ago when I was really in a desperate pinch, and it made the whole dish extremely bitter.
Q: I'd sooner die than eat capers. Is there hope for me?
A: I'd call you dramatic, but a lot of people seem to feel this way. Honestly, some chopped green olives will give you that nice salty taste you're looking for. You could also really live on the edge and use chopped anchovies. Those would be really nice with this dish. If neither of those sound appealing, just use a bunch of fresh chopped parsley and you'll be good to go.
Q: Are there better low carb alternatives to pasta with this dish?
A: There are a mountain of options. I love using chickpea pasta when I'm making this classic dish, and I've even used red lentil pasta and rice noodles before. But you could also use some cauliflower gnocchi (a popular choice among my house), or even whip up some potatoes and serve this over those. That would be extra delicious.
Check out this article if you want to know what the best dishes to serve with chicken piccata are!
Print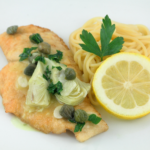 Chicken Piccata | Better Than Cheesecake Factory
---
Author:

Total Time:

15 minutes

Yield:

2

-

3

servings

1

x
½

lb chicken thighs, diced

2 ½ tbsp

butter of choice

1 cup

dry white wine

2 tbsp

capers, drained

¼ cup

flour

2 tbsp

olive oil

½

lb pasta of choice

½ cup

grated Romano cheese or parmesan cheese
Juice from

1

lemon

1

lemon, sliced

2 tsp

salt

2 tsp

black pepper

2 tbsp

fresh parsley, chopped
---
Bring a large pot of salted water to a boil, and cook pasta according to package instructions.

Season the flour with 1 tsp salt and 1 tsp pepper, and dredge the diced chicken in the flour mixture until fully coated.

Heat a large skillet over medium heat, and pour in your olive oil. Once hot, begin to fry your chicken until golden brown all over.

Remove the cooked chicken from the pan, and add butter, while scraping any leftover brown bits from the bottom of the pan.

When the butter melts, add in the white wine, lemon juice, lemon slices, drained capers, parsley, the remaining salt, and remaining pepper, stirring with a wooden spoon. Let simmer for one minute.

Add the pasta, chicken, grated Romano cheese, and some extra pasta water if desired into the creamy lemon sauce. Let sit for a few minutes, and serve immediately, topping with extra lemon slices, grated cheese, and parsley.

Store in an airtight container for up to five days.
Prep Time:

5 Minutes

Cook Time:

10 Minutes