If you like cooking meat, at some point in your life you've asked yourself which are the best herbs for pork. And if you're like us, you've probably made countless tests to find perfect mix. 
Is it done through seasoning or rubbing? Does it have fresh or dry herbs? Everyone has their own favorite recipe. 
Here at Mortadella Head, we use a mix of herbs that we learned from one of our travels to Italy. It's what makes our pork so special, and it's also great on many other cuts of meat.  
We use it every day, and I'm sure that after reading this article you'll want to try it too!
How we learned which were the best herbs to use with pork
We were on a mission we didn't even know we were on.
It was one of those usual trips we would take in the fall. Every year Sebby's father would spend part of the year in his hometown of Augusta, Sicily. We'd go to visit him and do our best to make it a work trip at the same time.
We go for a week. We fly into Rome…stay for a few days and do some Mortadella Head research. Then we head to Sicily.
Before we left we reached out to Sophie Minchilli. We met her when she was the translator at our pizza class with Gabriele Bonci. (Now she's one of the best foodie tour guides in Rome).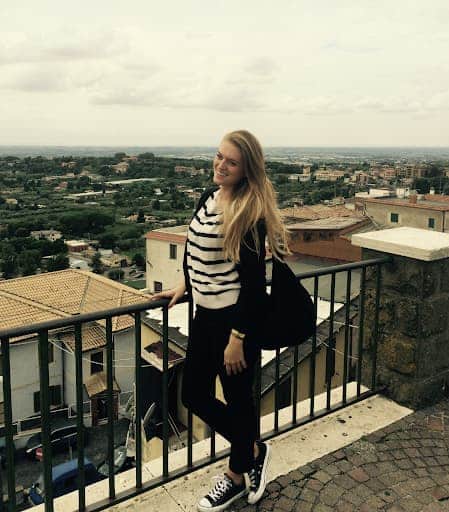 We told her we were coming into town and we wanted to learn about porchetta. She did what she does best and put together a full day of porchetta eating on the outskirts of Rome.
We rented a car and headed off into the Alban Hills just outside of Rome. We stopped at Castel Gandolfo where the Pope has a summer home. Then, we visited some really cool little towns that day where we had some really great porchetta and wine.
Where they make the best porchetta
In the mid-afternoon, we arrived in Marino, a little town about 13 miles to the southeast of Rome. We had just missed the festival known as Sagra dell'uva, or "Festival of Grapes". They say this is a really good time. The fountains in the town are literally flowing with wine instead of water. 
Talk about a party!
When we got into town we stopped in a couple places and tasted some good porchetta. Finally, after walking a few blocks we got to the place we had heard so much about, Il Norcino Bernabei.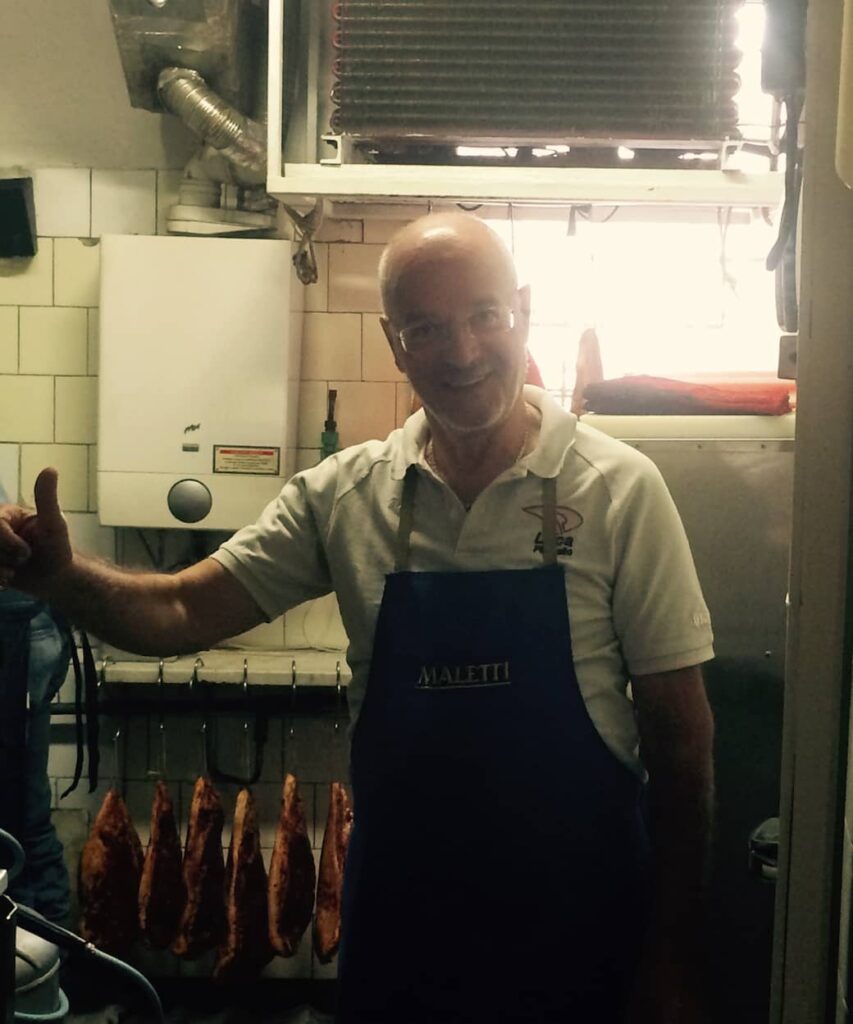 It's a little shop that's been open since 1912. It specializes in pork and is known for working with local farmers. They make some really beautiful prosciutto, capicola, and sausage. But what they are really known for is the porchetta. Some people say it has the best porchetta in all of Italy.
It's run by Vito Bernabei. He's kind of a superstar to people who are interested in porchetta. We heard rave reviews about him from Gabriele Bonci and he's been written up by Andrew Zimmern, Elizabeth Minchilli, and Katie Parla.
These are all people who really know what they are talking about when it comes to food.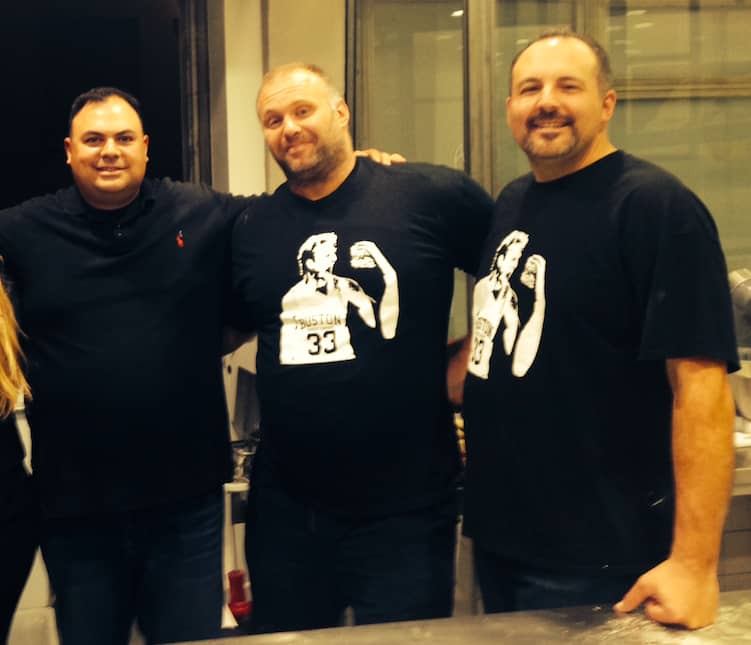 Vito was a really nice guy. He took us into his kitchen and showed us around. We got to see where the famous porchetta is made and we tried some that just came out of the oven.
It was awesome.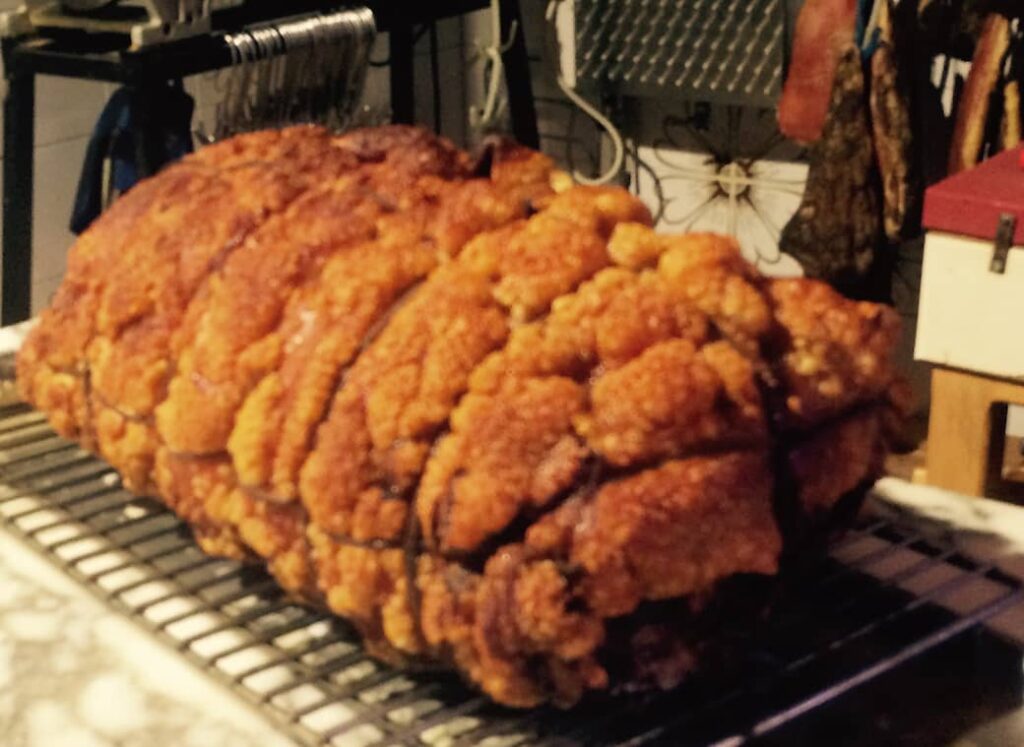 I remember tasting it and thinking, "I want to ask this guy for the recipe, but is he going to yell at me and kick me out of his store?"
The next thing I know he just starts telling us how he makes it without me having to ask! It was great.
He pretty much gave us a summary of the entire porchetta-making process. He explained how he butchers the pig, the ingredients he uses and how he cooks it.
What I remember being the most surprised about while he was telling us his recipe is that there were no fresh herbs. No fresh rosemary leaves, fresh basil leaves or even fresh garlic.
It was basically a dry rub with really simple ingredients.
He explained that a dry rub is the best way to add intense flavor to meat.
It is exactly what it sounds like it would be. A blend of dry herbs and seasoning that is rubbed onto the meat before cooking.
When we got back from our trip we headed straight to the test kitchen and started trying to replicate Vito's simple recipe.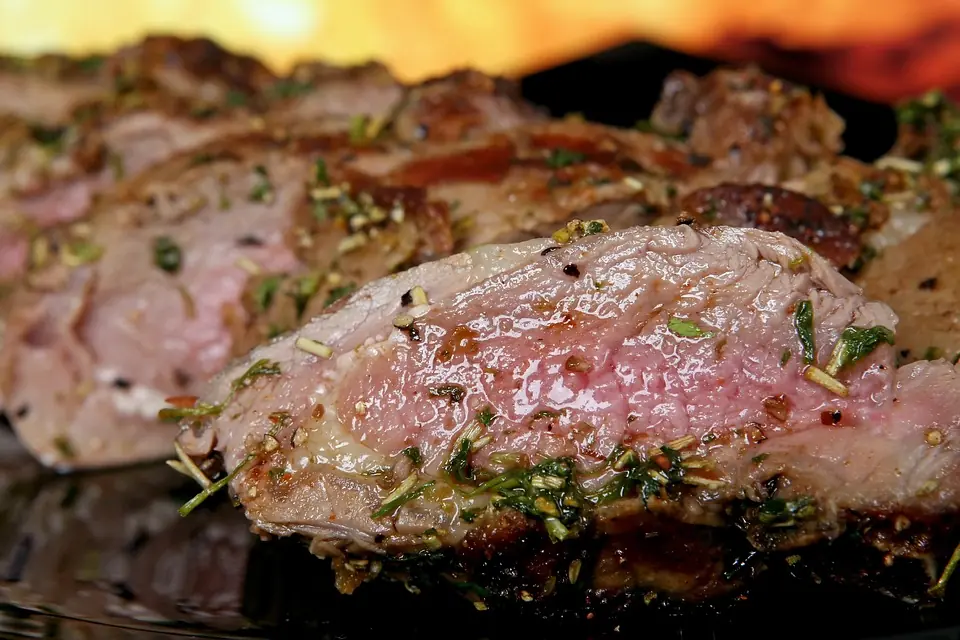 We weren't really sure about the exact ratio of each ingredient he used in his dry herb rub. We only knew that it had salt, black pepper, garlic powder, rosemary, fennel pollen, and crushed red pepper flakes.
After making a few different versions, we finally came up with one that we like the best. And it's such an easy recipe!
You can find all of the ingredients at the grocery store, probably with the exception of the fennel pollen. We'll talk more about that later.
What I love about this dry rub is that it doesn't just go with porchetta. It goes great with so many different cuts of meat.
You can use it with so many different pork recipes. It makes sense to make a big batch of the dry rub and store it in an airtight container so you have it ready when you need it.
Here at Mortadella Head, we use Vito Bernabei's famous recipe with our slow cooked roast pork. We put it in the oven, low and slow until the meat just falls apart. It's basically a pulled pork with the flavors of a porchetta.
That's why we call it our "pulled porchetta"!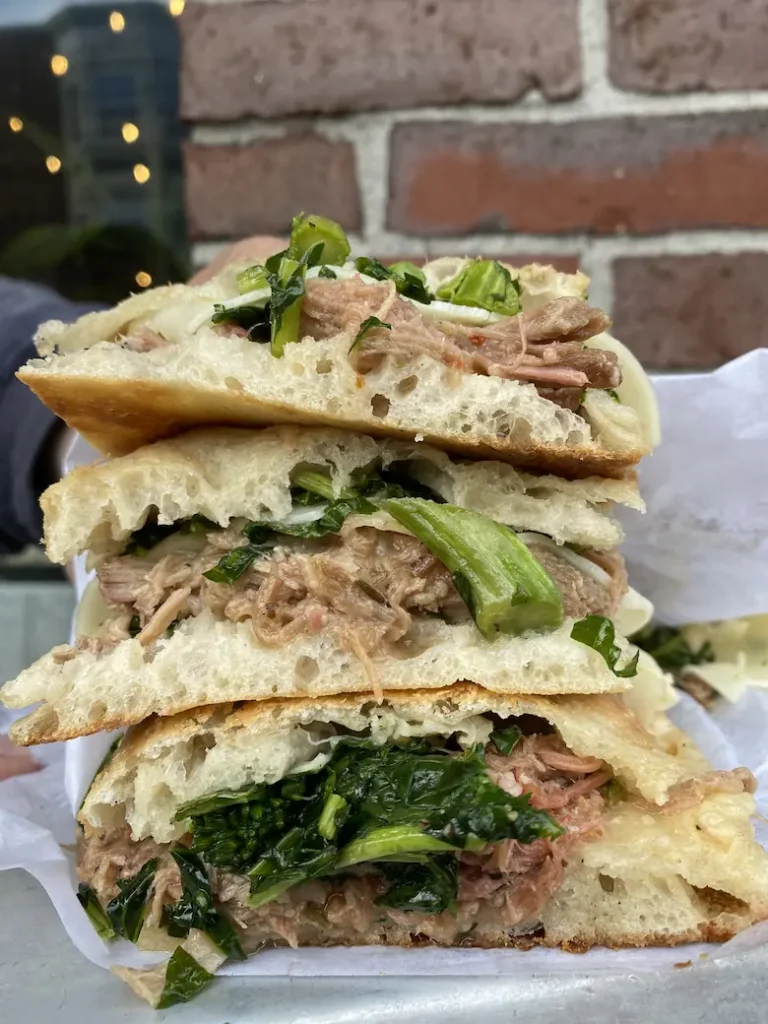 After making a bunch of test batches, here is the dry rub recipe that we liked the best.
1 tablespoons ground fennel seed (Bernabei uses fennel pollen, but that can be hard to find)
3 tablespoons garlic powder
3 tablespoons peperoncino, or red pepper flakes
9 tablespoon Kosher salt
3 tablespoons dried rosemary, chopped
3 tablespoons freshly ground black pepper
Place all ingredients in a large portion-bag and shake until thoroughly mixed.
If you have some favorite herbs you love, feel free to add them to the mix!


Different ways to use the best herbs for pork
Now that you know which are the best herbs for pork, let's see what you can do with them.
For our pulled porchetta I use a Boston Butt of pork. First I let the meat come to room temperature. When applying the dry rub, first I lightly coat the meat with olive oil. It adds great flavor and helps the rub stick to the meat.
Then I put the meat into a roasting pan, fat side down. Sometimes I add a little bit of white wine and chicken stock to the bottom of the pan to add flavor and moisture. Then I tent the pan with aluminum foil and put it in a low heat oven for several hours.
When it comes out of the oven I let it rest for about 30 minutes before I pull it apart. I love this with a side of roasted broccoli rabe and squeeze of fresh lemon juice. Both of these compliment the richness of the fatty pork.
The great thing about this dry rub recipe is that it also goes great with different cuts of meat.
I've used it with roasted pork tenderloin and a boneless pork loin roast.
I've also made some beautiful herbed pork chops. I like cooking them in a cast iron skillet so they get a really great golden brown crust.
Give them a good sear on both sides and then stick the pan in a hot oven for a couple minutes. This method helps keep them juicy and you'll avoid dry pork chops.
Let your meat rest for a few minutes before you cut into it.
You can also get a pork roast, add the dry rub and cook it in a crock pot. It makes a really succulent roast. It's a great way to feed the whole family on busy weeknights.
Cooking this slow cooked pork in advance is a good idea. It tastes great the next day so you can make your meal plans for the whole week. Bring it to lunch in a sandwich or have it for a weeknight dinner with a couple side dishes.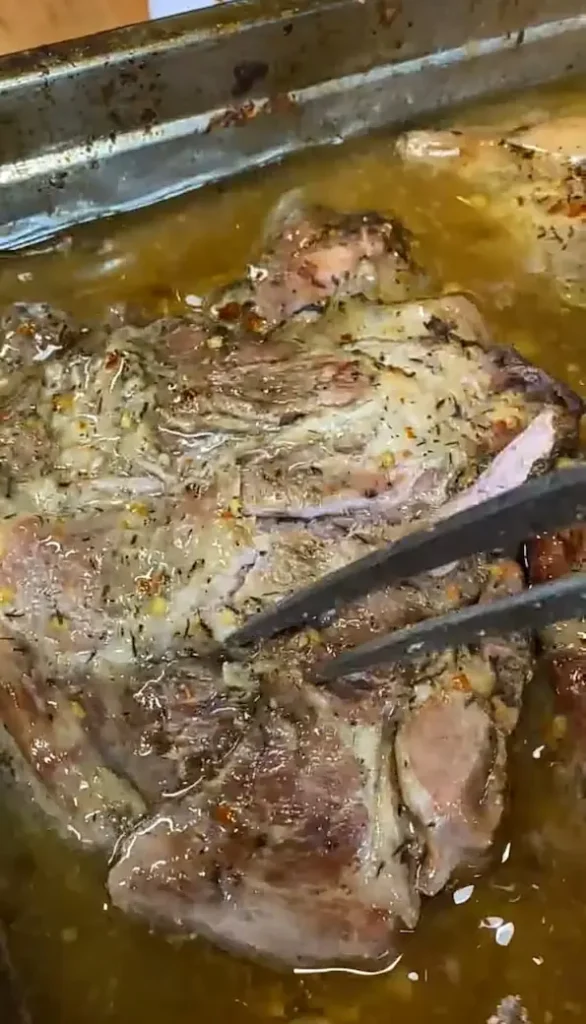 What to serve with your herbed pork?
Wine: Try to find a Frascati. It's made in the same hills we drove through to find the best porchetta and it was perfect. Serve it chilled.
Side Dish: Roasted broccoli rabe or sauteed chicory…they have a great bitterness that balances out the rich pork.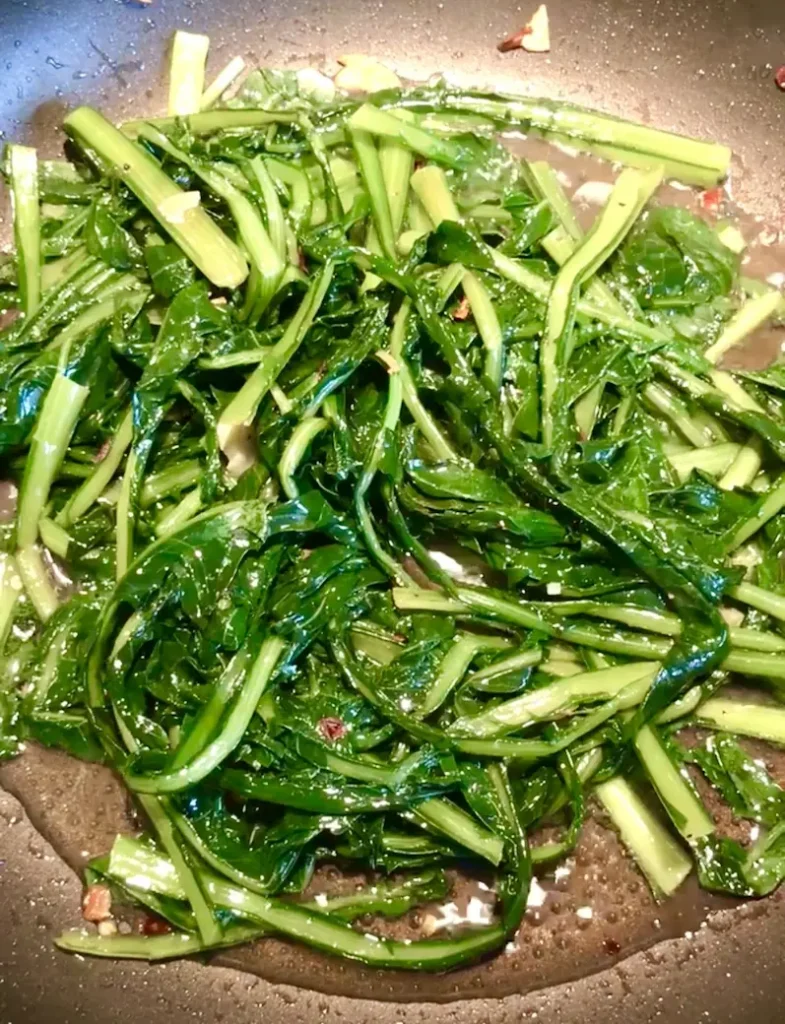 Bread: Roman style pizza bianca is made for this food. Take a warm piece, cut it open and fill it with the pork and broccoli rabe. If you can't find Roman pizza bianca near you can try making it. It's easy!
This was my take on which are the best herbs for pork. Now I'm curious to know what you think of the recipe we learned from Vito, so let me know in the comments. And if you want to try it first, come visit us at our place in Somerville, MA. We make some delicious Italian American food!
See you next week!