What do you get when you take some fresh tomatoes, parmesan cheese, and fresh basil and make it into a creamy sauce? A tomato Alfredo sauce. One that's gonna knock your socks off.
Growing up, we never really ate pink sauce much, or even Alfredo sauce for that matter.
Homemade Alfredo sauce made my mother's stomach hurt, and pink sauce wasn't even on our radar half of the time when preparing for our weekly Sunday dinners with marinara sauce or the classic Italian Sunday Sauce.
It wasn't until I started living on my own, and exploring the culinary traditions of my friends' families that I really fell in love with this delicious sauce.
What I like about pink sauce is that it's essentially just an alfredo sauce with essences of tomatoes and basil.
It's truly the best of both worlds when you're craving both a creamy sauce and a tomato sauce. Plus, when the pan is deglazed with a splash of vodka, it makes the most perfect vodka sauce you've ever tasted.
Ingredients:
Onion: I like using white onions for this one, it adds a wonderful flavor. If you don't have any onions, you can always use shallots!
Garlic: Where there's onions, there should be garlic. I don't make the rules.
Butter: This is the key ingredient to a creamy Alfredo sauce.
Crushed Tomatoes: This is the easiest option when it comes to this recipe, but you can use whatever kind of tomatoes you would like. Have whole tomatoes? Blend them up. Late summer tomatoes? They're going in. Cherry tomatoes? Crush them up in the pan, and then use an immersion blender to emulsify everything. It's foolproof.
Heavy Cream: This is the best thickening agent when it comes to making a delicious creamy Alfredo sauce.
Seasonings: Aside from your usual salt, black pepper, crushed red pepper flakes, this sauce also uses basil and parsley to enhance flavors.
Grated Cheese: We always use grated Romano cheese with this velvety sauce, but you can use parmesan cheese if you'd like!
Pasta: My favorite pasta shape would have to be rigatoni, but you can use whatever you'd like.
How To Make This:
In a large saucepan, saute your onion in some extra virgin olive oil over medium-high heat until soft and translucent. Add in your garlic and butter, and stir until fragrant. This should take about two minutes.
If you're adding vodka into your sauce, this is the time to do it! Let the flame come about, and simmer until it completely reduces.
Once your garlic is fragrant, add in your crushed tomatoes and basil, and bring the sauce to a simmer. Let the red sauce sit for about 15 minutes to allow the flavors to come together, stirring occasionally.
Add the heavy cream to the fresh tomato sauce, and let it simmer for another 5-10 minutes. This is what's going to make your sauce thick and creamy!
As the heavy cream incorporates, bring a large pot of salted water to a rolling boil, and add in your pasta. Cook according to package instructions, making sure you save a bit of pasta water toward the end..
After the heavy cream reduces, add in your grated cheese, and stir until the cheese is completely incorporated into the sauce. Add the rest of your seasonings, sampling and adding whatever else you'd desire. If needed, add in some of the leftover pasta water.
Add the creamy sauce directly into the pot of cooked pasta. Stir well, making sure the pasta is thoroughly coated. Serve immediately and love your life!
FAQs:
Q: I don't love vodka, but I want to add something else to my pasta to give it more of a bite. What should I add?
A: I love adding white wine whenever I get this urge. Using a dry white wine gives your creamy Alfredo sauce a unique flavor that is to die for.
Q: What kind of meat should I add into this?
A: A lot of people might tell you chicken is the best option for this (chicken Alfredo, duh), but I have to be honest with you, it's not my favorite. I love browning some sweet Italian sausage and adding them directly into the pot with the sauce as it simmers. It really enhances this pasta dish and takes it to the next level. If you don't have sausage but still want to add meat, some browned ground beef would also taste wonderful.
Q: The heavy cream may have curdled in the sauce. What did I do wrong?
A: This could have happened because the heat for the sauce was too high. When it comes to adding heavy cream, even keeping your sauce on medium-low heat may even be too high. Next time, try keeping your stove on the lowest setting and slowly adding the cream in, a little bit at a time.
What To Serve With Creamy Tomato Alfredo Sauce:
Vegetable: I love enjoying this delicious pasta recipe with a side dish of sauteed spinach with olive oil and garlic. It's just delicious! A green salad would also be amazing with this as well.
Drink: White wine all the way with creamy pasta sauces, preferably one on the dryer end. It's how it has to be.
Dessert: Since this tomato cream sauce is a bit heavier, I recommend something light and airy to satisfy any sweet cravings after the fact. These cookies would be perfect!

Print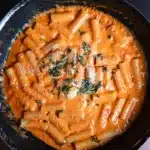 Tomato Alfredo Sauce Recipe; Fresh Pink Sauce Pasta
---
2 tablespoons

olive oil

1 tbsp

unsalted butter

1

small onion, finely chopped

2

cloves garlic, minced

1

(14-ounce) can of crushed tomatoes

1 cup

heavy cream

1/4 cup

vodka (optional)

1/2 teaspoon

red pepper flakes (adjust to taste)

Salt and freshly ground black pepper to taste

1/4 cup

fresh basil, chopped

1/4 cup

fresh parsley, chopped

1/2 cup

grated Romano cheese

1

pound pasta
---
In a large skillet or medium saucepan, heat the olive oil over medium heat. Add the butter, chopped onion and garlic, and sauté until they become soft and translucent, about 3-4 minutes.

If using vodka, add it to the skillet and cook for an additional 2-3 minutes, allowing it to reduce slightly.

Stir in the crushed tomatoes and basil. Bring the mixture to a simmer, then reduce the heat to low and let it cook for about 10-15 minutes, allowing the sauce to thicken and the flavors to meld.

Add the heavy cream to the sauce and stir well. Simmer for an additional 5-7 minutes, stirring occasionally, until the sauce thickens further and becomes creamy.

Cook the pasta in a large pot of salted boiling water according to the package directions until al dente, making sure to reserve a cup of pasta water.

Season the sauce with red pepper flakes, salt, and black pepper to taste. Adjust the seasoning to your preference.

Add the grated Romano cheese to the sauce and stir until it's fully incorporated and the sauce is creamy and smooth.

Add the cooked pasta to the skillet with the pasta sauce. Toss everything together until the pasta is well coated with the sauce.

Divide the pasta into serving plates, garnish with additional fresh herbs and Romano cheese (or mozzarella cheese) if desired, and serve hot. Store in an airtight container.