This 5-ingredient baked ziti is a great make-ahead meal for busy nights, potlucks, or entertaining. It comes together quickly with minimal prep time and is a delicious, cheesy pasta that is sure to satisfy even the pickiest eaters.
If you're like me, you may find yourself in a rush to make dinner and lacking fancy ingredients quite often.
Maybe you're in need of a grocery run or you're just trying to use up what's in the pantry. 
A good pasta bake is a must-have meal in your lineup of simple, quick dinners. With only five ingredients, this easy baked ziti won't require any extra grocery shopping trips.
Baked ziti will certainly become an instant family favorite with how easy it is to make and its cheesy goodness. Serve it up with a side salad and some garlic bread and you have a delicious, easy meal.

Ingredients for 5-Ingredient Baked Ziti
Uncooked ziti: Tubed pasta is ideal for this recipe, such as ziti, penne, or rigatoni pasta. You can substitute your pasta of choice if you prefer.
Ricotta cheese: This soft cheese adds a delicious creaminess to your pasta and prevents it from becoming dry in the oven. Always opt for whole milk ricotta when possible.
Italian cheese blend: You can also use shredded mozzarella if that's what you have on hand. Good quality cheese is essential for a baked pasta dish!
Marinara sauce: We are quite partial to a jar of Mortadella Head marinara, but you can use any jarred or homemade tomato sauce you like.
Italian seasoning: Add some extra flavor with your favorite dried Italian seasoning blend.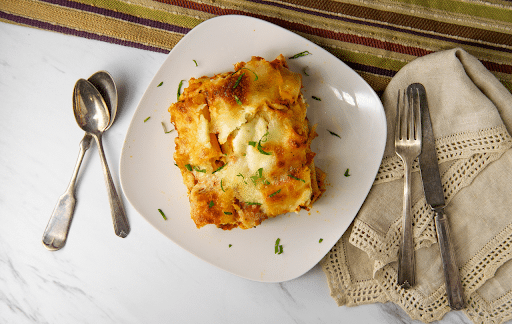 Variations
Add meat: You can add a pound of ground beef or mild Italian sausage to this recipe if you like the meat baked in. Simply brown the meat, then add it to the cheese mixture. It's also a great idea to have a delicious meat dish on the side of your baked ziti. I recommend meatballs or chicken rollatini.
Skip the gluten: To make this baked ziti dish gluten-free, simply substitute your favorite gluten-free pasta or bean-based pasta for the ziti. I recommend finding a gluten-free ziti noodle or something similar, like penne pasta. 
Make it vegan: This pasta bake can easily be made vegan. Simply substitute store-bought or homemade vegan ricotta and your favorite vegan mozzarella cheese. 
More ingredients: Have more time than you thought? Need to use up some fresh herbs or vegetables? You can certainly add more than these five ingredients if you want! Try sauteed mushrooms, fresh basil, minced garlic, or broccoli if you aren't sure where to start.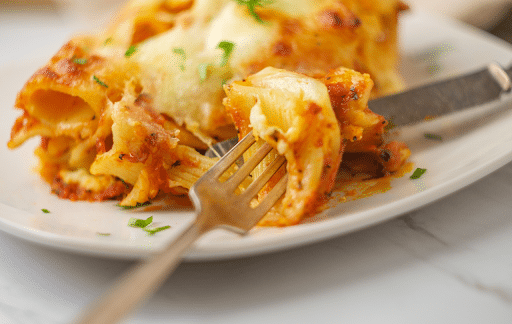 Frequently Asked Questions
What is Italian cheese blend?
Italian cheese blend, also called pizza blend, is a combination of cheeses that are ideal for pizza, pasta, and other Italian dishes. 
This blend usually includes mozzarella cheese, romano cheese, parmesan cheese, provolone, and more. 
Having Italian blend cheese on hand allows you to get the flavors of many types of cheese without having each of them to store and use up. Feel free to make a big batch of your own blend and freeze it!
Can I freeze baked ziti?
Yes, you can! The key is to make the baked ziti according to the recipe, then freeze it unbaked. Be sure to wrap it tightly in plastic wrap to prevent freezer burn. We have an entire blog post on how to freeze a baked ziti dish. You can read that here. 
How do I make this ahead of time?
You can prep this pasta dish and leave it in the fridge for about 2 days before baking and serving it. Cover your casserole dish with plastic wrap or a lid before refrigerating it.
When you bake the pasta, plan for it to take longer than the recipe states because it will be at a colder temperature.
Did you like this recipe? Try more quick, baked Italian dishes like lasagna or chicken cacciatore.
Print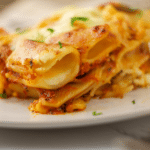 The Easiest Baked Ziti Recipe (Only 5 Ingredients!)
---
1 lb. ziti or pasta of choice

32 ounces marinara sauce

6 cups Italian cheese blend or mozzarella cheese

15 ounces ricotta cheese (full-fat)

2 teaspoons Italian seasoning
---
Preheat your oven to 400°F. 

Bring a large pot of salted water to a boil on the stove. Add your noodles and cook al dente according to the package instructions.

In a large bowl, combine your cheeses and Italian seasoning, reserving 2 cups of shredded cheese. Stir to combine.

Add your noodles and stir well until all the noodles are coated in the cheese mixture.

Spoon a thin layer of marinara sauce into a greased 9 x 13-inch baking dish.

Add half of your noodle mixture into the baking dish, then spoon half of the remaining marinara sauce on top.