Making baked ziti is one of those things that brings back a lot of memories.  It's comfort food at its finest.  It's easy to make, it's delicious and it's perfect for just about every occasion.
The football team is coming over for a team dinner … baked ziti is a great dish.
Your neighbor just had a new baby … make her a baked ziti.
It's Thanksgiving and you want to make a great side dish to go with the turkey … baked ziti.
It's an easy casserole that is always a family favorite.  And let's not forget that a pasta bake is a great way to feed large groups.
I like making a big batch of baked ziti and putting it in smaller containers to freeze.  If you need good freezer meals for the busy weeknights give this baked ziti recipe a try.
There are a lot of delicious recipes out there for baked ziti, but this is my go to. 
The Main Ingredients for Frozen Baked Ziti
This simple and delicious recipe calls for ingredients that you can find at your local grocery store.  Here's what you will need.
Pasta
It's called baked ziti, but you don't really have to use ziti.  There are a lot of pasta shapes that will work. You can buy ziti, rigatoni, or penne pasta.  They all have a tubular shape and will capture all of the flavors of the cheese and sauce when it's baked together.
Cheese
I like using 3 cheeses when I make a baked ziti.  
I use ricotta cheese for its creamy characteristics. 
I also like using a good melting cheese.  I suggest mozzarella or provolone cheese.
The final cheese should be a strong aged cheese for grating like pecorino Romano or parmesan cheese.
Tomato Sauce
The tomato sauce is a very important part of this dish.  You can make your own simple sauce or you can buy a good quality marinara sauce in the grocery store.
Herbs
You need parsley and basil.I love putting fresh herbs in my baked ziti.  It's not totally necessary but it adds a special touch. Fresh herbs makes everything better in my opinion.
How to Freeze Baked Ziti 
Making baked ziti for the freezer is really easy.  It can be done in a few simple steps.
Watch this video and learn how to make it yourself.
Step 1:  Cook the Pasta
You have to cook your pasta.  Get a large pot of salted water to a rolling boil and add your uncooked ziti.  Use the pasta package directions to determine how long you should boil it so it's al dente.  Once it's done cooking you can drain it and set it aside.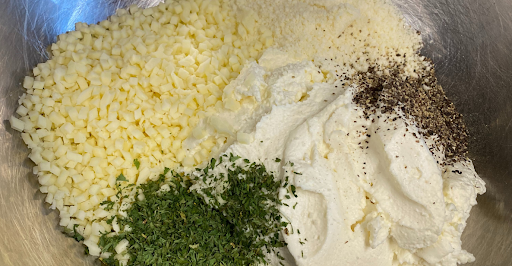 Step 2:  Make your Cheese Mixture
It's time to make your ricotta mixture.  Get a large bowl and add the ricotta cheese, mozzarella and grated parmesan. Season it with salt and pepper.  Put in some chopped parsley. Add some tomato sauce and mix it all together.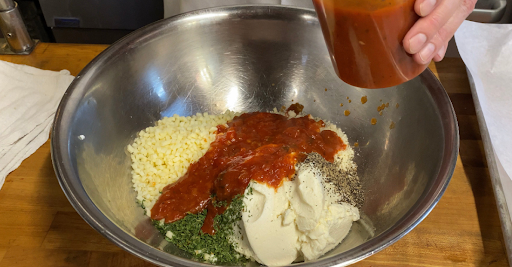 You need enough tomato sauce to make the ricotta mixture pink.  Putting the sauce in the cheese mixture adds a lot of flavor and moisture to the baked ziti.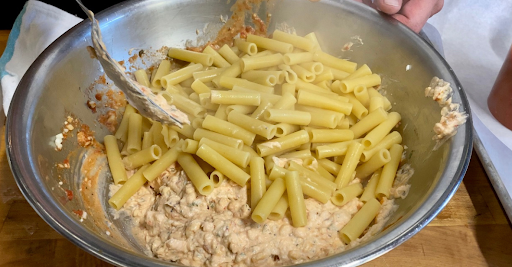 Step 3: Add the Pasta to the Cheese Mixture
Add the boiled pasta to the bowl with the cheese mixture.  Mix everything up really well.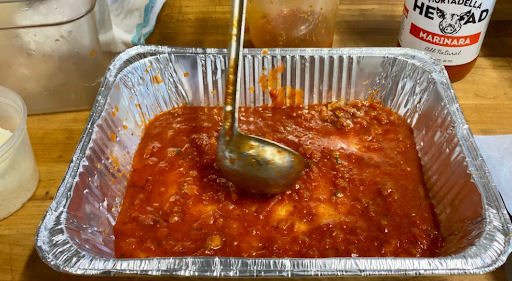 Step 4:  Build the Casserole
Now it's time to put it all together.  You'll need some sort of casserole dish or baking dish. You want to make sure it is both an oven-safe and freezer-safe dish.
I like using disposable aluminum pans because they are freezer-safe and oven-safe.  They are a really easy way to store the unbaked ziti.
The key to a great baked ziti is properly layering the ingredients.
Coat the bottom of your pan with tomato sauce.  Add half of the cheese and ziti mixture and spread it evenly on the bottom of the pan.
Put more tomato sauce on top.  
Now add the rest of the ziti and cheese mixture and evenly distribute it.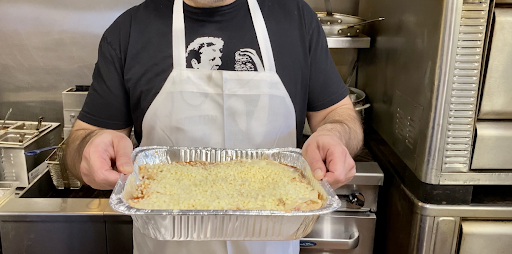 For the final layer add the rest of the sauce, mozzarella cheese, grated parmesan and fresh basil.
Step 5: Wrap it Up for the Freezer
When your baked ziti is built, it's time to wrap it up.  If you used a disposable aluminum pan, put on the lid it came with and cover it tightly with plastic wrap.  
If you use a casserole or baking dish, wrap it in aluminum foil and then plastic wrap.  It's important to create an airtight container to avoid freezer burn. 
Now you can store the baked ziti in the freezer until you are ready to cook it.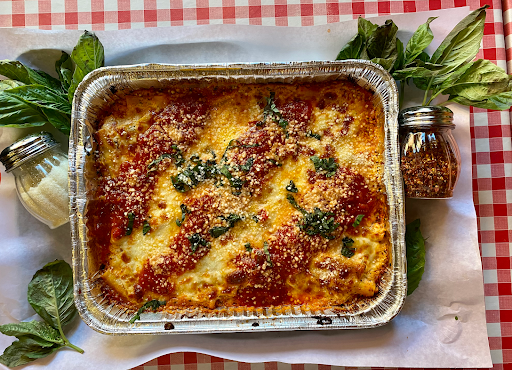 How to Cook a Frozen Baked Ziti
When it's time to cook your baked ziti there are a couple ways to do it.
Both methods require a 400 degree oven.  
If you are cooking it frozen, remove the plastic wrap so it doesn't melt and burn.  Place the pan, uncovered, in a 400 degree preheated oven for 65-75 minutes.  
You can also cook it thawed.  Remove it from the freezer and let it thaw in the fridge.  You can bake it while it's cold or at room temperature. 
If you are cooking it after thawing, remove the plastic wrap and place it in the oven covered in aluminum foil for 20-30 minutes.  Remove the foil and put it back in the oven for an additional 15-20 minutes to let the cheese on top become golden brown. 
How to Freeze Baked Ziti FAQs
Can I make a baked ziti with meat?
Yes.  This recipe is for a meatless baked ziti, but a baked ziti with meat is very common and delicious.  You can add Italian sausage, sauteed ground beef or a rich meat sauce like our homemade Bolognese. If you are trying to keep it low fat you can use ground turkey. 
How long will the baked ziti last in the freezer?
I have left baked ziti in my freezer for 6 months and it was absolutely perfect when I cooked it.
Do I have to use ricotta cheese?
No.  I have seen people make baked ziti with cottage cheese, sour cream and cream cheese.  I like using ricotta, but if you have a recipe you'd like to try feel free to make it.  That's what makes cooking fun. 
Baked Ziti Recipe
This recipe makes a full catering tray of baked ziti.  It can be divided into smaller containers for storage in the freezer and so that you can use smaller portions when needed.  
I suggested dividing the ingredients between four 2 ¼ pound disposable aluminum pans.  Each one of these smaller pans will serve 2-4 people.
Print
How to Freeze Baked Ziti (The Best Method)
---
1 quart of good tomato sauce

1 quart ricotta cheese

1 cup grated Romano cheese

2 cups of grated mozzarella cheese

2 tablespoons of chopped parsley

4–5 leaves of fresh basil

2 teaspoons black pepper

2 pounds dried ziti
---
Boil pasta according to instructions on the box

Place ricotta, ¾ of the grated Romano, ½ of the mozzarella, black peppers and parsley in a large mixing bowl and combine well.

Add 8 ounces of warm tomato sauce into the same bowl and mix with the cheese until it is pink.

When ziti is fully cooked, strain and add it to the cheese mixture. Make sure it is fully combined into cheese.

Put a thin layer of tomato sauce on the bottom of a baking pan.

Add half of the ziti and cheese mixture to the baking pan and spread evenly.

Add a thick layer of tomato sauce on top.

Make a second layer of ziti and cheese mixture.

Cover top evenly with shredded mozzarella and some grated Romano cheese.

Add fresh basil.

Cover it, wrap it and store it in the freezer.

When you are ready to cook it, bake in a 400 degree oven for about 35-40 minutes if thawed and 65-75 minutes if frozen.  Make sure to unwrap it first.

After removing it from the oven, let it rest for about 15 minutes before cutting into the baked ziti.

Enjoy!