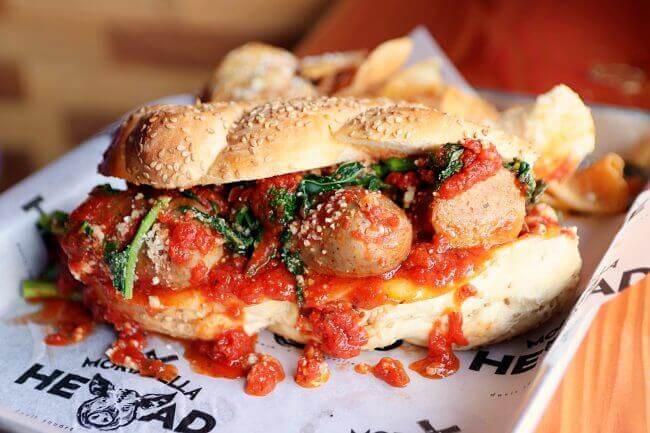 Let's face it — cheese makes everything better. Melted on pizza, sprinkled over a salad, stuffed in a sandwich, or baked with pasta, the options are endless. Cheese will  transform a good dish into a great one. If you're not cooking with these Italian cheeses, you're missing out. Here's our list of the best Italian cheeses out there.
Mozzarella
It's safe to say that mozzarella is the most popular cheese in America. If you've had pizza, you've had mozzarella. This cheese is our favorite for any Italian dish. It's rich and creamy and the cheese we use as a base for our pizza at Mortadella Head.  
Provolone
This semi-soft cheese originated in Southern Italy, but is mostly made in Lombardy and Veneto, in the Northern party of the country. The two main types of provolone include the sweet Dolce, and the sharp & salty Piccante. We use provolone on a ton of our sandwiches, but some standouts include La Salsiccia, The 13 Francesca, The Screamin' Sicilian, and the Steak Mafioso.
Gorgonzola
This sharp cheese is similar to blue cheese; people either love it or hate it. It has a soft, crumbly texture and a rich, nutty flavor. We toss our Sweet Sriracha wings with crumbled gorgonzola and it's the perfect way to balance out the heat.
Ricotta
Made from a variety of milk types, ricotta is made from leftover milk during the process of making other cheeses. Ricotta is light, creamy, and very mild. We stuff our meatballs with ricotta and that's what makes them so damn delicious.
Parmigiano-Reggiano
This is a dry, hard cheese that has been aged for at least two years. Authentic Parmigiano-Reggiano is DOP-protected and made in either Parma, Modena, Manuta, or Bologna. Avoid any made in America; they are not regulated nor authentic. Have you had our Chicken Parm sandwich yet? It is a must.
Pecorino
Here's a fun fact: Pecorino isn't a specific type of cheese, but a category name for the Italian cheeses made from sheep's milk. The four classics are romano, toscano, siciliano, and sardo. The younger cheese are soft, creamy, and mild. Those that have aged longer are hard, crumbly, and buttery. A sprinkling of pecorino is the final step to perfect our Roman pizzas.
Mascarpone
This cheese is rich, thick, and smooth. It is often used in desserts and pastries for its creaminess. It may remind you of American cream cheese or French creme fraiche.
Burrata
At first glance, you may think this is fresh mozzarella. And you're not totally wrong. Burrata is mozzarella with added cream. It has a round, structured shell with a soft, creamy inside.
You'd probably be blown away by how much cheese we use at Mortadella Head. A sheet of our Roman pizza gets topped with nearly 2 pounds of cheese! Don't believe us? Come in for a slice. You'll see why everyone's been talking about it.