I'm about to give you one of the greatest recipes for chicken and peppers of all time.
Not about chicken teriyaki with grilled peppers on a roll, the kind you would get after going to Fenway park for a Sox game.
It's about the matriarch of Italian food.
The mother of chicken and pepper dishes herself.
And that, my friends, is chicken cacciatore.
If you recall, a while back, we wrote out this chicken cacciatore recipe.
And it was great.
In fact, when it was going through testing, we had to stop ourselves from eating the entire tray.
It was just that good.
In fact, our owner Sebby's 100% Sicilian father gobbled the entire dish up for breakfast the next day.
That's how you know it won.
This Italian chicken recipe is just that good, it deserves the spotlight yet again.
It's one of my favorite sheet pan dinners, and is better than most of your standard healthy chicken recipes. More so, it keeps well in the freezer, so it's a great option for those busy weeknights.
So today, I'm going to show you another way we make it. This new way is just as good, and is one of the many different ways that Italians have traditionally made this dish.

What is Chicken Cacciatore?
Chicken cacciatore translates to "chicken hunter."
This is a simple recipe, and one that's been used for generations.
All it contains is baked chicken, tomato sauce, mushrooms, peppers, onions, and some kind of a starch.
It's easy, cheap, and just about anyone can make it.
If you're Italian American, I guarantee you grew up with it. And if you're just plain American, well, you're going to love it all the same.
What kind of vegetables should I use?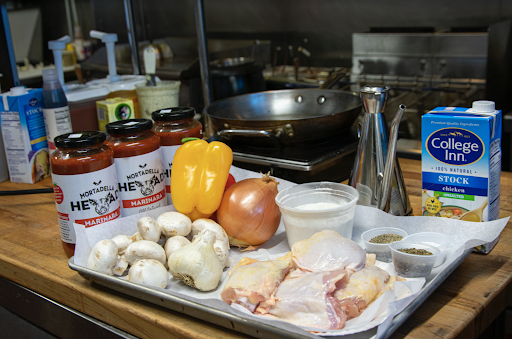 Chicken cacciatore typically contains peppers, onions, and mushrooms; in addition to the chicken, tomato sauce, and the starch.
In terms of your peppers, you really want to be using yellow and red peppers rather than green bell peppers, and here's why:
Green peppers aren't left on the vine as long as a yellow or red bell pepper might be, and are more bitter and harsh in taste. If you opt for more of a red or yellow pepper, your result will be wrapped in tons of sweet bell peppers, which will be delicious in taste.
When it comes to your onion slices, we really recommend you go with a Spanish onion (white onion) or a yellow onion rather than a red onion with this chicken dinner. Red onions taste slightly different and won't cook into the dish as well as a white onion or Spanish onion would.
When it comes to your mushrooms, this is really up to personal preference, although we tend to use sliced baby bellas with our chicken cacciatore.
If you want to know more about chicken cacciatore, watch this Youtube video:
Chicken Cacciatore FAQs: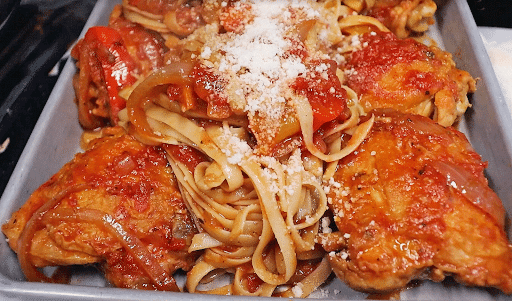 Q: What kind of chicken should I use?
A: While we will always tell you to use chicken thighs when making your Italian chicken and peppers recipe, you can use chicken breasts as well. If you decide to use chicken breasts, it might be a fun idea to slice them thin, bread them, and bake them that way. I don't recommend using chicken tenderloins with this dish, as the pieces of chicken bake quicker and won't hold up as well in the oven.
Q: Does chicken go with pasta in Italy?
A: Here's a fun fact for you—no!
Chicken mixed with pasta is typically unheard of in Italy, and most of the time, chicken dishes are served with more of a white rice or potatoes. Every time my grandparents would make this growing up, we almost always enjoyed it with a white jasmine rice.
My dad's mother always breaded her chicken and served this with either rice pilaf or boiled potatoes, and surprisingly, it tasted just as good that way too.
If you're looking to eat this like a "traditional Italian" would, opt for the rice or potatoes instead.
Q: How do I store baked chicken and peppers?
A: This will keep for about five days in an airtight container in the refrigerator. You can also freeze this for up to three months as well!
Q: Can you make chicken cacciatore in the crock pot?
A: Absolutely!
All you have to do is cook everything (seasoning and all) on high for eight hours, give it a stir before serving, and enjoy.
It's really that simple, and an easy way to have dinner taken care of earlier on in the day.
What to serve with Chicken Cacciatore:
Wine: A beautiful pinot noir would be the perfect addition to this Italian baked chicken and peppers recipe.
Side salad: Toss some fresh mozzarella, tomatoes, and basil together with some balsamic vinegar to make a nice side caprese salad. It'll taste delicious!
Appetizer: To me, there's no better appetizer to Italian baked chicken and peppers than some nice, fresh garlic bread.
Print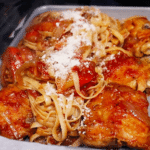 Chicken Cacciatore
---
Author:

Total Time:

1 hour

Yield:

Medium Sized Pan of Chicken Cacciatore
3 chicken thighs (boneless or bone-in) (can use boneless skinless chicken breast if preferred)

½ red bell pepper, cut into 1 inch thick strips

½ yellow bell pepper, cut into 1 inch thick strips

½ large white onion, cut into 1 inch thick slices

1 cups of sliced white mushrooms, sliced 1/4 inch thick

1 tbsp of salt

1 tbsp of black pepper

1 tbsp garlic powder

1 tbsp paprika

1 tbsp parsley

¼ cup of olive oil

½ quart of marinara sauce

½ cup of chicken broth (or chicken stock)

¼ cup grated Romano cheese

1/4 cup fresh basil
---
Preheat oven to 425°

Season chicken generously with salt, pepper, garlic powder, paprika, parsley, and other Italian herbs if you prefer

Cover a baking sheet with aluminum foil (for maximum flavor) and drizzle with olive oil, and place chicken on the baking pan along with the pepper mixture in a single layer

Bake for 35-40 minutes, or until chicken reaches an internal temperature of 160°, shaking halfway through so nothing sticks to the bottom of the foil

In a medium sized saucepan or large skillet, drizzle olive oil over medium-high heat and begin to saute onions until golden. Season with salt and pepper

Once onions have softened and turned golden, add mushrooms to the pan, and stir until softened

Add the tomato sauce and chicken stock, and let simmer until the chicken is cooked, stirring frequently

Serve all together over rice, cauliflower rice, linguine, or potatoes, topping with basil at the end for extra flavor
Prep Time:

15

Cook Time:

45
Keywords: Chicken Cacciatore