Penne vs. mostaccioli.
What the heck is the difference?!
If you refer back to the article I wrote a while back about the difference between ziti, penne and rigatoni, you'll notice that I mentioned "penne lisce," the Italian phrase for smooth penne, penne without ridges.
Well, another word for that is mostaccioli.
Mostaccioli is a kind of tubular pasta and shaped just like penne, except without the ridges that penne pasta is commonly known for. It's literally smooth penne; there's not really much of a difference there.
The smooth shape that mostaccioli is known for is what makes it the perfect pasta shape for all of the best baked pasta dishes.
The clean sides cling well to heavier sauces and cheeses, such as ricotta, and act as a binding agent to the ricotta mixture that's ever so popular in many baked pasta casseroles and dinner recipes.
It's one of our favorite options for any of our dishes, and today, we'll give you one of our best recipes for it.

What's In This Mostaccioli Con Ricotta Recipe?
This has all of the classic flavors of a classic chicken broccoli alfredo dish, only with two key differences:
It's baked with ricotta cheese

It contains broccoli rabe over traditional broccoli
Bet you've never had this great recipe before! It's truly one of the best pasta recipes we've ever made in our kitchen.
Let's go over what we need to make this mostaccioli recipe.
What You'll Need To Make This Great Meal:
Mostaccioli noodles: About a pound of your favorite brand of mostaccioli will serve about four people (the whole family!) using this recipe. Cook until al dente, no need to save any pasta water.
Ricotta cheese: For this recipe, you'll need about a cup of high quality ricotta cheese. You can make your own if you'd like, too!
Provolone cheese: This cheese melts nicely into everything and gives you the gooey cheesy flavor everyone loves.
Tomato sauce: I know this sounds contradictory, but use marinara sauce instead of an egg in your ricotta. It'll make it creamier and a lot tastier.
Cream sauce: Perhaps the most obvious ingredient in this entire dish. Store bought Alfredo cream sauce will work just fine, but if you want to make your own, check out our recipe!
Broccoli rabe: About a cup of broccoli rabe will work perfectly with this.
Chicken cutlet: Slice one chicken breast in half, coat it with flour, egg, and breadcrumbs, and fry it in a pan with some olive oil (don't use extra virgin).
Shredded mozzarella cheese: This is what you'll top the dish with at the very end.
Parmesan cheese or pecorino Romano: As we say, a little fairy dust for the very end.
Directions:
Preheat your oven to about 350°

Take a few dollops of ricotta cheese, and combine it with the tomato sauce, provolone cheese, salt, pepper, and parsley in a bowl. Mix well.

Once the ricotta cheese mixture is made, add the mostaccioli pasta, garlic cream sauce,

roasted broccoli rabe

, and chopped chicken cutlet to the bowl. Combine.

Take a casserole dish, and line the bottom with a scoop of the garlic cream pasta sauce. Spread about half of the mostaccioli mix over the bottom, and top with even more garlic cream sauce. Spread the remaining pasta mixture over, and top with more sauce, mozzarella cheese, and parmesan cheese.

Bake in the oven for about 45 minutes, or until the cheese on top is melted and golden brown.

The last step is vital, and it's to let it sit for 20 minutes before serving, so your taste buds don't burn off (half kidding).
Mostaccioli Con Ricotta FAQs:
Q: Can I make this with another pasta shape?
A: Of course! Our favorites are ziti pasta, manicotti shells, and rigatoni. In fact, the featured image is made using rigatoni since that's all we had on hand that day. But as always, our #1 choice for any baked pasta dish would be something with smooth edges. They call it baked ziti for a reason!
Q: What are some other things I can put in this besides chicken and rabe?
A: To start, you can replace the rapini with regular roasted broccoli. If you want more of a red sauce with your mostaccioli dish, replace the white sauce with red sauce and add meatballs, sweet Italian sausage, or ground beef. It'll be delicious!
Q: How long does mostaccioli con ricotta last in the fridge?
A: This pasta dish will last up to four days in the refrigerator.
Q: Can I freeze mostaccioli con ricotta?
A: Absolutely! Store this in an airtight container in the freezer for up to four months. It'll taste just like it did when you first made it!
What To Serve With Mostaccioli Con Ricotta:
Wine: I love a nice dry red wine with this. Something like a cabernet sauvignon is robust and pairs well with such a heavy dish, balancing the flavors nicely.
Appetizer: Something light and easy to consume is best when you're serving such a heavy, delicious pasta recipe. A nice, simple caprese salad should do the trick.
Side Dish: If you want more greens, try some of this easy and delicious sauteed broccoli. It's sure to impress!
Dessert: In the mood for something sweet after eating all of this delicious food? Try this cappuccino cake!
Print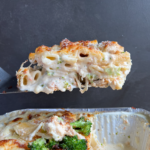 Mostaccioli Con Ricotta and Broccoli Rabe Recipe
---
Author:

Total Time:

1 hour
1

lb mostaccioli, cooked until al dente

1 cup

ricotta cheese (can substitute for cottage cheese)

¼ cup

cubed provolone cheese

¼ cup

tomato sauce

1 cup roasted broccoli rabe

, chopped

1

chicken cutlet (½ of one chicken breast), breaded and fried and chopped

1 cup

mozzarella cheese

½ cup

parmesan cheese or pecorino Romano cheese

1 tsp

salt

1 tsp

black pepper

1 tsp

crushed red pepper flakes

1 tsp

fresh parsley
---
Preheat oven to 350°

Combine creamy ricotta cheese with provolone cheese, tomato sauce, parsley, salt, pepper, and crushed red pepper. Mix well.

Add broccoli rabe, chicken cutlet, half of the garlic cream sauce, and the cooked pasta. Mix well.

Line the bottom of a casserole dish with a thin layer of garlic cream sauce. Top with half of the pasta mixture.

Top with more garlic cream sauce, and the second half of the pasta mixture.

Add the rest of the sauce over the top, mozzarella cheese, and grated Romano cheese.

Bake in the oven for about 45 minutes, or until you see golden brown and melty mozzarella over the cheesy layered pasta.

Let sit for 20 minutes before serving this delicious dish.
Prep Time:

15 minutes

Cook Time:

45 minutes