When it comes to classic Alfredo sauce, you're probably an expert on the basics.
This is a dish that's loved by you, your neighbor, your whole family — absolutely everyone.
I think every single American kid has had chicken broccoli alfredo for their birthday dinner at one point or another, and for a good reason:
It's just so delicious.
Who doesn't love garlic, butter, and cheese? Make this into a creamy mixture, and you've got a family dinner that's loved by both kids and parents (so hard to come by these days!)
The history of Alfredo sauce
Alfredo sauce has a neat history, and believe it or not, his grandchild Ines Di Lelio had the pleasure of telling us about it in the comments of our YouTube video.
She says:
"With reference to your article I have the pleasure to tell you the history of my grandfather Alfredo Di Lelio, who is the creator of "Fettuccine all'Alfredo" ("Fettuccine Alfredo").
"In 1908 in the "trattoria" run by his mother Angelina in Rome, Piazza Rosa (Piazza disappeared in 1910 following the construction of the Galleria Colonna / Sordi). This "trattoria" of Piazza Rosa has become the "birthplace of fettuccine all'Alfredo".
"More specifically, as is well known to many people who love the "fettuccine all'Alfredo", this famous dish in the world was invented by Alfredo Di Lelio concerned about the lack of appetite of his wife Ines, who was pregnant with my father Armando (born February 26, 1908).
"Alfredo di Lelio opened his restaurant "Alfredo" in 1914 in Rome and in 1943, during the war, he sold the restaurant to others outside his family. In 1950 Alfredo Di Lelio decided to reopen with his son Armando his restaurant in Piazza Augusto Imperatore n.30 "Il Vero Alfredo" ("Alfredo di Roma"), whose fame in the world has been strengthened by his nephew Alfredo and that now managed by me, with the famous "gold cutlery" (fork and spoon gold) donated in 1927 by two well-known American actors Mary Pickford and Douglas Fairbanks (in gratitude for the hospitality). See the website of "Il Vero Alfredo".
"I must clarify that other restaurants "Alfredo" in Rome do not belong and are out of my brand "Il Vero Alfredo – Alfredo di Roma". The brand "Il Vero Alfredo – Alfredo di Roma" is present in Mexico with a restaurant in Mexico City and a trattoria in Cozumel) on the basis of franchising relationships with the Group Hotel Presidente Intercontinental Mexico. The restaurant "Il Vero Alfredo" is in the Registry of "Historic Shops of Excellence – section on Historical Activities of Excellence" of the Municipality of Roma Capitale.
"Best regards Ines Di Lelio".
(seriously, how cool is that?!)
What's all the hype about?
Part of the appeal for Alfredo sauce, in my opinion, is how easy it is to make.
All it is is just butter, garlic, grated cheese, salt, black pepper, and heavy cream.
Literally, that's it.
And who doesn't love eating Chicken Alfredo with broccoli? It's a great way to get some protein and color mixed into the sauce.
Sometimes though, I like to mix it up a bit.
I like to add meatballs and a drizzle of pesto instead of chicken or broccoli.
And instead of serving it over pasta, I like to put it into a sub.
But this is different from any of the meatball subs I bet you've had before.
This is: The Meatball Alfredo Sub.
This Alfredo meatball recipe is delicious and an incredibly easy recipe to make, and today, I'm gonna show you how it's done.
*Don't feel like reading? Watch our video on how we made this!*
What You Need To Make Meatball Alfredo
Meatballs: Don't use frozen meatballs! Make these Italian-style meatballs yourself, fried in a pan on the stove with eggs, bread crumbs, and tons of other goodies. Use  our very own recipe here for our meatball ingredients and cooking instructions.
Butter: Real butter. Not a butter substitute, real old fashioned sticks of butter.
Heavy cream: You can also use milk or half and half if you prefer too.
Garlic: Mince this yourself, we don't use jarred stuff over here! Use a garlic press or a knife and mince a ton of this for your sauce.
Parmesan cheese: A ton of grated Parmigiano Reggiano is what Alfredo himself originally made this sauce with. If you only have Romano cheese, though, that's fine too.
Sub roll: Probably one of the most important parts to any meatball sub, in my opinion.
Shredded mozzarella cheese: Sprinkle some of this onto your sub right before it goes into the oven for maximum cheesiness.
Basil: For a nice little bright pop of green, add some fresh basil to your sub at the very end.
Olive oil: A high quality olive oil is the key here.
Pesto (optional): Use a nice basil pesto to add some dimension to this sub at the very end.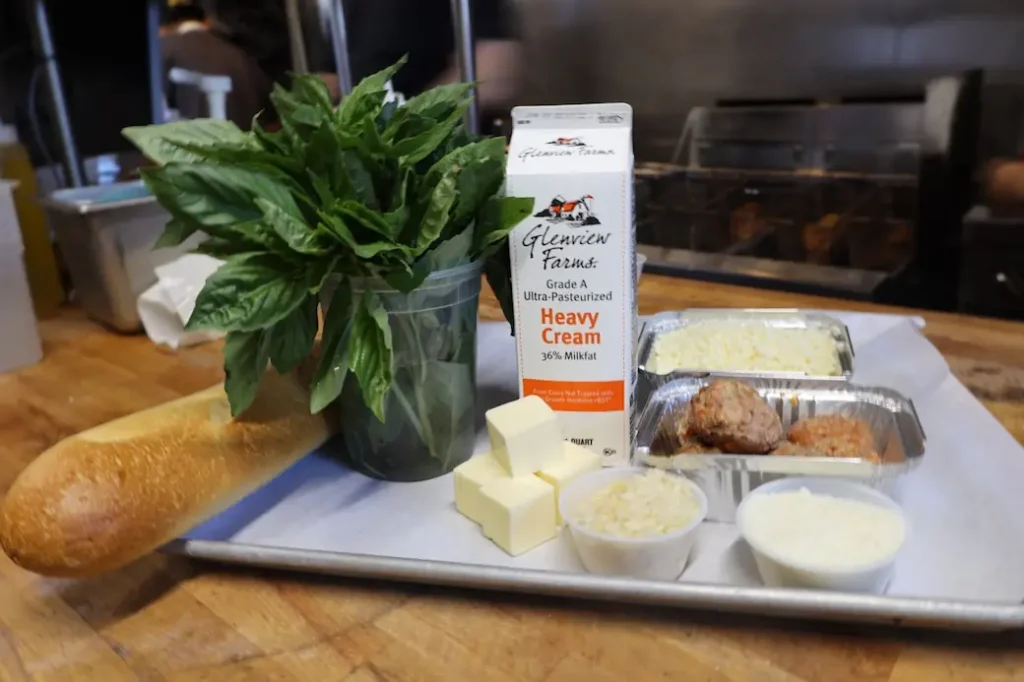 The first step is easy! Drizzle some olive oil into a hot frying pan, and let it heat up for a bit. Once the pan is hot, toss in your butter. Let it melt away in the pan, moving it around with a spoon or spatula.
Once the butter has melted, place your minced garlic cloves in the pan and let it sizzle away. You'll know it's done cooking when it becomes heavily fragrant.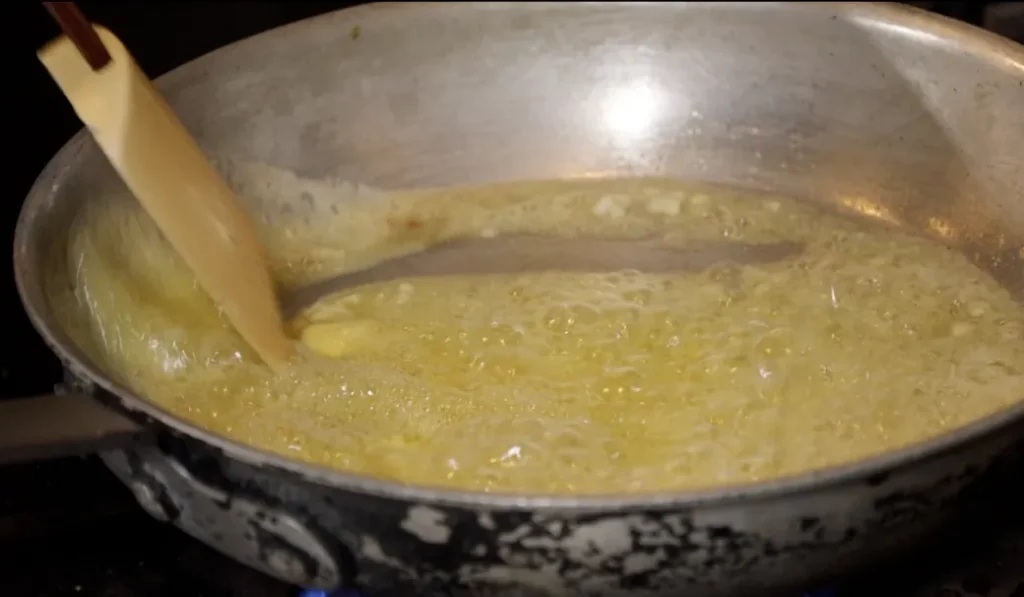 At this point, you should be getting ready to add your heavy cream into your sauce.
Once you slowly pour it in, follow up with parmesan cheese, salt, and pepper. Give the pan a shake and let everything heat up to come together, stirring frequently.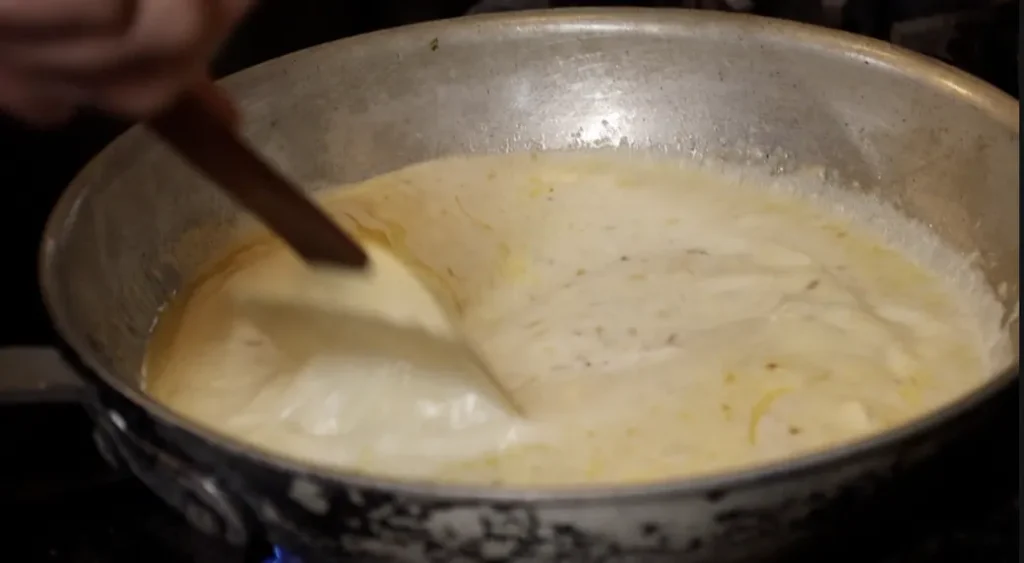 Slice up some of your homemade meatballs while the sauce is heating up. When you're ready, throw the meatballs into the pan with the creamy Alfredo sauce and let them sit for a bit. Sliced meatballs are the key here, as they soak up all of the sauce when simmering in the pan.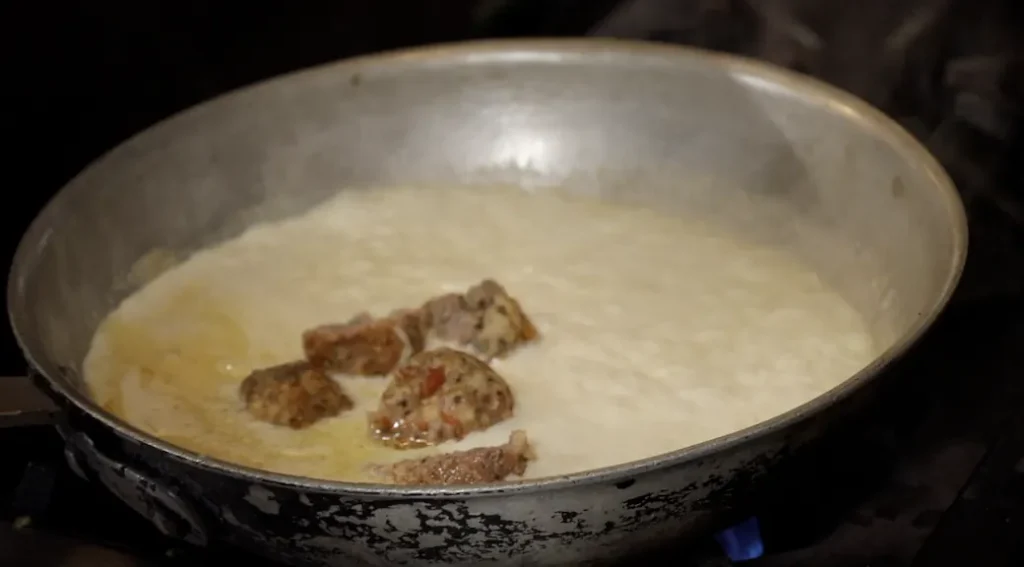 When the meatballs and sauce are thoroughly heated, take the pan off of the heat and begin to add everything into a sub roll. Top it with some shredded mozzarella, and let the cheese melt down in a preheated oven.
Once the cheese is melted, add some basil and pesto to the sandwich. Cut in half and enjoy!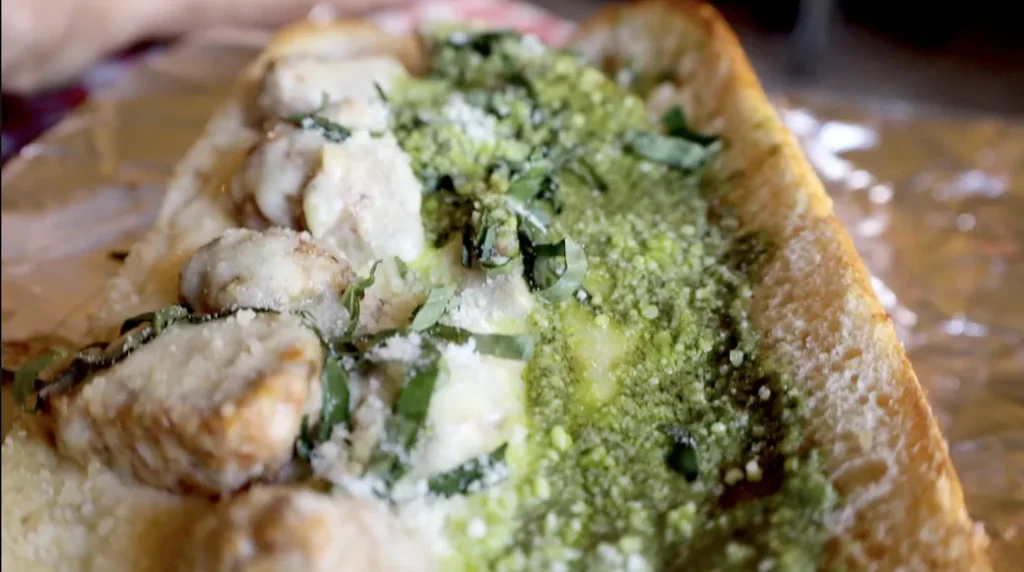 Meatballs Alfredo Sub FAQs
Q: What other kinds of meat could I make my meatballs with?
A: Try substituting ground beef with ground turkey or ground chicken to make turkey meatballs or chicken meatballs. They'll taste slightly different, but great nonetheless.
Q: I don't like heavy cream. How would I make this with milk or half-and-half?
A: Milk and half-and-half thicken a lot quicker when being added into the pan, so make sure you add this slowly and in ½ cups, stirring as you add it.
Q: How else could I serve my Meatball Alfredo?
A: You could make meatball Alfredo pasta by putting this over fettuccine, or zucchini noodles to make a low carb version of the ultimate pasta dish. For a different spin on the easy Alfredo sauce, you could take the leftover meatballs and Alfredo sauce and add them to a Roman pizza bianca!
What to pair with this Meatball Alfredo Sub
Wine: Since this simple recipe is a bit heavier, I like to pair this with something light and dry. A glass of Sangiovese Rosé or a nice dry white wine would be delicious with this!
Appetizer: Get your greens in and eat this with a delicious mixed green salad!
Side dish: Sauté some fresh broccoli florets to eat on the side, in true Alfredo sauce fashion. If you don't have broccoli, you can sauté some fresh spinach and it would taste just as good.
Optional: Serve with a mini bowl of tomato sauce, and dunk every bite into it.
Print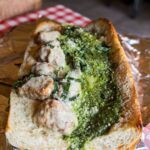 Meatball Alfredo Sub
---
Author:

Total Time:

10 minutes

Yield:

2

1

x
1/2 cup of butter
1 1/2 cup heavy whipping cream
2 cups freshly grated parmesan cheese
1/2 cup shredded mozzarella cheese
4–6 cloves garlic, minced
6–8 homemade Italian meatballs
1 tsp salt
1 tsp pepper
1 tbsp olive oil
1 sub roll
2 tbsp basil pesto
---
Heat up a frying pan over medium heat. Once heated, drizzle olive oil into the pan.

Melt butter, stirring constantly until melted.

Add in garlic, and cook until fragrant.

Add in heavy cream, grated parmesan cheese, salt, and pepper, stirring frequently until heated through.

Cut your meatballs in half, tossing into the sauce when finished. Let everything heat together on medium-high heat.

Once sauce and meatballs are thoroughly heated, place all of the ingredients into a sub roll.

Top with some shredded mozzarella cheese, and heat in the oven until the cheese is melted.

When cheese is melted, add some basil leaves and pesto to the creamy white sauce right before serving.

Cut in half and enjoy!
Cook Time:

10

Category:

Subs