I don't know about you, but ravioli definitely isn't my favorite.
I find the classic Italian favorite to be a little bit dry on the inside, and to be honest, a little much sometimes (looking at you, four cheese ravioli).
It's hard for the sauce to stick to the pasta, and the filling in the ravioli is so far removed from everything else in the dish, that it's hard to combine all of the flavors.
So that's why when I find a ravioli recipe I like, I stick with it.
And that's exactly what happened with this fried ravioli recipe.
Not only is the homemade ravioli delicious on its own, even without frying, but the breading just makes it.
It's firm on the outside, creamy and rich on the inside, and combines so well with any sauce.
It's a great way to enjoy this traditional dish in a non-traditional way.
This recipe is tried and true with me and my friends, and I guarantee you'll love it too.

Some History…
Ravioli dates back to as early as 1228, when they are described as meat between pieces of pasta.
1228?! That's tried and true.
It originated in Italy, obviously, but there is some mention of it being super popular in France as well.
Ravioli stuffed with cheese, as we know it now, can be traced to the 14th or 15th century. It's a northern Italian dish, and appeared often at the courts of aristocrats in Lombardy and Milan. 
While this was a dish traditionally enjoyed by royalty, some humbler versions were also enjoyed by lower class residents, too.
All in all, this was traditionally enjoyed during feasts and large gatherings on special occasions, much like it is today.
There's a reason that this dish has made it hundreds of years into the future!
What Makes This So Special?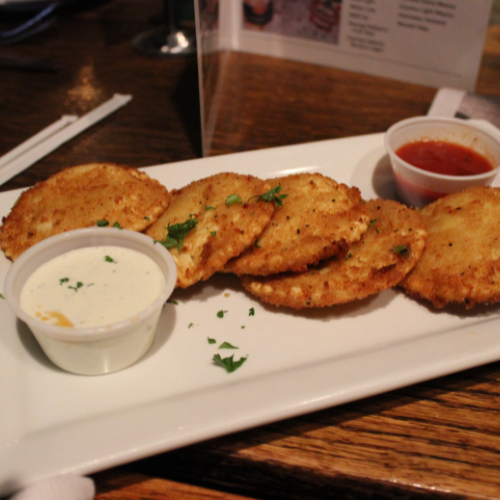 If you haven't tried our delicious ricotta cheese mixture we make at Mortadella Head, you should.
Instead of using an egg to soften the ricotta, we opt for a scoop of tomato sauce instead.
The warm tomato sauce makes the cheese creamy, and gives a robust sense of flavor into everything that you didn't know you needed.
It's perfect, and makes for the most delicious filling that you'll ever have.
It works well with our lasagnas, eggplant involtini, and baked ziti—so I wasn't at all surprised when it tasted fantastic with our ravioli.
Another reason why this dish is perfect is that the fresh ravioli is breaded right after the fact, and fried in olive oil until golden brown.
It gives the ravioli such a robust taste, you're guaranteed to love it.
Remove from the oil with a slotted spoon, serve with your favorite sauce, and you'll be good to go!
Fried Ravioli FAQs: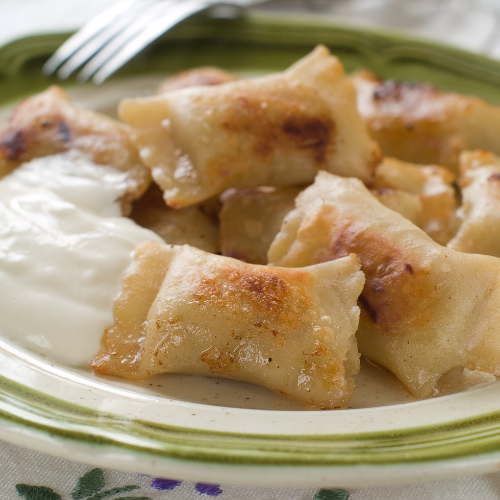 Q: I don't like ricotta. What else can I use?
A: If you don't like ricotta cheese, you're in luck—there're many other kinds of cheeses that you can use for the filling. You could try using cottage cheese, cream cheese, or even a thick alfredo sauce inside of your crispy ravioli. Get creative!
Q: Can I freeze fried ravioli?
A: Absolutely! In fact, I highly recommend doing this and saving them as an easy meal for those busy weeknights. Bread them, skip the frying, and place them directly into the freezer in an airtight container or plastic wrap. You'll still get perfect ravioli!
Q: What could I make with this if I skipped the frying process?
A: Many things! Cook them in boiling water and serve with your favorite Sunday sauce, place ravioli in a single layer in a baking dish with mozzarella cheese and make a ravioli casserole, or make it with an entirely different sauce, like vodka or pesto. You could also serve this with lobster and butter sauce and make lobster ravioli, or mushrooms and fresh spinach to make mushroom ravioli.
Q: Can I fry frozen ravioli or store bought ravioli?
A: For sure. Though you won't be able to make the delicious ricotta cheese filling, you'll speed the cooking process, and still come out with something delicious.
Our Other Favorite Ravioli Recipes:
For a delicious, simple meat sauce, try your hand at making this

easy ravioli with sausage ragout

If you're in the mood for something a bit more fresh and less heavy, you should try this

ravioli with lemon & herbs.

Thank me later

If you want a great, scratch made, classic Italian ravioli recipe, try making this

ravioli straight from Italy
What To Serve With Fried Ravioli:
Appetizer: Keep out the breading materials and make our big fat homemade mozzarella sticks!
Side dish: Get your greens in with this easy brussels sprouts recipe!
Dessert: Something light is key with this! Try making this tiramisu recipe with your ravioli.
Print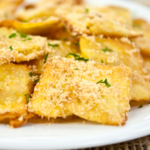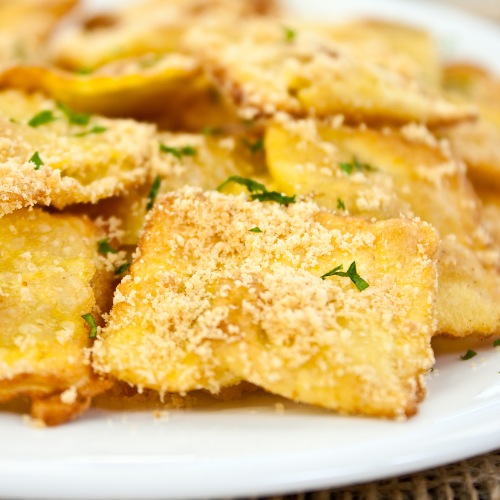 How To Cook Ravioli: Deep Fried Ravioli 101
---
Dough Ingredients:
2 cups

all purpose flour

2

eggs

1½ tbsp

water

2 tsp

olive oil

Dash of salt
Filling Ingredients:
2 cups

of ricotta cheese (not cottage cheese)

1/2 cup

grated parmesan cheese

1 cup

of marinara sauce

1 tsp

fresh parsley

Salt and black pepper to taste

Optional: 1 tsp garlic powder to taste
Breading Ingredients:
2 cups

all-purpose flour

2 cups

plain bread crumbs

4

eggs

2 cups

olive oil

3 teaspoons

garlic powder

3 teaspoons

dried parsley

3 teaspoons

salt

3 teaspoons

black pepper
---
Pour flour into a large bowl, making a well in the middle.

Beat the eggs, water, and olive oil together in a separate bowl.

Pour mixture into the flour well. Combine the flour and mixture with your hands, forming a ball.

After the ball is formed, knead the dough until stretchy and smooth.

Cover tightly and let rest from 30 minutes to an hour.

While resting, combine all of the filling ingredients into a bowl, and prep the breading station, putting eggs, flour, and breadcrumbs into separate bowls. Season all three evenly with salt, pepper, garlic powder, and parsley.

Roll out dough into thin sheets. Use teaspoons to put filling onto half of the sheet of dough, about one inch apart. Cover with the other half once this is done, and press down with a fork to seal. Use a knife/pizza cutter to separate the dough into squares. Repeat with whatever is remaining.

Breading time! Drench each ravioli with flour, then egg wash, then breadcrumbs. Repeat twice for a crunchier crust.

Heat olive oil in a large skillet over medium high heat.

Once olive oil is heated to 350 degrees, carefully place raviolis in heated oil.

When each side turns golden brown, flip to completely cook the ravioli. Total cooking time is about 3 minutes.

Once done, place each ravioli on a paper towel lined plate.

In a saucepan, heat up your tasty sauce.

Serve directly over ravioli, or on the side for dipping sauce.