Another tiramisu recipe? I swear it's the last one this year. But after the ones I posted in June, I thought it would be good to share this as well.
Tiramisu is possibly the most famous Italian no-bake dessert in the world, and it comes in many shapes and tastes. This is because many people like to customize it with their favorite liqueurs and spirits. We did it too in three different recipes earlier this summer.
But did you know that the original tiramisu recipe is alcohol free?
That's right. Despite its many boozy variants, this classic Italian dessert is originally made with just biscuits, an egg and cream mixture, coffee, and cocoa powder.
The method is pretty much like the one we've seen for my tiramisu cups, but with a different amount of ingredients. Here's what you need to do.
Ingredients
According to the authentic tiramisu recipe, this is everything you need. As per usual, you'll find the precise amount in the recipe card at the end of this post.
Savoiardi biscuits: a.k.a. ladyfinger cookies. As you probably already know, they are the ones traditionally used to make tiramisu.
Eggs: this recipe doesn't involve cooking, so get the freshest eggs you can find to avoid any risk. If you don't know how old your eggs are, put them in a bowl with water. If they lay on their sides on a bottom, you can use them. And if they remain in vertical position, you should use them only for recipes where you can heat/pasteurize them. But if they float, they're not good anymore.
Mascarpone cheese: it's a cream cheese similar to heavy whipping cream. It will give your tiramisu the right consistency. If you can't find it in your local grocery stores, heavy cream will do as well, although the result will be a little less thick.
Sugar: you will add them to the eggs to as you whip them, to get a sweet cream.
Espresso coffee: Do not use things like instant espresso powder. Get a moka and make enough espresso coffee to fill a regular cup. I like a tiramisu with a good, strong coffee flavor. If you don't want to lose your sleep you can use decaffeinated coffee as well. And if you want to enjoy a good tiramisu with your kids, you can also use barley coffee. It's a hot drink free of any caffeine that is usually served to kids in Italy while the adults are having espresso.
Unsweetened cocoa powder: the darker, the better. Alternatively, you can go with chocolate drops or shavings.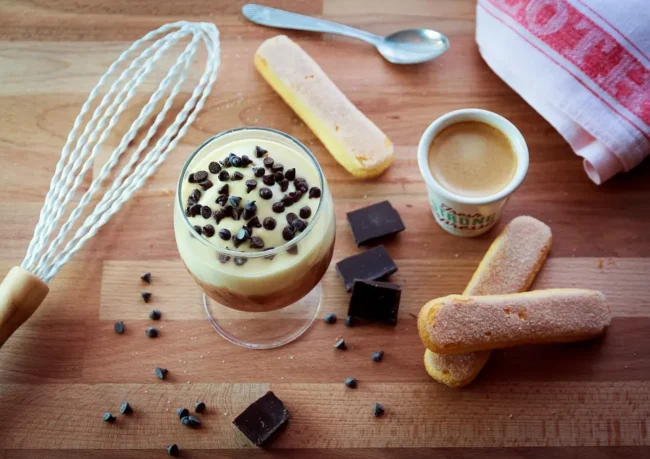 Method
Now, get two big bowls and a baking dish, and let's make an easy tiramisu with no alcohol.
First of all, put all the ingredients on the table. This recipe works better if they're at room temperature.
Also, make the espresso coffee in advance. You'll need use your hand to soak the biscuits in it later on, so you want to make sure that it cools down a little in the meantime. Pour it onto a plate as soon as it's ready.
Making the cream
Step 1: Separate the egg yolks from the whites, being careful not to mix them. If they mix, you won't be able to whip them to the desired thickness, and you'll end up with a watery tiramisu.
Step 2: In a large bowl, use an electric mixer to beat the egg whites until they become firm, adding half of the sugar as you go. If you're not used to it and want to know when to stop, pause every once in a while to check the peaks that form on the whisk attachment. They should be stiff and pointy.
Step 3: In a separate bowl, mix the egg yolks well (you can use a fork or the beaters), then add the mascarpone cheese and the rest of the sugar.
Step 4: Mix the egg whites with the egg yolk & cheese mixture with you just made. Use a big spoon or a rubber spatula to add the egg whites a bit at a time, stirring from the bottom to the top of the bowl to incorporate as much air as possible. This way, your cream will remain thick. When you're done, set aside in a fridge for about 30 minutes.
Assembling the tiramisu cake
Step 5: Now, take a baking dish, and put it close to the dish with the espresso. Soak the lady finger cookies in the coffee, then lay them on the bottom of the baking dish.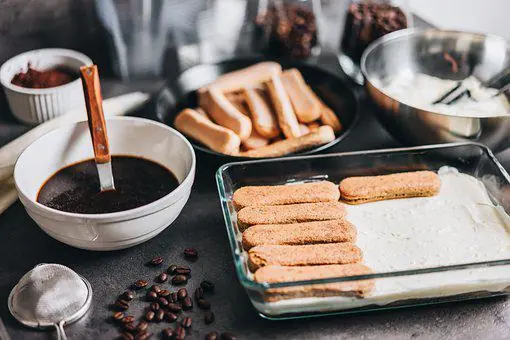 Step 6: Pour half of the cream onto the baking dish and spread it evenly on the lady fingers.
Step 7: Make a second layer of cookies and cream. According to the size of your baking dish, you may not have enough cream to make to layers. In that case, just skip this step and use all the egg and mascarpone mix for step 6.
Step 8: Sprinkle the unsweetened cocoa powder on top of everything.
Step 9: Cover the baking dish with plastic wrap and and let your tiramisu cool in the fridge for at least five hours.
Take it out just before serving, and enjoy it.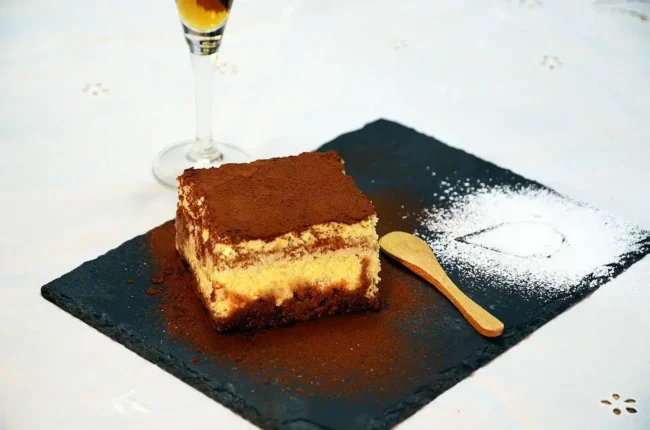 Classic tiramisu recipe FAQs
Q: Can I make it in advance? How long can I store it?
A: As for the other tiramisu recipes, I don't recommend storing tiramisu for longer than 36 hours. It's made with raw eggs, so it can go bad quickly. However, I can't remember a time in which a group of people didn't finish the whole dish in a single meal. So, if you just calculate how many people you're going to serve in advance and use the right amounts of ingredients from the recipe card below.
Q: Can I use other types of cookies?
A: Ladyfingers are the ones traditionally used to make tiramisu. However, many people now like to use pavesini a smaller type of dry biscuits. I don't really like them, so I stick to the former – but there's nothing wrong with making experiments. If you go to two different restaurants in Italy, you'll likely find two different versions of tiramisu, each with its own customized shape and base. So, feel free to go with what you like.
Q: Can I add vanilla extract?
A: It's not mandatory, but feel free to add it.
Q: What if I want to use alcohol instead?
A: The traditional tiramisu recipe is alcohol free, but you can mix the espresso with a shot of dark rum or whiskey cream, like I did for my tiramisu cups. Or, you can switch the coffee with milk, and make a limoncello tiramisu. It's to die for. You can also make a coffee mixture with espresso and marsala wine. And if you like cocktails, you can also turn your tiramisu into a tiramisu martini.
Now you know everything you need to make an authentic Italian tiramisu with no alcohol at home. Print the recipe card below, and use it to delight your next guests. It will be loved by kids and grownups alike!
Recipe card
Print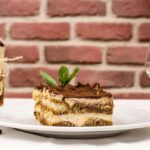 Classic Tiramisu Recipe (Without Alcohol)
---
Author:

Total Time:

320

Yield:

8

1

x
32 ladyfinger biscuits
4 fresh eggs
2 cups of mascarpone cheese or hand-whipped cream.
1 cup sugar
1 cup espresso coffee (or barley coffee, if you want it to be caffeine-free for your kids)
unsweetened cocoa powder to taste (or, alternatively, chocolate shavings)
---
Make an espresso coffee and set it aside to cool down.
Use an electric mixer to beat the egg whites until they become firm, slowly adding half the amount of sugar. Check the peaks that form on the whisk attachment/beaters to know when to stop. For a creamy tiramisu cake, you want to see stiff, pointy peaks.
Now, let's move on to the egg yolk mixture. Whisk the raw egg yolks with an electric mixer, then add the mascarpone cheese and the rest of the sugar.
With a large spoon, incorporate the whipped egg whites into the egg yolk and mascarpone mixture. Add one spoonful at a time, stirring from bottom to top.
Soak the ladyfinger biscuits in the coffee you made before, then use them to form a layer on the bottom of a baking dish.
Add half of the cream.
Make another layer of biscuits, and add the rest of the cream.
Top with unsweetened cocoa powder or chocolate shavings.
Cover in plastic wrap and let everything cool in the fridge for about 5 hours.
Enjoy!
Prep Time:

20

Freezing time:

300

Category:

Dessert

Cuisine:

Italian
Keywords: classic tiramisu recipe, tiramisu recipe without alcohol