So, my sister recently made limoncello for the whole family. And I know I might sound one-sided, but it WAS WICKED GOOD.
So good, that we might have enjoyed it a little too fast.
I spent the last weeks making drinks for anyone who visited our house. But all good things eventually end – and here I was, a couple of days ago, looking sadly at the remnants of my last bottle of limoncello. I wanted to use it for something special, so I decided to try this limoncello tiramisu recipe. 
I think it's the perfect summer dessert. 
It has the simplicity of a classic tiramisu and the brightness of fresh lemons. Plus, you don't have to bake or cook anything – no need to heat your kitchen more than it already is.
I'm sure you'll make this a lot in the next months!
What is limoncello?
For those who don't know it, limoncello is a typical lemon liqueur from Southern Italy. It's a sweet, refreshing drink that is usually consumed as a digestive (or ammazzacaffè) in little shots after lunch or dinner. Many bars also use it to make some amazing cocktails.
And today we're going to use it to make a dessert.
To be fair, it isn't the first thing Italians would think of when making tiramisu. As you probably know, the original tiramisu is made with coffee and no alcohol, and if you want to add some spirit you'd typically go for a whiskey cream.
But if you switch the coffee with some milk, you will almost hear it scream for some hints of fresh lemon.
Here's what you need to do.
Ingredients
Before writing this limoncello tiramisu recipe, I've looked up on the web for some inspiration. I was mostly dissatisfied with the recipes I found online, so I decided to make some changes to them. This is what I came up with.
Savoiardi: aka ladyfingers, or ladyfinger cookies. It's not tiramisu if it doesn't have at least one layer of 'em.
Raw eggs: Get the freshest eggs you can find. If you're not sure if they're good, put them into a bowl with cold tap water. If they sink to the bottom, they are good. Otherwise, you should throw them away. After you check them, leave them out of the fridge for a few minutes so that they get to room temperature.
Mascarpone cheese: as I wrote in my tiramisu cup recipe, classic tiramisu is made with mascarpone. However, you can use heavy cream as well. They will both taste great.
Milk: you will use it as a substitute for coffee. Any kind of milk will do.
Limoncello: quite obviously. Limoncello is one of those liqueurs that will always taste better when homemade. I don't know what kind of magic is involved in that, but nobody has ever proved me wrong. You can easily make a good one at home with Meyer lemons. However, if you don't know how to do it, or you don't have time, I hear that there are some very good producers in California.
A lemon: we want this dessert to scream "LEMON FLAVOR"! Limoncello alone will not be enough. You'll need another lemon, of which you'll use both the peel and the juice.
Granulated sugar: not much to say about that.
How to make a limoncello tiramisu
Let's start by making the mascarpone cream that we'll use to layer our tiramisu. The first thing to do is to separate the egg yolks from the whites.
Put them into two separate bowls, then focus on the yolks first. Add the mascarpone cheese, half a cup of sugar, 2 or 3 tablespoons of limoncello, and 3 oz of lemon juice, then mix everything well.
You can use both a hand whisk or an electric mixer. If you choose the latter, wash it well afterward. You're going to need clean beaters for the next step.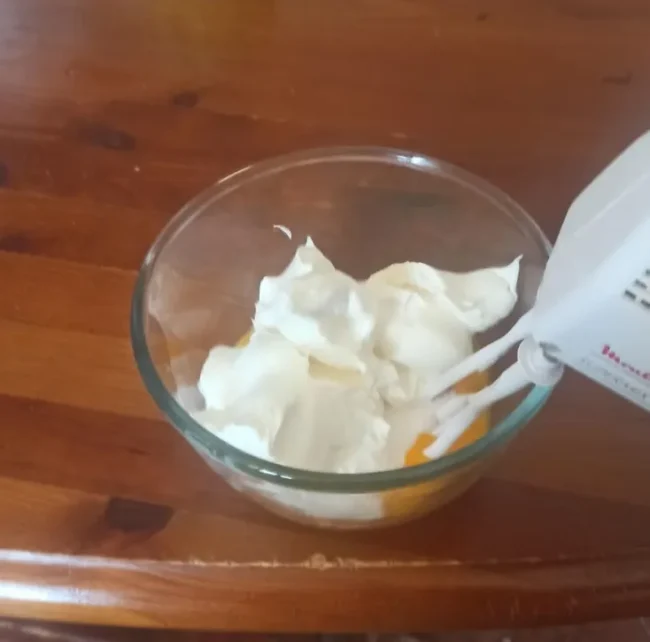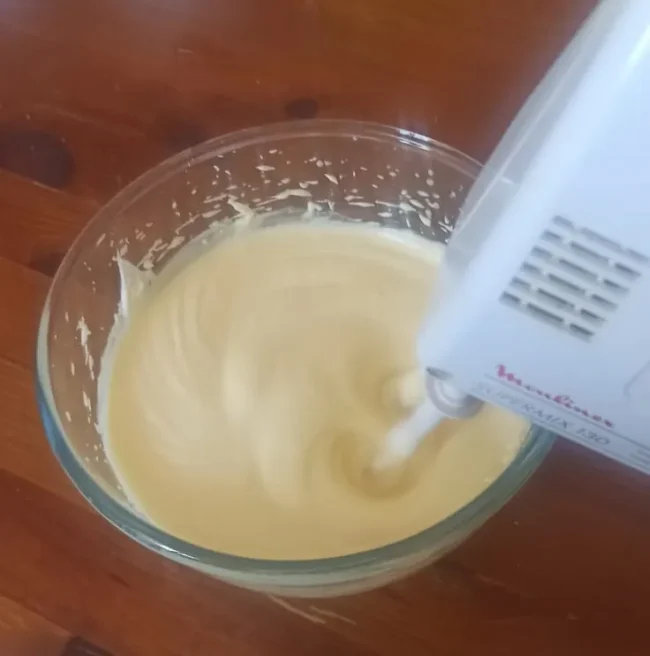 Now, turn to the egg whites and start whipping at medium speed until they double in volume. Then, add another half a cup of sugar and turn the beaters on high speed. Keep mixing until they become firm.
If you don't know when to stop, check the peaks that will form on the beaters. With soft peaks, your cream could remain too much liquid, so you should keep mixing for a few more minutes. Ideally, you should get stiff peaks, but you can stop at firm peaks if you like your tiramisu to be a little smoother.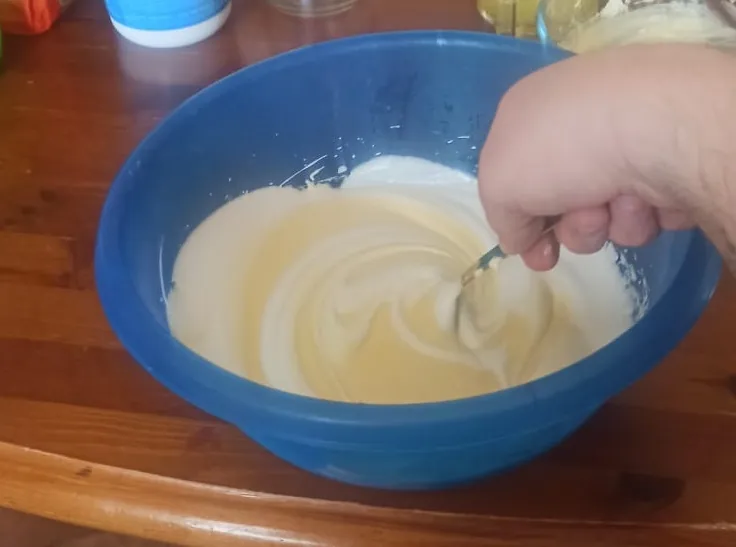 Add the whipped egg whites to the mascarpone cream, stirring from bottom to top, then set everything aside.
Assembling the tiramisu
Now, it's time to assemble your tiramisu. The process is very easy. You'll just need to layer the cream you just made with moistened ladyfingers in a baking dish.
First of all, pour the milk into a clean bowl or a soup plate, and add the remaining limoncello.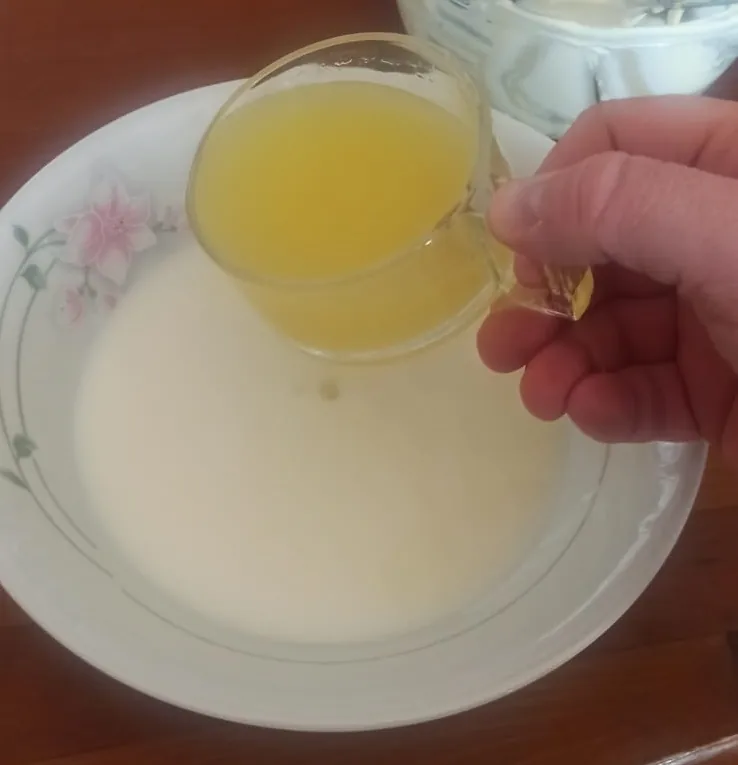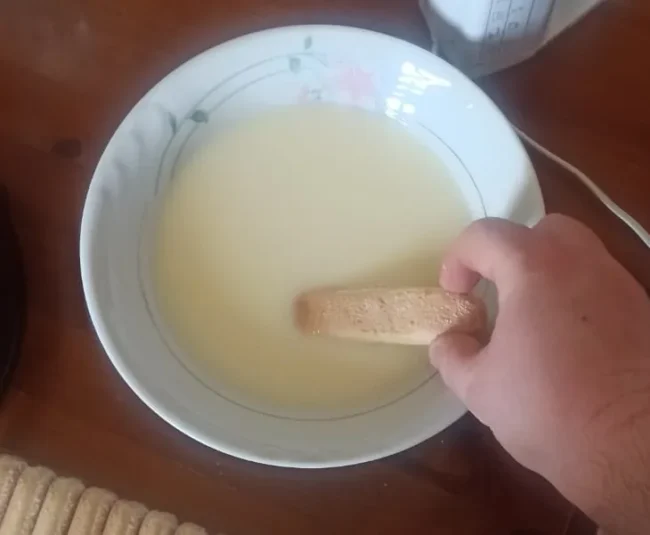 Then, soak the lady fingers into the limoncello mixture one by one, and create a single layer on the bottom of the dish. Add one layer of mascarpone cream, then repeat until the dish is full.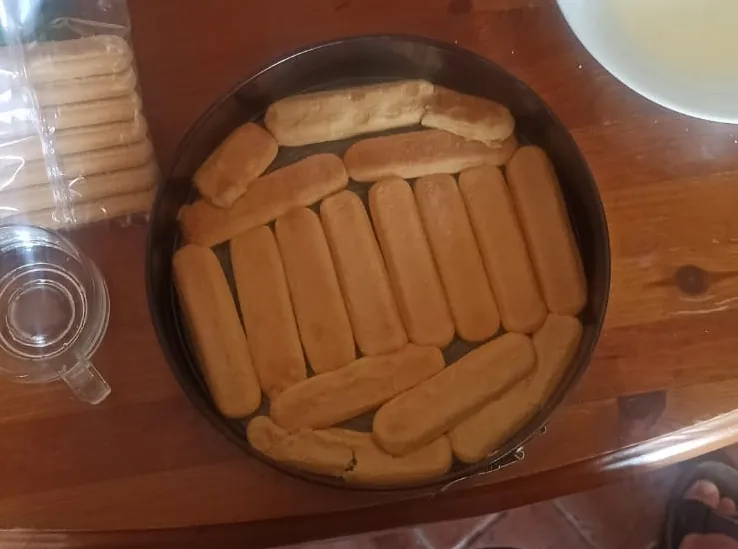 Top with some grated lemon zest, then cover with a plastic wrap and set aside in the fridge for 5-6 hours. After that, cut with a large rubber spatula and serve!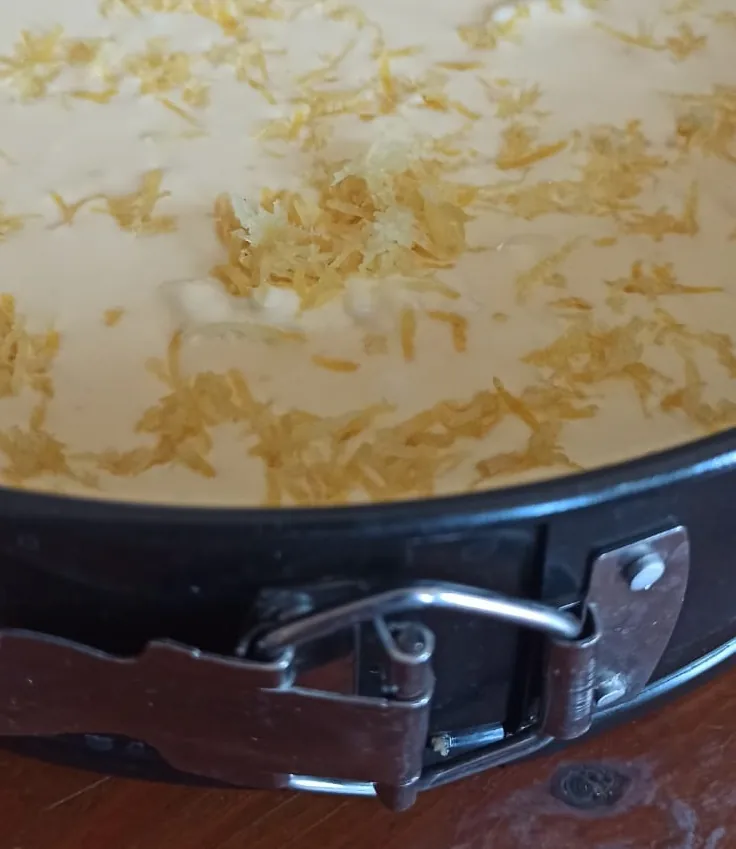 Limoncello Tiramisu Expert Tips
So now, let's dig a little deeper. It's not every day that you find a dessert that ticks all the summer boxes: cool, light, citrusy, and—let's face it—boozy. But before you head to the kitchen to whip up this Italian delight with a lemony twist, let's go over some pro tips to make sure your tiramisu turns out chef's kiss perfect.
Quality of Limoncello Matters
You've heard me rave about homemade limoncello, but if you're going for store-bought, make sure it's from a quality producer. The limoncello is the star here, so don't settle for anything less than spectacular.
Egg Safety
Since this recipe involves raw eggs, make sure to use pasteurized eggs if you're serving it to people who are pregnant, elderly, or have compromised immune systems. You want to impress your guests, but food poisoning isn't the way to do it!
The Art of Soaking Ladyfingers
Do not—I repeat, do NOT—soak the ladyfingers until they become soggy. A quick dip will do the trick. The goal is to have them absorb some of the limoncello-milk mixture without losing their texture.
Chill Time is Crucial
Sure, it's hard to wait when you've got something this delicious sitting in your fridge. But don't skip the chill time. Those 5-6 hours in the fridge are essential for the flavors to meld and the tiramisu to firm up.
Perfecting the Mascarpone Cream
A great tip for your mascarpone cream is to use room-temperature ingredients. This helps the elements blend more seamlessly, giving you that velvety, luxurious texture that makes tiramisu so iconic.
Lemon Zest Galore
For an extra burst of lemony goodness, consider adding some lemon zest to your mascarpone cream. You can never go wrong with more lemon, right?
Presentation Matters
Before serving, a light dusting of powdered sugar and some more lemon zest can really make your tiramisu look like a million bucks. Or, if you're feeling fancy, garnish with a small sprig of mint or a thin lemon slice for that picture-perfect touch.
Leftover Limoncello?
If by some miracle you have leftover limoncello, use it to make a limoncello spritz! It's an amazing pre-dinner drink and sets the mood for the lemony feast ahead.
Experiment and Make It Yours
Feeling adventurous? Add a layer of lemon curd between the mascarpone cream and ladyfingers. This can add an extra layer of lemony complexity that will have your guests asking for your secret ingredient.
The Perfect Pairing
This Limoncello Tiramisu pairs incredibly well with a crisp, chilled Prosecco or even a sweet Moscato. Cheers to that!
What To Serve With Limoncello Tiramisu
So, you've mastered this zesty masterpiece and you're already envisioning that perfect summer gathering where you unveil it. But wait a minute—what do you serve with this citrusy, creamy delight? Don't sweat it; I've got your back!
Coffee or Espresso
Let's start with the basics. Tiramisu and coffee are like Sonny and Cher: perfect together. The bitterness of the coffee will complement the tangy sweetness of the limoncello. So, brew up a pot of your best coffee, or better yet, pull some shots of espresso. Your guests will thank you.
Fresh Fruit
This dish already screams SUMMER. But you know what can make it even more seasonal? A fresh fruit platter! Think berries, melon slices, and maybe some more lemon slices for good measure. The fruit can act as a palate cleanser and make the whole dessert experience more balanced.
Light White Wine or Prosecco
Since we're diving deep into Italian culture, why not serve it with a chilled glass of light white wine or prosecco? The bubbles and the lightness of these beverages pair extremely well with the creamy texture and lemony taste of the tiramisu.
Herbal Teas
Not everyone is into coffee or alcohol, and that's perfectly okay. Herbal teas like chamomile or peppermint are great non-alcoholic options that pair well with dessert. They offer a calming end to a meal and don't overpower the limoncello flavor.
Cheese Platter
If you're thinking of making this dessert for a special occasion, a cheese platter can make it feel even more luxurious. Choose light, creamy cheeses that won't overpower the limoncello tiramisu but rather form a harmonious union. Think Brie, Camembert, or a soft goat cheese.
Lemon Sorbet
Alright, let's say you're going ALL IN with the lemon theme. A small scoop of lemon sorbet served alongside or even atop your limoncello tiramisu can really amplify the citrus notes and provide a refreshing touch.
Limoncello Tiramisu FAQs
Q: How long can I store tiramisu? Can I make it in advance?
A: Yes, but not too much. If you're keeping it in the fridge, you should consume it within 2 days. It could last a little longer in a freezer, but I wouldn't wait too much. It's a recipe with raw eggs, after all, and I think it's better to make it just a few hours in advance or the day before serving. I doubt you will have any leftovers 😉
Q: Can I use cream cheese instead of mascarpone?
A: I've never tried it, but it should be ok. I usually stick to traditions and go with mascarpone, but since this whole recipe is a variant, why not make experiments?
Q: Can I make this limoncello tiramisu without eggs?
A: This might piss off some purists, but you could substitute the eggs with whipping cream. Let's say 1 cup for every 4 eggs. Whip it in a large bowl just like you would do with the egg whites, then add it to the mascarpone cream.
Q: Can I make this recipe without limoncello?
A: Well, this limoncello tiramisu recipe is inherently alcoholic, but you could make a lemon tiramisu by changing the liqueur with half a cup of fresh lemon juice. It will taste great with the milk and the cheese cream. Another great alternative could be lemon syrup.
Recipe card
At first, I didn't really know what to expect. But the cream was delicious and everybody liked this limoncello tiramisu, so I'm definitely going to make it more often.
I hope you like this recipe too. As usual, here's a virtual card that you can print or use to adjust the ratio of the ingredients. If you're on your phone, you can also use it as a shopping list.
Let me know what you think of it!
Print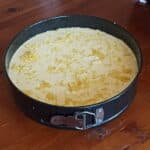 Limoncello Tiramisu
---
Author:

Total Time:

6 hours 30 minutes

Yield:

8

1

x
Description
A zesty variant of a classic Italian dessert.
---
32 ladyfinger biscuits
4 fresh eggs
1 + 1/3 cups mascarpone cheese
5 oz limoncello
7 fl oz milk
1 lemon
1 cup sugar
---
Separate the egg yolks from the whites.

In a large mixing bowl combine the egg yolks with the mascarpone cheese, half the amount of sugar, 2 or 3 tablespoons of limoncello, and 3 oz of lemon juice.

In a separate bowl, whip the egg whites firm until you get stiff peaks on your beaters. When you're halfway through the process, add the rest of the sugar.

Mix the whipped egg whites with the mascarpone cream you made before, and set aside.

Pour the milk and the rest of the limoncello liqueur in a soup plate.

Soak each lady finger cookie in the mixture and put it into a baking dish, creating a first layer.

Add one half of the cream.

Create a second layer of lady fingers, and add the remaining cream.

Top with a couple tablespoons of zest from the lemon peel.

Let cool in the fridge at 39.2 °F for 6 hours.
Notes
If you prefer, you can top your tiramisu with some lemon slices.
Prep Time:

30

Cooling time:

360

Category:

Dessert

Method:

Cooling

Cuisine:

Italian
Keywords: limoncello, limoncello tiramisu, italian dessert