Yes, this weekend is all about ravioli. After my last post, I thought I'd share another recipe. This one here is perfect for summer: it's ravioli with lemon and herbs.
More specifically, mint and parsley. A burst of freshness perfect for the hottest days.
It's a super simple recipe, and if you buy good ravioli from a trusted pasta shop, it doesn't take much time either.
Here's everything you need for this recipe:
Fresh ravioli: you don't need to make homemade ravioli every time you want to have them for dinner, but it's best to have fresh ones. Buy them from a local pasta shop and use them within 1 or 2 days. 
A lemon: you'll need both its juice and zest. 
Butter: to make the ravioli dressing.
Fresh mint and chopped parsley leaves: to season the butter.
Ground black pepper: add a sprinkle of it when the dish is ready.
A pot of salted water: to boil the ravioli.
(optional) 1/2 glass of white wine: to add to the melted butter and herbs while they're simmering. 
Many people say that this recipe is perfect for fish ravioli. I'm not a big fish stan, so I can't tell for sure, but I trust them.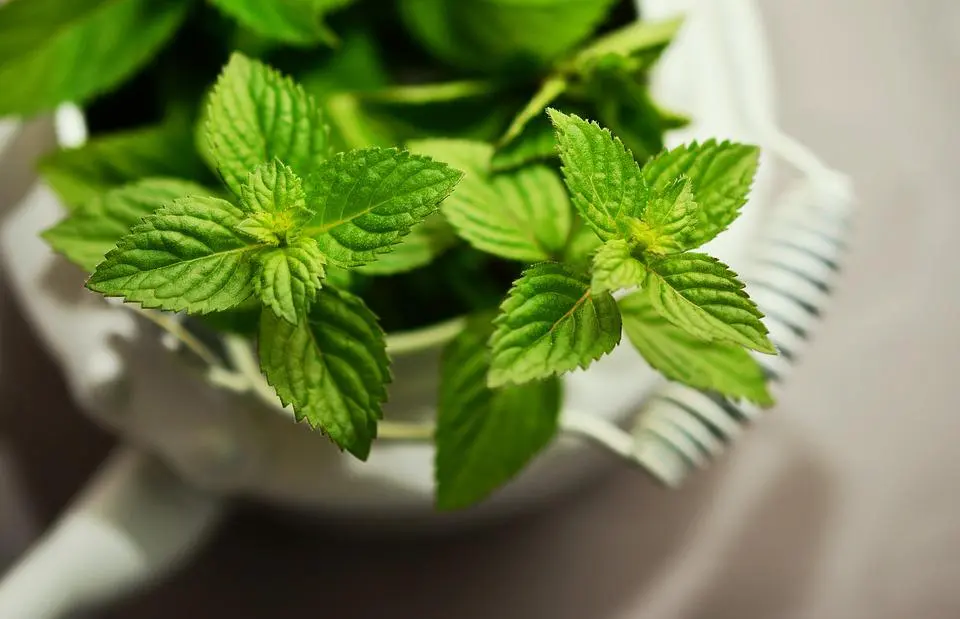 Step 1: Bring the water to a boil and toss in the ravioli. Let them cook for 3-4 minutes. When they're ready, they'll rise from the bottom of the pot to the surface of the water. 
If you're using store-bought ravioli, you might need to keep them in the water for a little longer (about 8 – 10 minutes). 
Step 2: While the ravioli are boiling, melt the butter in a little pot, then add the lemon juice and, shortly after, the white wine. 
Step 3: When the wine has evaporated, add chopped mint and parsley leaves, and half of the grated lemon zest. Keep simmering over low heat. 
Step 4: Take the ravioli out of the water with a slotted spoon and dry them in a large strainer. After that, put them in a baking dish. 
Step 5: Add the butter and zest dressing and mix everything. After that, add the rest of the lemon zest and a fair sprinkle of ground black pepper. 
Your meal is ready. Enjoy with the rest of the white wine and a simple salad.
Print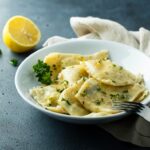 Lemon, Herbs & Butter Ravioli
---
Author:

Total Time:

18 minutes

Yield:

2

1

x
24 fresh ravioli
1 stick of butter
1 lemon (you'll use both its juice and grated zest)
1/2 glass of white wine
Fresh mint leaves to taste
Fresh parsley leaves to taste
Ground black pepper
Coarse salt
---
Bring the water to a boil and toss in the ravioli. Let them cook for 3-4 minutes. If you're using store-bought ravioli, you might need to keep them in the water for about 8 – 10 minutes.
While the ravioli are boiling, melt the butter in a little pot, then add the lemon juice and, shortly after, the white wine.
When the wine has evaporated, add chopped mint and parsley leaves, and half of the grated lemon zest. Keep simmering over low heat.
Take the ravioli out of the water with a slotted spoon and dry them in a large strainer. After that, put them in a baking dish.
Add the butter and zest dressing and mix everything. After that, add the rest of the lemon zest and a fair sprinkle of ground black pepper.
Your meal is ready.
Enjoy
Prep Time:

10

Cook Time:

8

Category:

Pasta

Method:

Boiling

Cuisine:

Italian