If you're Italian, you just know:
There's nothing like homemade ravioli.
It's one of the best foods out there, and something that everyone loves.
Despite what people are saying, it's fairly easy to make it as well.
But, whenever I share this recipe with anyone, there's always one lingering question they have…
And it's how long you should be cooking it.
In this article, we will be diving into the secrets, tips and tricks of cooking ravioli, the differences between boiling fresh, frozen, and store bought ravioli, and how you can make it for yourself at home.
Your friends will consider you a ravioli expert.
How Long To Cook Fresh Ravioli?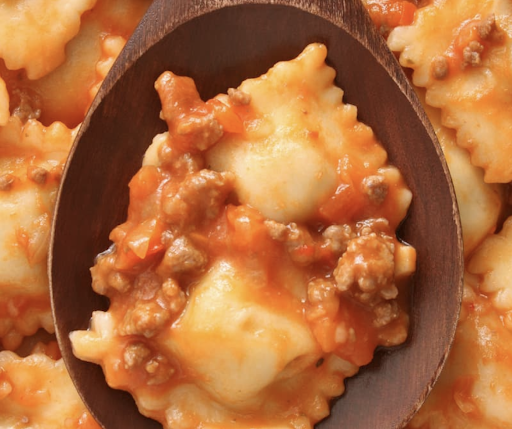 The cardinal rule that I learned from my grandmother from a very young age is to cook ravioli until they float to the top.
That's it.
You don't need to stir it (stirring risks the dough breaking apart and filling seeping out), taste it, or do anything that you normally would do if you're cooking pasta.
All you have to do is provide a generous amount of salt to the water once it begins to boil, and you'll be good to go.
By using the "floating" method, it's pretty much guaranteed that not all ravioli will be done cooking at the same time.
It's best to keep an eye on it at all times, and once the individual pieces of ravioli are done, remove them from the boiling pot of water with a slotted spoon.
In terms of a concrete number of minutes to cook your ravioli, anywhere between 3 and 5 minutes is your best bet.
But again, don't remove them from the water until they start to float to the top.
Now, if we're talking about frozen ravioli, the cooking time is slightly different, but not by much.
For one thing, frozen ravioli rarely needs to be thawed. Just to be sure, though, refer to package instructions prior to cooking.
As you would expect, you still are going to toss these guys into a boiling pot of water.
But, once they float to the surface, something different needs to happen:
You need to let them sit that way for a few minutes.
Why's that?
Well, since they're being cooked from frozen, a lot of the time they'll float to the surface without actually being warmed up all the way through.
By letting your ravioli rest at the top of the water for 1-2 minutes, it'll allow the inside ingredients to get all heated up and perfect.
Frozen ravioli is a wonderful, easy way to make a quick pasta dinner much easier on yourself, and we approve of it heavily.
And uncooked ravioli purchased in the specialty foods section of a grocery store?
Exactly as you'd cook it if you were making it fresh.
Seriously, preparing store-bought ravioli is so easy!
How To Make Homemade Ravioli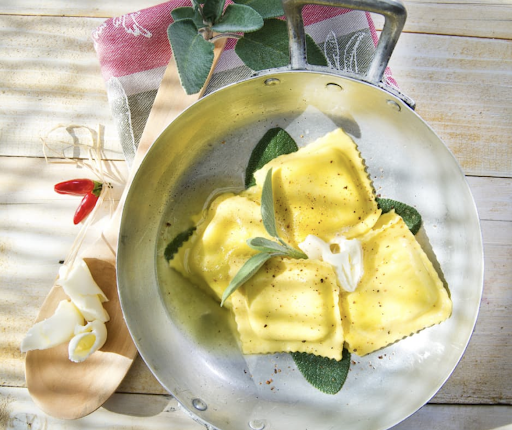 Now, if we're being honest, we consider ourselves to be somewhat experts on ravioli at this point.
It's a great main dish, and produces the best results every time.
We've written a whole bunch of different ravioli recipes that you're sure to love, and we've linked them all here.
Easy Scratch Made Ravioli
This recipe comes straight from the heart of Italy.
It's the perfect recipe for the best butter and sage ravioli you will ever have, and the scratch made ingredients make it all the better.
It can be served with any sauce, and is the perfect dish for a Sunday dinner.
Ravioli With Lemon and Herbs
If you love lemon pasta, lemon ravioli is the next best thing for you.
The butter sauce for the ravioli is seasoned with tons of fresh herbs, guaranteed to provide the ravioli with a fresh, unique flavor present throughout every bite.
The lemon juice enhances the butter sauce, and gives you a natural, fresh flavor.
This is the perfect spring or summertime dish—it's the best way to make your favorite Italian flavors just a little lighter.

Ravioli With Sausage Ragout
This is one that's more fit for the colder months, but is delicious all the same, all year round.
This ravioli is made with a delicious, succulent sauce, complete with browned sausage, white wine, and all of your classic Italian flavors.
Top it off with a bunch of grated parmesan cheese, serve with some garlic bread and fresh basil, and you'll be in business!
Deep Fried Ravioli
This one is a bit different than what we were describing before, but it's still delicious.
There's not much more in the world that I love than fried cheese.
And with this deep fried cheese ravioli, you get a nice mix of both Italian cuisine and American flavors. It's a great way to combine the two.
Plus, it's delicious with your favorite sauce.
It's a great appetizer, party food, or cheat meal. Check it out!
Other Ravioli Recipes: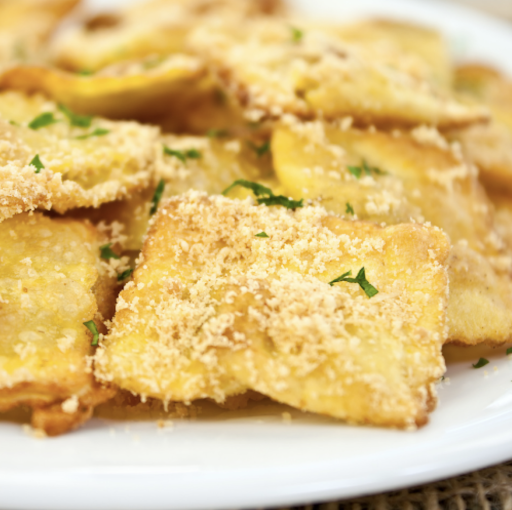 If you wanted a nice and simple, easy to make ravioli recipe, you're in luck—this is exactly what you've been missing.
This recipe is super easy to make, can be served with any sauce or topping, and feeds about two people.
If you want to add some leftover ground beef, lobster meat, anything to this, you can, and it'll taste wonderful.
I love breaking out this recipe for date night, too.
It's super simple and easy to make, and the cooking process is a lot of fun when you're in the company of someone else!

Print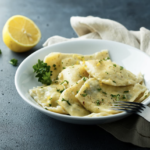 Homemade Ravioli Recipe
---
2 cups

all-purpose flour

3

large eggs

1/2 teaspoon

salt

1 tablespoon

olive oil

Ravioli filling of your choice (e.g., mozzarella cheese, ricotta cheese, spinach, meat)
---
In a large mixing bowl, whisk together the flour and salt.

Make a well in the center and crack the eggs into it.

Add the olive oil and mix until a shaggy dough forms.

Turn the dough out onto your work surface and knead for 5-10 minutes, or until smooth.

Cover the dough with a damp towel and let it rest for 30 minutes.

While the dough is resting, prepare your filling.

Roll out the fresh pasta dough into pasta sheets with a rolling pin, pasta machine, or pasta roller to the desired thickness, about 1/8 inch thick.

Cut the dough into 2-inch squares.

Place a small spoonful of filling in the center of each square.

Brush the edges of the squares with water.

Fold the squares in half diagonally to form a triangle and press the edges together with a fork to seal.

Bring a large pot of salted water to a boil.

Boil ravioli for 3-4 minutes, or until they float to the top.

Serve with your favorite marinara sauce or tomato sauce of your choice and enjoy! Store in an airtight container.