One of my favorite things to cook at home is a tomato sauce that is cooked low and slow with a lot of meat in it.
I like putting in pork, beef and maybe even chicken breasts and thighs if I'm in the mood for a cacciatore sauce.
The best way to start your sauce is to take your meat out of the fridge and let it come to room temperature on the kitchen counter. That's if you are starting with unfrozen meat.
The big question is, "Can you make a tomato sauce with frozen pork?"
The answer is… of course you can. It's easy.
I usually make my sauce with fresh pork, but sometimes I forget that I have a frozen pork roast, a frozen pork tenderloin or frozen chops in the freezer that I forgot to take out. If you don't have fresh meat, you can still cook most recipes.
It takes a lot of time to thaw out any cut of meat and sometimes you're in a hurry.
There are a few different cooking methods I use when I'm working with meat in its frozen state. I like cooking it for a long time at a lower temperature. That's where I get the best results.
Cooking frozen food is something we all have to face once in a while. It's really no big deal. After you make this recipe you won't know if it was made with fresh pork chops or frozen.
When cooking frozen pork, the cooking process is going to be the same, except the cook time will be about 50% longer.
This sauce recipe is going to cook for hours. The cooking method will be the same no matter how many pounds of meat you have.
Let's make a delicious dinner with some frozen pork!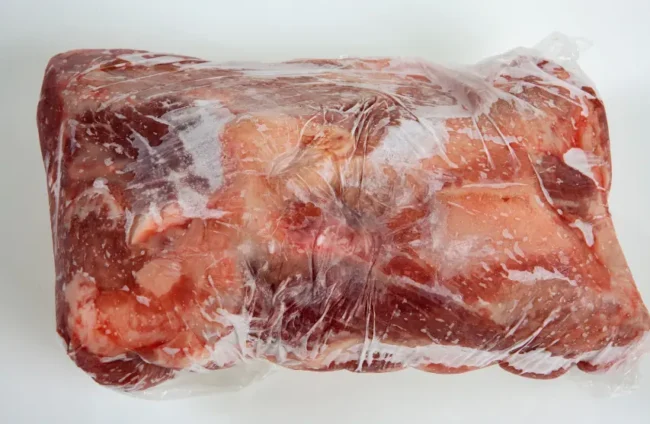 Here's What You Need to Make A Tomato Sauce with Frozen Pork
I'm about to show you how to make a beautiful sauce with slow cooked, tender pork that will fall apart when you touch it with a fork. It's going to cook for so long you aren't going to need a meat thermometer to check the temperature. It's going to make the house smell so good you'll be making this sauce every Sunday.
Pork: You can use any cut of pork from the freezer for this sauce. I like a cut with a good amount of fat because that's where the flavor comes from. Use a Boston butt, a pork shoulder or ribs.
Olive Oil: Use a good olive oil that you trust. You don't need to buy the most expensive on the shelf, but make sure it's decent.
Onions: Get some Spanish onions or yellow onions and dice them up nice and small.
Garlic: Buy a head of fresh garlic and mince it up. Use garlic grown in the United States. You'll feel patriotic and it's better than the stuff from China.
Tomatoes: Get a couple cans of crushed tomatoes. They usually come in 28 ounce cans. Use your favorite brand.
Seasoning: You'll need some Kosher salt, black pepper and a little crushed red pepper.
Basil: Buy some fresh basil at the supermarket.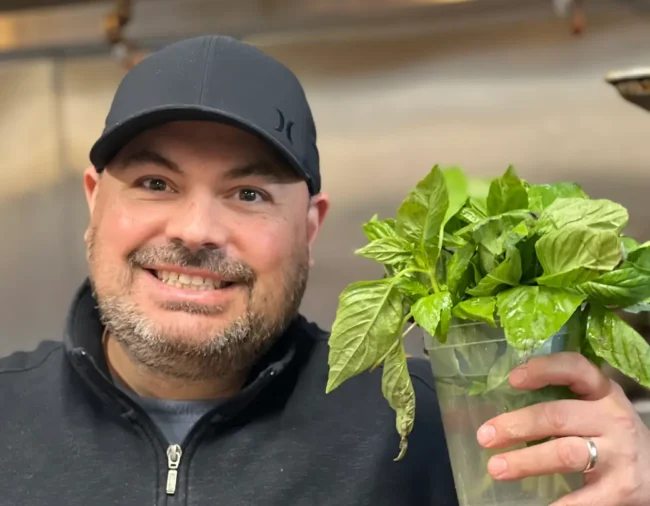 How To Cook a Tomato Sauce with Frozen Pork
Here are some simple steps to a really good tomato sauce made with frozen pork.
First, get a large saucepan or Dutch oven and put it on medium heat. You want to make sure it's an oven safe pan. Add some olive oil and heat it up.
Take your frozen meat and put in the hot olive oil. Put it in a single layer. Don't overcrowd the pan.
Get a nice sear on all sides. While it starts to cook, you'll notice that the outside of the meat thaws while the interior stays frozen.
Flip the meat around until all sides have a nice golden brown color. Now remove the partially-frozen pork and set it aside on a plate.
Add the onions and garlic to the pan and let them cook. The onions will start to soften up and become translucent. Season the onions and garlic with salt and pepper.
Add the seared, but still frozen pork back into the pan. Season the pork with salt and pepper.
Pour the cans of tomatoes into the pan with the pork. For every can of tomatoes add a half can of water. Make sure the pork is fully submerged.
Bring the pot to a boil for about a minute. Reduce the heat to let it simmer.
Partially cover the pot and let it simmer on low heat. My recommended time for cooking is at least 4 hours. It's a good idea to let it simmer longer if you can. During this time the pork is going to cook slowly and the flavor from the pork is going to flavor the tomatoes.
I like adding the basil to the sauce during the last hour of cooking.
This is a sauce that can be cooked for 8 hours and it will only get better on the stove. You can even put your oven on 275 degrees and cook it in there.
According to USDA Food Safety, the proper internal temperature for pork is 145 degrees Fahrenheit.
The long cook time at the low temperature is going to create a thick, rich sauce that people dream about.
When the sauce is done, let it cool down for about 10-15 minutes and use a couple forks to break the pork apart.
Serve it with your favorite pasta and some grated cheese.
Enjoy!


FAQs
Q: If I have the time, what is the best way to thaw the frozen meat?
A: You can leave the pork in its package and place it in a bowl of cold water until it's thawed. Make sure you use enough cold tap water to cover the frozen meat.
You can also leave it in the fridge until the meat thaws out. If you are going to thaw your meat first, make sure that it's done properly to avoid food poisoning and the growth of bacteria. Foodborne illness is no fun.
It's also important to point out that larger cuts of meat will take longer to thaw.
Q: What else can I add to the sauce besides pork?
A: You can add meatballs, sausage and beef braciole to this sauce. That's a nice sauce.
Q: Can I refreeze the pork after it's cooked?
A: Yes. Make a big batch of this sauce with pork and freeze your leftovers. Use the extra sauce later to make lasagna, baked ziti or sandwiches.
Q: How do I know if my meat has freezer burn?
A: If you see ice crystals formed on the outside of the meat it probably has freezer burn. That is when the moisture from the meat has escaped. I would suggest not using meat if it has freezer burn.
Q: What other meats can you cook when frozen?
A: I think you can cook just about any meat that's frozen if you do it right. I've cooked lamb chops and thin frozen steak in a frying pan with no problems at all.
Print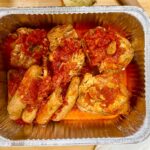 Tomato Sauce with Frozen Pork
---
Author:

Total Time:

4 hours 10 minutes

Yield:

8

1

x
Frozen pork chops, pork roast or pork but

3 28 oz. cans of crushed tomatoes

½ cup olive oil

2 cups ¼ inch diced yellow onion

2 tablespoons minced fresh garlic

1 tablespoon kosher salt

½ tablespoon black pepper

6 to 8 fresh basil leaves

2 ½ cups of water
---
Place stock pot over medium heat and add olive oil.
Add frozen pork and sear on all sides until golden brown. Remove from pot and set aside on a plate.
Add onions and garlic. Season with salt and pepper.
Saute on medium heat until onions turn translucent. This should be approximately 5 minutes.
Add the pork back to the pot and season it with salt and pepper.
Add tomatoes and water. Bring to a boil. Once boiling, bring heat down to a simmer.
Add basil leaves. Let it simmer on low heat for at least 4 hours or up to 8 hours if you really want a thick, rich sauce.
Stir often so it doesn't burn and stick to the bottom of the pot.
Enjoy!
Prep Time:

10

Cook Time:

240

Category:

Tomato sauces