I know, I know.
You're probably wondering how the hell something with such an Italian name is classified as an American recipe.
But here's a little secret for you: most Italians don't use a ricotta mixture or cottage cheese in their lasagna recipes.
Most Italian recipes actually call for a bechamel sauce.
Which, hey, if you're into that, all of the power to you.
But that's not what we're about here.
At Mortadella Head, we make one of the best creamy ricotta mixtures you'll ever taste in your life.
It's enough to make some great recipes into outstanding recipes.
All it takes is a few simple ingredients, and you'll be good to go.

What Ingredients Do I Need To Make This Homemade Lasagna?
It's quite simple, actually.
All you need is some:
Fresh batches of lasagna noodles, cooked to al dente.

Your own ricotta mixture, which we will tell you how to make below.

Provolone cheese. Lots of it.

Mozzarella cheese. Can be sliced mozzarella, or shredded. However you like it is fair game here.

Grated Romano or parmesan cheese, whatever you like!

Tomato sauce. Particularly marinara sauce. You can get some

nice quality sauce from the store

, or make your own using the recipe below:
@mortadellahead

Replying to @jennleo89 The moment you've all been waiting for! Save this video to try for yourself! FULL RECIPE BELOW 👇 Ingredients: -3 28 oz. cans of crushed tomatoes -½ cup olive oil -2 cups ¼ inch diced yellow onion -2 tablespoons minced fresh garlic -1 tablespoon kosher salt – ½ tablespoon black pepper – 6 to 8 fresh basil leaves -2 ½ cups of water Instructions: Place stock pot over medium heat and add olive oil. Add onions and garlic. Season with salt and pepper. Saute on medium heat until onions turn translucent. This should be approximately 5 minutes. Add tomatoes and water. Bring to a boil. Once boiling, bring heat down to a simmer. Add basil leaves. Let it simmer on low heat for at least 30 minutes or up to 4 hours if you really want a thick, rich sauce. Stir often so it doesn't burn and stick to the bottom of the pot. #DidYouYawn #bostonfoodies #bostontiktok #recipesoftiktok #tiktokhowto #marinarasauce
Lots of herbs, spices, and little additions to make it super flavorful.
If it sounds too easy, too good to be true, it's because it is.
This is one of the best "easy recipes" you will probably ever make for yourself.
That's right, you don't even need to brown ground beef, add some Italian sausage or meatballs (although you can if you'd like), or do anything fancy like that.
This is a big ol' four cheese lasagna, and if you make the ricotta cheese the right way, and use all of the proper herbs and spices, it'll make a huge difference. I swear, you won't even miss the meat.
This is the best classic lasagna recipe for a reason.
Quattro Formaggi Lasagna FAQs:
Q: What if I really, really miss the meat and wanted to add some in?
A: Your call entirely! If you wanted to keep the integrity of the cheesiness without overpowering the dish too much, instead of marinara pasta sauce, you could try using a homemade meat sauce recipe. It's my favorite way to add some meat right in between the layers of lasagna.
Q: How would I freeze this lasagna?
A: It's really simple. If you had a lot of lasagna left over and didn't want to eat it again the next day, there's a solution for you. All you need to do is prepare this lasagna as you normally would, and instead of tossing it into the oven, covering it with some plastic wrap and tossing it straight into the freezer. If you've already baked this finished lasagna, you can freeze it the exact same way.
What To Serve With This American Lasagna Recipe:
View this post on Instagram

Drink: Try a nice glass of cabernet sauvignon. You'll love the flavor with this!
Appetizer: This lasagna would be wonderful with some parmesan bread bites.
Side Dish: If you really wanted to get your meaty fix in, try this with some fried meatballs!
Print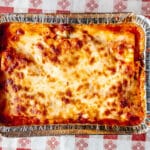 Ricotta Mix Recipe
---
2 cups

of ricotta cheese (not cottage cheese)

1/2 cup

grated parmesan cheese

1 cup

of marinara sauce, warmed over medium heat in a large skillet

1 tsp

fresh parsley

Salt and black pepper to taste

Optional: 1 tsp garlic powder to taste
---
Get a medium bowl.

Toss everything together, and mix thoroughly in the mixing bowl.
Print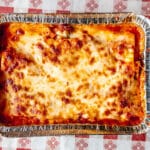 Four Cheese Lasagna Recipe
---
1

pound fresh lasagna noodles, cooked in boiling water in an 8-quart pot until al dente, and brushed with olive oil

The ricotta cheese mixture

1/4 cup

grated Parmesan cheese

1 cup

shredded mozzarella cheese

1/4

pound provolone cheese

2 cups

marinara sauce

Salt, pepper, and crushed red pepper flakes to taste

Fresh basil leaves for garnish
---
Preheat the oven to 400°.

Spread an even layer of marinara sauce on the bottom of an 8×8-inch baking dish.

Lay noodles to cover the sauce over the bottom of the baking dish.

Spread half of the cheese mixture over the noodles.

Add provolone cheese on top of the creamy ricotta mixture.

Sprinkle a layer of grated cheese over the cheese mixture.

Repeat the layering process until all the ingredients and layers of pasta are used up.

Top the lasagna with a final layer of marinara sauce, shredded mozzarella cheese, fresh basil leaves, and grated cheese.

Cover the baking dish with aluminum foil and bake in the preheated oven for 30 minutes.

Remove the foil and bake for another 15 minutes until the cheese is melted and golden brown.

Let the lasagna cool for 5-10 minutes before cutting into servings.

Garnish with fresh basil leaves and serve hot.