If you are planning a party or event for a large group of people, you should have some meatballs on the menu. I'll let you in on a little secret. Meatballs are one of the best things to serve for a large crowd.
How many meatballs do you need for 50 people? That depends on a few different factors. I'll explain that to you in this article.
I've been in the catering business for a long time and I love when people order meatballs for their parties. I think meatballs are the best food for a large gathering.
5 Reasons Why Meatballs Are Perfect for A Large Crowd
Here are 5 reasons why meatballs are the perfect food for a large crowd.
Meatballs are very budget friendly compared to other food that can be served at a large event. A pound of ground beef is usually much less expensive when compared to a pound of prime rib or filet mignon. That's one of the reasons that Italian immigrants gravitated to meatballs when they couldn't afford more expensive cuts of meat.
You can make a large number of meatballs at a time. When you are cooking for a large group of people you want to make something that can be prepared in a large batch. You can also cook several at a time if you put them on a large baking sheet and pop them in the oven. Your meatball mixture can be scaled up depending on the amount of people that need to be served. After that it's just a matter of rolling your meatballs and baking them off.
You can make meatballs in advance which gives you time to do other things on the day of the event. Some food needs to be prepared right before serving or the quality won't be good. Examples of these types of food are certain roasts, filet mignon or even baked fish. Meatballs on the other hand can be cooked a day or more in advance so that on the day of the event you can just heat them up in a big pot of marinara sauce.
Meatballs are easy to plan. The numbers of meatballs you will need to make for your event are pretty easy to figure out with some basic math. All you will need to know is how many people you are feeding, how big your meatballs will be and what else is being served at the party.
Meatballs are a great food for hot holding over extended periods of time. Meatballs can be served in a chafing dish, slow cooker or in a pot on the stove at really low heat in tomato sauce for a long time. You don't have to worry about the meatballs drying out over time. A roast beef or most other meats will need to be served right away to ensure quality.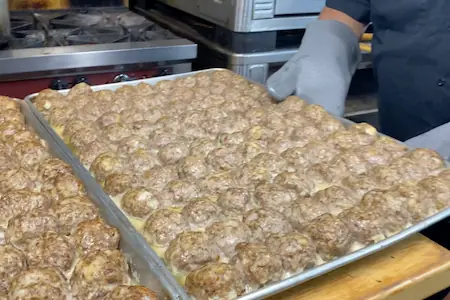 How to Figure Out How Many Meatballs You Will Need
The number of meatballs you will need at your event depends on the size of the meatballs you are serving.
When planning a large dinner, the standard main course serving size is 6 ounces of meat per person. This is based on what the average person will eat at the event.
A quick guide to figure out how many meatballs you need is as follows:
If you are serving 2-ounce meatballs you should plan on having 3 meatballs per person. Therefore, for 50 people you will need 150 2-ounce meatballs. These will also be 2-inch meatballs or the size of a golf ball. This size makes the perfect meatballs if you are serving as a main dish.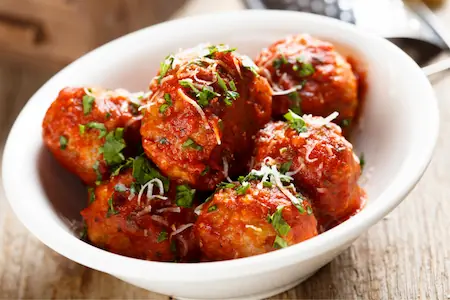 If you prefer to serve large meatballs, the number of meatballs you need to prepare will be different. You don't want to make them too big because they won't soak up all the flavors of the sauce and they could be dry.
I believe that 3-ounce meatballs are on the larger side, but are still a good size to serve at a catered event. Based on the rule of thumb regarding 6 ounces of meat per person, you will need 2 meatballs per person or 100 meatballs for 50 people.
If you are serving meatballs as appetizers you probably want to make small cocktail meatballs. The best size for appetizers are usually 1-inch meatballs. When I cater an event I measure out 1-ounce meatballs for this purpose. Since this is not going to be the main course, I calculate 3 small meatballs per person. Therefore I would make 150 one-inch meatballs for 50 people.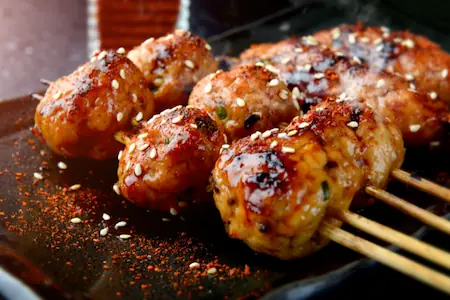 If you are making 1-ounce meatballs for a main course you should make 6 meatballs per person. If you have some big eaters at the party I suggest making 6-10 bite sized meatballs per person.
As you can see, the number of meatballs you need depends on their size.
It is safe to say that no matter what size meatballs you make, you will need between 18 and 20 pounds of meatballs for 50 people.
If you are buying frozen meatballs for your event, it's still easy to figure out. If the meatballs come in a 5 pound bag, you will need 4 bags of frozen meatballs.
If they come in a 1 lb bag you will need to get 20 bags.
On the other hand, if you want homemade meatballs at your event I am going to share a delicious meatball recipe with you. It's designed to make enough meatballs for 50 adults to have as their main course.


The Ingredients to Make Meatballs for 50 People
Meat: to make meatballs for 50 people you need 10 pounds of ground beef and 10 pounds of ground pork. If you want to make all beef meatballs you will need 20 pounds of ground beef. Remember that each lb of ground meat should be enough for about 3 people.
Garlic, Parsley & A Basic Seasoning: as I wrote in my other meatball recipes, get fresh garlic cloves and flat leaf Italian parsley, and chop them really fine.
For the seasoning, you need just Kosher salt and black pepper. I normally don't use anything else, but if you like Italian seasoning, you can go for it.
Grated Cheese: you want a good grated cheese for your meatballs recipe. Pecorino Romano or parmesan cheese will work. Just make sure it's a good quality cheese.
Breadcrumbs: for this recipe I am recommending using bread crumbs because they are quick and easy to use. You'll need a cup of breadcrumbs for every pound of meat.
Egg: you need some fresh eggs that will add as a binder for your meatballs. A good rule of thumb is one egg for every pound of meat. If there's someone who's allergic to eggs at the party, you can try my meatballs without eggs recipe.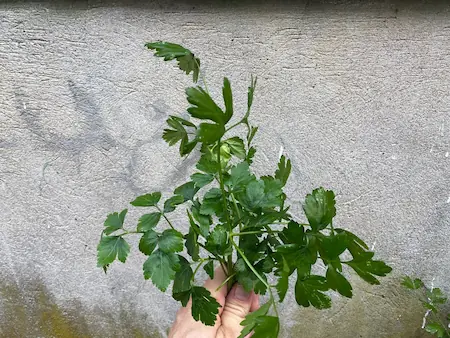 How To Make Meatballs for 50 People
This recipe is for baked meatballs. It's one of the best meatball recipes for a large crowd because you can cook many meatballs at a time.
Get a very large bowl that is big enough to fit all of the meatball ingredients. If you don't have a mixing bowl large enough, you can mix the ingredients in separate batches.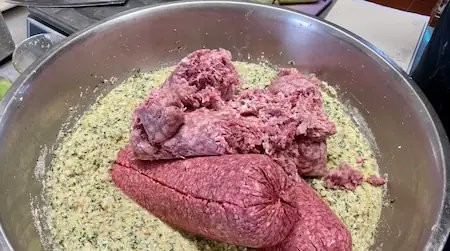 Start mixing everything together so all of the ingredients are evenly distributed throughout the ground meat. For the best results, use your hands to do the mixing. I think you can make a really good meatball mixture with your bare hands. Just make sure you wash them first.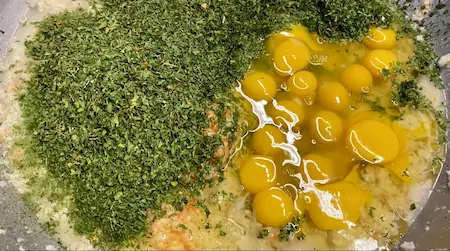 When everything is mixed together it's time to form your meatballs. 
As I said in other posts and above, the size of the meatballs is totally up to you. I usually make them with a 2-ounce cookie scoop or 2-ounce ice cream scoop, and they end up being about 2 inches in diameter.
Get a large baking sheet or sheet pan and line it with parchment paper or aluminum foil. For the best results, if you use aluminum foil, spread some olive oil on the bottom of the pan so the meatballs don't stick while they cook.
Place the meatballs on a single layer, without overcrowding them. This will allow them to form a nice crust and become golden brown on the outside.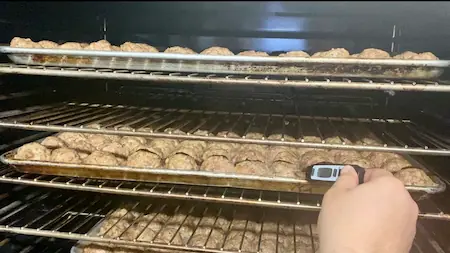 Bake the meatballs at 400° F for 20-25 minutes.
Now, remove the baking sheet from the oven. Check the meatballs with a meat thermometer to make sure they are 165 degrees in the middle. If they are, take them out and let them rest for 15-20 minutes.
When the meatballs are cooled off you can take the finished product and freeze them for the future. Just place them in freezer bags or an airtight container first.
You can also store them in a refrigerator or put them right in a pan of tomato sauce.
How To Serve Meatballs for 50 People
The good thing about serving meatballs at a party is that all of the work is done during the prep time. Once the meatballs are made, serving them is easy. But you have to make sure you do it the right way.
I think the best way to go on from here is a recipe I shared a few days ago: "How to Cook Meatballs on the Stove in Sauce."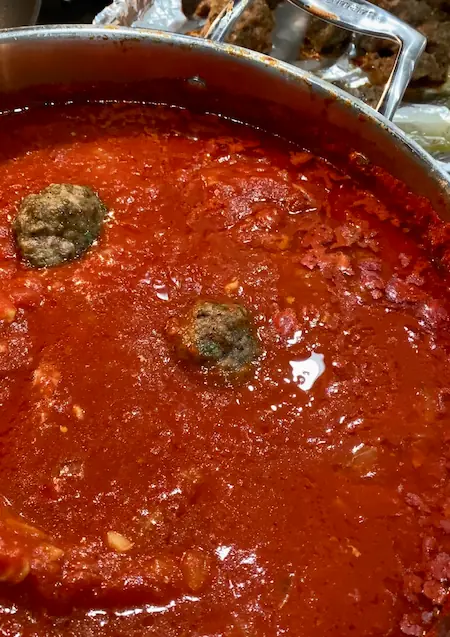 Assuming you have a tomato sauce already made, you want to get it heated up.
Put your tomato sauce in a pot. Place it on the stove and turn it on high heat.
When the sauce starts to boil, add your meatballs to the sauce and turn the stove down to medium heat. Allow the meatballs to simmer in the sauce for about 30 minutes to absorb all of the flavor of the sauce.
When you are ready to serve, place the meatballs and the hot sauce in a chafing dish or crockpot on low heat.
The meatballs are ready to be served!
What other types of meatballs can be served for 50 people?
There are so many different types of meatballs out there. I focused this article on Italian meatballs because they are what I work with everyday.
You could try Swedish meatballs with lingonberry jam, Polish meatballs or Spanish meatballs for your party.
There are so many great meatballs out there to choose from.
Print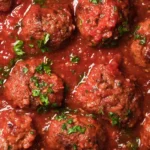 How to Cook Meatballs for 50 People
---
Author:

Total Time:

85

Yield:

20

lbs - 50 people

1

x
10 lbs ground 80/20 ground beef
10 lbs of ground pork
1 cup finely chopped fresh garlic
1 cup finely chopped fresh parsley
1 teaspoon black pepper
20 eggs
5 quarts of plain bread crumbs
1 quart grated Romano cheese
---
Mix all the ingredients thoroughly in a large bowl. I like to use my hands because you can really get everything incorporated nicely.
Form the meatballs with your hands. I try to get the meatballs about the size of a golf ball. I think that size is perfect for soaking up the sauce and staying nice and moist.
Place the meatballs on an oiled baking sheet and place in a 400 degree oven for about 20-25 minutes.
Remove them from the oven and allow them to rest for another 15 minutes.
Now you can freeze them or store them in a refrigerator until you need them. There are many ways to serve meatballs for huge crowds. I think the best one is the following:
Add tomato sauce to a large pot and bring it to a boil. Turn the sauce down to a simmer.
Place the meatballs in the pot. Make sure all of the meatballs are fully submerged in the sauce and simmer on low heat for 30 minutes.
Prep Time:

30

Baking time:

25

Cook Time:

30

Category:

Meatballs

Method:

Baked and Simmered

Cuisine:

Italian
Keywords: how many meatballs for 50 people