If you're ever making a recipe that calls for Italian seasoning and you don't have any in your spice cabinet, you don't have to panic. As long as you have a few herbs, you can come up with your own Italian seasoning replacement that will work just fine. Here's what you need to do!
What is Italian Seasoning?
If you're into Italian cooking and like to cook Italian dishes, you've probably come across a recipe or two calling for a teaspoon of Italian seasoning. But what exactly is Italian seasoning?
Italian seasoning refers to a spice blend that contains some key herbs you would expect to find in Italian cuisine. The next time you're in the grocery store, check out the spice aisle and you'll see that there are a lot of different versions of Italian seasoning.
If you take a look at the ingredients on any spice jar that contains Italian seasoning, you'll notice that they all have the same main herbs.
There isn't just one universal recipe for Italian seasoning. Different companies will make their Italian seasoning blends with certain variations. They will use a blend of herbs that are associated with Italian flavors.
The Italian seasoning that you find in the supermarket are made with dry herbs. Common ingredients are dried basil, parsley, oregano, thyme and rosemary. The ratios may vary depending on the company that makes the spice blend.
If you're ever making a recipe that calls for Italian seasoning and you don't have any in the spice cabinet, you don't have to panic. As long as you have a few Italian herbs at home you can come up with your own Italian seasoning blend that will work just fine.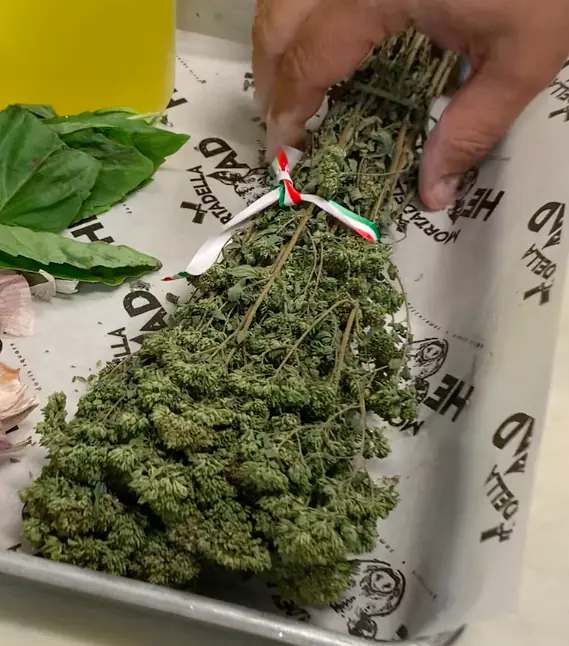 Herbs Commonly Found in Italian Seasoning
Basil: the basil that is used for Italian cooking is also known as Genovese basil. It's an annual plant and grows well in hotter climates. It is usually used fresh in pasta sauces. It's a must have in many Italian recipes.
Oregano: this herb is native to the Mediterranean region. It's a perennial plant and has a woody stem. It's used in many different cultures when cooking. Italians, Greeks and Portuguese cook with oregano.
Parsley: parsley is a biennial plant that is common in Mediterranean and Middle Eastern cuisine. There are flat-leaf and curly-leaf versions of parsley. The flat leaf parsley is commonly referred to as Italian parsley.
Thyme: thyme is similar to oregano in that it's a perennial herb. It also grows on a woody stem in hot climates. It is used in Mediterranean cooking. The South of France uses thyme is a lot of dishes which is why you will often see thyme in herbes de provence.
Rosemary: rosemary is an aromatic herb that grows well in cooler climates. It is an evergreen and can grow large enough to be used as a hedge. It has needle like leaves that give off a scent similar to pine trees.
Bay Leaf: a bay leaf is from a laurel tree and is commonly used in recipes dried and whole. It has a floral flavor that is very subtle when used in soups and stews. When whole bay leaves are used in a recipe they are removed before eating.
A bay leaf can also be ground into a powder before using in a recipe. Bay leaf powder is known to have a more bitter taste and a more concentrated flavor.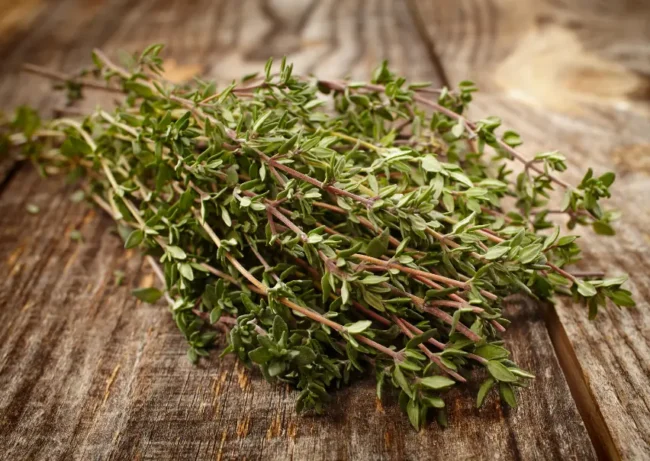 What Is Italian Seasoning Used For?
Italian seasoning is something you want to have on hand because it can be used in so many recipes. A few examples of how you can use it are below:
Salad Dressings: if you like making your own Italian dressing all you need is some olive oil, red wine vinegar and a tablespoon of Italian seasoning. Making your own salad dressing is good because it will taste better than store bought dressing and it's healthier.
Sauces: making your own tomato sauce is something I always suggest. When you buy a jar of spaghetti sauce at the supermarket it's usually made with a lot of sugar and spices that make it overwhelming.
If you make your own sauce you can add as much seasoning as you like and control the flavors of your pasta dishes.
Pizza: making pizza at home is fun and cost effective. Sprinkle some Italian seasoning onto the pizza before you bake it in the oven. You add more ingredients to make your own pizza seasoning.
Grilled and Roasted Meat: take your Italian seasoning and add garlic powder and onion powder. Rub it on a roast with some olive oil before you put it in the oven or season some chicken thighs before they go on the grill.
Play around with other ingredients like paprika and cayenne peppers to create the perfect dry rub.

My Replacement For Italian Seasoning
A few years ago I traveled to Rome and searched out the best porchetta in the area. One day we took a ride to the town of Marino, which is located about a half hour from Rome nestled among some beautiful little hills.
We went to the butcher shop that specializes in pork. It was called Il Norcino Bernabei and it's been open since 1912.
We met the owner, Vito Bernabei, and he showed us the kitchen in the back of the shop where he makes the porchetta. The smell of the pork roasting in the oven was beautiful. The aroma of Italian herbs slowly penetrating the fatty, rolled up pork belly was something I'll never forget.
I knew right away I had to get the recipe for the spice blend Vito was using. I asked him what it was even though I expected to get a cold stare back at me.
To my surprise, he just smiled and told me what the ingredients were. Since then I've been using it at Mortadella Head for our delicious, slow-cooked pulled porchetta.
It's my go-to homemade Italian seasoning that I use all the time. I use it on roasted vegetables and I really like it as a seasoning for chicken wings.
If I were you, I'd make a batch of this spice blend for yourself. It will become the best Italian seasoning substitute in your pantry.
You're going to need the following ingredients. This recipe is pretty simple to make enough to keep on the spice rack.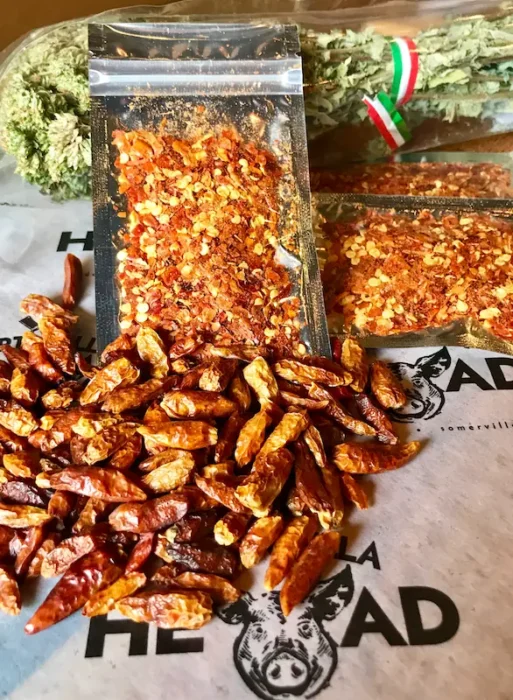 Herbs you'll need
Dried Garlic: I suggest using granulated garlic for this recipe. I like how the granules are a bit bigger than garlic powder and I think it creates better flavor. If you only have garlic powder on hand, that's fine.
Red pepper flakes: these are called both red pepper flakes and red chili flakes in the store. There are many different kinds to choose from. I prefer using dried and crushed Calabrian chili peppers. They are a bit fruity and have a less intense heat.
Dried Rosemary: the dried rosemary should be finely chopped.
Salt: I suggest using Kosher salt or sea salt.
Black pepper: fresh cracked black pepper is always better. A fine grind is better in my opinion.
Fennel Pollen: this one can be tricky. Fennel pollen is very expensive and hard to find. If you can't find fennel pollen you can use ground fennel seeds.
You'll see in the recipe card included, that most of these ingredients are in equal parts. I played around with a few versions of this recipe until I had an herb blend with the exact savory flavor I was looking for. It's now one of my favorite recipes for all purpose spice blends.


Other Italian Seasoning Replacements
If you aren't ready to make your own homemade seasoning blend, there are a couple other seasoning mixes that are already done for you.
Check out herbes de provence or herbes de la garrigue. They are both French spice blends that contain similar ingredients.
Greek seasoning is similar to Italian seasoning but will commonly have some dried dill included.
Creole seasoning will have similar dried herbs as the Italian seasoning but it will also have cayenne, paprika, and some garlic powder. Its color will be red from the cayenne and paprika.
If you don't feel like using dried herbs, make a traditional Italian seasoning blend with fresh herbs. A good fresh mix of herbs could be fresh basil, fresh oregano, and fresh parsley. You'll have all the flavor of Italian seasoning, but in a really nice fresh version.
Now that you have a good Italian seasoning substitute, you're ready to start cooking!
You may also like this other post → How to make Italian seasoning like a native!
FAQs
How do I store my Italian Seasoning replacement?
Keep the dried spices in an airtight container and leave it in the cabinet or pantry where you store your other spices.
How long does a dried herb blend last?
A dried herb blend can last a couple years if you store them correctly. Keep them in an airtight container. A glass jar with a tight lid will work well. They will start to look their flavor after a long time.
Where is the best place to buy dried herbs?
Your local supermarket should have everything you need. If you can't find certain spices there, you should be able to find it online. There are many great companies who ship their products.
What is the difference between using fresh herbs and dried herbs?
Dried herbs generally have a more concentrated flavor than their fresh version. When a recipe calls for a fresh herb and you only have it in its dried version, only use one-third the measurement.
For example, if a pizza sauce calls for 3 teaspoons of fresh oregano, you only need to use one teaspoon of oregano if it's dried.
Print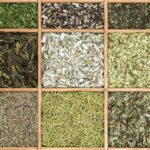 Italian Seasoning Replacement
---
Author:

Total Time:

5 minutes

Yield:

1

jar

1

x
1/2 tablespoon fennel pollen or 1 tablespoon of ground fennel seed (fennel pollen is expensive and hard to find sometimes)

1 ½ tablespoon garlic powder

1 ½ tablespoon peperoncino, or red pepper flakes

1 ½ tablespoon tbsp. Dried rosemary, chopped

1 ½ tablespoon freshly ground black pepper

4 ½ tablespoon kosher salt
---
Place all ingredients in a large bowl and mix thoroughly.
Prep Time:

5

Cuisine:

Italian
Keywords: italian seasoning replacement