I've said it before, and I'm going to say it again.
I don't hate Olive Garden.
Yep, that's right, I know Olive Garden is known for being an abomination to Italians everywhere, but truthfully, I don't think of it this way.
Olive Garden isn't authentically Italian, but it also never has claimed to be.
Instead, it boasts 2000s Tuscan style decor while serving you Americanized versions of some of your favorite dishes that you may have eaten growing up.
And some of the things on the menu are absolutely delicious.
Now, am I going to lie and say that the Olive Garden eggplant parmesan is better than my grandmothers?
Absolutely not.
But their eggplant parm is really great and hits the spot right when you need it to.
But… back to my grandmother's eggplant…
There's one key difference between how Olive Garden makes an eggplant parm and how my family has been making it for generations:
Breadcrumbs.
We get a lot of flack for talking about this, but it's true—fresh bread crumbs, in our opinion, don't belong on eggplant parm.
Don't take it up with me, take it up with my northern Italian ancestors that passed this recipe down to us.
To me, just breading your thin eggplant slices with seasoned flour and eggs gives them the perfect crispiness you need to make a beautiful eggplant parm, and won't get as soggy when cooked inside of the sauce like breaded eggplant slices would.
And that, in my opinion, is what makes this eggplant parm recipe better than the Olive Garden recipe.
What's In It?
Fried Eggplant: I mean, you don't have to make this with fried eggplant. But all of the best eggplant parmigiana recipes that I've had include fried eggplant between the layers. It doesn't have to be fancy, you can even make this in the air fryer if you would like. But make sure that it's salted and peppered thoroughly. Fry these in a large skillet in some extra-virgin olive oil until fork tender, and once they are golden brown transfer them to a dish lined with paper towels.

Tomato Sauce: Make your own, or use a high quality tomato sauce from a jar. Whatever you prefer!
Provolone Cheese: A lot of people get mad at us for using this in our eggplant parm. They say that we should be using mozzarella cheese instead. Personally, I think provolone has a bit stronger of a flavor, and that it's all around better. But don't worry, we use mozzarella cheese in this too.
Grated Romano Cheese: This flavors your sauce ever so slightly and makes the difference between a good eggplant parm recipe and a great recipe.
Mozzarella Cheese: This doesn't have to be fancy, and you can even use a shredded mozzarella cheese if you don't have any fresh mozzarella. This will be the topping of the eggplant parm, and will melt amazingly all over the top.
Fresh Basil: Totally optional, but this is one of those things that will give your eggplant parmesan a delicious and fresh flavor.
Take all of these ingredients and layer them in a baking dish in this order:
Sauce

Eggplant

Provolone

Grated Cheese
When you've reached the top of the baking dish, ladle sauce over everything, and top with shredded mozzarella cheese, basil, and grated Romano cheese. Toss it in for 40 minutes at 400 degrees f (can also cook for longer at a lower oven temperature if desired), and let rest for 15-30 minutes before serving for best results.
Eggplant Parmesan FAQs: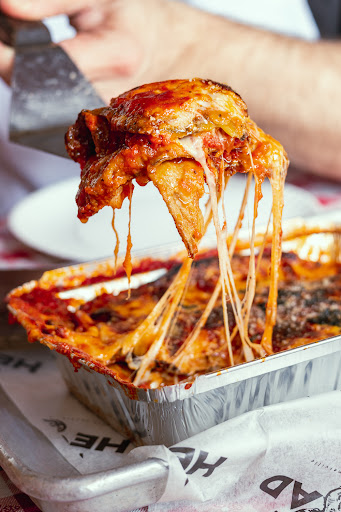 Q: What should I serve with this?
A: Serve this eggplant parmesan with a delicious simple side salad, side of pasta, or any deliciously cooked vegetable. We've been loving this Roman cicoria recipe lately!
Q: I don't like provolone cheese. What can I use instead?
A: Mozzarella is a perfectly fine option, and would still be delicious with this vegetarian dish!
Q: I don't have enough eggplant slices to layer this. How should I go about fixing this issue?
A: Spread the eggplant slices that you do have in a single layer across a 12-inch brownie pan or baking sheet, and top each with a dollop of sauce, provolone cheese slice, sprinkle or slice of mozzarella cheese, and grated Romano cheese. Toss in the broiler until you see crispy and brown slices of cheese. You could also roll them up and make eggplant rollatini!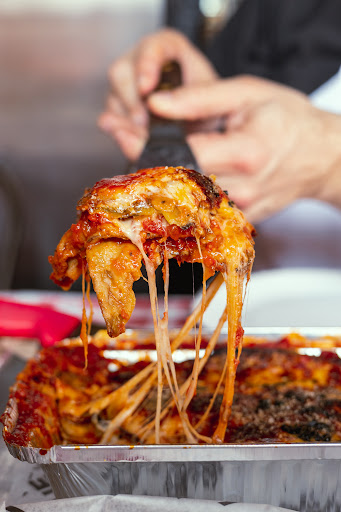 Print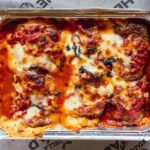 Better Than Olive Garden Eggplant Parmigiana Recipe
---
---
Preheat oven to 400°

In a baking dish or casserole dish, line the bottom with a thin layer of tomato sauce.

On top of the tomato sauce goes a thin layer of fried eggplant.

Top the eggplant with provolone cheese and a sprinkle of grated Romano cheese.

Repeat steps 2-4 until you reach the top of the baking dish.

Top the eggplant parmesan with a layer of sauce (about a cup of tomato sauce), mozzarella cheese, grated Romano, and half of the basil.

Bake for about 45 minutes in the preheated oven until the cheese is melted and golden brown.

Let sit for 12-15 minutes before cutting into it for the best end result. Top with a thin layer of marinara sauce, grated cheese, and fresh basil.